+ Years
of Industry Experience
%
Senior and Expert Staff
Technology meets your perspective at Inventcolabs.
We know where the dots and loops of information services connect with venturing business ideas. We have been the reason to bring transformative change for 200+ businesses in the last 8+ engrossing years full of probe and action. As a domain pacesetter, we have delivered great programs that reduced the daily grind for many and produced screen-time delights for evolving cultures. The feat goes on to serve global web and mobile affairs with IT solutions that define and deliver value!
Mobile App Development
Be on the top of the mobility curve with pioneering mobile app development solutions. Aim for the brightest apps that drive great product experiences across platforms!
Web Development
Authentic web crafts that possess platform-compliant traits built on advanced mechanics of web-driven utilities meant to serve your niche.
Mean Stack Development
Aim for the highest-grossing web value with our expert MEAN-stack development services that bring you the best of MongoDB, Express.Js, Angular, and NodeJS!
UI/UX Designing
Expressive designs that reveal collaborative choices of responsive screen communication. Created to deliver the smoothest user experience ever.
Ecommerce Application
Building stores to connect and serve users capturing the best ideas of tech-empowered online selling, facilitated by features that define trends!
CRM Solution
Bringing together profuse ideas and customer empathy to meet top-rated CRM development skills at work. Building great customer programs cutting the conventional clutter.
Take your first right step to be the next great thing!
Ask everything you have in mind to kick-start your dream solution with us.
What our clients say about us
Over 150+ satisfied clients and growing
Ms. Monja Uzunovic

Digital Marketing Manager, Markable

Dubai, UAE

We are very happy about the solutions that Inventcolabs provided. We were running out of time with our event but Inventcolabs made it all possible. They created the perfect software we needed for our show with all the features that we asked for. Can't thank them enough for the great job that they did in the nick of time. Will recommend!

Mr. Rudy Rubeiz

Founder, Lecigaro

Dubai, UAE

It has been a great experience working with the team at Inventcolabs. They are experts in ecommerce development and know how to align your business idea with advanced platform possibilities. They did a great job at bringing my project to its full spectrum role and making it deliver optimum value across customer touchpoints.

Ms. Colombo

Founder, Now App

Mexico

Have worked on back to back projects with Inventcolabs. I have seen them growing for a small-sized team to an all-inclusive resource integrated setup. They have been great at support, always available for critical discussions (even in the odd hours), so dedicated towards serving their clients. Served commitments all the way and never lost the track of time. Kudos to the all star performance at bringing our complex application development idea to life. Looking for more of great working together!!!

Ms. Sameera

Founder, Iseehat

Seattle, USA

Inventcolabs is the reason I now believe more in newer ventures. As they are flexible to communicate and engage with. Lean processes allow you the enormous ability to reinvent and scale. At the same time they are rigorous and sharp at converting ideas into actions. Inventcolabs just did this for my app all through the course of development and deployment.

It has been an extremely smooth experience to work with Inventcolabs. For me as a non-technical person who knows nothing about the web, you guys have been 'friendly experts'. Amazing SPOC to work with. Thanks, keep it up! I must say the entire team has been phenomenal at attending concerns and pulling on-time deliveries and proving their long-held expertise in the domain wherever it was needed.
LocalSelo is the on-demand Grocery Application serving local neighborhood requests for grocery orders and delivery. The application offers benefits to its users in the form of loyalty rewards and participation points. Users can avail discounts and offers and save huge on buying groceries with LocalSelo.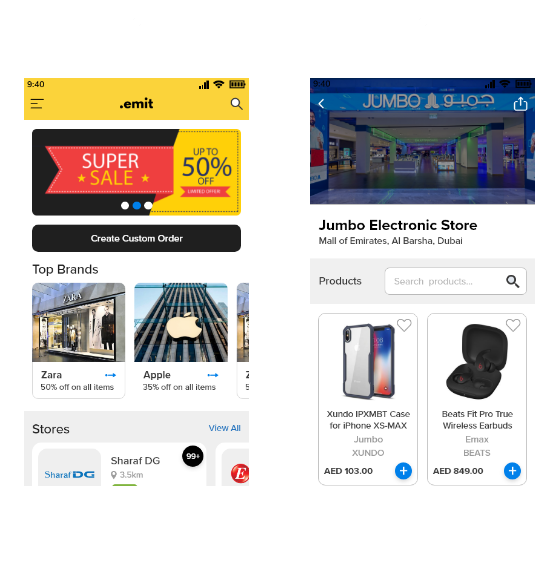 Lavender is a flower and chocolate gifting e-commerce platform that lets users explore and select options from a variety of flowers and chocolates. The user can add the selected items in the list of favorites or directly add them to the cart to place the order to be delivered to self or at the recipient's address.
Katalogue is a digital product advertising solution to connect users with nearby stores. The users can create a list of their favorite items or the products that they buy regularly from merchant stores. The app would fetch that list to notify them about the nearby purchase options from the stores in the proximity.
Hire Dedicated Developers
We've got you covered with the best hiring practices and service terms.
Have a great app idea?
Bring it to the floor before your competitor does!
Want to turn your dream project into reality?
Inventcolabs is eager to get you started.
You can accept it by clicking "Accept All Cookies" button or you can continue to use our website without changing your browser settings.