Digital Wallet App Development Company
In the modern era, e-wallet applications have been successful in changing the overall scenario of cash transfers and transactions while benefitting a number of businesses on the go. At Inventcolabs, we offer a comprehensive range of fully-protected and feature-rich e-Wallet app development services for iOS, Android, and wearable devices.
We, at Inventcolabs, have enabled entrepreneurs and institutions of the world get access to high-end digital wallets leading the respective niche markets. We are a leading mobile app development company owing to our attention to detail, immense expertise in the industry, and technical skills.
Our research teams and experts are working continuously to observe and monitor the real-world experience of e-wallets in B2C, B2B, and B2B2C environments. Our high-end e-Wallet development services help in deriving essential data to help us improve the entire experience of sending and receiving online payments through integrated or individual e-wallet applications.
Comprehensive e-Wallet App Development Services
We deliver access to on-demand and customized e-Wallet app solutions that are functional with the latest industry trends. We strive to make use of the best technologies and tools in the existing marketplace.
Mobile Wallet Application Development

We design custom-made mobile wallet solutions with high-end features ease of managing debit & credit cards, handling multiple cryptocurrencies, prepaid gift cards, and offering direct access to banks. Our team of skilled developers comes up with dedicated mobile wallet app services for facilitating payments near NFC (Near Field Communication), MST (Magnetic Secure Transmissions), and QR (Quick Response).

Custom Mobile Wallet Programming

Our team of e-wallet app development specialists is capable of developing and integrating mobile wallet applications with top-class features for receipt archiving and generation, loyalty card tracking, reward points, and management of digital ID. Our advanced security features include fingerprint scanning and protect from fraud transaction.

Cryptocurrency Wallet Development

At Inventcolabs, we develop Bitcoin (along with other cryptocurrency) wallet apps for purchasing, trading, and liquidating. We also design bespoke hardware wallets for the storage of cryptocurrencies offline. Some of the features for our cryptocurrency apps include private and public key management, mapping apps, and exchange platform access.

Mobile Wallets for Merchants

Our custom-designed, business-centric mobile wallet solutions are professionally programmed for ensuring consistency between mobile phones, tablets, and desktops. Our team integrates high-end features like time-tracking for contractors and freelancers, invoice generation, and cost-splitting allowance.

Mobile Wallet Integration Services

Our experienced team makes use of open-source APIs to deliver mobile wallet solutions to websites and apps. Our third-party mobile-based wallet integrations span Venmo, Apple Pay, Google Pay, Masterpass, and Samsung Pay. We help with the integration of interactive digital wallets with third-party POS software solutions.

Cross-platform Mobile Wallet Services

We help in the creation of native (Android and iOS) and cross-platform apps with superior UI/UX designs. Our mobile wallet app development solutions feature messaging functionality, social media management, multi-card management, and push notifications for NFC transactions without any tap.
Dynamic Panel for E-wallet Mobile App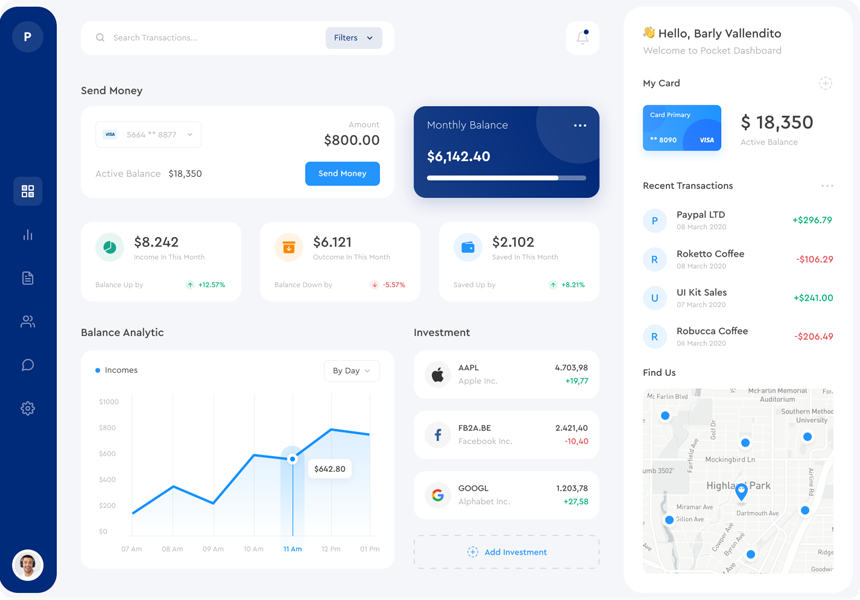 Real-time analytics
Manage merchants
Security compliances
Roll-based dashboards
Manage users
Audit management
Interactive dashboards
Revenue management
CMS (Content Management System)
CRM (Customer Relationship Management)
Setting and editing new offers and commission rates
Promotional offers
User registration
Add balance
Pay bills
Check balance status
Transaction history
Overview of offers
Bank account authorization
Transfer funds
Pop-up notifications
Budgeting tools
Splitting bills
Tax calculator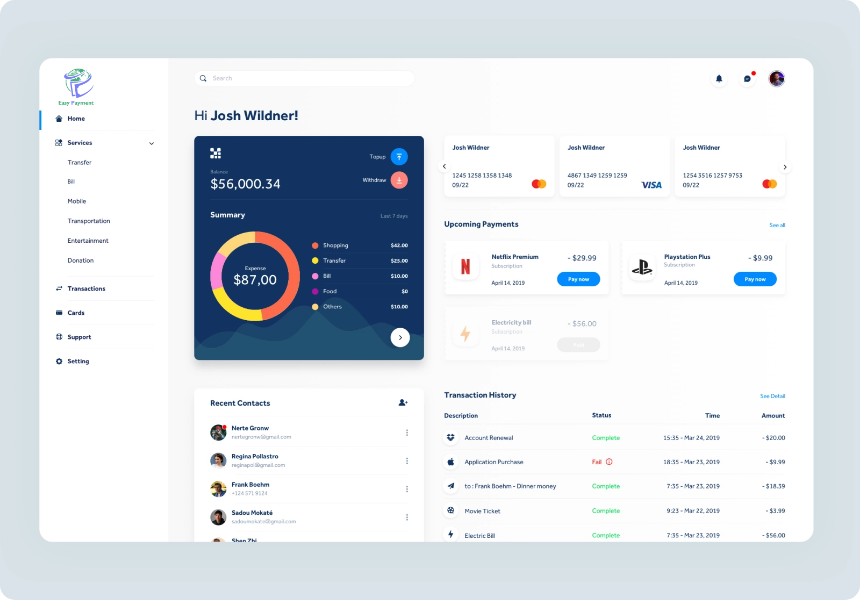 Add products
Generation of QR code
Interactive dashboard
EMI options
Managing staff
Managing customers
Creation of events
Withdrawing money
Promotional offers
Loyalty rewards
Detailed statements
Pop-up notifications
e-Wallet App Development Core Features
There are specific core features of a digital wallet application. The development of e-wallets for mobile requires the implementation of specialized features that would set your application apart from the existing ones.
Registration & Login
Ease of sign-up procedure and instant sign-in through fingerprint, social media, and even retina scan can help in saving the time of the end users and providing them with a flawless experience. e-Wallet apps link the debit and credit cards of users with the application to ensure the management of bank accounts and multiple cards in a single application.
Easy & Quick Online Payments
The vital feature allows users to ensure quick and easy online payments. The e-Wallet app that we design features an interactive and user-friendly dashboard that enables users to transfer payments without any hassle. The interactive dashboard of the application ensures payments without the involvement of any third-party.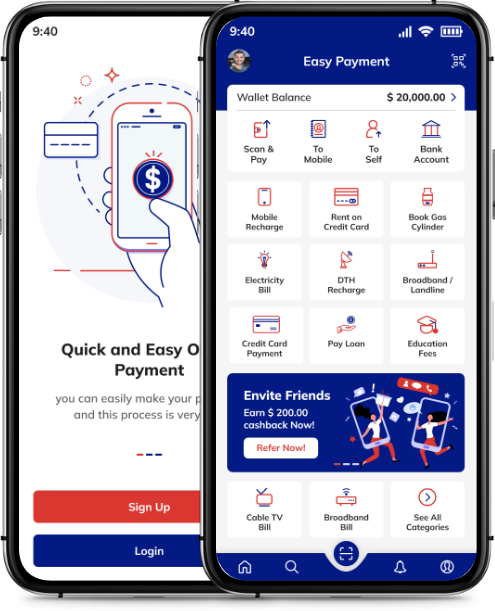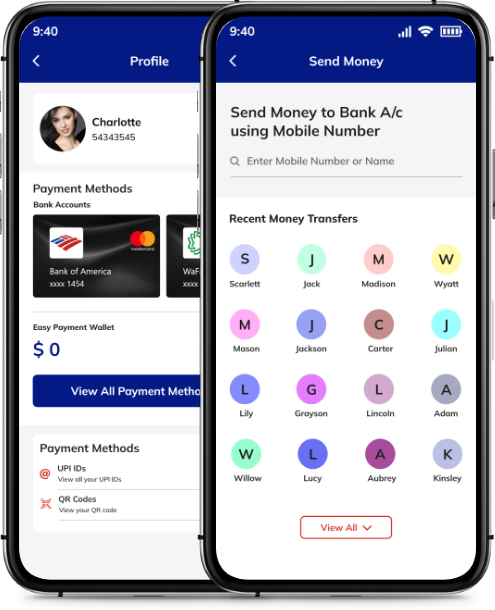 Wallet to Bank Transfer
The wallet to bank option of the e-wallet application that we design enables users to transfer money from the app account to either their own or to any other any bank account. The wallet to bank transfer option allows users to transfer money with the help of debit card as well.
Online Payments
The main objective of e-wallet applications is providing users with time-saving. It is one of the easiest methods to secure multi-platform payments. Therefore, it is a must-have feature. The feature also enables users to select the preferred method authenticating transaction -entering features like retina scanning, fingerprint, and PIN.
Transaction History
It is a must-have feature to allow users to check all the previous transactions while observing details as the amount value of the transaction, the data of the sender or recipient, data of payments, and so more. It enables users to effectively track as well as manage the overall personal expenses.
Checking Wallet Balance
The e-wallet application that we create can help in displaying wallet balance in real time. We also display the bank account balance within the application. It is easier to check the wallet balance seamlessly as the entire dashboard is highly organized and full of advanced features.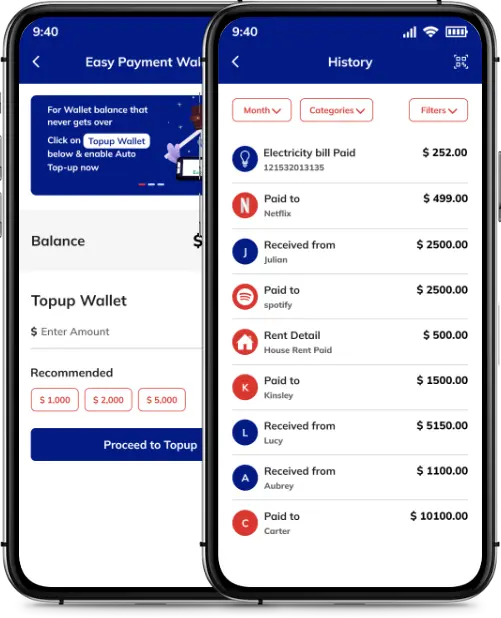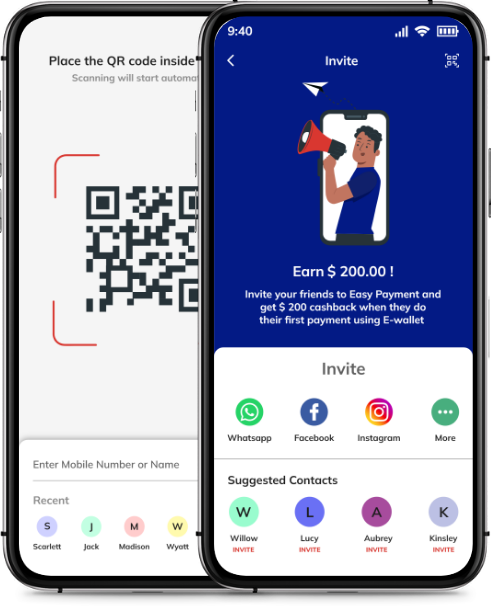 Invite & Earn
E-wallet applications can be used to invite others and earn offers and rewards for the same. Therefore, e-wallet applications can also be great for monetary benefits. The invite and earn capability of the e-wallet applications ensure seamless transactions and improved traffic throughout the platform.
QR Code
It is now possible to send as well as receive money through the QR code feature of the e-wallet app. Sending money is possible by entering the phone number of the recipient or scanning the QR Code of the app account of the recipients. Receiving money is also possible with the same options.
Advanced e-Wallet App Security Features
At Inventcolabs, we offer the assurance of unmatched security with advanced e-Wallet mobile application design. We are committed to developing solutions that are highly customized and secure. To ensure the same, we make use of the latest tools and technologies to cater to businesses of all sizes and scales.
Burp Suite
Upon the development of a feature-rich e-wallet app, we make use of comprehensive Burp Suite to ensure seamless security checks. The mobile-based wallet applications that we design have passed the professional testing levels of the Burp Suite.
Vulnerability Management
We offer in-depth vulnerability management solutions to keep the application secure throughout. Business owners can know about potential vulnerabilities with the e-Wallet app and resolve the same beforehand.
SOAP or REST Protocols
Our experienced app developers ensure that all applications that we design are compliant with the SOAP or REST protocols. This delivers the assurance of improved speed and security.
Information Security Management System (ISMS)
For improved security and confidentiality of the e-Wallet apps that we design, our industry-leading e-Wallet app development company makes use of ISMS for all applications. We deliver top-notch security for your applications.
Penetration Testing
All e-Wallet applications that we build leverage penetration testing mechanisms to prevent payment tampering. Penetration testing also helps in minimizing security breaches.

AML (Anti-money Laundering)
We can help users and business owners identify suspicious activities with respect to app usage or transactions to help them restrain money laundering activities.
Application Security
We strive to maximize the overall customer experience with every app that we design and build. Therefore, we make use of the latest technology and tools to make the apps foolproof.
Need Guidance from Experienced Consultant for e-Wallet app Development?
Contact us with your project requirements and app idea. Discuss the best strategies for your custom e-Wallet mobile application.
How does a e-Wallet App Work?
As one of the pioneering e-Wallet app development companies, Inventcolabs follows a well-organized and planned development process for e-Wallet solutions. We follow a thorough process of e-wallet application development to enhance user experiences and deliver performance breakthroughs.
e-Wallet App Development Cost Estimation
Analyze the exact cost of developing the e-Wallet application depends on many aspects and scenarios combined. There are several factors involved in estimating the cost of a e-Wallet app development project.
Technology Stack
It is the set of technologies utilized in the development process. Different technology stacks will depict different development costs.
UI/UX Components
There is no denying the importance of UI/UX for any mobile application. The more complex design your app will feature, the more it will cost for development.
App Platform
Whether you opt for iOS app development or Android app development, or even hybrid mobile app development, costs will vary depending on your selection.
Inclusion of Features
Features can either make or break an application. The more complicated and advanced features you will include, the more expensive the development process will be.
Storage
Large-sized mobile applications will require more storage. The amount of storage needed for your app also affects the overall costs.
Service Type
There are various types of applications depending on the services they provide. Depending on your choice, the development costs can vary.
App testing
Some of the tools and technologies used for app testing can be expensive. Therefore, the testing process also affects the development costs.
Looking for e-Wallet App Development Solutions?
Talk to us. Discuss your app requirement with our e-Wallet app consultants, and get your free consultation.
Our e-Wallet App Development Process
Analysis and planning
We perform in-depth analysis and planning of the e-Wallet app development project to deliver great results.
UI/UX design
Our experienced UI/UX designers create interactive and engaging front-end design for the mobile application.
Development
Our team of highly qualified and experienced e-Wallet mobile app developers implements the right strategies and coding to develop the app.
Testing
We also perform in-depth QA and testing of the mobile app that we develop to make it bug-free.
Maintenance & Support
We also offer comprehensive support and maintenance services for the apps that we design.
What technology stack we use for e-Wallet app development?
At Inventcolabs, we are committed to designing the topmost standard of e-Wallet mobile applications that deliver superior functional traits and utility value. To ensure the same, our developers make use of the latest technologies and tools that have the most authoritative and cohesive value to deliver.
What Our Clients Say About Us
Over 150+ Satisfied Clients And Growing
Ms. Monja Uzunovic
Digital Marketing Manager, Markable
Dubai, UAE
We are very happy about the solutions that Inventcolabs provided. We were running out of time with our event but Inventcolabs made it all possible. They created the perfect software we needed for our show with all the features that we asked for. Can't thank them enough for the great job that they did in the nick of time. Will recommend!
Mr. Rudy Rubeiz
Founder, Lecigaro
Dubai, UAE
It has been a great experience working with the team at Inventcolabs. They are experts in ecommerce development and know how to align your business idea with advanced platform possibilities. They did a great job at bringing my project to its full spectrum role and making it deliver optimum value across customer touchpoints.
Ms. Colombo
Founder, Now App
Mexico
Have worked on back to back projects with Inventcolabs. I have seen them growing for a small-sized team to an all-inclusive resource integrated setup. They have been great at support, always available for critical discussions (even in the odd hours), so dedicated towards serving their clients. Served commitments all the way and never lost the track of time. Kudos to the all star performance at bringing our complex application development idea to life. Looking for more of great working together!!!
Ms. Sameera
Founder, Iseehat
Seattle, USA
Inventcolabs is the reason I now believe more in newer ventures. As they are flexible to communicate and engage with. Lean processes allow you the enormous ability to reinvent and scale. At the same time they are rigorous and sharp at converting ideas into actions. Inventcolabs just did this for my app all through the course of development and deployment.
It has been an extremely smooth experience to work with Inventcolabs. For me as a non-technical person who knows nothing about the web, you guys have been 'friendly experts'. Amazing SPOC to work with. Thanks, keep it up! I must say the entire team has been phenomenal at attending concerns and pulling on-time deliveries and proving their long-held expertise in the domain wherever it was needed.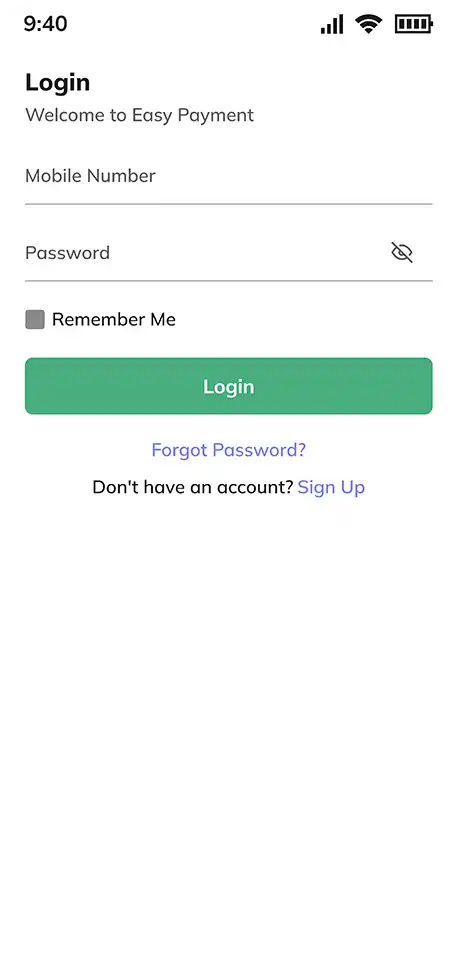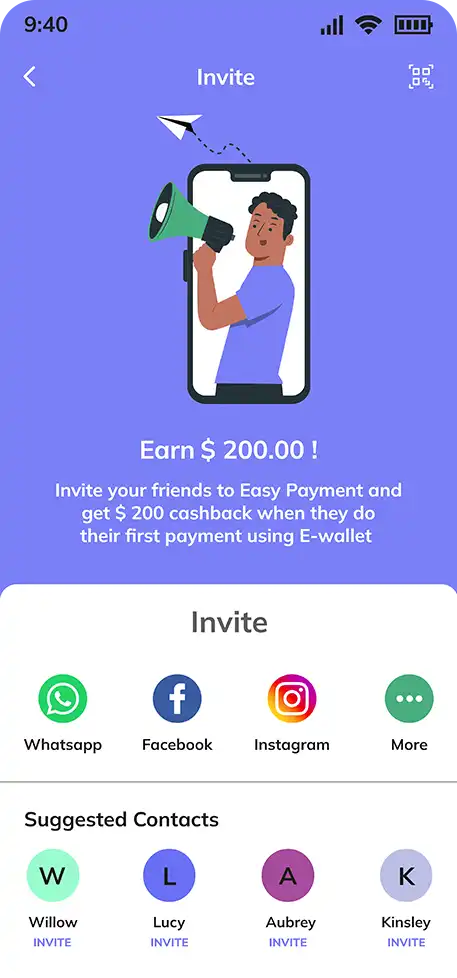 Frequently asked questions
Have a great app idea?
Bring it to the floor before your competitor does!
Want to turn your dream project into reality?
Inventcolabs is eager to get you started.
You can accept it by clicking "Accept All Cookies" button or you can continue to use our website without changing your browser settings.