Symfony Development Company
As we are a leading Symfony application development company, our team comes up with attractive and expressive websites for building a unique brand image for your business. At Inventcolabs, the in-depth experience of our team offers unmatched Symfony web development services in the industry.
We have created resourceful websites with the help of the powerful PHP-based Symfony framework for businesses of all sizes and types. Our quality-centric Symfony development services have helped our clientele in automating business processes instantly, minimizing inappropriate aspects, and unlocking a wide range of possibilities for growing further.
Our Comprehensive Symfony Development Services
With the help of the interactive, open-source web application development framework, our experts assure you the development of bespoke websites and applications that fulfill your business expectations closely. We leave no stone unturned when it comes to improving and maintaining quality standards and staying committed to the best service policies.
Module Design and Development
With the help of our extensive knowledge in JavaScript, CSS stylesheets, and standard PHP conventions, we are capable of building bespoke modules for your online stores. We offer exceptional services like module design and development to suit your specific business requirements.
API Integration & Plugin Design
Our team is proficient in coming up with custom-made plugins. We deliver personalized Symfony plugin design and development solutions for enhancing and boosting the existing functionality of the website of our clients. Our Symfony web developers are skilled in plugin development and integration services.
Custom Symfony Web App Development
At Inventcolabs, we offer world-class Symfony web app development services for achieving every need of your business. Our experienced coders are highly skilled and adept at the latest web app development technologies. We are a leading Symfony web application development company to complement your business.
Symfony Application Upgrade
We even help with customizing and upgrading a module with the help of the Symfony framework. You can leverage our Symfony application leverage services to make the most of your application. Ensure that your application becomes glitch-free and high-performing with our Symfony application upgrade services.
Migration & Maintenance
Make use of our professional Symfony migration and maintenance solutions to enhance the performance of your business applications. Our team of Symfony experts follows in-depth practices and revolutionary tools to migrate and maintain your application.
Symfony Component Development
You can leverage the set of reusable and decoupled PHP libraries –as Symfony components to enhance the functionality of business applications. Our experienced developers can deliver top-class Symfony component development solutions to reinvent your business notions.
Why Choose Inventcolabs for Symfony Development?
Inventcolabs –a leading Symfony development agency is committed to delivering standard Symfony software development solutions. Our experienced and certified team has built and delivered a range of successful projects across the globe. Our remote Symfony developers are selected after an in-depth screening and interview process. Hire Symfony developers from our team to avail these benefits:
End-to-end development services
Expert team of certified SymfonyCloud developers
Utilization of standard practices and methodology
Trusted maintenance and support solutions
Fair and competitive pricing
Utilization of advanced technology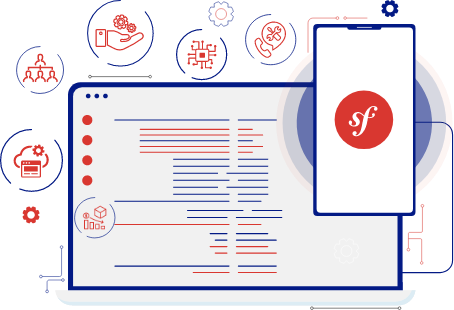 Umra Scanner is a platform for booking trips for Umra and Hajj. The application allows travel operators and service agencies from Europe to list their travel offerings and plans for Umra & Hajj trips. Users can choose from different travel options selecting from the travel itinerary and tour plans offered by different agencies.
Frequently asked questions
Have a great app idea?
Bring it to the floor before your competitor does!
Latest Blogs And News
Stay updated with the latest development insights, technologies, trends.
Want to turn your dream project into reality?
Inventcolabs is eager to get you started.
You can accept it by clicking "Accept All Cookies" button or you can continue to use our website without changing your browser settings.