Bespoke Medicine Delivery App Development Solutions
Inventcolabs is a reputed medicine delivery app development service provider having ample expertise in the creation of custom-made medicine home delivery apps for small-scale and large-scale businesses looking for rapid growth and scalability.
Our Comprehensive Medicine Delivery App Development Services
Inventcolabs is dedicated to transforming the healthcare industry through its bespoke medicine delivery app development services. We offer on-demand medicine ordering and delivery app development solutions to allow users to purchase the required medicines without physically visiting the pharmacy store.

Medicine Delivery App Development
Inventcolabs is a leading pharmacy app development company ensuring you a fast and seamless process of ordering medicine online. Search for the required medicines, upload prescriptions, get expert counselling, and search for alternatives –all at a single place.
POS Application/Software
At Inventcolabs, we provide access to powerful POS software solutions for managing sales and purchases at multiple pharmacy stores. Experience role-based data sharing, faster billing, and real-time synchronization capabilities with the application or the website.
Inventory Management Software
Analyse and share status of medicine inventory while ordering requests, alternative brands, shipment details, and new products. As a leading medicine app development company, we ensure AI-powered integrations for improved procurement management, inventory forecasts, and automatic pricing updation.

Pharmaceutical CRM Software
We build cloud-based CRM pharmaceutical CRM solutions for managing the databases of customers, patients, pharmacies, and healthcare professionals. Our CRM software offers insight into the ongoing orders, payment status, and inventory for streamlining the pharmaceutical operations.
Supply Chain Management Software
Our software solutions can streamline the entire supply chain process –right from tracking order deliveries to managing demand & supply of medicines, and maintaining inventory with the help of the all-in-one supply chain management software solution.
A medicine delivery app that suits every pharmacy needs
We are a leading pharmacy app development company and we design a medicine delivery app that rightly complements every pharma needs. We have a spawn of solutions for different single store and multiple store owners. We provide the most successful and practical solutions for E-pharmacy startups, Single pharmacy store owners, and Multiple pharmacy chains.
E-pharmacy Startups
Are you someone who is looking to kickstart his E-pharmacy startup? Get our ready-to-launch solution for your startup.
Single Pharmacy Stores
Do you want to operate and expand your business online? Well, we can customize a perfect solution for your pharmacy needs.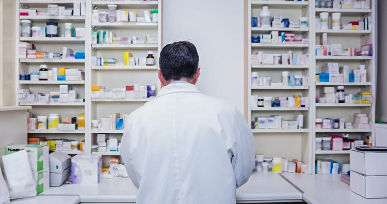 Multiple Pharmacy Chains
Are you someone who is looking to expand their pharmacy services on a global level? We have the right solution for you.