Hire Services from the Reliable Full Stack Development Company
Inventcolabs specialises in top-class software development across a wide spectrum of technologies –ranging from front-end prototyping to comprehensive back-end services. Our team of full stack developers is extensively experienced and qualified to develop full-fledged applications for your enterprise. Improve the functionalities and features of your website with our end-to-end Full Stack Development services on a single platform.
Why Choose Inventcolabs for Full Stack Development?
At Inventcolabs, our comprehensive range of full stack web development services includes all necessary resources, tools, and techniques for delivering optimum outcomes. Our experienced full stack software developers are capable of designing robust web applications for unleashing the full-end potential for your business.
Top-class quality assurance
Continued support and maintenance
Well-appointed customer support
Custom software solutions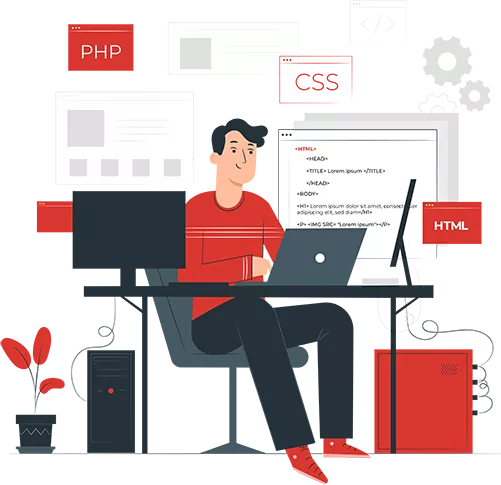 Our Comprehensive Full Stack Development Services
At Inventcolabs, we aim to deliver our clients with a complete project development solution with our end-to-end Full Stack Development services. We are known for creating flexible workflows to maximize efficiency through our bespoke Full Stack Development services.
Front-end Development
Our experienced full-stack software developers are adept at front-end technologies like CSS, HTML, Mocha, Angular.js, Node.js, React.js, Vue.js, and JavaScript. We are focused on using cutting-edge technologies for making your web and mobile applications attractive. We also aim at enhancing the overall performance of the applications that we develop.
Back-end Development
Our team of qualified full stack programmers is proficient in handling web and mobile applications running on various APIs and applications. We come up with websites functioning seamlessly while fulfilling the end user expectations. Our back-end coders make use of advanced programming languages including ASP.Net, Ruby on Rails, Java, SQL, Python, Laravel, PHP, and Node.js.
Full Stack Ecommerce Development
Our skilled team of full stack app developers is experienced in designing interactive e-commerce websites through our bespoke Full Stack solutions. We come up with websites and applications for your e-commerce store to deliver maximum engagement. You can reach out to our team with your specifications and we make sure that it gets fulfilled.
API Development & Migration
Our experienced Full Stack Development team has immense experience in delivering access to customized API development, integration, and migration services. We come up with a full suite of API development solutions for helping with the seamless and smooth functioning of your applications. Our experts ensure integrations for social networks, payment systems, and business tools.
Develop & Manage Databases
Our talented team is capable of collecting as well as systemizing important information from huge volumes of data. Our professional team has ample experience in JSON and XML. We also have relevant expertise in custom database development technologies. At Inventcolabs, we boast extensive understanding of the back-end language of your preference.
Maintenance & Support
At Inventcolabs, our full stack programmers offer in-depth support and maintenance services to the clients. Our team provides all-round support by updating, optimizing, and testing program resources and applications continually to make it deliver for you perfectly. We make use of the latest technologies for ensuring that your applications run smoothly even after its deployment.
Frequently asked questions
Have a great app idea?
Bring it to the floor before your competitor does!
Latest Blogs And News
Stay updated with the latest development insights, technologies, trends.
Want to turn your dream project into reality?
Inventcolabs is eager to get you started.
You can accept it by clicking "Accept All Cookies" button or you can continue to use our website without changing your browser settings.