Dedicated iOS App Developers for Your Specific App Development Needs
Inventcolabs –a leading iPhone app development company offers a dedicated range of iPhone app development services through our highly qualified and experienced iPhone developers having expertise in the given industry. Our team of experienced iPhone app developers offer value-added services to our global clientele. We also boast strong domain expertise for building highly robust, scalable, and customized iPhone applications. At Inventcolabs, you can hire iPhone app experts to come up with interactive, feature-rich, and secure iOS applications.
Expertise of Our iPhone App Developers
When you hire dedicated iPhone app developers and designers from Inventcolabs, you can come across a myriad of benefits for reducing unnecessary overhead, cutting down response time, and avoiding being behind in competition. Our team of dedicated iPhone app developers helps in coming across a cost-effective solution for allowing your in-house development team to focus on other core areas of the project.
iPhone app conceptualization and design
Custom iPhone app development
iPhone app support and maintenance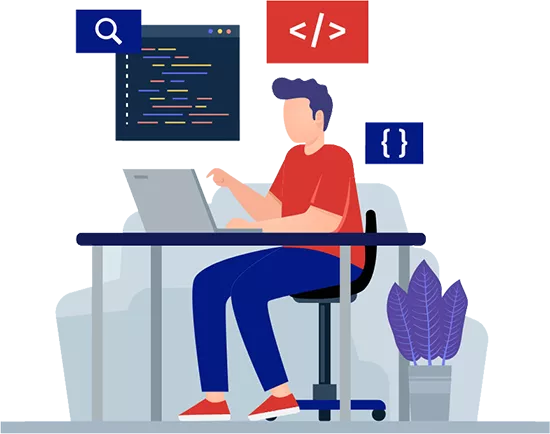 Why Hire iPhone App Developers from Inventcolabs?
Hire our iOS app developers to get the most value with building your iOS project. Whether you are a startup or a seasoned organization, our team of iPhone app developers can help you in achieving new targets with minimal overheads. We are available round-the-clock for professional assistance through our unique engagement models.
Flexibility in Time Zones
We are committed to working in your time zone. You can hire our experienced designers and developers to get the project completed as per your time and communication preferences.
Flexible Engagement Models
We do not work on the rigid or strict working models when it comes to iPhone app development. We are committed to delivering maximum flexibility to our clients with the help of flexible engagement models.
Dedicated Team
At Inventcolabs, we feature a team of experienced and dedicated iOS app developers delivering custom-made results for your project. Our dedicated team of developers and project managers works with your in-house team to deliver optimum outcomes.
On Time Delivery
Our iOS developers are well-versed with working on state-of-the-art app development technologies to convert innovation-led ideas into great products. We also employ the Agile methodology for helping us deliver projects with great efficiency within time.
Cost-effective Solution
With Inventcolabs, you can be convinced of cost-effective mobile app development solutions when you hire iPhone developers in India. We offer you the lowest pricing assurance in the given segment with no hidden costs.
Maintenance and Support
Leverage our reliable maintenance and support services for assisting you through different stages of iPhone app development services. Our team is available 24/7 for your assistance.
No Hidden Cost
Our innovative pricing models are evident that there are no hidden costs involved. We are committed to maximizing client satisfaction with the help of our transparent pricing policy.
Unparalleled Communication
Our iOS app developers and programmers are accessible through Skype, call, emails, and any other mode for maximizing communication and transparency with our clients.
Customized Solution Delivery
Our ultimate focus is on empowering businesses with the help of custom-made iOS apps that can be set on the global stage easily and successfully. Hire our iPhone app programmers to expect the best results.
Our Work Process

1
Inquiry
Let us known in detail about your unique ideas and requirements. With us, you can be assured that your app idea remains secure and confidential.

2
Select Developer
Based on your specific app development requirements, you can shortlist existing candidates by going through their CVs.

3
Take Interview
Conduct in-depth interviews of the selected candidates over a video call or phone call.

4
Add Resources in your Team
Based on the interview performance, you can select the desired iOS app developers to your in-house team.
What Our Clients Say About Us
Over 150+ Satisfied Clients And Growing
Ms. Monja Uzunovic
Digital Marketing Manager, Markable
Dubai, UAE
We are very happy about the solutions that Inventcolabs provided. We were running out of time with our event but Inventcolabs made it all possible. They created the perfect software we needed for our show with all the features that we asked for. Can't thank them enough for the great job that they did in the nick of time. Will recommend!
Mr. Rudy Rubeiz
Founder, Lecigaro
Dubai, UAE
It has been a great experience working with the team at Inventcolabs. They are experts in ecommerce development and know how to align your business idea with advanced platform possibilities. They did a great job at bringing my project to its full spectrum role and making it deliver optimum value across customer touchpoints.
Ms. Colombo
Founder, Now App
Mexico
Have worked on back to back projects with Inventcolabs. I have seen them growing for a small-sized team to an all-inclusive resource integrated setup. They have been great at support, always available for critical discussions (even in the odd hours), so dedicated towards serving their clients. Served commitments all the way and never lost the track of time. Kudos to the all star performance at bringing our complex application development idea to life. Looking for more of great working together!!!
Ms. Sameera
Founder, Iseehat
Seattle, USA
Inventcolabs is the reason I now believe more in newer ventures. As they are flexible to communicate and engage with. Lean processes allow you the enormous ability to reinvent and scale. At the same time they are rigorous and sharp at converting ideas into actions. Inventcolabs just did this for my app all through the course of development and deployment.
It has been an extremely smooth experience to work with Inventcolabs. For me as a non-technical person who knows nothing about the web, you guys have been 'friendly experts'. Amazing SPOC to work with. Thanks, keep it up! I must say the entire team has been phenomenal at attending concerns and pulling on-time deliveries and proving their long-held expertise in the domain wherever it was needed.
Frequently asked questions
Have a great app idea?
Bring it to the floor before your competitor does!
Want to turn your dream project into reality?
Inventcolabs is eager to get you started.
You can accept it by clicking "Accept All Cookies" button or you can continue to use our website without changing your browser settings.