What is an ICO?
ICO stands for Initial Coin Offering. ICO is the most effective crowdfunding process in comparison to other fundraising programs. By launching the ICO, organizations involved in crypto and new Blockchain projects, find it simpler to raise ample funds for the projects. In return for the respective investments, investors receive crypto coins or tokens having utilities once the product becomes live.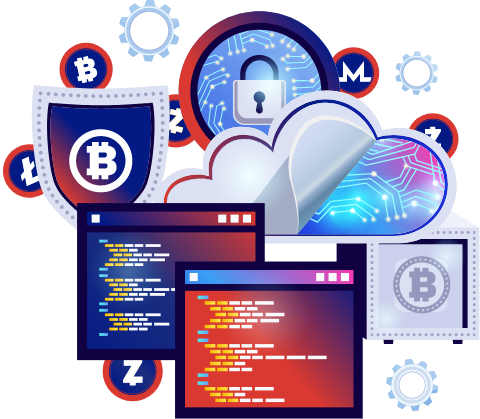 Work Module of an ICO
At Inventcolabs, we are early adopters of leading ICO app development services as we help companies launch their own ICOs. Our team of skillful developers has extensive experience and in-depth knowledge in developing as well as maintaining different Blockchain applications.
Identification of Potential Investors
Every ICO commences with the intention of the company to raise capital. We identify the target for its fundraising campaign while creating the relevant materials about the project or company for potential investors.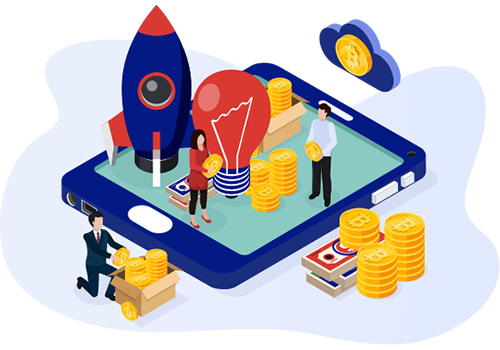 Token Creation
The next step in ICO development is creating tokens. Tokens are regarded as representations of some asset or utility in the Blockchain. The tokens are tradable and fungible. We create tokens with the help of specific Blockchain platforms.
Promotion Campaign
We also run a successful promotion campaign for attracting potential investors. We execute promotions online to achieve the maximum reach of the investors. You can rely on us for reliable promotion of the campaign.
Initial Offer
Once the tokens are created, we offer the same to the investors. The offering is structured in different rounds. You can use the proceeds from the ICO for launching a new product or service.
Types of ICO
Public ICOs
These are offerings as a type of crowdfunding for targeting the general public. The public ICO is a democratized type of investment as anyone is capable of becoming an investor.
Private ICOs
In this type of offering, only a limited number of investors are capable of participating in the process. Usually, only accredited investors are capable of participating in private ICOs.
ICO Development Services We Offer
Inventcolabs –a leading ICO development company has ample expertise in building secure, swift, and highly stable websites that help you in raising funds. We offer reliable and professional ICO software development services for helping you to launch your own ICO successfully while raising crowdfunding.
Whitepaper & Lightpaper Designing and Creation
Whitepaper is the backbone of any ICO. At Inventcolabs, we provide expert and in-depth whitepaper services for formally presenting your venture to potential ICO investors. Our team of talented and experienced whitepaper writers makes sure that your whitepaper is all relatable and inclusive.
Landing Page Design
A landing page that is intuitively designed is important to the overall success of an ICO. We offer you the ultimate choice of different designs and layouts while offering suggestions on important information that your business landing page should have. We offer access to user-friendly landing page to encourage the investors.
Listing Services
After the ICO launch, we provide dedicated cryptocurrency exchange listing services to help in listing your cryptocurrency or tokens on both merchant and token platforms. Our developers are capable of developing authentic and risk-free cryptocurrency exchange platform on the go.
ICO Fundraising Dashboard
The ICO dashboard that we design has a number of features making it suitable for a wide scope of businesses. As we are a trustworthy ICO development agency, we are capable of offering a minimal ICO dashboard to the investors. We offer customized Initial coin offering services –right from design to launch.
Airdrop & Bounty Assistance
Airdrop and Bounty Assistance are core functionalities of ICO software development services that we deliver. We leverage the benefits of these functionalities for making your product valuable and amazing. Our professional developers make use of high-end technology to ensure the best outcomes.
Cryptocurrency Wallet Development
We are a leading ICO token development company, and offer business-centric cryptocurrency wallet development services for developing and delivering high-performance and secure cryptocurrency wallets. With us, you can receive top-class cryptocurrency wallet development solutions as per your ICO requirements.
Token or Coin Development
ICOs on the Ethereum Network Issue ERC-20 compatible tokens to the users with the help of smart contracts. It tends to limit the organization holding the ICO from the creation of more tokens than already specified in the initial contract. Our ERC-20 token development services offer mission-centric solutions for rapid token development.
Multi-Channel Marketing
As your ICO is supported by reliable and strong multi-channel PR and marketing efforts, you can expect to observe amazing results for your offering. At Inventcolabs, we are a team of dedicated multi-disciplined domain experts striving to deliver affirmative customer experience throughout the product development cycle.
Cryptocurrency Exchange Platform
Our white label cryptocurrency exchange platform services offer customized range of development solutions to help with launching your exchange platform seamlessly. Our cryptocurrency exchanges are secure and reliable as we deliver a holistic solution to launch a successful platform.
Pre-ICO Services
Whitepaper Service
Whitepaper is developed by specialists who are trained on presenting in-depth information. Our ICO service providers also have deeper insights of the industry.
Token Development
We develop tokens or coins that prove effective to the project. We ensure that you get the best out of the mechanism.
Wallet App
As we develop the wallet, we integrate the same into the platform. We make the end product secure and reliable at the same time.
Landing Page
The landing page that we design is developed in a way that is draws the interest of investors while encouraging them to go deeper into the project.
Smart Contract Development
Smart Contracts are designed such that they can provide ample security to the assets. We help in bringing it closer to the vision.
Post-ICO services
Exchange Listing
You also get the opportunity to list the tokens with relevant exchange platforms while making them available to the users with the help of far-reaching media.
Price Volatility
To minimize the effects of price volatility in ICO or cryptocurrencies, our team experts implement the right steps.
Assiduous ICO Generation
If your crypto tokens can be traded, then we can help with listing your tokens or reputed exchange platforms.

ICO Report & Summary
Based on the effectiveness of your ICO, we come up with detailed reports and summaries of ICO marketing agency services that we offer.
Why Choose Inventcolabs for ICO Development?
As an experienced ICO development company, we take pride in coming up with reliable tokens on the important standards and Blockchain platforms. Our expertise in ICO development includes a broader range of top-class features as well as functionalities to help you become market leaders. With our bespoke software development services, it is a simpler process to launch the ICO campaign for your innovative idea.
5000+ cryptocurrencies with app development
Detailed candle graph revealing the values
What Our Clients Say About Us
Over 150+ Satisfied Clients And Growing
Ms. Monja Uzunovic
Digital Marketing Manager, Markable
Dubai, UAE
We are very happy about the solutions that Inventcolabs provided. We were running out of time with our event but Inventcolabs made it all possible. They created the perfect software we needed for our show with all the features that we asked for. Can't thank them enough for the great job that they did in the nick of time. Will recommend!
Mr. Rudy Rubeiz
Founder, Lecigaro
Dubai, UAE
It has been a great experience working with the team at Inventcolabs. They are experts in ecommerce development and know how to align your business idea with advanced platform possibilities. They did a great job at bringing my project to its full spectrum role and making it deliver optimum value across customer touchpoints.
Ms. Colombo
Founder, Now App
Mexico
Have worked on back to back projects with Inventcolabs. I have seen them growing for a small-sized team to an all-inclusive resource integrated setup. They have been great at support, always available for critical discussions (even in the odd hours), so dedicated towards serving their clients. Served commitments all the way and never lost the track of time. Kudos to the all star performance at bringing our complex application development idea to life. Looking for more of great working together!!!
Ms. Sameera
Founder, Iseehat
Seattle, USA
Inventcolabs is the reason I now believe more in newer ventures. As they are flexible to communicate and engage with. Lean processes allow you the enormous ability to reinvent and scale. At the same time they are rigorous and sharp at converting ideas into actions. Inventcolabs just did this for my app all through the course of development and deployment.
It has been an extremely smooth experience to work with Inventcolabs. For me as a non-technical person who knows nothing about the web, you guys have been 'friendly experts'. Amazing SPOC to work with. Thanks, keep it up! I must say the entire team has been phenomenal at attending concerns and pulling on-time deliveries and proving their long-held expertise in the domain wherever it was needed.
Frequently asked questions
Have a great app idea?
Bring it to the floor before your competitor does!
Latest Blogs And News
Stay updated with the latest development insights, technologies, trends.
Want to turn your dream project into reality?
Inventcolabs is eager to get you started.
You can accept it by clicking "Accept All Cookies" button or you can continue to use our website without changing your browser settings.