Hire Services from a Reliable MEAN Stack Development Company
Inventcolabs, a pioneering MEAN Stack Development company, has several years of relevant expertise in designing feature-rich, dynamic web applications and websites. Our MEAN Stack developers come up with lightweight, top-performance e-commerce websites and applications to suit your business requirements.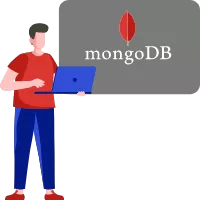 MongoDB Development
We offer access to end-to-end MongoDB development solutions –right from MongoDB consulting to architecture design and strategy, integration, and implementation.
ExpressJS Development
Our team of experienced Express JS developers has ample experience in designing dynamic APIs and web applications with the help of Express JS –a Node.js web application platform.
Inventcolabs specializes in data-driven, well-structured, highly interactive, and cross-platform mobile and web app MEAN STACK development services with the help of Angular JS.
Our team of skilled Node.js developers delivers access to Node.js consulting, migration, development, and team augmentation solutions with ultimate excellence.
Ultimate MEAN Stack Development Solutions
Backed by the powerful and feature-rich JavaScript framework, MEAN Stack Development is the preferred choice for developing applications or programming. MEAN Stack Development solutions that we offer are ideal for building mobile and web applications that are straightforward, reliable, and flexible.
At Inventcolabs, our MEAN Stack app Development team will look into all your specific business needs by including value to your mobile and web applications. Hire MEAN Stack Developers from our team and increase the success rate of your business to an unmatched level. With flexible and cutting-edge technology, our MEAN Stack Development team will make your website more relevant and productive.
Rendezvous for Quality and Satisfaction
Do you want to know what plan do we have for your idea?
Comprehensive MEAN Stack Development Services
Inventcolabs is a renowned MEAN Stack web app development company. We take pride in our team of highly qualified and certified MEAN Stack experts delivering excellence throughout.
Customized CMS Solutions
Our expertise as a professional MEAN Stack Development company leverages the technology in developing customized CMS solutions for your business. Build robust CMS solutions empowered by full-stack MEAN development solutions. We deliver access to end-to-end backend solutions for performing CRUD functions on the scale.
Interactive Website Solutions
Kickstart your website development projects with our in-depth Mean expertise. We deliver the next level of scalability. Reduce the overall development time and streamline web production pipeline with our interactive website development solutions through MEAN Stack Development.
MEAN Stack API Solutions
Design feature-rich APIs using MEAN. With us, you can also integrate the high-end APIs into legacy ecosystems for adding third-party apps. We render improved agility as well as speed to the web projects. Our dedicated MEAN Stack coders will help in designing customized APIs as per your needs.
MEAN Stack Migration Solutions
Smooth out end-to-end migration processes from legacy web-based frameworks to open-source MEAN with the help of advanced JavaScript tools. With our reliable MEAN Stack migration solutions, you do not have to worry about compromising the data security of your system.
Enterprise Mean Stack Solutions
Leverage the benefits of highly lightweight and speedy JavaScript-based MEAN web development framework for transforming your ERP systems into highly scalable and enterprise-grade applications. With our MEAN Stack Development services, we can help in synchronizing your business effectively for handling heavy workloads.
Why Choose Inventcolabs for MEAN Stack Development?
At Inventcolabs, we are well-versed with all possible components of MEAN Stack. Therefore, we deliver ample flexibility and ease of developing complicated applications with the help of the best-in-class JavaScript-based solutions. Our skilled and experienced team of MEAN Stack developers is capable of designing futuristic and interactive websites and web applications for delivering a winning advantage over competitors.
Impressive record of successful projects
Relevant industry-specific expertise
Flexible engagement models
Diverse clientele across different industry verticals
What Our Clients Say About Us
Over 150+ Satisfied Clients And Growing
Ms. Monja Uzunovic
Digital Marketing Manager, Markable
Dubai, UAE
We are very happy about the solutions that Inventcolabs provided. We were running out of time with our event but Inventcolabs made it all possible. They created the perfect software we needed for our show with all the features that we asked for. Can't thank them enough for the great job that they did in the nick of time. Will recommend!
Mr. Rudy Rubeiz
Founder, Lecigaro
Dubai, UAE
It has been a great experience working with the team at Inventcolabs. They are experts in ecommerce development and know how to align your business idea with advanced platform possibilities. They did a great job at bringing my project to its full spectrum role and making it deliver optimum value across customer touchpoints.
Ms. Colombo
Founder, Now App
Mexico
Have worked on back to back projects with Inventcolabs. I have seen them growing for a small-sized team to an all-inclusive resource integrated setup. They have been great at support, always available for critical discussions (even in the odd hours), so dedicated towards serving their clients. Served commitments all the way and never lost the track of time. Kudos to the all star performance at bringing our complex application development idea to life. Looking for more of great working together!!!
Ms. Sameera
Founder, Iseehat
Seattle, USA
Inventcolabs is the reason I now believe more in newer ventures. As they are flexible to communicate and engage with. Lean processes allow you the enormous ability to reinvent and scale. At the same time they are rigorous and sharp at converting ideas into actions. Inventcolabs just did this for my app all through the course of development and deployment.
It has been an extremely smooth experience to work with Inventcolabs. For me as a non-technical person who knows nothing about the web, you guys have been 'friendly experts'. Amazing SPOC to work with. Thanks, keep it up! I must say the entire team has been phenomenal at attending concerns and pulling on-time deliveries and proving their long-held expertise in the domain wherever it was needed.
Frequently asked questions
Have a great app idea?
Bring it to the floor before your competitor does!
Latest Blogs And News
Stay updated with the latest development insights, technologies, trends.
Want to turn your dream project into reality?
Inventcolabs is eager to get you started.
You can accept it by clicking "Accept All Cookies" button or you can continue to use our website without changing your browser settings.