Online learning websites have become very common in 2023. The online learning market was booming even before the pandemic, but the pandemic gave it a huge push. Due to the pandemic, students and learners were forced to take lessons from their homes. This had a significant boost to these learning websites. The market is also ripe with opportunities. If you want to develop an online learning website in 2023, you need to do much more than just hire an elearning app development company.
Read on as we discuss everything from the website's online market overview and necessary features to the cost of creating such a website. First, let's have a look at the online learning market.
Online Learning Market Overview
The online learning market is enormous in every sense of the word. It is expected to have a worldwide revenue of US $ 166.60 bn in the year 2023. If you think this is huge, consider this- the global market is expected to reach US $ 325 bn by 2025. With an annual CAGR of 7%, the online learning market is booming right now. Globally, the largest revenue is generated by the United States. Due to the market size, more and more new companies are coming up that want a slice of the e-learning industry.
The COVID-19 pandemic greatly boosted the online learning market, but that trend is still continuing, with a record number of students enrolled across various online learning platforms.
As internet penetration increases, the online learning market will get users from newer markets. This also goes to show the upward trend of the industry. Business-wise, it only makes sense to hire dedicated developers for your education app development or website development.
Why should you develop an online learning website?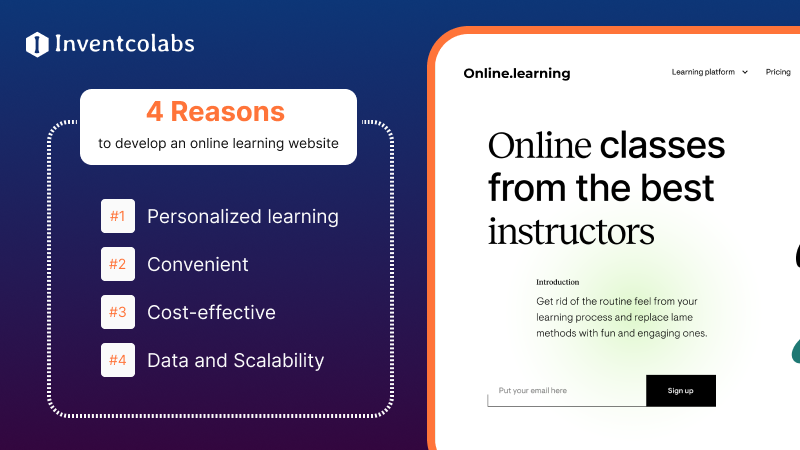 Other than the massive market size of the industry, an online learning app has enormous potential for expansion. It has several benefits both for the user and the company operating the business. Here are some of the significant benefits of an e-learning website;
Personalized learning
With an online learning website, attending classes simultaneously and on the same day is unnecessary. You can take your lessons at your preferred hour and day. Moreover, you also get different mentors teaching the same lessons. This allows you to check which of them is a good fit for you before starting a class. Also, there's no rush to complete a specific course. You can learn at your own pace.
Convenient
Online learning apps provides a convenient way to learn for learners. They don't have to travel anywhere, braving the different seasons and local conditions. They can learn from the comfort of their home at their own pace and on their own time. This is a boon for busy professionals who don't have several hours to waste on traveling. They are able to save time using these online learning applications.
Cost-effective
For businesses, it eliminates the need to build infrastructure. You don't need to make and maintain huge buildings, which can be costly. There's no need to pay rental fees for the building or staff salaries. All your lessons are online; you don't have to spend a fortune to maintain that. There are next to no physical assets associated with an online earning website. Elearning mobile app development is much cheaper than building infrastructure.
Data and Scalability
Data is essential for any kind of business, and as the platform is online, you get access to massive data. This data can be used to double down on what's working and rectify what is not. This will help the business expand further, making scalability a straightforward issue for businesses. All the data will also help your elearning app development company to improve your website.
Types of E-learning Platforms
There can be various types of e-learning platforms depending on the business model and target audiences. Some of them are listed below;
Learning Management System (LMS)
Education institutes and businesses commonly use Learning Management Systems to teach and train their students and employees. It provides an easy way for mentors and tutors to provide courses. It is effortless to host and manage access to courses on LMS.
Example- Canvas
Destination Site for Learning
The destination sites for learning are those sites that have several mentors and tutors. They offer various courses related to different fields. They use LMS to provide different courses. These sites offer an easy way to learn by choosing any of the courses from your preferred mentors.
Example- Skillshare

Online Learning Marketplace
True to its name- online learning marketplaces allow learners to search for their ideal tutor. It acts as a medium where learners can find their best tutor. Tutors have ratings, reviews, and descriptions, allowing users to assess whether they are a good fit for each other. Most of these platforms also provide free lessons to help students evaluate the tutors and their teaching methods.
Example- Tutorme
Explore More: What is Metaverse? A Guide To The Next-Gen Virtual Dimension
Digital Libraries
Just like real libraries, digital libraries are a repository that contains information in the form of e-books, videos, and images. Users can borrow these from the digital library; many even provide several free books.
Example- Open Library
Features of Online Learning Website
To ensure you provide the best learning experience to learners, you must ask your website development company for custom web development services.
Registration and login
An easy registration and login option should be available for users. This will be not only an easy way for you to collect valuable data about the users but also a simple way to onboard users. To take this a step further, allow users to sign up using their emails and social media handles like Facebook.
User profile
A user profile provides you with relevant data about the user. This can be used to provide personalized learning experiences. This can also be used to provide custom offers and discounts.
Dashboard
A dashboard is essential for an e-learning website user. It will show valuable stats like the number of classes left to be completed, the due date for monthly/yearly subscriptions, and other relevant information about the user.
Search engine
A search option will allow users easy access to their favorite mentors and courses and help them find what they want. It can also prove to be helpful for finding any other feature on the website.
Multiple payment gateways
It is advisable to have multiple payment gateways for your website. This includes credit cards, debit cards, and other popular wallets like Amazon Pay. You have to make payment super easy for the user.
Trends
While these features are great to have, you also need to keep an eye out for the trends in the industry. This will ensure that you don't lag far behind your competitors. Artificial Intelligence is currently trending, and you should make full use of that. Even something as little as a chatbot can have a great impact on solving learners' issues and can catapult your website to the top. Custom online learning website development companies are well aware of the trends in the industry.
Gamification is another feature popular right now. Learners are more interested in learning through interesting ways rather than just consuming dull content. This is where gamification will help you. It can make the whole learning experience enjoyable for the audience.
Explore More: Mobile Banking Application Development: How to Create Mobile Banking App?
Step-by-step approach to build an elearning website
Business model
As discussed in the above section, several types of e-learning websites exist. You need to choose the one that you want your business to reflect on. This will also help you answer critical questions like monetization methods and whether you will hire an online learning website development company or create the website independently.
Target audience
Knowing your target audience is important for any business. This becomes all the more important in elearning app development services because everything from the courses offered to the content type will rely heavily on the target audience. Of course, you'll have to take a different approach if you are making a platform for working professionals to upskill than when you want your website to teach school kids coding. This just shows how different things can be when your target audience is different.
Tutors
Who will be teaching on your website? Will you ask renowned independent creators to create courses and use your platform? Or will you contact leading colleges and universities to offer these courses? Depending on your business model and idea, you will have to tie up with the right people to offer these courses.
UX/UI Design
This is where you will develop a user-friendly website. Your goal should be to provide an easy-to-use website that provides total user satisfaction to the learners. It is no secret that your business will suffer if your website is not easy to navigate.
Development
Your website development partner will now start working on it. In this step, they will work on the prototype to give the final form to your website. Depending upon the various complexities, this step is likely to take months. Your e-learning app development company or education app development company needs this time to provide you with a satisfactory product.
Testing and Launch
Before launching the website, various types of testing will ensure that everything is working as it is supposed to. Once testing is done and you are satisfied with the results, your mobile app development company will let you know that the website is ready for deployment.
How much does it cost to create an E-learning website?
The cost of an e-learning website depends on several factors like
The cost of your e-learning website would depend on the features you want. If you want specific features that may help you edge over your competition, you'll have to pay extra for them. Many complex features require additional work from experienced developers, which will cost you a lot more.
The User Experience (UX) and User Interface (UI) are important for any website. But for a learning website, it becomes all the more important since it can highly affect the engagement and satisfaction of the user.
The location of your developers will also impact the final cost of the website development. Usually, developers from Europe and North America are more likely to charge a higher rate than their Asian counterparts. So, if you have a budget constraint, you'll likely get a better bargain for money if you hire web developers from Asia.
Integration with third-party tools
Third-party tools are needed for payment gateways and analytics of an eLearning website. The more third-party tools are involved with your website, the higher the cost will be. Depending on all these factors, the cost of developing an e-learning website can vary a lot. But, if you are looking for a number, it can cost you anywhere from $10,000 to $20,000.

Conclusion
The e-learning industry is booming right now and will take a larger form in the future. It is a great time to invest in the online education or e-learning market. To ensure things convert in your favor, you should consider hiring a renowned learning app development company and avail of their online learning web development services. With this, you may expect to go in the right direction and build it right. Depending on various factors, this will cost you $10,000 to $20,000. You may scale it further as you grow bigger with your scope of offering and expand to serve a greater number of users.
Explore More: How to Build House Cleaning Service Apps like Justlife, Washmen, and Service Market in Dubai?
FAQs
Q. What are the best practices for developing an e-learning website?
Ans.  From developing engaging content to providing excellent user experience, best practices for creating an e-learning website are largely about getting the functional planning and execution right.
Q. Why develop an online website?
Ans. The massive e-learning industry provides enormous growth opportunities, even for new businesses, although there are already serval established ones. This is what makes it lucrative.
Q. What is the cost of developing an e-learning website?
Ans.  Elearning app development costs can be anywhere from $10,000 to $20,000 depending upon several factors like the location of e-learning app developers, third-party integrations, the technology used, and the complexity of features, among other development and deployment factors.
Q. How can you ensure that your e-learning website is secure?
Ans.  The basics of any secure website are the same- secure hosting, routine software updates, bug fixing, etc. Also, hire a dedicated team of developers to as they are quite proficient in ensuring your eLearning application is secure.