Work-life balance means less stress and more joy, and what can be better when we get to establish that balance even while at work, celebrating our 2nd anniversary with our colleagues and bosses, and enjoy working together. Often workplace is considered a place where all you do is grind day and night, endeavoring to attain endless goals. However, even that could be fun when we get along well with the people we work with and establish positive relationships. Nowadays, it has become a ritual for the companies to organize events to increase bonding between their employees so that they get to love the idea of working together and at the same time get a chance to rejuvenate themselves after a demanding work schedule.
Recently, such an arrangement was made by InventColabs, who organized a relaxing and rejuvenating weekend getaway for its employees at Swapanlok Resort, at Ajmer Road, Jaipur on Sunday, 30th April 2022. After an exhausting work month, this excursion was everything we needed, and we were thrilled about what was in store for us.
The round trip started at 9:00 when all of us left for Resort by bus, and it took one hour of fun drive to reach our destination. All of us were elated to be at such a cool place; it was surreal and a fantastic place to be. Established in 2000, the resort is just 25kms from Jaipur city and is a place surrounded by fruit-laden trees & flowers, water, birds, benches, and pedestrian bridges. The resort has all the amenities of modern-day living, be it a swimming pool, games, adventurous activities, a dedicated fitness studio equipped with a top-of-the-class spa, and Jacuzzi.
We were welcomed with a cooling drink, just like what you need on a hot summer day, as soon as we reached. From that very moment till the end of the excursion, we had non-stop fun. It started with us gathering on the dance floor, having our hair down, and shaking a leg on DJs tunes. However, as mentioned, it was just the start. Once we were done whirling and twirling, we were famished, and it was the ideal moment to take part in the Golgappe competition activity. Nothing can beat the taste of golgappa ever, and after some devouring and relishing, it was time to move on to the next fun activity, where all of us played cricket. As Indians, the charm of this game is deeply ingrained, and hence it proved to be the best bonding experience for the team, where despite being pitched against each other, we enjoyed every bit of it.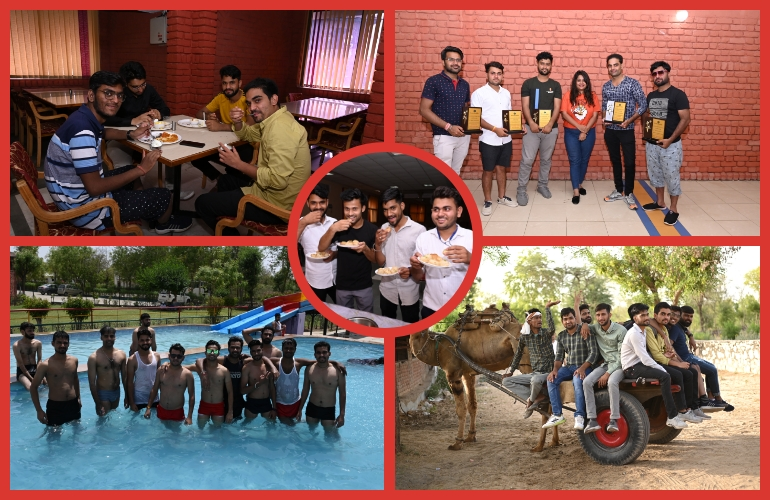 Later, all of us headed to the swimming pool, changed into our swim costumes, and were ready to beat the heat in the pool—such a relaxing and unwinding experience and every bit pleasurable. After spending a good amount of time in the pool, swimming, and playing, it was time for elaborate lunch organized in the restaurant. It was a well-prepared delicious meal with excellent presentation and exciting flavors. We lazed around for a while post-meal before signing up for horse riding and camel cart rides. Especially camel cart ride was a unique experience, and we had too much fun. This way, the day ended on a good note, and the memories of this day stay in our hearts forever. It was not just relaxing but paved a path for us to know each other up, close, and personal, and it will surely make the idea of working together more enjoyable.
We are looking forward to more of such bonding experiences in the future!