With the ever-increasing human population, the demand for food is on the rise. This leads to incorporating new and sustainable methods in the agriculture industry. Precision agriculture is one such technological development that is being seen as the future of agriculture. Drone technology is a crucial part of precision agriculture. Agriculture drone software or precision agriculture drone software is dedicated software for the field of agriculture. It can make or break your whole precision agriculture endeavor.
Why is this software essential, and how does this process work? If you have wondered about these questions, you are in the right place. Let's dive in to find out everything you need to know before you jump into precision agriculture drone software development.
What is Precision Agriculture?
Precision agriculture or precision farming is a modern approach to agriculture. Precision agriculture uses drone technology in agriculture and associated software to analyze specific field conditions. This is great for sustainability, cost reduction, and better yield. On the field, a farmer has a limited view of his crops. But with drone technology which is equipped with high-resolution cameras and sensors. These equipped with dedicated software for the drones provide insights into the crops, which is impossible to get with the human eye.
In precision agriculture technology, data provided by these drones is vital to targeted intervention from the farmer, whether it is irrigation, pest control, or fertilizer application. Due to the enormous role of technology, precision agriculture is seen as the future of agriculture.
Market Overview of Agriculture Drone Software
The global agriculture drone market was valued at USD 4.12 billion in 2022. This is expected to grow at an incredible CAGR of 20.3% from 2022 to 2030. By 2030, the global value of agriculture drone software will likely be USD 18.22 billion. The software is what allows the technology to be adopted on a large scale. Therefore, a considerable chunk of this market share is of agriculture drone software.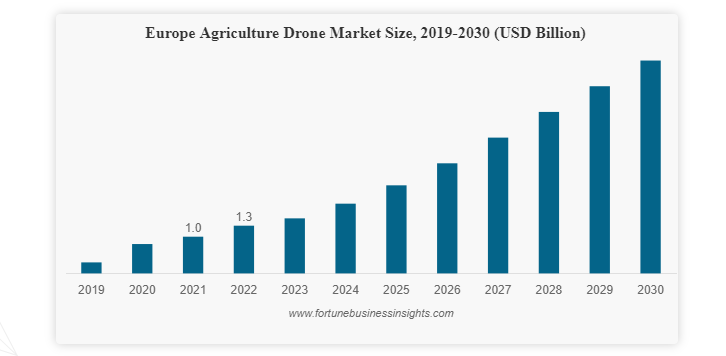 Several factors fuel this growth in agriculture drone software development. Some of these factors are the demand for sustainable farming methods like precision agriculture, irrigation management, and effective plant counting and monitoring. Due to the various benefits that precision agriculture provides, governments are encouraging it and providing subsidies to farmers employing this technology.
How Does Drone Work in Precision Agriculture?
Agriculture drones or Unmanned Aerial Vehicles (UAV) provide an aerial view of the field. Through this, they provide various data for analysis in precision agriculture. Precision agriculture with drone technology is used in the following ways;
Flight planning
Flight planning is the first step in using drones in farming. Depending on the area to be surveyed, the drone's path is chartered. For accurate data, the software will consider the altitude and field boundary. All of this is dependent on precision agriculture drone software.
Analysis of data
In this process, all the data collected is sent to a computer or cloud-based platform for detailed analysis. The data is processed using advanced software. The software tries to check the variation in crop health, soil moisture and other parameters which are crucial for the growth of the crops. After a thorough analysis of all the data from the drone, it is now time to take remedial actions.
Collection of data
After the route of the drone is finalized, drones in the agricultural sector fly over crops to collect data. While on its flight, it will collect data in the form of high-resolution images, thermal sensors, and multispectral data. After the flight is over, it's time for the next step in the process.
Data-backed actions
Depending on the data analysis, the farmers are asked to take action. For example, if the crops are found to be pest infested, it is time for pest control. Or if there's a nutrient deficiency in any part of the field, that is taken care of.
Explore More: Custom CRM and ERP: Which Is Good For Your Business?
Benefits of Drone Software for Agriculture
The drone system provides several benefits in agriculture. Some of them are listed below;
Precision agriculture
With the help of drone software, precision farming becomes easy. Farmers can micro-manage their crops, looking at the needs of a small part of the field and acting accordingly. This allows them to be more efficient in their farming by increasing crop yield and reducing waste.
Cost saving
Using the data from the drone field monitoring, farmers can see which part of their crops need what kind of attention. They can pest control only a specific area or give nutrients to a site that needs them. By doing this, drone software allows farmers to save resources. This saves costs for the farmers in the long run.
Real-time monitoring
In farming, conditions can change quickly with a sudden change in weather. Drone software allows real-time monitoring of the crops. Doing this manually would be a very tedious task. But with the help of drones, farmers can gauge the current situation of their crops and take action accordingly.
Sustainable
Drone software is also an environmentally friendly alternative. By identifying specific areas that need pest control, or the application of fertilizers, farmers don't have to spray chemicals on the whole piece of land. This minimizes the chemical exposure of the land.  You also eliminate the need for an aerial aircraft by using drone software. Since these aircraft run on fossil fuels, you stop several harmful greenhouses from being released into the environment.
Time-saving
With the effective use of drone software in precision farming, it eliminates the need for manual inspection of the whole field. This is a significant saving of time for farmers who can now allot that time to other aspects of their farming.
Safety
Drones are entirely non-invasive. They ensure there is no damage to the crops. So, it is a safer option for crops. Also, by accessing difficult-to-reach areas of the field, they make for a safer option for the farmers as well.
Explore More: Automotive Software Development Guide – Cost & Features
Top Features of Agriculture Drone Software
If you want your agriculture mapping software to serve you well, you need to have some must-have features in it. Some of these are listed below;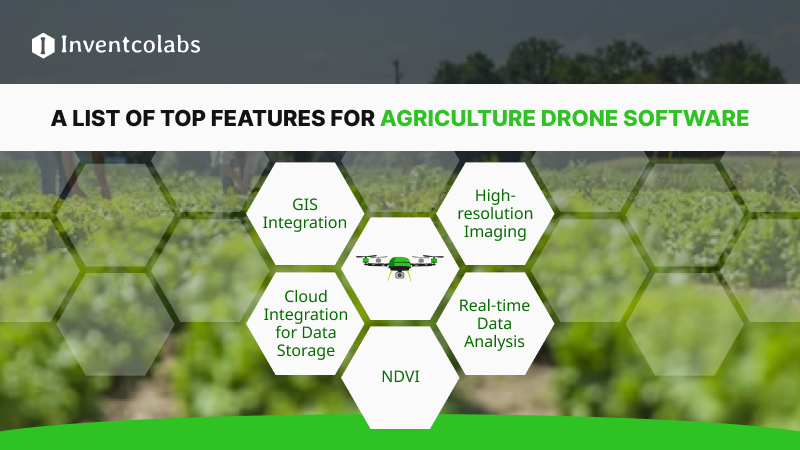 High-resolution Imaging
Your drone needs to take high-resolution images, which help farmers identify issues. The software needs to support the camera for high performance. This is why your agriculture software development company will put emphasis on this.
Real-time data analysis
To monitor crop health and identify issues, your software needs to support real-time data analysis. This must be quick and swift with no lag in performance. This is why fast data analysis is a must-have feature for your agriculture drone software.
NDVI
Normalized Difference Vegetation Index helps you monitor the health of crops using sensor data. It shows the data by showing the difference between near-infrared and red light. The near-infrared is an indication of vegetation that reflects, and red light is an indication of vegetation that absorbs.
Cloud Integration for data storage
Cloud-based storage makes the data accessible. It gives safe and secure storage for all the data. Cloud-based storage also makes it easy for you to access historical data and analytics.
GIS Integration
GIS is the backbone of drone agriculture mapping software. Geographical Information Systems stores, interprets, and analyzes geographic data. This helps farmers with drone farm mapping solutions.
Explore More: How to Develop A Ride-Sharing App? Key Features & Cost
What is the future of Drone Software in the Agriculture Sector?
The future of drones in agriculture looks promising. This means it must collaborate with upcoming technologies to fuel the sector's growth and make it the norm. Here are some of the developments we can expect in this field;
Artificial Intelligence
AI is rapidly being used in almost all industries, and drone software in the agriculture sector will not be an exception to that. AI will also enhance automation by performing repetitive tasks without the need for human intervention.
Explore More: How To Create An Artificial Intelligence App?
Machine Learning
Machine learning will help farmers to identify patterns, trends and help them in predictive analysis. This will also equip them to analyze a large set of data.
Increased Regulations
With the increasing use of drone software in the agriculture sector, governments will introduce new regulations to monitor any misuse of the technology. Drone software will then have to take into consideration these regulations.
Advanced camera and sensors
The cameras and sensors mounted on drones will get better with time. The software will have to support the hardware for efficient and smooth use.
What is the Development Cost of Agriculture Drone Software
The cost of agriculture app development can vary greatly depending on several factors. Some of these deciding factors are;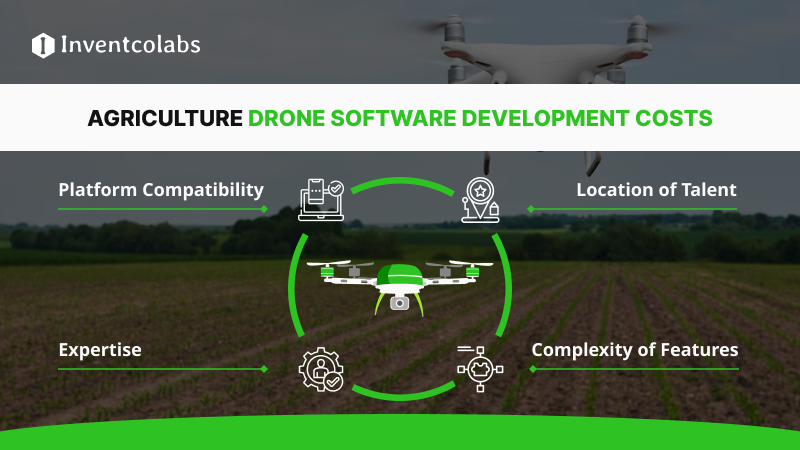 Location of talent
Due to purchasing power parity, hiring European or North American developers will cost you more than hiring their Indian counterparts. So, if budget is an issue for you, it is better to opt for Indian developers who give you the same expertise but at a reduced price.
Complexity of features
If you want more complex features in your drone software, you will have to shell out extra. This is because developing complex features will require additional time and expertise from your developers. This will increase the overall cost of the project.
Expertise
The expertise of the software developers will also contribute to the project's cost. People with years of experience are a necessary addition to the team, they can help your product to be exceptionally well made, but that comes at a higher price.
Platform compatibility
The compatibility of your software will also decide the price of the project. That is, the more platforms your software is compatible with, the higher it will cost. To make your software compatible with different platforms, you'll have to hire dedicated developers for each platform. Your mobile app development company can provide you with that.
Due to these factors, it is challenging to quote a specific number for drone software development costs. However, based on the industry trends at large and referring to global averages, it may cost anywhere from $30 per hour to $80 per hour to hire a professional for drone app development across geographical zones and proficiency levels. A drone software development company can charge you anywhere from $20,000 to $100,000. This typically included business analysis, consulting, design, development, and deployment. For post-deployment support and maintenance or other integration or enhancement level assistance, you may need to pay the extra amount.
Conclusion
Precision agriculture, with the help of drones, is a significant development in the field. With farm mapping software, farmers are equipped to make data-backed decisions. It also helps them save money and time. It minimizes the environmental impact of chemicals in agriculture. This is why governments worldwide are subsiding and encouraging farmers to use it.
FAQs
Q. Are agriculture drone software worth the investment?
Ans. Agriculture drone software helps you save time and cost, increases the yield of crops, and is a sustainable way of farming. So, yes, drone software development is undoubtedly worth the investment.
Q. How reliable is the data from drone software?
Ans. The reliability of the data of drones for agriculture and farming comes from the accuracy of it, which depends on the sensors, cameras, and the software in use. If all these are taken care of, you can have very reliable and accurate data.
Q. How easy is it to use drone agriculture software?
Ans. Drone software needs to have a simple User Interface because the farmers may not have very high technical knowledge. This is something that should be kept in mind while developing the software.
Q. Are drone mapping software compatible with all kinds of drones?
Ans. Most drone mapping software is designed to be compatible with several kinds of drones. But it is advisable to ensure it is relevant and compatible at all levels before investing.
Q. What are some of the must-have features to have in drone mapping software for agriculture?
Ans. High-resolution imaging, GIS integration, cloud integration, and real-time data analysis are some of the essential features to have in your agriculture drone software.