In recent times digital ecosystems and communication channels have evolved drastically, and along with it, we have noticed a significant change in customer expectations. There is a massive change in how businesses drive customer engagement, like with websites, emails, and social media marketing. It has become crucial for the companies to increase sales and provide excellent customer experiences with introductory new industry dynamics.
Today customers' standards with their purchasing experiences have increased. And with accessible internet marketplaces flooding the market, companies need to compete by enhancing their user experience. In the last few years, the companies that followed customer engagement have attained long-term success. They did their best to make every human interaction feel unique and personalized to the customers.
And this is the reason that today a lot of modern enterprises are integrating Salesforce CRM (customer relationship management system) to increase their revenues and customer engagement. In this article, we discuss tools of Salesforce and how they are significant in driving customer engagement. However, first is essential to understand Salesforce.
What Is Salesforce?
Salesforce is a platform and an important tool used by businesses. Salesforce-managed services & supports help maintain impeccable communication and collaboration at all times.
This platform has a multi-tenant design, and due to that, it offers many advantages of customization, scalability, API integration, and more. With Salesforce, the users get delivered platform support and cheap ownership costs. It is also a popular CRM provider or salesforce development company and its users with Artificial Intelligence (AI) platform for sales funnel, human resource management, finance, etc.
The Salesforce application provides companies with tools for finding and closing more deals, providing a higher level of service, and finding more prospects.
The Salesforce platform enables businesses to better communicate with partners, customers, and potential customers using cloud technology. In addition to tracking customer activity, marketing to customers, and many more functions can be performed with Salesforce CRM. 
It is possible to create a dashboard that displays your data visually with a CRM platform that helps you go deeper with all your metrics and data. You can also automate personalized outreach in addition to this. Customer service and sales teams can also benefit greatly from CRM platforms in that they are able to better reach out to customers.
Read Also: All You Need To Know About The Internet Of Everything (IoE)
How Can Salesforce Be Pivotal In Meeting Customer Expectations For Engagement?
Here we explain how Salesforce can help you retain customers and drive consumer engagement: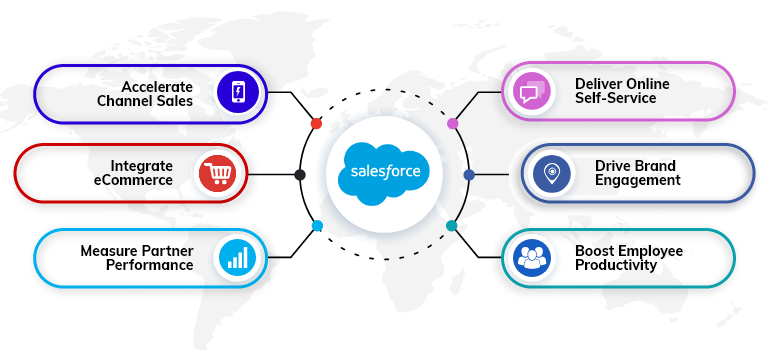 Salesforce's Support Apps Allow Gathering All Data In One Place
Earlier, marketing & sales teams were working off their data and found many discrepancies between different data sources. However, with Salesforce and its ability to integrate other support apps, you can have all the data in one place and flow smoothly between different teams. For instance, if your sales team uses Salesforce, the marketing team uses HubSpot Marketing, and the customer service team uses Zendesk. So, you can integrate HubSpot Marketing and Zendesk into Salesforce and craft a transparent data funnel, enabling your sales, marketing, and customer service to have a complete view of real customer data. Streamlining the whole customer communication process eliminates the requirement to transfer the data from one app to another manually. Hence, it saves a lot of effort, time, and money.
Enables Personalize Engagement
The main motive behind the sales and marketing processes is to gather customer data. When you integrate your Salesforce with the other apps, you get complete access to all customer data. With this access, you can effectively control your customer relationships. You can choose to send personalized emails to customers and send responses tailored as per their needs and preferences. It is the ultimate solution to have the ideal customer engagement experience.
Reach Your Customers Using Social Media Platforms
In this day-and-age social media is an effective communication channel used by businesses to reach their customers and increase engagement with them directly. However, when you use Salesforce, you can get every piece of information about customers. With Salesforce, you will view their social media profiles via its dashboard. You can successfully add a personal touch to your conversations with customers. Having access to their social media profiles, you can use the information about them, like their needs, preferences, or interests, to develop a personalized message that keeps them engaged.
Read Also: Flutter Vs. React Native In 2022 – Detailed Framework Comparison
How Can Salesforce Tools Help Drive Customer Engagement?
Here we mention the three salesforce tools to use:
Marketing Cloud
Using this platform and its intelligent marketing mechanization, the marketing team can deliver just the right message at the right time to your customers across all the interactions. Salesforce's Marketing Cloud allows for creating person-to-person client experiences, providing targeted communications, and reconnecting with the customers with precise advertising. Businesses can effectively use this tool to see, monitor, and manage real-time client interactions. Salesforce offers an effective fast-time tool to optimize impact, budgets, and processes via combined marketing & business analytics. Top companies worldwide use this tool for engaging customers, driving revenues, and increasing the ROI.
Service Cloud
This popular CRM platform works best at providing excellent customer support. It helps automate service processes, reorganize workflows, and discover main subjects, articles, and experts, supporting client service representatives. Service Cloud is excellent for enhancing and sustaining client relationships with the business.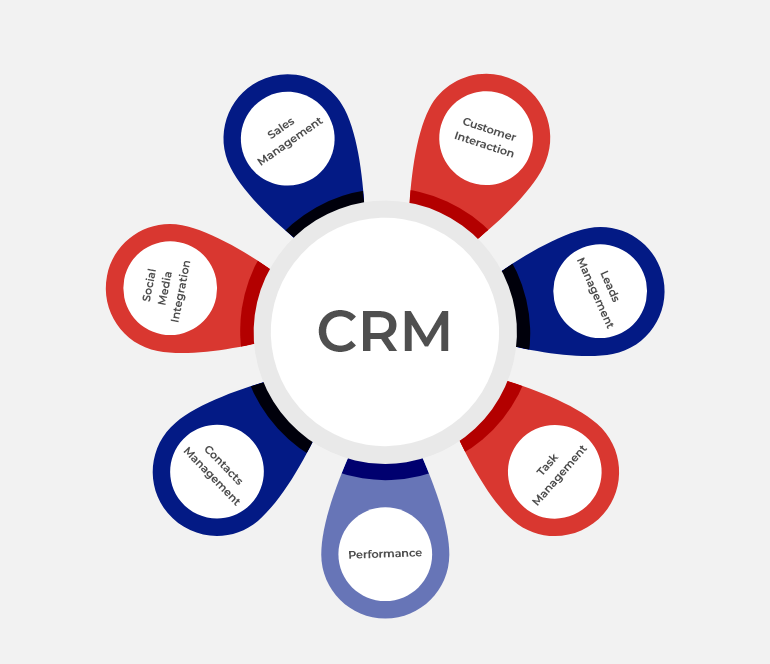 Based on Salesforce Client 360, Service Cloud offers a complete view of clients and allows them to provide quicker, smarter, and more customized services. It helps businesses that sell solutions and products, and it aims at providing tailored services across different channels using innovative technology via Lightning Platforms. With a better understanding of your client's demands and challenges, you can offer natural assistance services using Service Cloud. Service app mobile support consists of live representative video chat, on-screen guided support, and screen sharing.
Community Cloud
Today, businesses need a community of ardent consumers who engage with them constantly, and with Salesforce's Community Cloud tool, it is possible to craft a business-specific community outreach solution. Businesses can use Community Cloud to offer a helpline number to their customers.
It supports the clients to learn about the business's products and services. Enterprises can use Community Cloud's Community Builder to craft a unique network. The tool also helps to drive participation with the incentive systems like individual scores, badges, and public leaders board that displays top users. Community Cloud allows companies to streamline essential business progressions and encompass them across offices & departments and even externally to customers and business partners. It increases the working capacity of the workforce and offers services to customers in a much more effective manner, getting the work done in real-time and closing the deals quicker.
Conclusion
Salesforce and its tools are highly-effective if you aim to increase customer engagement and make it more effective. It automates the business's processes and makes them more streamlined. It is a source of valuable information that can build lasting customer relationships and keep them loyal and engaged with the business.
If you are looking for salesforce consulting companies, we offer various software and mobile app development services.
With us, you can hire dedicated developers and dedicated salesforce developers.