Today, the quality of technology is upscaling by converting innovative ideas into reality, such as virtual and augmented reality. In this competitive business environment, it is essential to have highly skilled and experienced professionals who can comprehend various business requirements and provide outstanding solutions. This article by GoodFirms aims to highlight the incredible journey of Jitendra Jain and Inventcolabs.
Inventcolabs is a globally recognized both Avant-garde and innovative company. They have over eight years of experience and have successfully delivered over +200 projects to diversified clients and industries. The company focuses on creativity and innovation that bring value to their client's businesses.
They specialize in native and hybrid mobile app development, web development, eCommerce development, and (customer relationship management) CRM development services with reliable IT consulting.
The company was founded in 2013, with headquarters in Somerset, New Jersey, and other offices in Jaipur, India, and UAE.
Inventcolabs' exceptional work in the field of cutting-edge based mobile, web, and software solutions helped them achieve a prominent position in the list of top app development companies in Jaipur on the GoodFirms platform.
The GoodFirms team had an opportunity to communicate with the CEO of Inventcolabs, Jitendra Jain, and learn more about their services and how the company distinguishes itself from its competitors!
A Glittering Journey of Jitendra Jain – The Man Behind the Success of Inventcolabs
Jitendra mentioned, "As a CEO, my role in the company is to measure the quality of work through attention to detail and guide my incredible team towards strategic direction and planning that drives the ultimate success in the business."
Jitendra and his business partner established a firm that can provide IT services with excellent consulting for creating customized solutions for their client's business needs. He added that his entrepreneurial and business skills helped him to build an IT organization where positivity with calculated risks meets great values and creates out-of-the-box solutions for their clients globally.
Furthermore, he is passionate about technology and digital transformation that adds significant value to businesses. His years of diverse experience working with various reputed IT companies helped them understand the considerable gap in the era of innovative tech solutions due to the increasing demand for cutting-edge technology-based software solutions that meet customers' unique needs.
The reviews by GoodFirms show how Inventcolabs works with its clients.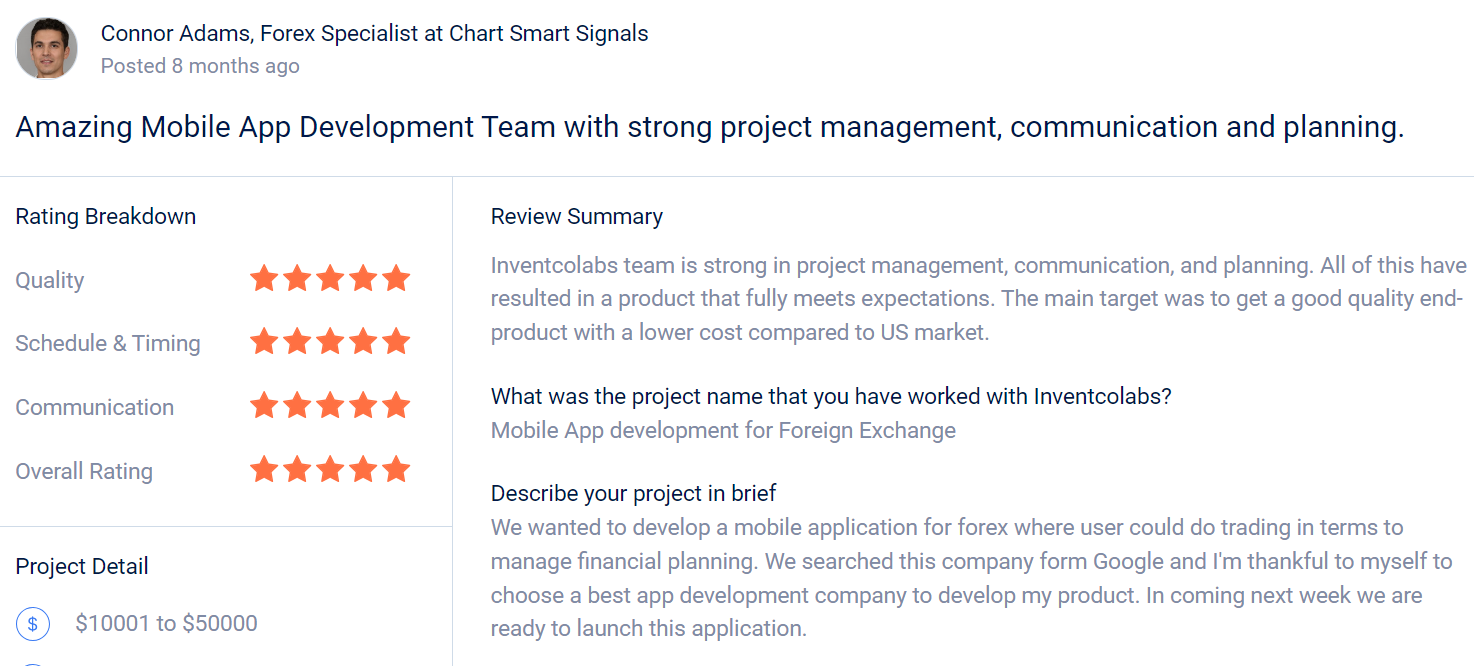 Click for more reviews.
The Company's Business Model And How They Distinguished From Their Competitors
Inventcolabs has the most dynamic and talented in-house team managing, controlling, and monitoring services' quality more than third-party vendors and outsourcing. The company's in-house business operations are cost-effective and result-oriented, with a time-saving approach that makes them more productive than its competitors.
The company's professionals focus on client relationships by comprehending their business requirements and providing exceptional support that builds trust and confidence in clients. The team offers the best-in-class IT solutions that exceed clients' expectations and help them achieve their business goals and objectives successfully.

Ingenious Inventions And Innovations That Make Inventcolabs An Inspiring Leader in the IT Industry
Jitendra has shared the services, industries, and how they support and satisfy their customers!
Inventcolabs specializes in mobile app development, including Android, iOS, flutter, react, etc. They provide customized app development services as per their client's business needs. Their mission is to deliver the most inspiring applications that drive growth and increase brand awareness globally for their client's businesses.
Besides mobile app development, the company also delivers excellent web development, mean stack development, UI/UX design solutions, eCommerce app development, and CRM solutions.
Inventcolabs offer a wide range of IT solutions for various industries:
Artificial Intelligence
IoT App Development
Cloud Computing Solutions
Wearable App Development
HealthCare
E-Learning
Real-Estate
Travel App Development
Food & Restaurant
Media & Entertainment
Influencer Marketing
Fitness App Development
Automotive Software
Banking Finance
Event & Tickets
Social Networking
Virtual Event
Grocery Delivery
eWallet App Development
Loan Lending
Medicine Delivery
Car Wash
Vacation Rental
Drone Software
Laundry App
The company's facts & figures:
100000+ Installs in Google Play Store
4.5/5 Ratings on the App Store
4.3/5 Ratings on Play Store
95% Success Score on Upwork
200+ Apps Live on App Stores
70+ Completed & Ongoing Projects on Upwork
45+ Unique Feature Implemented
60+ Small & Large Innovation
50+ Creative Nerds under one Roof
1M+ App Downloads
8+ Years of Experience
200+ Clients Worldwide
Jitendra stated that their services are cost-effective and have excellent values that inspire IT service seekers to approach them with various business challenges. The Inventcolabs' incredible team passionately takes those challenges and delivers sustainable solutions with measurable results that exceed client expectations.
Their repetitive client ratio is 70% which is achieved by their quality of work and customer support that becomes the source of trust for their clients worldwide. The company believes high client satisfaction encourages them to keep their work consistent!
Money Matters
When asked about the payment structure and budget requirements with minimum and maximum price ranges, Jitendra talked about the financial flexibility offered by Inventcolabs.
The company's payment structure is based on the fixed price of the project with the milestones that allow clients to pay except the upfront payment; the rest of the cost will be made upon the successful completion of each milestone. Their highly experienced professionals understand the client's business needs and provide them with the best budget solutions without compromising the quality of deliverables.
Another is an hourly payment model that provides a tentative project timeline as per the client's shared details. In this case, the client can hire dedicated developers from them directly, named "My Team Model," which is specially designed for clients who require an IT team without any liability at cost-effective rates.
Inventcolabs worked on various projects in 2022 with minimum and maximum price ranges from $7,000 to $80 000. Jitendra also shared that the price range of projects depends on factors such as scope, compliance, excitement, and unique requirements of every project.

Jitendra has revealed his vision for the upcoming ten years of Inventcolabs, that the company will continue to adapt the latest technology advancements with the dynamic development of web and mobile applications. Also, there will be more focus on cutting-edge technologies-based solutions that include hybrid mobile applications, AI, ML, IoT, blockchain, etc. They are committed to delivering top-notch IT solutions that will revolutionize and be reliable simultaneously!
You can also go through this detailed interview on GoodFirms.
About GoodFirms
Washington, D.C.-based GoodFirms is an innovative B2B Research and Reviews Company that extensively combes the market to find business services agencies amongst many other technology firms that offer the best services to their customers. GoodFirms' extensive research process ranks the companies, boosts their online reputation, and helps service seekers pick the right technology partner that meets their business needs.
Explore More: Inventcolabs Recognized by GoodFirms as the Best Company to Work With
About the Author
As a Content Writer at GoodFirms, Anna Stark bridges the gap between service seekers and providers. Anna's dominant role is to figure out company achievements and critical attributes and put them into words. She strongly believes in the charm of words and leverages new approaches that work, including new concepts that enhance the firm's identity.