In the past, people were less concerned about their health and physical well-being. However, during the past few years or so, the situation has changed dramatically as an increasing number of individuals place an emphasis on their health. Nowadays, being healthy is synonymous with being successful and fit. The general public now has a better understanding of the range of health problems plaguing modern society and the measures that can be taken immediately to address them.
This cultural shift can largely be attributed to the proliferation of health and fitness app development services. These health-related apps offer comprehensive guidance that can help an individual flourish. Users may find everything they need—from workout routines and diet plans to cardio sessions—in one convenient location, allowing them to get started right away. In recent updates, fitness and health applications have begun providing virtual badges and badge sets for achievements like increased weight lifted or distance run. This new development has increased the general public's interest in health and exercise.
Fitness Mobile App Development: Market Statistics
Current data suggest that the average user spends more than five hours each day interacting with their preferred mobile apps. In addition, there has been a rise in awareness of the importance of maintaining a healthy lifestyle alongside a hectic schedule and active social life.
Amazon just unveiled a new wearable called Halo View, and it's designed to help people get in shape without leaving their homes. Apple has updated its Fitness+ services to help users stay in shape even when they can't get to a gym. Additionally, Apple's Fitness+ services have expanded to 15 new nations. Even industry leaders like Amazon and Apple are getting on board with the fitness craze.
By 2024, the number of people using fitness apps is projected to increase to 987 million, as reported by Statists. Even if there are plenty of similar apps that focus on different elements of life, this market is still ripe for the picking. According to a report by Grand View Research, the fitness app industry in 2020 was worth $4.4 billion. From 2021–2028, the market is expected to expand at a CAGR of 21.4%.
Why Should You Develop A Fitness App?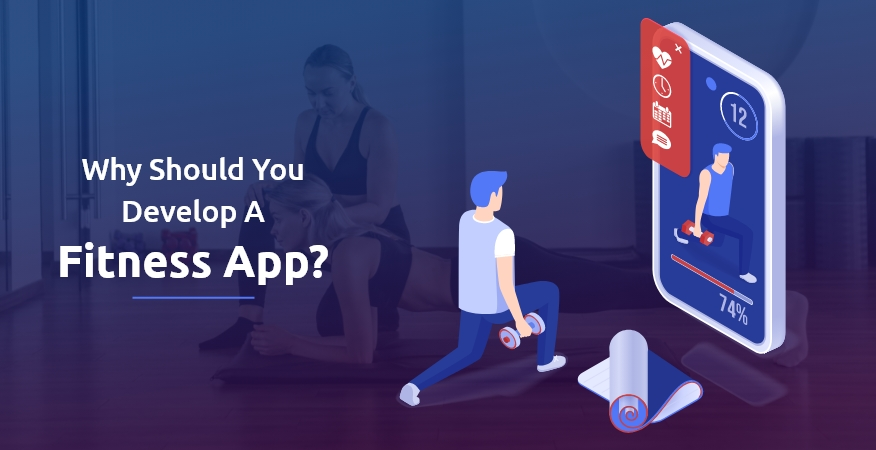 The market figures demonstrate that the need for fitness applications is substantial. People are actively searching for advice and prefer accessing services via a mobile version. How to create a fitness application that surpasses the competition?  The trick is to remove the barriers that people face on their way to better fitness.
Here are some of the most common obstacles people face while trying to get in shape, and how a personalized approach might help them succeed:
Not enough time or energy
Not only do hectic work schedules and housework sap energy, but they often leave little time for anything else. The difficulty of scheduling regular exercise sessions can lead to a complete lack of physical activity. However, a fitness and healthcare app can facilitate the gradual adoption of a new healthy routine.
Lack of ability to observe the progress
If people don't perceive improvement when exercising, they may stop. The application can keep users informed of their progress and inspired with game-like features.
Gym affordability
Some people not only lack the desire, time, and resources to regularly visit a gym, but also the financial means to do so. A mobile application might provide them with a cost-effective strategy.
Coach-on-demand
Although not everyone can pay a personal trainer, having a "on-demand" feature that can answer some of the most important questions users have about your application can do wonders for both its user base and its success.
How Do Fitness Applications Work?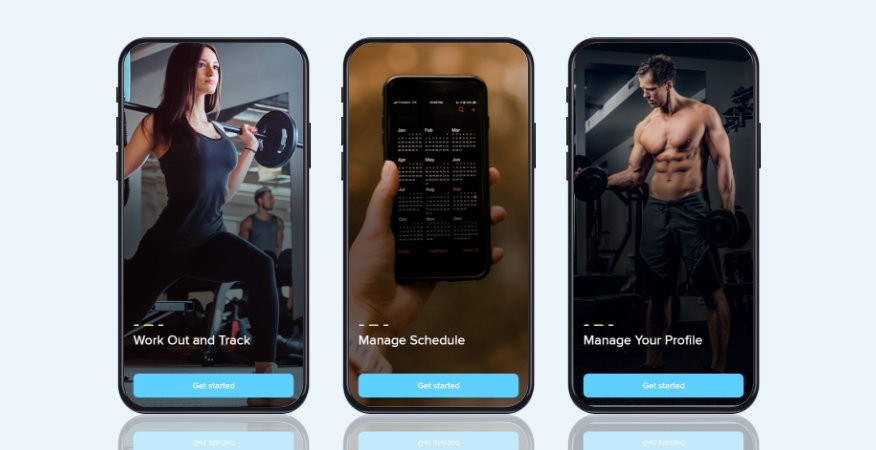 A fitness app is designed to help people get in shape by providing them with information and resources on a wide range of topics related to fitness, including but not limited to: exercises, physical activities, diet plans, and more. There are a plethora of health and fitness apps available for mobile device users to try out. Some of these devices are used for calorie counting, while others keep track of exercise data or log routes taken on foot or two wheels.
Some fitness applications put the user in touch with a trainer or nutritionist who can answer questions about the app's recommended program or general fitness advice. Some fitness applications, even offer a synchronized playlist of tunes with the same beat for use during activities like running and fitness courses.
Popular Fitness Mobile Apps
Strong
A simple and straightforward fitness tracking application. You can customize the app by adding your own workouts and workout routines, in addition to the ones that are already registered. Get into a routine and see how far you come.
Jefit
This app, like Strong, lets you record your workouts. There are pre-registered exercises and plans in the application, and you can also create your own. In addition to recording your weight and height, you can also set up routines and monitor your progress over time.
Nike Training Club
Nike has released an app with over 185 different exercises, split up into areas including strength training, cardio, yoga, and mobility. You may customize the number of workouts you want to do each week, the type of equipment you'd want to use, and your own personal goals, and the app will generate a plan for you.
Daily Yoga
Rated as Healthline's "Best Yoga App" for 2018. There are around 400 yoga postures described, representing more than 50 different yoga programs. You can choose from three levels of difficulty and a variety of durations for your classes.
Shanti is an app developed by Inventcolabs. The Shanti app allows users to meditate and rejuvenate their inner self while listening to spiritual calming music. A yoga-inspired visuals and sound package repurposes and revalidates the inner self by promoting peace, focus, and mindfulness.
Types of Fitness Mobile Applications
Health and fitness apps
If you're trying to reduce your weight, get fit, or just live a healthier life overall, these applications can help you keep track of your progress.
Workout apps
Numerous workout apps exist to assist those who wish to get into shape or enhance their current level of fitness. Common features of such apps include regimens for working out, the ability to measure your progress, and inspiration to keep you going.
Yoga and meditation apps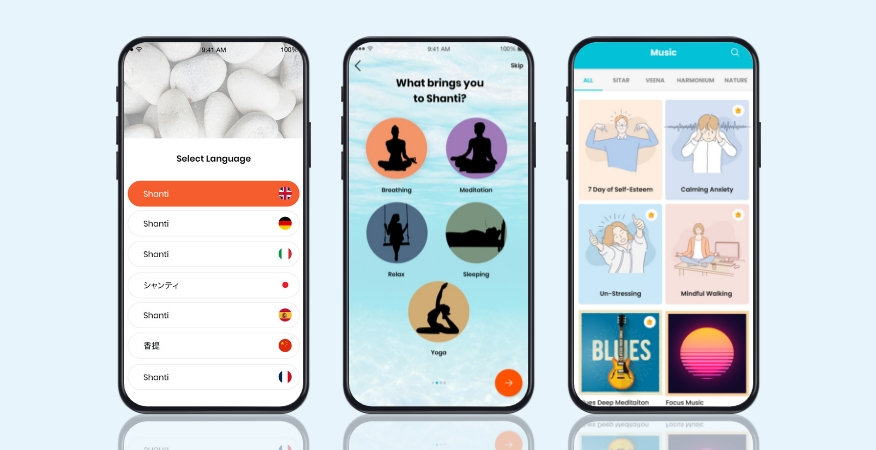 Yoga and meditation applications can be useful if you're seeking a way to unwind and calm down. These apps provide yoga and meditation sessions to help you unwind at the end of the day.
Nutrition and diet apps
Adhering to a workout routine requires a commitment to a nutritious diet. By using a nutrition app or a diet app, you can improve your eating habits and lose weight.
Sleep tracking apps
Getting a good night's rest is crucial to your physical and mental well-being. Apps that monitor your sleep might help you determine if you're getting enough rest.
Benefits of Fitness Apps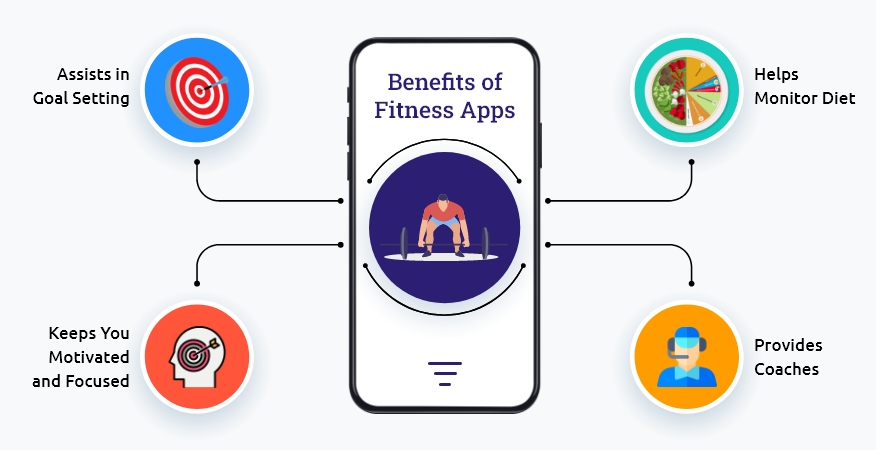 Assists in Goal Setting
One of the many advantages of fitness apps is that they allow you to customize a workout plan to match your specific requirements and aspirations. Given that everyone is unique in terms of their physical capabilities, life experiences, motivations, and health, a universal strategy is unrealistic. The ability to set personal, achievable objectives is a big part of why these fitness applications have become so widespread.
Helps Monitor Diet
When was the last time that you, or someone else, supervised your diet? Hardly, ever. Right? In order to achieve the targets you select, the app will tell you how many calories you need to consume. Enter your daily food intake into the app, and it will keep tabs on your progress.
Provides Coaches
With your registration, you can immediately hire a personal trainer! There is no longer a necessity to travel to a training center, pay a hefty enrollment fee, and hire a personal fitness or wellness coach. These instructors guide you through the process of achieving your objective by providing you with the necessary knowledge, feedback, suggestions, and ongoing assistance.
Keeps You Motivated and Focused
A subscription is often necessary to use a service. When you invest money into an app, you're more likely to put it to good use. In exchange, these applications go above and above to encourage you on a regular basis, helping you remember your routine and your goals.
Basic Features Integrated By Fitness App Development Company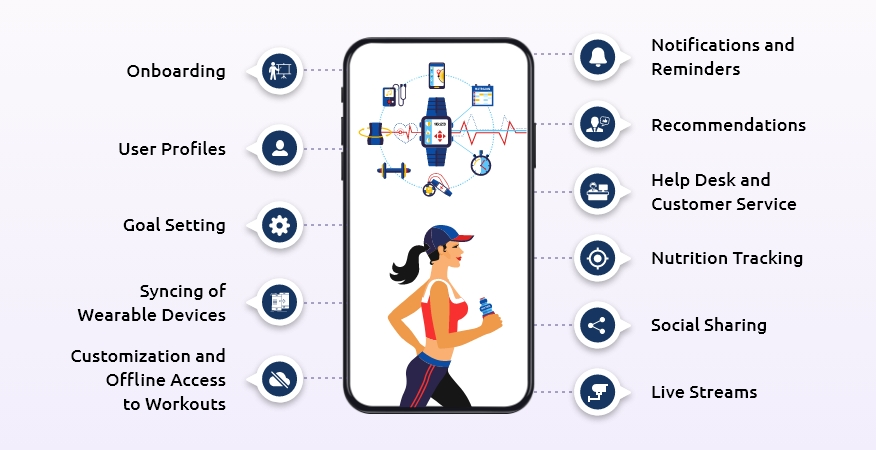 Do you want to make a fitness app, but don't know what to include? Every new fitness app release is tailored to a certain audience and offers a unique set of benefits. However, there are a few essential functions that each fitness application should include in order to be more accessible and convenient for its users. As a leading fitness app development company, we've compiled a list of features that all fitness applications should have.
Onboarding
Onboarding is incredibly helpful whenever you have to brief new users on the functioning of the application or provide them with specific instructions. When people engage with your application, you can give onboarding by displaying two to eight screens, incorporating a 60- to 90-second video instruction, or providing in-app prompts.
User Profiles
When creating a profile, users are prompted to submit identifying information such as name, gender, weight, etc. This data is useful for app makers and users alike. It helps programmers make fitness apps that can track a user's workout and find them a plan that works for them. A user's profile is where they can view their membership plan details, workout history, progress, and rewards.
Goal Setting
A good fitness app will allow the user to set specific fitness objectives and provide individualized training plans. It is important that these programs are simple to implement and yield excellent results for the user.
Syncing of Wearable Devices
Your mobile application, given the proliferation of smartwatches and other wearable tech, should eventually be able to communicate and sync with these devices. Use Apple's Health Kit or Google's Fit APIs to connect your fitness app with wearable fitness trackers.
Customization and Offline Access to Workouts
Your app needs a personalization option that lets users design their own routines, meditations, workout sets, meals, and diet programs. There is an app called "Browse & Book Trainer" that provides users with a plethora of different exercise plans that can be accessed both online and offline. Users in places with poor network coverage will greatly benefit from this functionality.
Notifications and Reminders
Having the appropriate message sent at the right moment can increase app retention by a parameter of 3-5 times. The maximum length for a push notification from a fitness app should be 90 characters, and alerts should only be sent once or twice. One way to keep users engaged is to give them control over when they receive notifications and reminders from your application.
Recommendations
Recommendations tailored to an individual's taste and watching habits can be generated automatically by machine learning algorithms. With the help of AI, a mobile app may design individualized exercise and nutrition plans that can be more effective than a human trainer in fine-tuning a user's activity.
Help Desk and Customer Service
The ability to communicate with trainers in real time is a huge selling point for fitness application development. Consider integrating a chatbot with pre-programmed answers if your application doesn't support real-time communication. However, you should make sure that your application has a way for users to get in touch with you at any time; doing so will boost consumer confidence and allow you to collect valuable feedback.
Nutrition Tracking
Nutritional tracking is an essential feature of any fitness mobile app. This is a fantastic tool for encouraging people to maintain a healthy diet and exercise regimen.
Social Sharing
It's important for a fitness app to have integrated sharing tools. Having the ability to update friends and family on one's fitness success can be a powerful incentive for users to stick with the application.
Live Streams
Incorporating this function into the app is optional, although doing so may accelerate the app's rise to prominence. Users can connect with a professional trainer and get feedback on their workouts in real-time via a live stream, improving the quality of their training sessions overall.
Steps To Create a Fitness App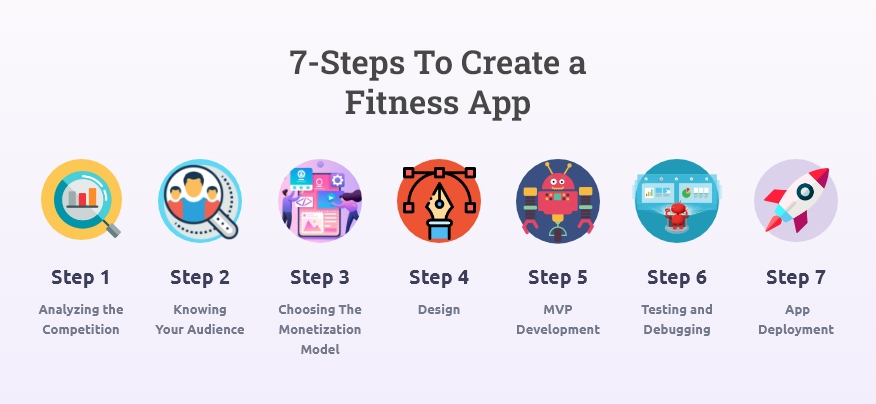 1. Analyzing the Competition
There are already a lot of competing fitness mobile apps out there, so yours needs to stand out. Investigate the market by learning more about your rivals' offerings, designs, platforms, and customer feedback. You may learn a lot about how to beat the competition by looking into user reviews of similar apps on the same platform. You may set yourself apart from the competition by learning about their strengths and flaws.
2.   Knowing Your Audience
Competitor analysis can reveal insights into the problems and preferences of your target market. You can discover your target demographic via online communities such as discussion boards, groups, and social media platforms. Develop a profile of your ideal customer by gathering demographic data and asking questions about their motivations for using your service.
3.   Choosing The Monetization Model
Ads-based Model
Many app users perceive in-app advertisements as a necessary sacrifice, but you can turn that perception on its head by promoting useful products and services that enhance your app's users' experiences. In addition to the commission money, app owners also gain access to high-quality lead generation. 
In-app Purchases
A personalized fitness app might provide a wide variety of in-app purchases. You can also include the option for in-app purchases of physical goods (like food or sports gear) for your app's customers.
Freemium Model
Users can "experiment before they purchase" with this model. They grab a hold of a stripped-down, free version of the application. If customers like it and demand more, they may subscribe to the premium feature set, which includes advanced exercise plans, additional features, and the removal of advertisements. Users should be able to get a feel for your app's capabilities with the bare minimum of free features, and the paid add-ons should round out the experience without breaking the bank.
Sponsors and partnerships
This business strategy for fitness apps requires partnerships with sports companies, gyms, specialists, celebrities, etc. As an example, your fitness app could be used by fitness professionals and influencers to disseminate their own content. Having a major company on board as a partner can help your mobile app succeed in the app store, especially if you can create a seamless user experience.
4.  Design
The market for fitness apps is massive, so if you want to make it in the business, you'll need to cultivate a large following. Most visitors will leave if the app is poorly designed and takes too long to load. As a result, hire a professional mobile app development company to design a beautiful UI that delivers a fantastic user experience.
5.   MVP Development
An MVP is a service or product that is functional with at least one minimum set of features. While MVP is not necessary, we suggest it due to its many advantages. At first, it makes it less expensive to develop fitness app solutions. Second, it speeds up the process of gaining entry. Third, it allows you to get information from early adopters and improve your application. Reviewing user comments might help you determine exactly what tweaks and modifications should be made to your program.
6.  Testing and Debugging
Quality assurance specialists at a healthcare app development company evaluate the mobile fitness application for flaws and make sure it complies with all the standards. The function of quality assurance engineers is to ensure that all functionalities are functioning properly and to assess the overall user experience.
7.    App Deployment, Evaluation, and Enhancement
Once your app is live, you can begin tracking metrics like user count, engagement, conversion rate, retention rate, and more to gauge how well it is performing and where you can make improvements based on what you learn. As a result of analyzing all of this data, you'll be able to determine if your app's current structure and monetization strategy are performing as well as you'd hoped and make any necessary improvements.
Regular application updates are also required. Always ensure that your most loyal consumers have something appealing to motivate them to return for more. People using your application must never feel like they've exhausted its features. If you're trying to attract new paying customers, one strategy is to consistently release fresh, new content.
Cost Incurred For Fitness App Development
The simple truth is that there is no "standard price" for apps. To meet the needs of their users, fitness app developers offer a wide variety of platforms. The typical price tag for developing a fitness app is from $10,000 to $25,000 and up. It's important to consider the specifics of your business and the elements at play. The following are some considerations to make while you create your budget.
Evaluate the App Scope
Budgeting for a fitness app development begins with brainstorming a viable app concept. The first step is to define the goals of the project and the specific features you wish to implement. The demographics of the expected customers are also included. In order to find the right developers, you must first have a thorough grasp of your project.
Operating System
The best place to release your application is the one where your potential audience is most likely to be found. Get in touch with a reputable Android app development company or iOS app development company if you need help creating a native app.
The App Development Team
A number of different development groups are available for your consideration. A freelancer, agency, or in-house workgroup are all viable options. Weighing the benefits and drawbacks of each choice is essential.
UI/UX Design
The expense of making a fitness app is directly proportional to the time and effort put into its intricate design. Keep in mind that people will always love your application more if it is easy to use. 
Conclusion
Over the past few years, the market for fitness-related smartphone apps and services has grown steadily. The global market for fitness apps is poised for significant expansion in the future years, thanks to rising consumer awareness, progress in related technologies, and demand from developing nations. It's a great time to launch your own fitness mobile application and get a chunk of the market.

FAQs
Q. How do you select the top fitness app development company?
Ans. One must initially think about the company's size and level of expertise. When selecting a company, make sure it has the resources to complete your project. See if the company has experience developing fitness apps by looking at its portfolio. Finally, check that the organization you're considering has a clear procedure for creating apps.
Q. What are the factors that lead to a fitness app success?
Ans. An app's basic functionality must be delivered without flaws for it to go viral. All of the functionality, the user interface, the performance, the integration with other applications and devices, and the communication with users must be properly implemented.
Q. How might a fitness app stand out from the crowd?
Ans. There is a lot of rivalry in the fitness app industry, so standing out from the crowd requires a unique selling proposition. These types of features include elements like multi-device syncing, geolocation, integration with music services, push alerts, and so on.
Q. How long does it typically take to create a health and fitness app?
Ans. Developing even a simple fitness app can take up to four weeks. However, the time required grows proportionally with the number of app features, their complexity, and their functionality.
Q. How will fitness apps affect the future of the fitness industry?
Ans. The fitness industry's trajectory toward innovation will be affected by recent technological developments. One such trend is the expanding reach of the Metaverse. Fitness aficionados will be able to achieve their fitness objectives with the help of extremely immersive and interactive training games. Thanks to Artificial Intelligence and Machine Learning, user experiences will be greatly optimized.