The very mention of the word "logistics" conjures up images of tedious tasks, mountains of paperwork, backbreaking labor, and so on. However, modern advancements in technology have revolutionized the transport and logistics sector, simplifying previously complex tasks. Digitization has had a profound impact on the transportation and logistics sector, allowing us to go from waiting in long lines to send a package to sending one with just a few taps on our phones.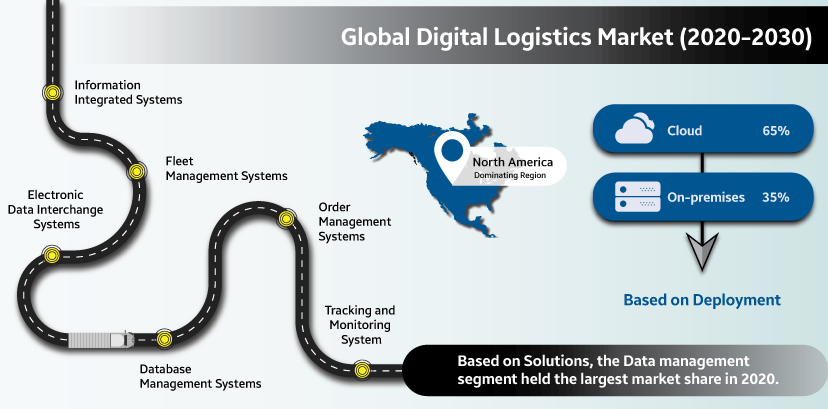 According to research, the digital logistics market will be worth $77.52 billion worldwide by 2030, expanding at a CAGR of 17.54% from 2021 to 2030. It demonstrates conclusively that mobile applications are the future of the transport and logistics business. When you work with a professional transportation & logistics app development company, you may have a specific app made for your company's needs.
Transportation & Logistics Market Size
The proliferation of smartphones, the necessity for on-demand services, and the widespread acceptance of e-commerce are all factors fueling the expansion of the transportation and logistics app market. In addition to these developments, the COVID-19 epidemic has affected the market for logistics and transport apps, as demand for contactless delivery has surged.
Global sales from the logistics business are projected to reach $15.5 trillion by 2023, making it a sizable and rapidly expanding industry. A sizable chunk of the market is occupied by the transportation industry. This encompasses all modes of transportation from the sky to the sea. By 2024, the global market for air travel is estimated to be worth $868 billion, while the global market for road travel is projected to be worth $5.8 trillion. The worldwide market of the rail transportation market will reach $561.7 billion by 2026, and the global market for the water transportation sector will reach $19.34 billion by 2026.
Moreover, the logistics industry plays a crucial role in the market by providing essential services including storage, distribution, and transportation management. Warehousing and distribution will make up the greatest portion of the global logistics business, which is projected to reach $15.5 trillion by 2023.
Why Should Businesses Invest in Transport and Logistics App Development?
A transportation and logistics app is useful for any business that handles the flow of goods. It streamlines the process of keeping tabs on fleets, managing stock, and storing goods, as well as keeping an eye on logistics demands to guarantee a consistent workflow and reliable network, all of which contribute to better delivery.
Constant Performance Monitoring
Supply chain workers, drivers, delivery executives, etc., are just a few examples of the kind of people needed in the logistics industry. The process of making a smartphone application in this space is completely open and structured. Mobile applications have simplified the previously laborious chore of 24/7 truck tracking by allowing for more oversight of the shipping and delivery procedure. By incorporating GPS technology, we can guarantee the precision and set up a fast monitoring system.
Less Paperwork
Managing a large number of paper files and records can be challenging. Maintaining databases manually is a daunting task. There has been a consequent increase in demand for digital record-keeping infrastructures. When it comes to logistics and transportation, there is a mountain of information to keep track of, not to mention paperwork and historical documents. Smartphone apps for transportation and logistics make life easier for workers. It's a huge help when it comes to keeping track of information and writing reports. A reliable mobility solution streamlines operations and cuts down on human error by means of an organized control panel. Important files and private company information can be safely stored in the cloud with the help of a mobile app.



Improved Administration
The collection, processing, and use of crucial data are simplified with a well-managed administration panel. It improves the overall efficiency and performance of the fleet management system. Several key performance indicators (KPIs) and metrics for businesses are provided by the businesses that develop transportation and logistics apps. Order updates, employee status, safe financial dealings, live car monitoring, fixing bugs, and other such things may fall within this category. All of the relevant information is conveniently compiled in one place on the mobile app, and a professional report can be made in a matter of minutes.
Reduced Delivery Times and Expenses
Transportation and logistics, mobile apps development streamlines operations and shortens transit times. It helps drivers choose the most efficient routes, consolidates fleet operations, and speeds up delivery times. In addition, it helps cut down on overhead expenses and conserves resources. It enables you to improve customer interactions while providing services that are both cost-effective and of high quality.
Warehouse Automation
Warehouse management may be automated and distribution can be optimized with the help of transportation app development. Advanced features in transport applications mean you can get more done in the warehouse with fewer people. In addition to these benefits, it reduces the amount of labor required of your staff and improves the management of your assets.
Route Optimization
Freight distribution is made easier with the use of mobile app solutions for warehouse management, which include complex capabilities like barcode scanning and an in-app database. Conversely, the delivery scheduling feature provides businesses with the opportunity to pick the optimal delivery method in advance.
Customer Service Improvements
A customer-centric approach is essential for the success of on-demand mobile apps providing logistics and transportation services. As a consumer, you can benefit in a number of ways, including being able to monitor the status of your order in real-time, and see where your item is at any given moment. In addition, there is a user-friendly online booking system, safe financial transactions, and helpful customer service. Users must sign up for an account, reserve their own freight or packages online, and handle their own delivery.
Facilitate Driver's Life
When it comes to speedy package delivery, the convenience offered by transportation and logistics smartphone apps is invaluable to drivers. It serves as a means by which they can be alerted, orders can be managed, and the quickest and most efficient routes can be determined. Additionally, the app provides key performance indicators to drivers. Using a dashboard, they can see key metrics such as the health of their vehicles, the progress of their transitions, the status of their orders, and more in a centralized location.
Read More: Top Reasons To Have A Mobile App For Your Business
Key Features Of The Transportation and Logistics App



User App
 
Signup and Login
Make the registration procedure quick and painless for your users. Your consumers are just getting started with you, and you want to make a good impression. To speed up the signup process, let users log in with their existing social network or Google accounts.
Scheduling Drivers and Couriers
Using this function, customers can select the desired courier or vehicle type. Additionally, it will be possible to arrange the ordered service by selecting a date, time, and location that is convenient. Clients should be able to contact their selected driver by phone call or message for further information. Provide a means for users to get in touch with assistance and receive prompt attention.
Delivery Details
You should add a function to your transportation app that lets users check on the status of their deliveries from their mobile devices. They will be able to view details about the shipment, the driver, the vehicle, the expected delivery time, and more.
GPS Navigation
One of the most important functions of the on-demand application is the ability to monitor the location of the shipment in real-time. Order tracking in real-time via GPS navigation helps to clarify when deliveries will be made. Customers will have more faith and confidence in your company as a result of this addition.
Mobile App Purchases
It is up to the specifics of your organization to determine how necessary this feature is. If your service is accessible online, you should give clients a variety of payment methods, such as credit cards, digital wallets, and so on. Online payment gateways like PayPal and Braintree can be integrated with a wide variety of logistics solutions.
Orders History
If a user needs to double-check the specifics of a past order, see when it was shipped, etc., they can do so by accessing their order history.
Reviews
The ability to rate and review both drivers and the service provided by your organization is crucial. Your service can always be better thanks to the feedback you receive from your customers.
Driver App


Signup and Login
In order to enter their information into the system, drivers need to sign up and create profiles. In the future, the central control panel will assign specific responsibilities and information needs to each courier.
Shipment Details
Give the drivers the specifics of the load they are transporting. This is a must-have for any order processing system. Everything they need to know about the cargo's pick-up and delivery points, order statuses, assigned tasks, etc. may be found on this screen.
Navigating and Planning Routes
This fundamental capability permits drivers to utilize maps for route planning and real-time navigation. Because of this, they can determine the most efficient route for the delivery of the package and shorten the transit time. The navigation system can be enhanced with data on the current traffic situation, specific legal limits, truck stop locations, etc.
Proof of Delivery (PoD)
Proof-of-Delivery (PoD) systems use photographic evidence, customer signatures, or bar codes to verify deliveries. With this method, customers may verify they have got their packages from the courier. You can rest assured that if your consumers use Proof of Delivery (PoD), they will have no legal recourse against your business for lost or damaged items. With rapid confirmation, you will reduce the need for paper records and other safeguards.
Chat
With this function, drivers don't have to switch between apps to talk about business. By using the app's built-in messaging and calling features, your staff can quickly and easily communicate with one another via text, image, and document sharing.
Push Notification
The drivers should be alerted about new orders, modifications while they're in transit, communications from customers or supervisors, and other time-sensitive information via push notifications.  
Admin Panel


Signup and Login
Login and registration options are essential for any logistics administration dashboard. There may be a wide range of permissions and responsibilities for admins, therefore it's important that registration be both simple and safe.
User's Role Management
Think about how many people will be involved and what their specific responsibilities will be before developing a logistics management app. You may rest assured that your admin panel's security will be top-notch because of the role management system in place. Administrators may have varying degrees of access depending on their roles and duties. Various administration teams will be given access to and control over distinct sets of information. When adding new members to the panel, a super admin should assign them to appropriate roles.
Order Management
Admins can view all open and closed orders, update their statuses, and assign them to drivers with this function. Not only that, but managers have access to customer orders and can provide relevant data insights. Insights like these will help you better your business approach. Artificial intelligence (AI) technology can be used to automate and reduce the amount of manual effort involved in order administration.
Vehicle and Driver Monitoring
Management can see where their shipments are at any given time and follow their drivers' progress in real-time with the help of driver and freight tracking. Better management means better delivery on time. One can view the present locations of the freights either on a map or a list. Details such as pickup location, percentage of the total distance covered, and expected delivery time is crucial.
Vehicle Operations Management
This feature facilitates the administration of driving personnel. The administrators will have fast access to a complete list of couriers and all relevant information, such as the couriers' names, contact details, vehicle descriptions, assignments, and status updates. Using the app's built-in chat function, admins will be able to rapidly verify and update couriers' information and schedules.
Dashboards
Your company's time spent on data collection and processing will be cut down thanks to a well-functioning dashboard. For managers, this means having quick access to all the data they need. With the help of dashboards, you may see data in a variety of visual representations and get an in-depth but easily digestible summary of the metrics that matter.
Your transportation application's dashboard will seem different depending on the preferences set in its control panel. A custom logistics app is developed to meet your specific needs. In addition to tracking shipments and fleet whereabouts, a dashboard can also display average statistics for analytics, previous order information, and more.
Feedbacks
You may learn a lot about the quality of your transportation services from the reviews of your satisfied customers. Having it sent straight to the control panel means that managers will be able to quickly spot areas where efficiency may be increased.
Support
With a frequently asked questions (FAQ) page, live chat, and phone support, you can assist customers whenever they need it. It's important to listen to the concerns of your customers. You can also use the data for analytics to figure out and fix the issues that have been uncovered.
Read Also: How to Develop Bike Locker App – Complete Guide
Types of Transport and Logistics Apps

There are several different kinds of transportation and logistics apps for mobile devices.
Fleet Management Mobile Apps
When managing multiple fleets, it's essential to keep detailed records on each vehicle and ensure regular service. Information about your fleet of vehicles can be stored and managed with the use of a mobile app dedicated to fleet management. The emergence of logistics and transportation apps makes it possible to keep tabs on critical parameters like fuel use, vehicle location, service cost, and more.
The driver's panel of fleet management software is where the user updates information about their car, whereas the admin web app is where the user's role is assigned, vehicle statistics are tracked, reminders are set, etc.
Logistics On-Demand Mobile Apps
Trucks don't necessarily need to be crammed with packages. When there is spare capacity in a fleet, additional shipments might be loaded in order to speed up the delivery process. Logistics and transportation businesses can increase their profits and efficiency with the help of on-demand mobile app development. Logistics apps that facilitate on-demand deliveries connect drivers of corporate vehicles with those who need their goods transported.
Warehouse Mobile Apps
In order to expand your transportation and logistics company, you must guarantee that all orders and shipments will arrive safely and on schedule. At the same time, real-time tracking, management, and monitoring of hundreds of deliveries are becoming increasingly crucial. The digitization of warehouse operations requires the use of transport logistics solution.

These kinds of mobile apps are supercharged by cutting-edge hardware and the incorporation of external APIs. Using barcode scanning, warehouse managers can instantly check stock levels and update other records. It helps warehouse workers be more productive with less wasted time and fewer mistakes.
How To Create A Transportation & Logistics App?
Determine Who You Want to Sell to and What You Have to Offer Finding out who will be using your application and what they expect from it is essential before you begin development. Do you like to deal with consumers as individuals or companies? What kinds of services, if any, related to transportation do you provide? In what ways does your app differ from the ones already on the market? You can set yourself apart from the competition and win over customers by clearly articulating the benefits your logistics application offers.
Explore the Market and Perform a Comprehensive Analysis
Conducting market research and feasibility analysis is crucial for understanding market demand and prospective competition. This entails looking at the market as it is right now, figuring out who you want as clients, and gauging how big that market could be. You should also think about the infrastructure and resources at your disposal, as well as any regulatory or legal limits that may affect the development and distribution of your logistics app.
Create a Comprehensive Plan and Budget
The first step in creating a successful logistics management app is gaining insight into your intended demographic and the needs of the market. Included in this should be a timeframe, a rundown of the project's expenditures, and a detailed description of its features and functionality. Constant expenditures of upkeep and updates, as well as possible revenue streams, must be accounted for.
Pick the Appropriate Technology and Platform
Your app's speed and potential to grow will be heavily influenced by the development framework and technologies you choose. Operating systems (such as Android or iOS), programming languages, database management systems, and hosting platforms are all important factors to think about. Technologies should be selected for their dependability, scalability, and ease of maintenance.
Implement and Evaluate User-Centered Design
It is imperative that your travel and logistics app has a simple and straightforward layout. A user-friendly layout, well-defined links, and rapid page loads are all essential for providing a smooth and stress-free experience. Before releasing an app, it is crucial to put it through a series of user tests and collect feedback to make sure it lives up to people's expectations.
Adopt Security Measures
The transportation and logistics industry is extremely vulnerable to cyber assaults because of the sensitive nature of the data involved. For this reason, it is important to use secure servers, encrypt data transactions, and establish authentication and authorization methods. As a corollary, maintaining a secure system necessitates periodic updates to keep one step ahead of criminals.
Release and Promote Your App
Launching and advertising a travel and logistics app to a certain demographic follows the app's development and testing phases. The process may involve developing a web presence, social media profiles, and marketing content, as well as utilizing search engine optimization (SEO) and other forms of paid advertising. Keeping tabs on your app's stats and using that data to make adjustments in response to user input is crucial.
How Much Does It Cost to Create a Transportation App?
The precise cost of developing a logistics and transportation mobile app is difficult to predict. Since there is no universally applicable approach to creating such a platform, the associated costs will vary widely based on the following criteria:
The app's complexity and nature.
The number of features that must be present.
Front-end and back-end solutions.
Mobile app platform.
The chosen technology stack.
Each of these three panels—a logistics administration panel, a user app, and a driver app—requires a very different set of development solutions. That means the cost and schedule of your project will change. However, you can use the following suggestions to help you stick to a manageable budget for your project.
Outsource Logistics Application
The location of your development team is vital. Costs associated with developing a solution in-house are typically 2-3 times higher than those associated with contracting it out. And then there's the time you'll have to waste on activities like recruiting, training, and micromanaging new hires.  Comparatively, outsourcing companies with experienced staff provide lower prices without sacrificing quality.
Create an MVP
Start by developing a minimum viable product (MVP) if you want to design a transportation application from scratch. You will save money and time, and learn important details regarding the marketability of your product. Getting helpful input from early adopters can improve the development plan. You can always add more features and enhance the app's performance later.
A minimum viable product (MVP) for a logistics app can be created for around $35,000. Approximately 10–20 weeks are needed for its development. However, the cost of releasing an app to the public might range from $70,000 to $150,000.
Why Choose Inventcolabs To Develop Transportation & Logistics App?
The logistics and transportation industry is expanding, and digital solutions will assist your company's innovative strategy. You may streamline internal operations, make life easier for employees, and boost customer satisfaction by developing a powerful digital application for your management, drivers, or customers.
The process of creating such a platform is intricate and multifaceted. The success of your project will depend on your ability to clearly articulate its purpose, carefully choose its features, confidently select its technology stack, and keep your budget in check. As you can see, developing a logistics service app that meets your company's needs effectively involves a high level of knowledge. If you need a trustworthy technological collaborator, Inventcolabs is here to assist you in identifying the most effective strategies for your project.
Inventcolabs' logistics application developers have extensive experience developing powerful transportation and fleet-management systems, as well as reliable delivery services. Send us a query and we'll get back to you quickly with expert advice for your logistics application. We'll work together to identify the best mobile solutions for your logistics company.
Read Also: Loan Lending Mobile Application Development – Advantages, Key Features, Tech Considerations, And Cost
Conclusion
There are many ways in which mobile apps may help logistics companies. A well-designed app by a logistics app development company can greatly benefit your business profits. It offers timely and trustworthy support to you and your staff and can help reduce administrative burdens. That way, you may increase output, tighten up security, and gain an edge over the competition. Developing a logistics application will need an initial financial and time commitment, but the return on those investments will be well worth it.
FAQs
Q. How do mobile transportation applications work?
Ans. The purpose of a transportation app is to connect people who need to ship items to different locations with businesses that provide this service.
Q. What is logistics management software?
Ans. An organization's logistics are managed, optimized, and automated using logistics management software.
Q. How do you create an app for transportation?
Ans. Beginning with a thorough understanding of the needs of our clientele, we implement your idea using the agile development process. Then, once we've decided how to best implement your idea, we'll craft a comprehensive development strategy to do so.
Q. How long does it typically take to create a new app for transportation management?
Ans. The features you want in your transportation management app, your preferred technology stack, and the platforms you plan to develop all affect how long it will take to create your app. Creating a basic version of a transportation management app typically requires between 3 to 6 weeks.
Q. Which company develops the most effective logistics applications?
Ans. Inventcolabs is proud to be able to offer comprehensive logistics app development services that will pave the way to success for your company. These services are driven by a group of mobile app developers who have a great deal of experience.