You've probably heard, "A good team is the backbone of any organization." When running a successful On-demand app development company, you need a great team behind you.
At InventColabs, we pride ourselves on having the best team in the business. We've built our team around three core values: trust, respect, and collaboration. These values are essential for creating a productive and positive work culture.

Our web, IoT, iOS, and Android app development team comprise talented individuals passionate about their work. When you have a team that's passionate about their work, the sky is the limit. We're constantly innovating and pushing boundaries, and we know we can do this because of our amazing team.
The InventColabs Team: How We Build It?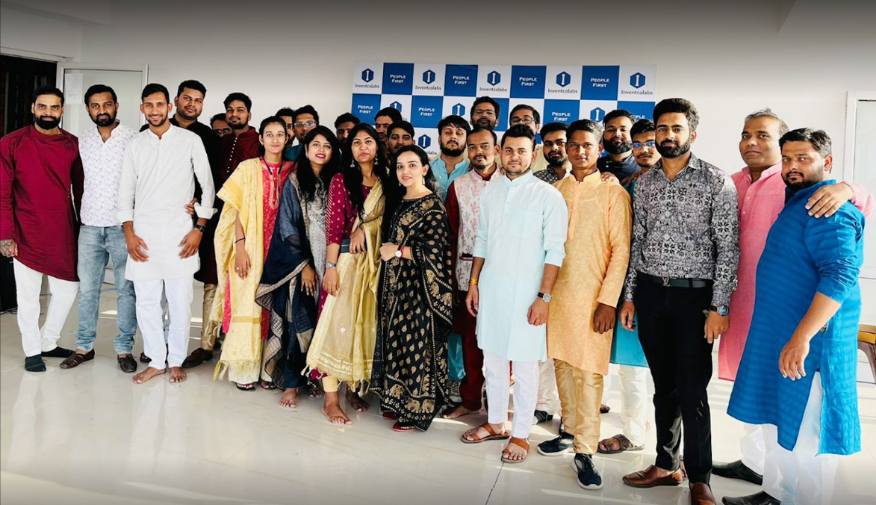 InventColabs has worked hard to assemble a team of talented and dedicated individuals. We've built our team around four core values: excellence, collaboration, respect, and innovation.

But building a great software development team takes work. It takes time, effort, and patience. We follow a four-point strategy:
1. Hire the right people.
2. Encourage creativity and innovation.
3. Promote teamwork.
4. Encourage continuous learning and growth.
We don't just hire anyone – we ensure that our team is the cream of the crop.

But it's not just about having the best skills. We also cultivate a culture of excellence, where everyone is working together to push the envelope and create amazing things.
It starts with our recruiting process, where we're looking for people with the right skills and attitude. We want people who are excited about their work and always want to improve.

Once they're on board, we give them the support they need to succeed. We promote a flat hierarchy where everyone has a voice and is heard. It promotes team trust and collaboration. Additionally, it can help to identify and solve problems more efficiently.

This culture of excellence is what sets us apart from other software development companies. It's why our clients trust us to deliver outstanding results.
The Power of Our Work Culture
When you come to work at InventColabs, you're joining a family. We don't follow the 9-6 rule. We like to work hard, but we also have fun and enjoy ourselves. Our team bonding events are the stuff of legends, and we're always looking for new ways to strengthen our relationships.

We take great pride in our work culture. You're more productive and motivated when you enjoy coming to work. We focus on hiring people who share our values and our commitment to excellence. And we're always looking for ways to improve our team's skills and knowledge.

We believe that our culture is what makes us special, and it's something that we're constantly working to improve. Thanks for being a part of it!
Bonding Beyond the Office
InventColabs is unlike any other mobile development company. When team members get to know each other better outside of work, they are more likely to feel comfortable communicating with each other in the office.

That's why we also love to bond with each other beyond the office – whether we're playing sports, going out for drinks, or just hanging out at the office.

We genuinely enjoy each other's company, which empowers us to problem-solve and work through challenges. We're proud of our team, and we know it's what makes us special.
Quality Over Quantity – The Pursuit of Perfection
At InventColabs, we would rather have a team of highly skilled individuals dedicated to their craft than a team of average developers just punching the clock.

We constantly strive for perfection in everything we do, and our team reflects that. We are always looking for talented individuals who share our passion for excellence and are willing to work hard to be the best.

Our work culture is one of respect and collaboration. The best ideas come from working together, and everyone has something valuable to contribute. We constantly challenge each other to be better and support each other through thick and thin.

We know that happy employees are productive, so we create an enjoyable work environment. We have regular team bonding events, and our office has dedicated spaces for fun and games.

Our values are important to us, and they guide everything we do. These values shape our team and work, making InventColabs a great workplace.
Values We Live and Work By
At InventColabs, we have a set of values that we live and work by. These values guide everything we do, from how we interact with clients to how we develop products.

Our first value is that we always put our people first. Happy employees lead to happy customers, so we invest in our team and create a work environment conducive to creativity, collaboration, and growth.

We also believe in always pushing boundaries. We're constantly looking for ways to improve our products and services, and we encourage our team to challenge themselves and think outside the box.

Last but not least, a healthy work-life balance is important, and we try to create an environment where our team can enjoy coming to work every day.
Final Words
So, there you have it. When it comes to what makes our team so special, it comes down to two things: our culture and our values. We create a culture of respect, collaboration, and innovation by building a team that reflects our values. And this culture and values have earned us a reputation as one of the world's best mobile app development companies.

Our team is what makes us special. If you need to hire a dedicated developer for your project, InventColabs is the perfect way to get the most out of your development project. . We place a premium on respect for our clients and team members. And we never stop striving for excellence in everything we do.