Have you ever searched for a place to stay in a new city? How was your experience? Exhausting, frustrating, and occasionally disappointing. Isn't it? Looking back only a few short years, the process of purchasing, selling, or renting a home was time-consuming and exhausting. Thankfully, real estate app development has significantly contributed to the resolution of this issue. Modern property-searching applications have proven to be the most effective and efficient means by which individuals may discover their perfect house. These apps eliminate the need for brokers and middlemen, making them a go-to solution for property listings, and have therefore shown all the signs of expansion and growth across all expanses of consumer utility and market value. 
Traditional Real Estate Business

Traditionally, real estate businesses relied on face-to-face meetings and in-person interactions. This meant that those in the market to buy or sell property often requested the assistance of a real estate agent or broker operating within their immediate area. This procedure typically included the following steps:
In a meeting with a real estate agent, a buyer or seller can express their wants and needs in relation to the transaction.
The agent would either look for available houses that matched the purchaser's requirements or advertise the seller's home.
The broker would arrange for in-person viewings of available houses for prospective buyers.
Once the buyer had located a suitable property, the agent would assist in negotiating the purchase price and other arrangements with the seller.
As part of their services, agents also take care of all necessary paperwork and other administrative responsibilities.
This might take a long time and necessitate lots of face-to-face communication between buyers, sellers, and agents. In recent years, however, the proliferation of online platforms and technologies has facilitated the purchase and sale of real estate without as much in-person interaction.
How Does Real Estate Mobile App Work?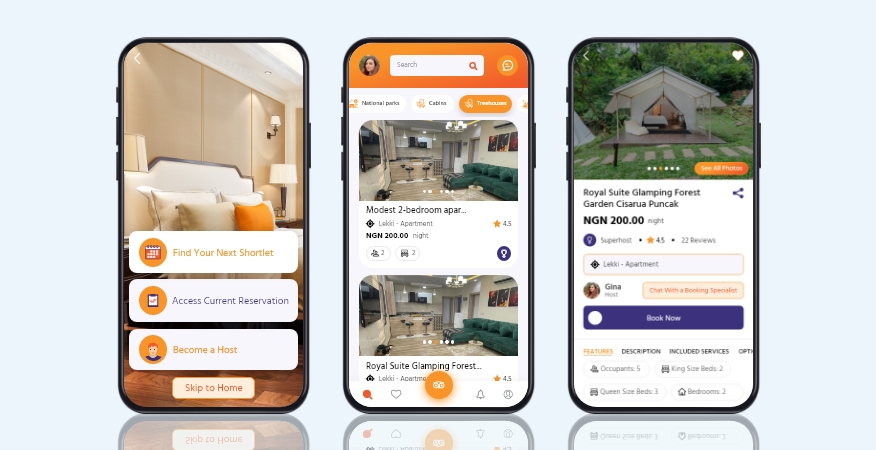 A real estate mobile application can be downloaded to a smartphone and used to look up details on available homes for sale or rent in a given area. These applications can be accessed through a web browser or downloaded from app stores, and they work with both Apple's iOS and Google's Android. Generally, real estate mobile applications enable users to search for properties based on parameters such as area, budget range, the number of bedrooms and bathrooms, and property type. Furthermore, users can narrow their results by listing type, price range, and other criteria.
When a user performs a search and finds a property that piques their interest, they are given the option to view additional information on the property, such as images, descriptions, and amenities. Virtual tours and 360-degree photos of a property are features offered by some real estate smartphone apps, providing the viewer with a more comprehensive look at the area.
The best applications developed by a real estate mobile app development company don't just let you look for homes; they also have a plethora of other useful tools built right in. Mortgage payment calculators, closing cost estimators, and real estate agent locators are all examples of such utilities. A user can save properties to a favorites list, and some apps will notify them when prices drop or new listings become available.
Types of Real Estate Mobile Apps

Property Search Apps
These apps facilitate a search for properties according to a user's desired parameters, such as location, budget, number of bedrooms and bathrooms, and property type. To further refine their results, users can select a variety of criteria, including the type of listing and its specific attributes (e.g., for sale or for rent). If you're in the market to buy or rent a new place, a property search app might help you narrow down your alternatives. A property search app allows users to browse listings, get in touch with real estate agents and brokers, and arrange for tours of available homes.
Home Valuation Apps
These applications can help you determine how much your home or other property is worth. If you're thinking of selling your house and want to know how much it's worth, or if you're considering making an offer on a house and want to know if you're getting a good bargain, this could be useful information for you. Typically, these apps help you estimate the worth of your home by compiling information from many sources, such as public records and real estate listings.
Mortgage Calculator Apps
Mortgage payments and closing fees can be estimated with the help of these applications. This is useful information for people who are trying to save up for a down payment on a new house or are thinking about getting a mortgage to refinance. Apps that serve as mortgage calculators let users input specifics like the loan's principal, interest rate, and duration to get a rough idea of what their monthly payments and closing expenses would be. Some mortgage calculator applications may also include features that allow you to compare loans or calculate savings from prepayment. 
Real Estate Agent Finder Apps
Real estate agents and brokers in a user's area can be contacted using these applications. Agents can be found by a user's location or expertise (e.g., residential or commercial real estate). If you're seeking to purchase or sell a house and seek some guidance along the way, a real estate agent finding app could be a great resource. An agent-finding app allows users to research local agents, examine ratings and reviews from previous customers, and get in touch with agents for further information or to set up appointments. 
Home Improvement Apps
DIY tasks, home design inspiration, and home maintenance how-tos are just some of the resources that can be found within these apps. If you own a home and want to make improvements or perform routine maintenance, a home renovation app might be a great help. With a home renovation application, users may discover ideas for home improvement projects, obtain step-by-step instructions for performing chores, and connect with specialists for assistance with more complex projects. 
Rental Search Apps
These applications enable users to look for apartments, houses, and other rental properties in their neighborhoods. Location, budget, and the number of bedrooms/bathrooms entered by the user are all searchable parameters. Users may examine photographs and extensive information about available rentals, set up showing appointments, and communicate with property managers and landlords directly from within the app. 
Roommate Finder Apps
These apps facilitate the process of finding a roommate or a shared apartment. Roommates can be found on the site by users who have created profiles and searched for those who share similar interests, as well as those who are in the same general area. If you're wanting to split the rent with a roommate or are interested in renting a house with roommates, a roommate-finding application can be a great resource. Users of a roommate-finding app can browse the profiles of prospective roommates and initiate conversations about important factors including cost of living, personal preferences, and availability.
Vacation Rental Apps
These applications enable users to look for and reserve holiday homes, apartments, and cottages. Users can search for rentals based on their area, price range, and the number of bedrooms or bathrooms they require, as well as browse images and full information about the houses. Vacation rental applications are helpful for both vacationers looking for a place to stay and property owners who want to advertise their homes to a wider audience.
Read Also: How to Develop a Transportation & Logistics App
Why Invest in Real Estate Mobile Application?


Investing in a real estate mobile application can be advantageous for both individuals and corporations. Some of the most compelling arguments in favor of putting money into a property-related mobile app are as follows:
Convenience
As long as they have access to the internet, users of a real estate mobile app can look up and browse listings whenever and wherever they like. Those who find themselves frequently on the move or who are wanting to relocate to a new city or state may find this to be an especially helpful feature.
Efficiency
By offering users a variety of features and resources, including property search, house appraisal, mortgage calculator, and real estate agent finder tools, a real estate app development service can facilitate the homebuying or renting process. Investing in real estate can be a long-term commitment, and a real estate mobile app provides users with quick and easy access to the data and tools they need to do so.
Raised Exposure
An investment in a real estate mobile app might help spread the word about your company or listings. Facilitating mobile property searches and viewings exposes your listings to more people, increasing the likelihood that you'll find a buyer or tenant.
Service to Customers Gets Better
Virtual tours, 360-degree pictures, and real estate agent profiles are just a few examples of the information and tools that can be made more easily accessible to consumers through a mobile app developed by a real estate app development company, all of which contribute to better customer service. Buyers and sellers alike will appreciate the time and effort saved by using a mobile app to get in touch with agents and brokers for answers to inquiries and to set up site visits.
Improved Advertising
A mobile app for the real estate industry has the potential to be an effective promotional tool due to the ability to provide customized push notifications and display interest-based advertisements. You may reach people who might be interested in purchasing or renting your properties right when they are thinking about it, thanks to the convenience of a mobile app.
Accumulated Profits Have Grown
More potential buyers or tenants for your homes means more money in your pocket if you invest in a real estate mobile app. The more people who can find your listings through simple searches, the better your prospects of making a sale or leasing agreement.
Competitive Advantage
Businesses that opt for real estate app development services can get an advantage over their competitors who do not. You may stand out from the crowd of competitors if you provide your customers with a mobile app that streamlines the property-viewing and searching processes.
Data and Insights
The marketing and business strategies of a real estate agency can benefit from the information obtained from a mobile app's users' habits and preferences. You may learn a lot about your target audience's preferences and the performance of different listing types by evaluating the data collected from your mobile app or real estate website. This information might help you adapt your marketing efforts and better comprehend your target demographic.
Features of Real Estate Mobile App
Mobile applications for the real estate business can provide a wide variety of features and functionalities. Mobile apps in the real estate industry often offer the following features:
Property Search:-
Provides the option to search for homes depending on a variety of factors, including area, price range, number of bedrooms/bathrooms, and property type. Users can refine their searches by selecting different criteria, such as a specific feature or a certain listing type.
Home Valuation
:-
Helps people determine the fair market worth of their property or other real estates they're interested in. If you're thinking of selling your house and want to know how much it's worth, or if you're considering making an offer on a house and want to know if you're getting a good bargain, this could be useful information for you.
Mortgage Calculator
:-
Provides resources to determine monthly mortgage payments and approximate final expenditures. This is useful information for people who are trying to save up for a down payment on a new house or are thinking about getting a mortgage to refinance.
Real Estate Agent Finder
:-
Facilitates communication between users and local real estate professionals. Customers can find agents in their area or with certain skill sets.
Virtual Tours
:-
This makes it possible to view a property from every angle, virtually. This is useful for people who can't see the property in person but still want to learn about its layout and amenities.
Personalized Home Search Alerts
:-
Provides the option to receive updates when new properties become available that match the user's search parameters, such as price, square footage, number of bedrooms, etc. When suitable new listings become available, users can be notified automatically.
Real Estate News and Market Data
:-
Provides users with the most recent real estate market news and updates, including statistics about trends, prices, and industry news. Those who wish to keep abreast of changes in the real estate market may find this resource useful.
Read Also: An Ultimate Guide to Develop an On-Demand Delivery App
Advanced Features of Real Estate Mobile Application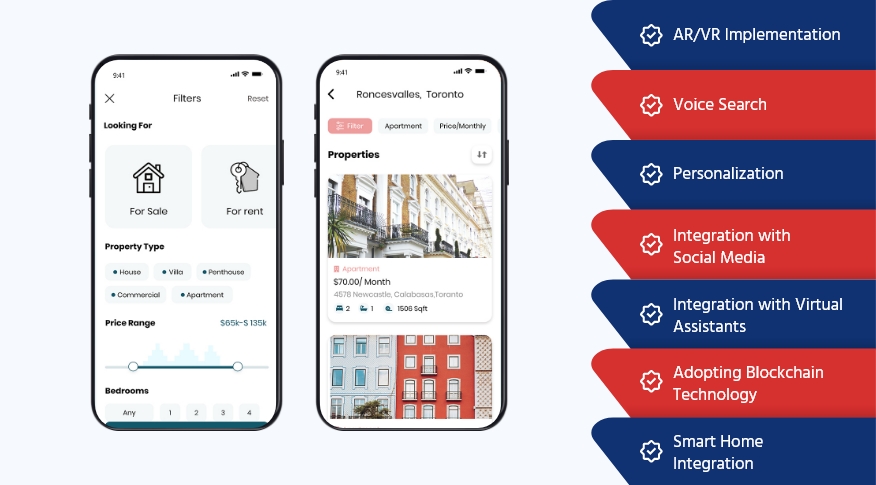 AR/VR Implementation:-
The use of augmented and virtual reality to see real estate allows prospective buyers to visualize how their furniture and other purchases might look in a certain area before making a final decision.
Voice Search:-
Allows users to do property searches with voice commands, streamlining the process of finding a home while on the go.
Personalization:-
Users can save their search parameters and preferences, set up notifications for houses that meet their criteria, and view only those houses that catch their eye.
Integration with Social Media:-
Provides a means for users to connect with one another and real estate agents or other users through their social media networks, as well as to share listings and properties with others.
Integration with Virtual Assistants:-
Access the app's capabilities and do property searches using voice-activated virtual assistants like Amazon's Alexa or Google's Assistant.
Adopting Blockchain Technology:-
Provides a blockchain-based repository where users may save and retrieve data and documents linked to real estate. This has the potential to increase safety and lessen the likelihood of fraud or mistakes in real estate transactions.
Smart Home Integration:-
Gives consumers the freedom to manage their homes from anywhere by connecting their smart appliances, lights, and thermostats to the application.
Cost To Develop A Real Estate Mobile App
Many factors influence how much it will cost to create a real estate mobile app, such as the app's complexity and scope, the development platform and technology chosen, the location of the development team, and the level of experience of its members. Key elements that can affect the price during real estate mobile app development are:
App Design and Functionality
The budget for making the app can vary widely depending on factors like its design and features. Generally speaking, the cost to design a more complicated and feature-rich application will be higher than that of a more basic app with fewer features. Property search, house value, mortgage calculator, real estate agent locator, virtual tours, 360-degree photos, and individualized home search notifications are just some of the features and functions that may be included in a real estate mobile app.
Development Platform and Technology
The cost of creating a real estate mobile app may also be affected by the development platform and technology that is used. Depending on the nature of the app, the time and money needed to create an iOS or Android app may fluctuate significantly. The cost of development can also be affected by the incorporation of cutting-edge technologies like virtual or augmented reality.
Development Team
A real estate mobile app's price tag can fluctuate based on factors including the developer team's location and level of expertise. It's possible to save money on development by teaming up with real estate app developersin a low-cost part of the world while spending more for a more experienced workforce that specializes in a niche area of code.
Maintenance and Updates
It's important to remember that the investment required to create a real estate smartphone application does not stop with its production. The application will need regular upgrades to eliminate problems, introduce new features, and be relevant. Based on the complexity of the application and the frequency of updates, the cost of maintenance and updates can vary.
Integration with Other Systems
Integration with third-party services, such as property management or Customer Relationship Management (CRM), might increase the price of creating a real estate mobile application. It's possible that integrating with a new system may necessitate more time and money spent on development, as well as the acquisition of new licenses or subscriptions.
Customization
If the mobile application for real estate requires special features or branding, this might also affect the development cost. Additional development time and the employment of specific tools or technologies may be necessary if customization is to be implemented.
Marketing and Promotion
It's necessary to think about the expense of marketing and advertising the real estate mobile app in addition to the price of development. Ads, PR, and other marketing expenses may fall under this category. Taking all of this into account, the price of a simple application can range from $30,000 to $45,000, while adding complex features like Augmented Reality or Virtual Reality would cost you more than $60,000.
Read Also: How Much Does It Cost To Develop An App Like Tabby Card?
Conclusion
Developing a mobile application for the real estate industry may appear daunting at first. It's important to work hard to match or exceed the standards set by competitors in a highly competitive specialized industry. However, there is no need to be concerned about anything when a seamless application is offered to the audience because they will appreciate and adore it!
FAQs
Q. 
What are the benefits of investing in a real estate mobile app?
Ans.  A real estate mobile app development service can streamline the home buying or renting process, give users convenient access to information and services, reach a larger audience, and perhaps increase traffic and revenue.
Q. 
What platforms should you consider while designing a mobile app for the real estate industry?
Ans. A real estate mobile app's success hinges on its compatibility with the devices used by its intended users. If you want to reach the largest possible audience, you should develop your application for both Android and iOS.
Q. 
What's better, a native app or a hybrid application?
Ans. A native app is one that has been designed and built exclusively for a mobile operating system like iOS or Android. Hybrid apps, unlike web apps, are able to be installed on devices just like native apps due to their blend of web technology and native platform components. Both solutions have pros and cons, and the optimal one depends on your needs and goals.
Q.

How do I monetize my real estate mobile app?
Ans. There are numerous ways to monetize a mobile real estate app, including advertising, subscription fees, in-app purchases, and the provision of paid premium services. When settling on a method of monetization it is crucial to take into account the wants and demands of your intended audience.
Q. 
How do I secure the privacy and security of my app's users?
Ans. Implementing secure login and authorization, encrypting sensitive data, and adhering to applicable privacy laws and regulations are just a few of the measures you can take to protect your application's users' security and privacy.