The on-demand economy is rapidly replacing conventional methods of doing business. Together, the services and a few applications provide the tools for the immediate delivery of products and services. Uberization, which began as the quickest way to hail a taxi, has altered how companies analyze customer needs, allocate resources, and fulfill orders.
Due to the rapid evolution of customer preferences, the on-demand economy is expanding at a considerable pace. People are busy and want their needs to be met swiftly and effectively. As a whole, the market for On-Demand delivery app services is only going to improve and grow. More and more on-demand apps are being released, and there are a growing number of startups like Uber. By 2025, analysts project that this industry's total sales would have grown to $335 billion.
What is an On-Demand Delivery App?
The odds of you having used on-demand services at least once are 100% given that we all live in a digital society and have constant access to our smartphones. On-demand services include things like online hotel booking, online meal delivery, and ridesharing. The term "on-demand service application" refers to a platform that connects customers with freelancers or agents. An app like this would work as a go-between for businesses and consumers, helping them connect and do commerce on mutually beneficial terms.
The capability of these apps to cater to the needs of their users has contributed to their rise in popularity. Furthermore, as the number of mobile users continues to expand, the expectations of these users, as molded by this change, have also increased to the point that they expect to obtain what they need by swiping a couple of times on the device. 
On-Demand Delivery App – Current Market & Trends 
There is a current upsurge in the creation of on-demand delivery apps. Revenue for on-demand transportation services like Uber, and Lyft has increased by almost 100% since the beginning of the pandemic. Statista.com reports that platform-to-consumer delivery has reached a $70,741 million annual revenue mark. Experts anticipated annual growth of 8.2% prior to the coronavirus outbreak.
The advent of on-demand apps has given consumers round-the-clock access to a wide variety of products and services. Everything you need, from groceries to cleaners to dog walkers, is just a single button away. Additionally, On-Demand app solutions have reached a 9.5% user penetration, with rising investment across sectors. Isn't it mind-blowing?
On-Demand Service Business Model
As a result of its remarkable accuracy, great service, and unparalleled ease of use, the on-demand business model has rapidly surpassed all others as the preferred choice of both new and experienced entrepreneurs seeking an online presence. Constant innovation is a byproduct of a thriving economy. On-demand services, which have a $57 billion annual revenue run rate, provide instantaneous responses to client requests. Because of the omnichannel presence and the encouragement of cross-channel sales that an on-demand model provides, businesses are able to generate more income.
On-demand services have rethought the delivery process in the same way logistics companies have. An on-demand delivery approach makes the most of available time and assets to get orders to their destinations quickly.
Emit is a shining example. To simplify the process of buying and receiving goods and services, Emit integrates shopping, payments, and delivery into a single platform. Customers may look up anything from prescription drugs to designer clothes and organic vegetables through the app. Anyone can just place an order, and within no time at all, they will receive their items.
Emit app is developed by Inventcolabs
On-Demand Delivery App Revenue Model
In the on-demand economy, various revenue structures are used. Everything from the commission structure to the shipping fees is scale-dependent. Let's take a look at the most common ways that on-demand delivery apps make money.
Shipping costs
It's standard practice for online retailers and meal delivery services to charge a fee for delivering your order. Currently, the average cost of an UberEats delivery is roughly $4.99. While DoorDash retains anywhere from $1.99 to $5.99, depending on the restaurant you order from.
Peak pricing
Services like Uber use this strategy frequently. During rush hours, drivers have varying rates for on-demand transportation. To avoid a financial crunch, peak pricing is a wonderful revenue model for on-demand applications.
Commission charges
Commission fees are the most widely used revenue model. The model is adopted by the vast majority of on-demand apps, not only those specializing in food delivery or taxi aggregators.
Advertising
To monetize your app, you can use in-app advertisements. There are, however, more interesting methods of marketing. One option is to ask On-Demand delivery app development services to assist you in embedding video advertisements into your app.
Types of On-Demand Delivery Apps
With their convenient ordering options and prompt deliveries, on-demand delivery apps have gained widespread popularity. But these capabilities shift depending on the distribution market. There are primarily three categories of on-demand services that are ideal for mobile app development.
Business to Customer
The focus in B2C marketplaces is squarely on the end user. Consider the case of McDonald's, which has introduced McDelivery, a delivery service. There is no aggregator involved; it is strictly a business-to-consumer arrangement.
Business to Business
One such business-to-business module is UberRush. Deliveries can be made by Uber drivers, who can also pick up packages from stores. Let's say you're considering starting a company that provides services to other businesses. To design the next generation of B2B on-demand apps, you need to look no further than a top-tier On-Demand app development company.
Customer to Customer
In the realm of on-demand delivery services, C2C is among the most well-known names. It facilitates the promotion of goods and services among individuals. Consider the website Airbnb, where individuals rent out their homes, condos, and even log cabins to strangers. In this case, the on-demand delivery app serves more as a platform than a provider of actual delivery services.
Major Industries of On-Demand Service Applications
Food delivery services
It is one of the most successful sectors of the on-demand economy and has become almost a necessity. More and more meal delivery apps are appearing, and they're all generating significant revenue. People enjoy ordering and eating a variety of restaurant foods. There are currently a plethora of cuisine options because of the tendency toward variety. A business can be more successful by contacting an On-Demand food and restaurant app development company to help them develop an app for their services.
Grocery delivery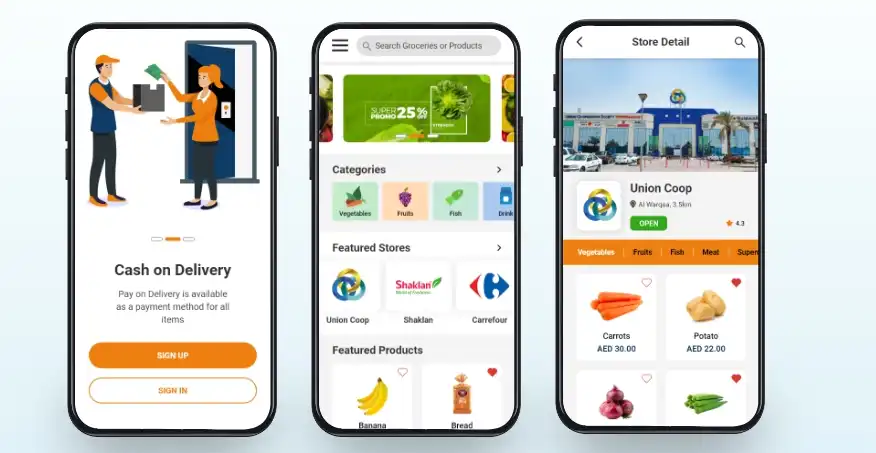 It was difficult for consumers to leave their houses during the peak of the COVID-19 pandemic in order to buy food and medicine. The advent of on-demand grocery apps and other mobile solutions has been a godsend for busy people in this situation because it makes it possible to get staples like milk and bread delivered right to the door.
Additionally, the fantastic features of on-demand grocery delivery apps have greatly reduced the need to wait in line. There has been an uptick in the popularity of hyperlocal on-demand revenue streams to suit the rising demand for grocery-based services. An On-Demand grocery delivery app development company can develop an app for you, thereby enhancing transparency, reliability, and trustworthiness among consumers.
Healthcare
By 2026, the healthcare industry is predicted to have a value of $52.2 billion. There has been rapid innovation in the telemedicine sector recently, with cutting-edge technologies being rapidly incorporated to guarantee the highest standards of quality in the final products. The primary purpose of telemedicine apps, sometimes known as "doctor on demand" apps, is to quickly and easily connect those who need medical consultation with doctors who can provide it.
On-demand apps allow users to locate professionals, verify their credentials, book appointments, and consult with them remotely using video chat. The ability to instantly connect with a medical professional is only one use for telehealth apps. Apps developed by an On-Demand healthcare app development company can be helpful for a wide variety of healthcare-related tasks, such as remote patient monitoring, data collection, doctor appointment scheduling, wireless testing, medication management, and more. 
Read More: How To Create A Medicine Delivery Mobile App?
Logistics
There has been a huge uptick in the popularity of on-demand delivery apps that use logistics. In a short amount of time, Uber Freight has become increasingly popular among those in need of an on-demand, long-distance delivery service. Similar to Uber, Uber Delivery was developed by an On-Demand travel app development companywhich is a growing on-demand business now. By 2030, the on-demand logistics industry is predicted to be worth $75 billion.
Read More: On-Demand Car Wash App Development Cost & Features
Key Features of On-Demand Delivery Apps
In general, on-demand apps have the following functionalities:
Customer's App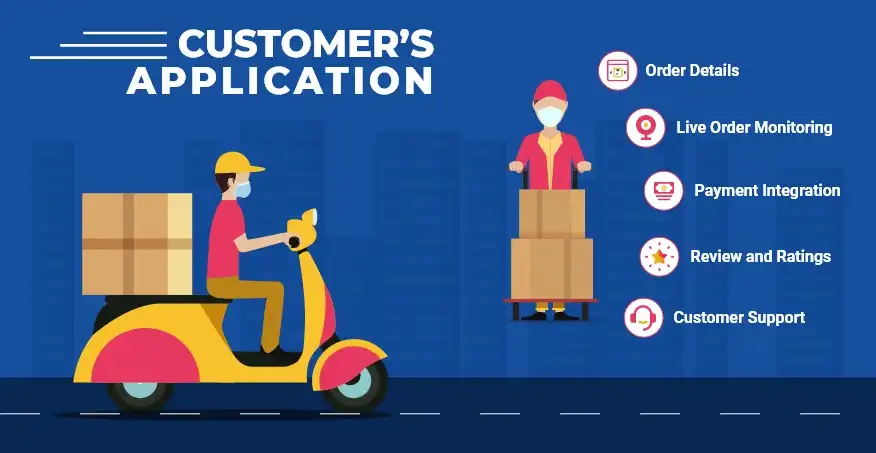 Order Details
Customers need easy access to their order histories and current order information. This way, they can remember exactly what they ordered. In addition, users may quickly review their past orders and place new ones for the same item with ease.
Live Order Monitoring
Having the ability to monitor changes in real-time is crucial for providing users with accurate information. The Google Maps API can be included to lend credibility to this function.
Payment Integration
Your application needs to support numerous payment methods so consumers can easily make purchases. Your customers will feel more at ease completing financial transactions on your site if you provide them with secure and trustworthy payment options.
Review and Ratings
This feature enables your users to remain in contact with the administrator. They can feel more heard with immediate reviews and comments. Additionally, it will assist in the development of your app's services.
Customer Support
The value of a reliable and helpful customer service team for any app is enormous. Because of how the app works, you will need to provide fast support to your users. If you care about your users' safety, you must provide consistent customer assistance.
Service Providers' App
Order's History
The delivery staff should be able to access information about their previous deliveries. This might provide an overview of the delivery team's previous efforts. Additionally, these specifics will allow you to monitor their progress over time.
Transactional Record
This facilitates monitoring of salary on a monthly basis. This will include information about bonuses, commissions, and other forms of compensation. This is useful for the delivery staff as they tally up their pay.
Vehicle Details
The majority of the time, delivery vehicles are provided by business owners. Keeping track of the fleet will improve administration. 
Accept or Reject Delivery 
Your delivery staff needs the option to accept or decline deliveries at their discretion. It allows people the flexibility to work as best suits their needs. The individual delivering your packages should be given the freedom to come and go as they please.
Compatibility with Google Maps
This will guarantee that your delivery staff knows the quickest or most direct route to take when making deliveries. This is also for their own protection throughout the relocation. In addition, they can boost their efficiency by adhering to the app's rules.
Read More: How to Create Home Management Application Like Taskrabbit?
How to Create an On-Demand Delivery Application
Select a niche
Figure out what you're good at, but don't stop there. There needs to be a product in this market that people will actually buy because it improves their lives. Guarantee that the final result is consistently high-quality, accessible, and in high demand.
Know your target audience
It's vital to your company's success that you identify the specific individual or people who would benefit from your service. If you're confident in the quality of your app, it's just not enough. Your target audience needs to adopt it. Always consider who will be using the product as you create it. Before launching a marketing campaign, it is important to do extensive market research, run beta tests, and review common pitfalls to avoid.
Determine a pricing plan
In order to turn a profit, a company must first choose the best pricing structure. Pricing too high is the riskiest strategy. Avoid becoming greedy. It may render you being unable to compete with other businesses and undermine all of the efforts that were put into developing the app.
MVP development
The Minimum Viable Product (MVP) is a critical element of any on-demand application. You can save money upfront and get valuable feedback on how to improve the app's service while releasing a beta version to the public. An MVP is a sample of the whole product that your customers may look forward to.
Rollout & marketing
Marketing is crucial as you release the final version of the application that incorporates user input, analytics, and other improvements. Startups need to set aside a certain amount of money every month to use for advertising.
Development Cost of On-Demand Delivery App
How much does it cost to create an on-demand application? Since the price of an on-demand application depends on a wide variety of parameters, there is no simple way to respond to this question. An On-Demand delivery app development companyshould be able to give you a detailed estimate once you've shared the project's needs, goals, features, and size with them.
Basic Features
Order tracking, past purchases, multiple payment methods, etc., are all examples of such functionality. Without these functionalities, you will be unable to deploy your on-demand application. Consequently, these aspects form the backbone of the capital needed to build a mobile app. It's an inevitable and necessary expense for any project involving on-demand application development.
Advanced Features
When developing an on-demand app, you don't have to include every conceivable feature. If you want your app to be noticed, you need to include them. In-app telephony, Augmented Reality integration, push alerts, etc., are all examples. The final price will increase with the inclusion of each new high-end function. As a result, choose carefully in this regard.
Mobile App Development Platform
There are options for both iOS and Android app development. A single payment is all that is required to access the Android market. However, with Apple's iOS App Store, periodic subscription payments are required. Just because Android is less expensive doesn't mean you have to use it.
You can't just pick one at random from among them, either. Knowing who you're trying to reach closely is crucial for making this call. It is suggested that you get advice from professionals offering On-Demand delivery app development services. Based on your needs, they can recommend the best platform for you to use. 
Hiring Model
The market is rife with several hiring models to choose from. If you're going to offer app development services, you need to pick the one that pays the best. Weekly, annual, hourly, and fixed-price models are the various options for employing people. They all have their pros and cons, so it's up to you to pick the right one for your scenario. Your hiring strategy will have a significant impact on the cost of developing a mobile application.
Read More: How To Create A Video-Streaming Mobile App Like Netflix?
Conclusion
The market for on-demand delivery apps is expanding rapidly across several sectors, from healthcare to logistics. Having one such app will give you a leg up on the competition. While you'll need extensive programming skills and experience to design an on-demand application, there are still quick ways to break into the market. Despite the fact that contracting a freelancer is an option, your best bet is to team up with a professional On-Demand delivery app development company. It's a great way to get things done quickly without sacrificing quality.
FAQs
Q. What makes an on-demand delivery app successful?
A. Your consumers will be using your delivery app frequently, so making it simple and straightforward to use will benefit your business. Through the app, users should be able to quickly and easily locate the services they need. After placing an order, the payment procedure should proceed without any further friction.
Q. What is a delivery strategy?
A. Everything from how the tracking number is displayed in the application to the packaging of the goods that arrives at the customer's door should be a part of your delivery strategy.
Q. How much does it cost to develop an application for On-Demand delivery?
A. Depending on the functionality, technology stack, and expected lifespan of the app, the total cost of developing an on-demand delivery app might range widely. The typical cost will be between $5,000 and $25,000.
Q. How to create an On-Demand delivery app?
A. Research, UI/UX design, development, debugging, and maintenance are just some of the tasks involved in making an on-demand delivery app a reality. But first, you'll need to assemble a development team to make your idea a reality.
Q. How might the idea of an on-demand application be used to attract investors?
A. The app's concept is a crucial factor in securing financial backing and luring investors. If the app concept is clear and fits with the potential for new business, it won't be difficult to implement. For example, there are numerous applications comparable to Uber, yet Uber offers something that other applications do not. As a result, Uber has been very successful in the market compared to its competitors.