Mobile apps are becoming an indispensable part of our everyday life. Whether it's fitness, communicating with someone, or entertainment, we head to mobile apps for solutions. This trend has changed drastically in the last few years, especially after the upshot of COVID-19. The use of technology has drastically increased that led to high competition in the market. While consumers want the best solutions, companies always look for ways to attract more customers and improve their existing platforms. Advanced technology provides companies with a wide range of business opportunities as well as many new solutions for customers.
It is an undeniable fact that the online marketplace is a hub of customers. But it's also an open web for businesses, and this has given birth to high competition. Surviving competition is challenging for any business; they have to provide customers with what they want in the best way possible. It clearly reflects in websites and mobile apps. Users want personalization, and businesses are using every way possible to provide personalization. One such method is the on demand service marketplace app development. But what exactly is it? What are its features? This blog will help us find the answers to these and many more questions.  
What is the On-Demand Service Marketplace?
An On-demand Service Marketplace is an application or platform where both sellers and buyers actively participate in a wide range of services. This acts like a third party that provides a secure medium where service providers and buyers can successfully interact and conduct business. Simply put, On-Demand Service Marketplace Mobile App are platforms where service providers and service seekers are in one place. 
Service providers offer services like plumbing, transportation, grooming, etc., and service seekers can book these services. As a marketplace owner, you are not providing services to customers directly. This business model made its way a few years ago and slowly expanded into an extensive economic strategy. Many industries, such as eCommerce, and companies offering general services like Uber, Urban Company, eBay, etc., are using on-demand service marketplace. 
For instance, Urban Company, which started as UrbanClap in 2014, allows users to book appointments for home beauty services. Beauty service providers have their accounts on the app. Users look for service nearby and book an instant appointment whenever required. The marketplace owners themselves do not provide any services, but just act as a mediator between the service provider (say a salon expert in this case) and the service receiver (the customer who is using the salon services). 
In addition, some other popular on-demand service marketplaces include Thumbtack, TaskRabbit, GoFantastic, Housejoy, Anyservice, etc. 
On-Demand Service Marketplace Mobile App: Market Stats and Size
On-demand service marketplace has made its way to more extensive economic statuses. They are becoming popular business models, which can be attributed to their incredible benefits. Companies like Urban Company, Uber, and eBay are becoming the big fishes of the market, forcing upcoming businesses to find new ways and innovative ideas in order to thrive in the market. According to data from global industry analysts, the global on-demand home services market is estimated to reach $2.7 billion in 2027.  
Initially, like any other business, the digital market and services were moving at their own pace. Of course, their growth saw a positive curve, but only in metro cities. And the pace of growth was pretty steady. Later, with the outbreak of COVID-19, people across the globe were forced to switch to mobile apps and digital services. Now, after two years of COVID-19, people are more inclined to digital markets. Hence, the pandemic significantly contributed to the increase in the growth of e-businesses and the on-demand service marketplace. In 2020, the on-demand service marketplace was estimated at US $112.7 million.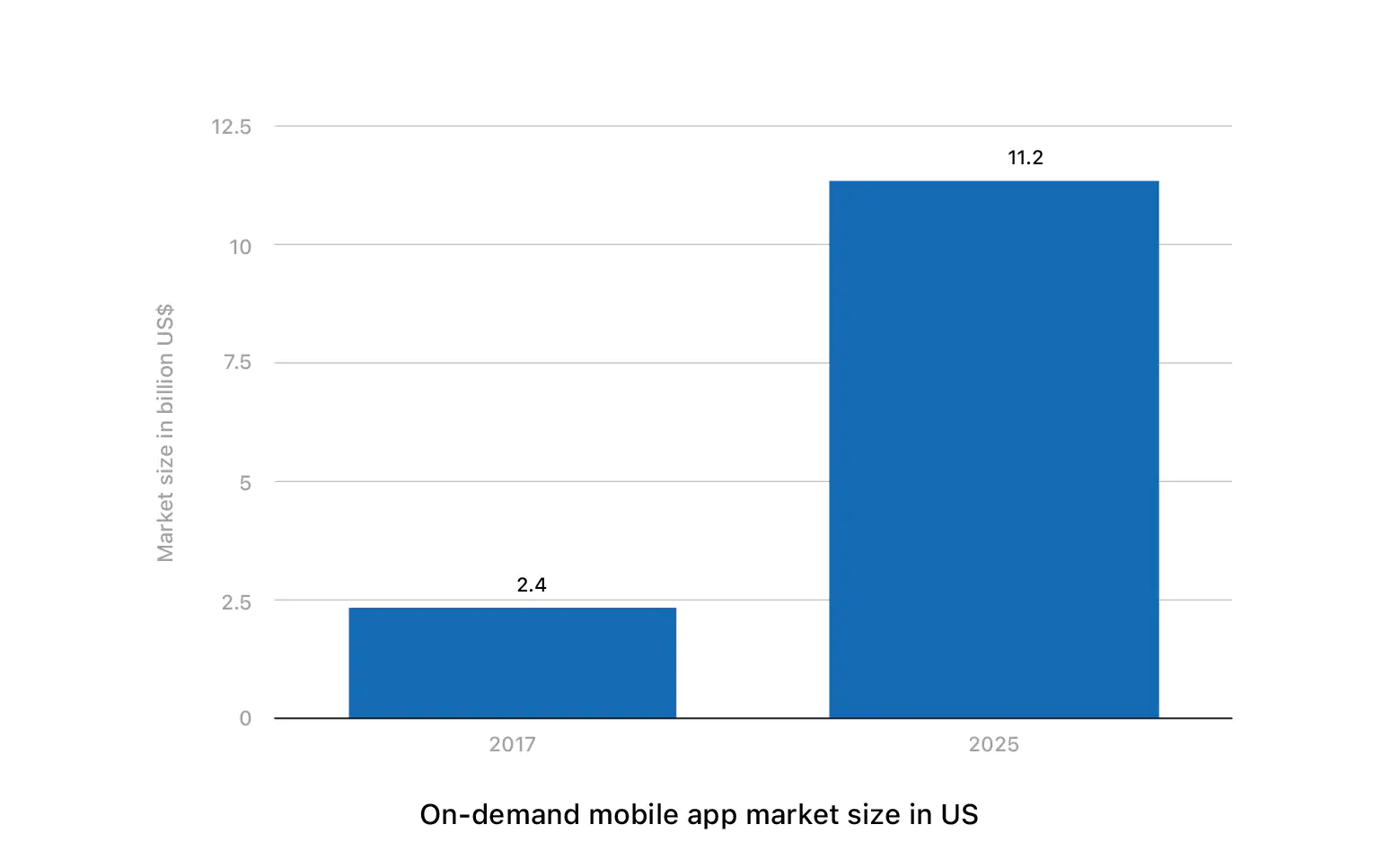 The growth of the on-demand service marketplace depends on various factors. In the last few years, some favorable effects of factors like internet availability, need for services, etc., have increased, contributing to the marketplace's growth. In 2021, the online on-demand home services marketplace was valued at $3456,00 million. 
Source: https://www.databridgemarketresearch.com/reports/global-online-on-demand-home-services-market/amp
Why Does On-Demand Service Marketplace Mobile App Become Popular?
There are many key drivers that make the on-demand service marketplace popular and useful among the masses as well as businesses; here, we have shortlisted a few: 
For businesses:
Affordability:-


One of the major reasons for developing an on-demand mobile app is its affordability. It is not just for businesses, but also for customers.The on-demand service marketplace apps provides more flexibility to businesses and customers for services at a price that fits well within their budget. Customers are most likely to be drawn towards services on the app, which are hot selling, cheaper, and provide better options. Businesses can take advantage of affordability for their customers and earn more profits, by attracting an increased audience. 
Increase in demand:-


Customers need home services for everyday activities or some basic requirements due to busy schedules. Services like plumbing, renting, beauty, and more are in high demand. An on-demand service marketplace app development will allow you to increase your customer reach and attract more audiences. These apps are hot selling and currently attract a lot of customers. One of the best examples is Airbnb, Urban Clap, and Uber. These services are widely used worldwide for everyday use, and similar to these companies, many such services are in demand. 
Transparency with customers:-


For any business to be successful, it's highly critical to establish a strong trust between customers and the company. Hence, to provide transparency to customers, apps these days are built with feedback systems. With these systems, you can understand what customers are expecting and what you need to offer. Offering customers services and providing their desired options will allow you to retain them. In addition, transparency with customers about what you offer and what they are looking for will help you develop a strong relationship with them in the long run.
High business potential:-


More than 70% of users use mobile apps every day during their free time for entertainment or services like food ordering. This rise in the use of mobile apps by users has enhanced the potential of businesses to grow and reach a higher place. Hence, if you integrate your business with an on-demand mobile development platform, you can provide more features and options to your customers. Consumers like to explore different features and options, and when you offer services that are important and on-demand with unique features, they are more likely to install your mobile app. In addition, developing an on-demand service mobile app in the digital era will give you high business potential in the global market. 
Scalability:-

One of the best parts about developing on-demand mobile apps for your business is its scalability options. On-demand mobile apps are highly scalable; you can enhance and improve your business services as much as you want. They are not limited to one service or local audience. Moreover, you have the option to scale the cost of services at the right time. For instance, Uber increases their fares during peak hours. If you have noticed or often use uber, you would know the Uber fare is different during regular or off hours and increases during peak hours. Therefore, you can bring scalability to your business whenever required through on-demand service apps. 
Develop your own marketing pipeline:-

On-demand service mobile apps can help you develop your own marketplace. Developers can add features that allow you to market your products, such as providing push notifications whenever a new service is added. In addition, you have a feedback option that you can use to bridge the gap between demand and supply on your platform. Similarly, you can promote your services on the app to existing customers. Therefore, developing your own marketing pipeline becomes easier.
For customers: 

Just like businesses, customers are also benefited from these apps, which makes them highly attractive to businesses, such as: 
Easy ordering:-

Generally, when customers have to book services like cab, beauty, plumbing, etc., they have to wait for their appointments or whenever it is available. In comparison, these apps provide more convenience to customers by allowing easy ordering. Similarly, service providers can manage their appointments more efficiently and in an organized manner.

Tracking facility:-

Customers can track their delivery and service options. So customers can plan their schedules accordingly. For example, they would know how much time it would take for their order to reach or for the service provider to help them.

Cashless payment:-

Customers can make transactions without hassle with flexible payment options. With different payment options available for customers, they can book and pay for services instantly.
Popular On-demand Service Marketplace Categories
Many people only know about repair and salon or beauty services in the on-demand marketplace app, but it's not limited to these. There are some of the other popular categories for on-demand service marketplace as follows: 
Transportation: 
One of the popular categories for developing on-demand service mobile apps is transportation. It mainly includes logistics and taxi services, where service providers have their accounts in a marketplace, and service seekers can book services. The leading example of a transportation service app is Uber or Ola, where taxi services are provided at different places, and service seekers can book instantly. The typical transportation on-demand service marketplace can be categorized into passenger transportation like taxis and goods transportation like delivery services. Both niches have plenty of global demand, which is why many startups are working on the same. 
Read Also: How to Develop a Transportation & Logistics App?
Food and grocery delivery: 
Another successful and ongoing business model for service marketplace. If you use food delivery apps, you might have seen different restaurants being listed on the app where users can order food, and service providers on the app provide delivery services. Similarly, grocery delivery apps. Both these categories are in high demand across the globe and in the USA. According to data released by Statista, the demand for online groceries skyrocketed in 2020, and apps were installed by users substantially in the US. The features of these apps can include a list of restaurants, grocery stores, payment options, order tracking, etc.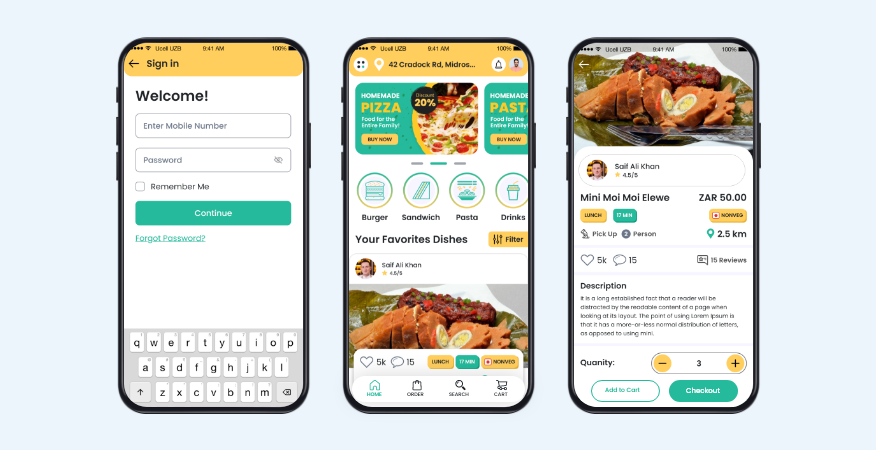 Read Also: An Ultimate Guide to Develop an On-Demand Delivery App
Healthcare: 
Telemedicine is becoming relatively popular among people. Customers now prefer online services, whether doctors, dieticians, fitness trainers, physiotherapists, yoga trainers, or any other healthcare field. Therefore, the need for these on-demand medicine delivery mobile apps for these services is in high demand. The telemedicine sector is developing quickly, especially after COVID-19, when the demand for medical professionals has increased. Apps for healthcare can include online consultation, second opinions, scheduling appointments, consultation via video calls, audio calls, text, etc. 
Read Also: Complete Guide to Develop a Doctor Appointment Booking Application
Beauty: 
Beauty has been one of the most demanding services in the last few years. One of the biggest examples is UrbanClap or Urban Company, where users can book their saloon appointments for services at home. After 2020, the system and approach for brick-and-mortar business have been disrupted, which increased the need for online service apps. These apps usually have features like services from nearby salons, booking appointments, payment options, feedback, offer, and more. 
Read Also: Complete Guide to Develop An On-Demand Beauty Service App: Features and Cost
Event and business services: 
Event service apps include event organizers, exhibition organizers, etc. Business services include lawyer consultation, accountant consultation, photography services, web designers, app developers, digital marketing, etc. These models include both b2b and b2c. Both event and business services are widely used and increasingly growing in the market. The features of these apps usually include service options, customer details or data sharing, custom requirements, feedback, payment option, templates, feedback, etc. 
General features of On-Demand Service Marketplace Mobile App
Our on-demand service marketplace mobile app includes features: 
Introduction:-
You add an attractive and intriguing introduction and description of services and business on the home page. You can showcase your business's specialty and let customers know what you are offering. In addition, you can also market your services on the introduction page. 
Search and service:-
Your service section will be organized systematically, and customers can find their options with more ease. If you are offering a wide range of services, you would require a separate page for each service. Customers can choose from different services. In addition, they can search for services rather than going through all the options. Thus, with small tweaks here and there, you can enhance the customer service, thereby leading to an increase in the number of satisfied customers. Both these options can make your on-demand service mobile app highly powerful and attractive for businesses.
User login ID:-
You can collect all your customer information at once, when they are registering for the platform. They do not need to go through the tedious process of providing all the information every time they use your app. A Login ID will directly open their account where their information is pre-filled, allowing you to be more organized. 
Payment options:-
Payment options are critical. Many times, businesses have observed that customers abandon products or services due to a lack of payment options. You can add a flexible and wide range of payment options to your platform. This would add value to your app and provide your customers with an easy interface to make transactions for services offered. 
Feedback:-
Feedback options are highly crucial for businesses. With feedback options, you can collect customer data and analyze and understand how your business is working with customers. Your customers can reach out to you about their concerns or what they are expecting; you can fill the gap between demand and supply. 
Reviews:-
Reviews on your on-demand mobile app will allow users to make purchase decisions. As a business, if you research enough, you will understand that recommendations through reviews are more effective for web users. You can provide your app users with positive business points with an open review platform. 
Customer Support:-
The customer support section should include team call and text options where users can directly reach out to your team. In addition, you can use chatbots in this section to provide more powerful and useful features in your app.  
Menu:-
Menu options will help you organize your services and other features, making it easy for users to navigate. Like any other on-demand service app, menu options should include sign-in/up, log-out, profile, and service options. 
Security:-
You can offer additional security to app users by using robust security strategies on the app. These features are added with security certifications, using the latest cybersecurity techniques to protect your users. Consequently, it will help you develop a strong, secure, and safe platform for users.
Advanced features of On-Demand Service Marketplace Mobile App
Apart from general features, there are some advanced features that you can include in your service marketplace app development: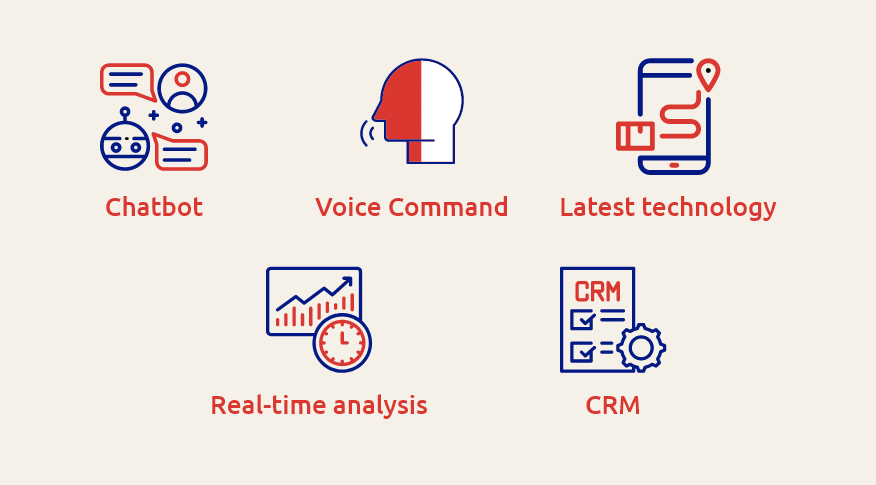 Chatbot:-
Chatbots are one of the unique features that you can include in your app. Where users can directly chat with your customer support about their queries, it allows you to offer a better customer experience and resolve their queries quickly and easily. Therefore, you can establish trust between your brand and the customers. 
Voice command:-
You must have heard about Alexa or Siri. Both these voice command options are highly popular. Moreover, people actively use these features for web searches. Hence, this voice command option in on-demand service mobile apps will provide convenience to your customers. The feature allows users to speak about their requirements on the app and provide commands for services rather than typing or tapping on the screen. 
Tracking options:-
This feature allows you to track app user journeys. Similarly, a tracking feature can also be used for customers to allow them to track their delivery or services. Businesses can track customer behavior to enhance marketing options and provide better customer service. 
Real-time analysis:-
The real-time analysis options are for admins who can keep a check on services being provided. Admins can ensure and track who is out there offering services to customers, where they are offering services to customers, track everyday services, etc. The real-time analysis will also help businesses track app performance and business performance. Moreover, it can help you make improvement strategies. 
CRM:-
Integrating advanced features like CRM on mobile apps will allow the business to provide better customer support. Businesses can directly connect with customers and resolve their queries as soon as possible. It will help businesses to make it easy for customers and ensure they are not stuck anywhere in the application. 
Required Team to Develop an On-Demand Service Marketplace App
Finding the right team for developing an on-demand service mobile app is of extreme importance. A good team will not only provide you with quality services but will also help you with updates and upkeeps in the future whenever required. When as a business, you look for a good team for on demand service marketplace app development, here are a few things to consider: 
Experience:-
The team should have professionals with experience who can provide you with better solutions to your features. The team will understand what you want and can incorporate it into app development. Moreover, an experienced team knows the ins and outs of the industry, where it can be beneficial, and where it can go wrong. Therefore, they can guide you better and provide an effective app. 
Affordability:-
Developing an app is one thing, and maintenance is another. When you consider cost, you have to consider both, as you may have to consult the team in the future. Affordable services will help you reduce your customers' overall costs, thus helping your business. 
Latest technology:-
As more and more customers are switching to digital apps, attracting an audience to your establishment will become more competitive. Using the latest technology will help you stay ahead of the competition and provide better solutions to customers. Therefore, the team should be able to use the newest technology for On-Demand App Development Service.  
Creativity and innovation:-
Creativity and innovation in app features can be a distinctive point for your customers. Therefore, the team should be creative enough to provide more innovation and creativity to your apps.  You will need experts such as: 
You can hire dedicated app developers as they can provide you with all these skills and services. They will help you develop the best on-demand service mobile app. Irrespective of the business category, talented developers can develop an effective app for your business idea. 
Cost to Develop an On-Demand Service Marketplace App
Cost is one of the critical factors that businesses consider when developing mobile apps. Different factors are considered when developing mobile apps, contributing to the cost. The cost of a mobile app varies depending on the type of business and features included in the app. However, on-demand service apps are generally more complex and varying, making them more expensive than general apps. Typically, an on-demand app with simple features can range from $2,000 to $5,000. In comparison, advanced on-demand service apps can cost up to $70k for high-tech features. 
The cost of an on-demand mobile service app will depend on different factors, such as 
Type of business:

Some businesses are quite complex and require a lot of features and complex algorithms. 

Features:

Depending on the features of your app, the cost can vary. Apps with simple features will cost less compared to apps with advanced features.

Compilation ad size of the mobile application you want

Single platform or multi-platform app like iOS, Android. 

Location-

Mobile app developers

at different locations will charge differently. 

A number of third-party integrations. 
Conclusion
On-demand service marketplace or on-demand service mobile apps are becoming increasingly popular among customers and businesses with the rise in the use of mobile phones. These on-demand apps can be used in different business sectors for different services to take advantage of digital connection for your business. As a business, you can integrate both general and advanced features on your app to attract an audience depending on requirements. However, you need to consider different factors and costs before on-demand service marketplace app development. These apps are becoming increasingly popular and provide a lot of benefits to businesses and convenience to customers. Therefore, developing the app with an incorporation of excellent features can help you grow.
Why Choose Us?
If you are looking to create an on-demand service app for business, Inventcolabs as a leading mobile app development company can help you extensively. Our team of experts offering a range of services in developing mobile apps can be beneficial for you. Moreover, we have an expert team and the latest technology to provide you with the latest solutions ranging across varied on-demand services. We can provide you with affordable plans with effective app features for your service marketplace app development. 
FAQs
Q.Are On-Demand Service Marketplace apps popular?
Ans. Yes! The demand for on-demand services marketplace apps is constantly increasing. It is expected to reach $2.7 billion by 2027. Moreover, the number of customers using these apps are constantly increasing and are showing high inclination towards such services.
Q.Why do people use on-demand service apps?
Ans. Easy ordering, convenience, and quick solutions are some of the reasons customers use on-demand service apps.
Q.How do I create an On-Demand service app? 
Ans. Research and know what you want to offer. Consult our team, and we will help you develop a high-quality on-demand service app for your idea and business to grow.
Q.What features can I offer to my customers for an On-Demand Service App?
Ans. You can offer your customer a wide range of options with personalized features. The features like feedback, services, payment options, a better interface, etc., can be provided. Apart from these, the features will depend on what type of service app you are going to create.
Q.How much does it cost to develop an on-demand service app?
Ans. It depends on what type of services you are offering, features, and other factors that will collectively decide the cost. However, typically it can range between $2,000 to $70,000.