The buy now and pay later concept has been gaining immense popularity since the inception of the digital age. After all, who wouldn't like the convenience of making a purchase now, but paying later? You can buy whichever product you like from any retail store without paying anything from your pocket. So, who makes the payment? And, when are you supposed to pay it back? Tabby app is one such buy now pay later app that enables people to buy whatever they want over time.
BNPL is a fairly new yet rewarding mobile application for frequent shoppers. You can sign up with a financial company that agrees to make the payment for your purchases on your behalf, and you can pay them back later. You have to repay this amount within a specific period.
Whether you pay in installments or at once, it depends on the company you have borrowed from. You must be wondering how this scheme is different from a personal loan. Well, a personal loan involves a fixed interest. That's not the case with the BNPL apps. You don't have to pay any interest on the amount borrowed from these third parties. However, interest will be levied if you fail to pay on time.
These apps have a simple working process. Head over to a retail store, buy the item, choose the buy now and pay later option, make a down payment (a small percentage of the total amount payable), and the rest can be paid in installments. The amount can be deducted straight from your bank account or credit/debit cards.
So, are you planning to build a mobile app that offers BNPL features? You have come to the right place, then. In this post, we are going to walk you through the list of features in a Buy Now Pay Later app. Later, we will take a look at the estimated cost to develop an app like Tabby.
What Is A Tabby App?
Tabby is a BNPL app. Launched in 2020, the app has gained more than one and a half million downloads in the past two years. The app comes with an option of consecutive payments. These apps have gained popularity in the Arab markets for many reasons.
The most obvious one is the convenience of paying later. The best part about these apps is that most eCommerce companies, including but not limited to Shine, Amazon, and AliExpress, support these apps. Not only Tabby but nearly all apps that offer similar functionalities and interest-free payments have become the talk of the town. The main purpose of BNPL app is to offer all users a seamless shopping experience. Here's how the app works.
Read More Top Reasons To Have A Mobile App For Your Business?
How Does It Work?
Tabby comes in the fintech category and is a reliable mobile app that allows you to buy products now and pay at your convenience later. The app has made it possible for people to split the total amount into four parts, which are to be paid at specific intervals at 0% interest. You can use the app to buy products in just about any category — ranging from home and gifts stuff to regular accessories and grocery items.
Not only does it allow you to pay later, but the app comes with an extensive range of features, one of which is the cashback deals. You can check out the latest cashback offers that enable you to explore products that come with special cashback deals and get exciting discounts as a reward. That's how the app offers a quick, hassle-free, and efficient payment service. You can download the app on your devices with simple clicks.
Some important steps to follow are
Registration of the consumers within the app to create an account and verify the respective identities by offering ID.
Upon approval, the client can purchase a particular item and select Tabby during the checkout process.
The buyers must choose one option between available two options; pay in 14 days or pay in 4 installments.
A commission amount is charged from the merchant. Tabby will pay the merchant the desired amount instantly.
Upon the completion of necessary steps, the consumer starts paying the desired amount on a monthly basis to Tabby.
Key Features Required In A BNPL App Like Tabby
The intuitive interface combined with user-friendly features makes Tabby a one-stop platform for people looking for BNPL apps. Here are a few notable features that make this app an excellent choice for all types of shoppers.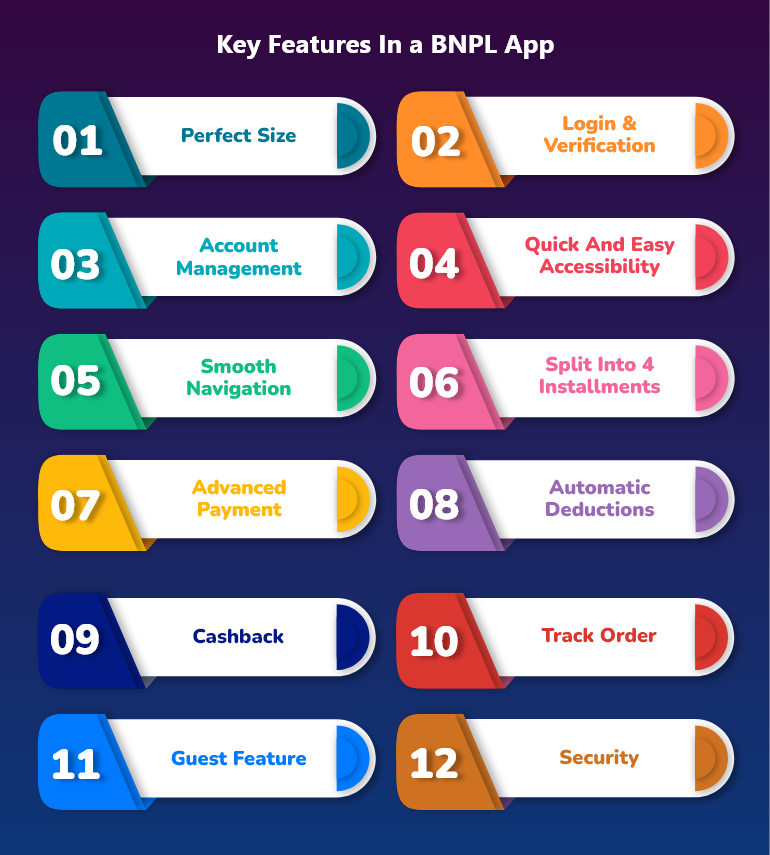 Perfect Size
Unlike other apps that contain a variety of unnecessary features, Tabby is a user-friendly and straightforward app. It consists of a few essential features that speed up the time for downloading the mobile app and ensure that the app consumes significantly less space than other apps.
Login & Verification
The app allows the integration of the users with the help of phone numbers to ensure seamless registration. Upon providing the details, users can complete the sign up and login process and start using the app.
Account Management
The app displays in-depth account information to the users -including payment history, dates of payments, and other important information.
Quick And Easy Accessibility
One of the many reasons for the growing popularity of Tabby is its quick and easy installation process. You can find the app on Google Play Store and Apple's App Store and download it on your device with just one click. The small size of the app also makes it available for Android users with insufficient storage space for large apps. The registration is also quite simple and smooth.
Users can complete registration by providing their email ID and mobile number. There is less documents to complete lengthy registration processes. As you enter your mobile number, Tabby will send you an OTP (one-time password) for verification. Enter this code into the field to complete the registration process.
Smooth Navigation
As you launch the app on your mobile and complete the registration process, you will find a homepage where you can spot all the shopping deals. All options are listed on the home page in a clear format. You can click on whichever brand you like and explore a variety of deals without any hassle.
Split Into 4 Installments
As mentioned earlier, this feature ensures that you make a purchase at a retail store and pay the amount in 4 equal installments on specific dates. There is no hidden cost associated with zero interest.
These were only to name a few. Tabby is packed with an extensive range of features, each designed to provide a seamless shopping experience and make it easy for you to purchase from your favorite brand without paying immediately. Just make sure you select the buy now and pay later option so that you can complete the payment later. On that note, let's check out a few popular reasons why developing a Tabby clone app makes a great investment for users. Here are the benefits of making the Tabby app.
Advanced Payment
The app enables its users to ensure the payment of bills in instalments -even when the due date might not have reached.
Automatic Deductions
The app allows the clients to activate the functionality of automatic deductions. Eventually, it will enable the app to deduct costs from the respective card automatically.
Cashback
The Tabby app delivers a seamless user experience through its lucrative cashback offer.
Track Order
This feature allows you to track your order so you can get a clear picture of how much time it will take to process your order and complete different deals.
Guest Feature
This feature permits the customers to continue using the app without creating a dedicated account. The customers can execute the sign-up process at a later point while ensuring payments.
Security
The Tabby app offers maximum protection against common frauds and cyber-attacks with the help of advanced security solutions like two-factor authentication, data encryption, and other relevant regulations.
Benefits Of Tabby Clone Apps Development?
With the growing demand for buy now and pay later schemes, the popularity of fintech apps like Tabby has also seen growing popularity. Here are the benefits of developing a Tabby clone app.
The app offers a quick and seamless transaction facility.
The bills can be split into four equal parts and cleared in monthly installments. For example, your buyers can make payments in installments over four months.
Improve customer retention
Retail stores partnering with such apps mean increased sales for your brand, as well as increased revenues. More and more people will want to shop from a store that allows users to purchase now and pay later.
It allows businesses to increase brand loyalty.
Improve user experience
App Monetization Strategies
If you are planning to build a Fintech app, you will most likely want a monetization benefit. Who would like to spend hundreds of thousands of dollars on a BNPL app only to get nothing in return? Here are a few effective monetization strategies for your buy now pay later app.
First things first, as you are collaborating with several brands, you can take a small percentage of commission from each company for bringing more people to their store and increasing their conversions. Start with a registration charge, i.e., a small fee for registering their brand on your BNPL app. You can also charge a fixed fee to brands for every purchase.
How Much Will It Cost For Tabby?
The app development cost for Fintech apps varies from app to app. It also depends on who you choose for the app development. A team of professional developers will most likely charge a significant fee, while those with minimal experience will charge a small amount. Be ready to pay extra if you are building a comprehensive app with a bunch of extra features. Basically, the total app development cost depends largely on the size of your mobile app, the features you integrate into it, and most importantly, the company you choose for the project.
Assuming that you keep the mid-level complexity for the app, an Android and iOS mobile application similar to Tabby will cost you anywhere between $5,000 and $30,000. A full-fledged or comprehensive mobile app, on the other hand, will be a little pricey. You can expect to pay around $10,000 for the development project. Features like chatting, location tracking, and more come with an extra price. It is important to discuss the price with the mobile app development company beforehand so that you know the total development cost. Remember that the price also depends on which platform you choose for launching the app. You can build a cross-platform app that works on both iOS and Android devices or an app designed specifically for an Android audience.
Some of the core factors affecting the cost of developing an app like Tabby are:
App Platform
Different platforms will feature different complexity levels. Some will require you to code, while others will work on the no-code concept. It affects the development costs.
App Design
Whether you opt for a simple or complex design, it will influence the app development costs.
App Development Team
To create a Tabby-like app, you need the expertise of a skilled and experienced team of mobile app developers to come up with a feature-rich application. With Inventcolabs, you can trust the professionalism and expertise of our skilled team to deliver Tabby app development projects within your budget.
App Features And Functionalities
Tabby is available with a wide range of features. Based on your requirements, you can choose specific features or functionalities. It will eventually impact the project development costs.
Why Choose Inventcolabs To Build A Tabby-Like App?
Inventcolabs is a pioneering mobile app development company. We have attained success in delivering hundreds of successful Tabby app development projects. We continue adding a comprehensive range of highly sought-after services to our service list. Our sole commitment is to deliver 100% satisfaction to the clients.
You can go through our website and wide range of mobile app development solutions. Our dedicated teams of app developers continue delivering top-class services to help us attain an unmatched reputation in the industry. Let us know your Tabby app development project requirements and we can fulfill it for you!