Electrified Vehicles are the wave of the future for the car industry. As governments throughout the world become more conscious of the environmental benefits of electric vehicles, there has been a rise in the demand for EV Charging Station Finder App that helps drivers locate EV charging points. Long-term costs for electric vehicles are lower than those of gas-powered cars, and their environmental impact is minimal. An Electric Vehicle Charging Station mbFinder App will be incredibly helpful in today's era of electric vehicles, helping drivers save time and giving them more flexibility.
What Is The Need To Develop An EV Charging Station Finder App?
The world is transitioning toward a more ecological way of living, which necessitates that we limit our use of natural assets, such as fuels, among other things. Vehicle emissions are a major contributor to the government's new-found concern for environmental issues. It's becoming increasingly common for countries to offer financial incentives to residents who purchase and drive electric vehicles.
Because of these advancements, the demand and sales of electronic vehicles have skyrocketed. As the electric vehicle market has expanded, so has the need for an electric vehicle charging station finder app. These rising trends in the industry bode well for the future success of charging station locating apps. Soon, electric vehicles will outnumber gasoline-powered vehicles, increasing the app's demand. The introduction of electric vehicles to the road is certain to accelerate the rate of app development.
Why Invest In An EV Charging Mobile App?
The EV sector is expanding quickly, particularly in the United States and China. The market for charging electric vehicles is expanding quickly and is a cutting-edge sector of the transport industry. Following are the statistics that demonstrate its popularity.
The number of electric vehicle charging stations is expected to increase from 2,354,000 in 2022 to 14,623,000 by 2027, representing a compound annual growth rate (CAGR) of 44.1%.
The market for electric vehicle charging station locator apps will rise as more people want to drive cars with no emissions and more people buy electric vehicles.
Revenue from EV charging stations is projected to increase from $17.59 billion in 2021 to $111.90 billion in 2028, representing a compo und annual growth rate (CAGR) of 30.26% throughout that time period.
How Does The EV Charging Station Locator App Operate?
An electric car charging station finder app is designed to assist you to find the closest station that is compatible with your vehicle and give you access to further resources. It's surprisingly simple to use apps that help you locate charging spots. Let's break down the process into its constituent parts and examine them in detail.
When you first use the EV charger finder application that you've installed from the App Store or Play Store, the very first thing you'll want to do is sign up for an account. You will be asked to specify details about your vehicles, like make, model year, and more.
After you create an account, you'll be prompted to enter your physical location. Simply by entering your current location into a map, you can locate nearby charging stations. Further, you may refine your search by a variety of criteria, including the charging port, accepted payment types, and more. The panel would display both the standard charging rate and the fast charging rate simultaneously. The application allows users to add their own charging stations if they find one that isn't already included.
Benefits of Creating a Mobile App to Locate Electric Vehicle Charging Stations
The electric car charger finder app is no exception to the rule that using apps generally has its advantages. The following are some of the benefits of hiring the best mobile application development company to develop a car charger finder app.
First Mover Advantage
Designing an EV charging station locator application has a number of potential benefits, one of which is the lack of rivalry in the market. The trial-and-error strategy works well at the beginning stages of a project.
Easy Access
There will be less of a hassle for people who drive electric vehicles to get to the charging station. The introduction of a mobile app to help drivers locate EV charging stations is a practical step in saving them time by not having to look for a charging spot.
Time-Saving
The time it takes to locate and book a charging station for an electric vehicle can be reduced with the help of a dedicated app. Make sure to hire a reliable mobile application development company that can help you develop an efficient app. Let's see an example of this to better grasp it. Assuming you are planning a trip to Florida, you can use the application to determine the distance between charging points and plan your journey appropriately.
Include Your Shop On The Map
In addition to boosting brand awareness, EV charging stations can boost sales. When using the app, drivers can easily locate nearby retail establishments that provide charging services for electric vehicles. Since EV owners typically charge their vehicles while shopping, the proximity of such charging stations may sway customers to choose one business over another.
Opportunities To Monetize the EV Charging Station Finder App
Naturally, you'd like to recoup some of your development costs after putting so much time and effort into creating an app that helps people locate EV charging stations. You can monetize the app in several ways. The following are a few of them:
Advertisement
Mobile app monetization typically takes the form of advertisements. Advertisements are integrated into the functionality of these apps. The apps have no cost to users, but they rely on advertising to make money. Native ads come in five distinct varieties:
How To Promotional Alerts –
When they pop up on the status bar of a user's mobile device, it serves as a signal to potential buyers that the product is available. It's conceivable that these advertisements aren't the most popular ones out there, and that they could actually hurt your app's popularity.
1. Form Capture –
For entering their email addresses, participants are rewarded with points or tokens. Mobile games are where you'll most often see capture mechanics in their many forms.
2. Fullscreen Ads –
These commercials tend to appear during non-intrusive pauses, as while you're selecting a new menu item. Because they don't get in the way of people using your product, they're more likely to garner clicks without irritating potential buyers.
3. Advanced Overlay –
They employ transitions much as commercial breaks do in broadcast television. You can think of them as a hybrid of full-screen and capture-form advertisements. However, they call for participation as opposed to purely passive photography.
4. Banner Ads –
App banner ads, which can be found at the top or bottom of the screen, perform poorly compared to other ad formats since they are more disruptive to users.
Sponsorship
You might allow partners to promote their own products or services within your EV locating app. As a matter of fact, this is perhaps one of the most effective methods for monetizing your application. Most charging stations for electric vehicles do not require users to pay a fee. Displaying advertisements could be a significant source of revenue for this business model. The EV locating app may get more attention if a well-known person, like an actor or a social media influencer, promoted it.
Paid Membership
Create a reasonable fee for the user to pay in exchange for the benefits and services you offer. Customers can now be charged on a monthly, quarterly, semiannual, or annual basis. The outcome is that you'll benefit anytime the membership rolls over. In addition, recurring payments from existing customers boost earnings. The revenue model's goal is to make money without making customers feel cheated.
Integrating eCommerce
By integrating eCommerce options into membership, you may enhance your revenue. Users must initially sign up for the EV charging station finding app and pay a subscription fee before they can begin using the service. As a result, you will earn money whenever a customer purchases your application. Even if you plan to offer free membership, you can still charge clients for reserving a charging spot.
Read More: On-Demand Car Wash App Development Cost & Features
Best Apps For Car Charging Station Locator
ChargePoint
ChargePoint is a global group of charging stations for EVs available in many locations. Since the application supports NFC, you can just tap your smartphone against a charging point to begin the charging process. The procedure may start before the app is even opened. The application has access to over one hundred thousand different types of charging stations. The app lets drivers check the current charge of their vehicle, as well as see how much money they've spent on electricity so far, and how far they've traveled (if applicable). With 4.5 stars, it's available for download on both iOS and Android.
Plug4Us
Planning a long trip with your EV Vehicle? Looking to make money with your installed chargers? Looking for a fast EV charger at a remote location? PlugUs application is for you. The application allows EV Owners to locate nearby EV Chargers available. By showing availability, Plug4Us application allows the car owner to book the Charger in advance by making online payment.
You can book it for yourself or someone in your family as the application allows the option to manage multiple cars under a single profile. Offering chargers with OCPP (Open Charge Point Protocol) protocol to remotely operate the chargers, allow the charger owners to earn without any physical man-power required. Still thinking what makes Plug4Us different? You can earn in your favorite Cryptocurrency.
To know how to go about building a solution through cryptocurrency app development get in touch with Inventcolabs.
PlugShare
PlugShare is another popular smartphone application that allows users to locate charging outlets in their immediate vicinity or anywhere in the world. You can find charging stations, rate them, and talk to other people who have electric cars with this app. Users can search for stations by distance, network, and charging speed. You can also discover which charging outlets are free and which require payment. The app is available for free on both iOS and Android and has a 4.6-star rating.
Chargemap
More than 300K EV drivers have benefited from using Chargemap to locate nearby charging facilities. A number of filters can be applied to the data on the Chargemap through a sleek user interface. However, in order to use the application, you must first register for an account. Both iOS and Android users may get their hands on Chargemap, an app with a 4.5-star rating.
EVgo
EVgo is the largest charging network in the United States. The reason that it receives worse ratings than its competitors may be due to the fact that it is perceived to be more expensive by customers. It is simple to track down the charging stations and verify which ones are operational. With over 50k downloads on both iOS and Android and a 3.7-star rating, this electric vehicle charging app has helped many users worldwide.
Major Providers of EV Charging Networks
The following are the most popular charging network providers in India and elsewhere:
Tata Power
Tata is one of the most well-known brands in India, and the firm has a wide range of interests, including automobiles, telecommunications, and EVs. The business provides charging services for electric vehicles in public areas, businesses, and workplaces. It has established a foothold in nine different states and major metropolitan areas like Delhi, Bangalore, and Mumbai.
It was in Mumbai when Tata Power installed its initial recharging station. HPCL, IOCL, and IGL have all signed MoUs to install charging points. Also, it has its own application where EV drivers may view a map of charging stations, receive charging status updates, and make online payments.
Fortum
For those in need of electric vehicle charging services, Fortum has developed the Charge & Drive Platform. In the Nordic countries alone, the company's 3000 smart chargers make it a major player in the energy sector. A 50 kW DC fast charger, as well as a 15 or 20 kW DC 001 charger, are just a few examples of the cutting-edge technology and chargers used by the company. Fortum's mission is to facilitate the widespread adoption of electric vehicles, run and expand charging infrastructure, and advance the cause of environmental sustainability.
Ather Energy
Ather is well-known in the electric vehicle industry, particularly for its scooters. Its Dot has been released by the firm. It's a home charger for your electric vehicle that is specifically designed for your vehicle, has internet connectivity, and can be installed in a jiffy.
Magenta Group
The magenta group consists of businesses that produce EVSEs, supply solutions for charging electric vehicles and operate charging networks. The "ChargeGrid" product line was introduced for use in private residences, public condominiums, and private commercial establishments.
Develop A Top EV Charging Station Finder Mobile App?
Examining The Market
Beginning with market research, you can learn about openings, target audience expectations, and existing competition. First, it's important to do some research into things like the availability of EV charging stations, the prevalence of electric vehicles, the size of the prospective market, and so on. Analyze the available EV charging apps and learn how they function. The success of your app depends on your familiarity with each of these factors.
Decide Features
All the way from the most fundamental to the most complex features are covered here. Adding some innovative and unique functions to your app is crucial if you want it to stand out from the competition and gain users.
Finalize Platforms
By conducting thorough market research, you may determine if the vast majority of your intended audience uses Android or iOS. You can distribute your application through both the Google Play Store and the Apple App Store. If Android is where your bulk of users are, it makes sense to optimize for it.
Connect With a mobile App Development Company
A mobile app's success can be influenced by many different elements, including its functionality, speed, consumer experience, interface design, and more. To ensure a high-quality application, it's best to choose a top mobile application development company with prior experience in developing apps. The company's abilities should also extend to UI/UX design and testing. Having a single point of contact for your business plan will save you time.
Read More: Top Reasons To Have A Mobile App For Your Business?
Application Testing
Here we are at the final stage of mobile app development before the application is released to the general public for download. Any remaining problems in the application will be found and fixed by a testing team using their methods and tools. You may run into a lot of problems if you don't deal with these issues. So, before releasing your app to the public, be sure it has been rigorously tested.
Key Features To Be Included In The Best EV charging Station Finder Mobile App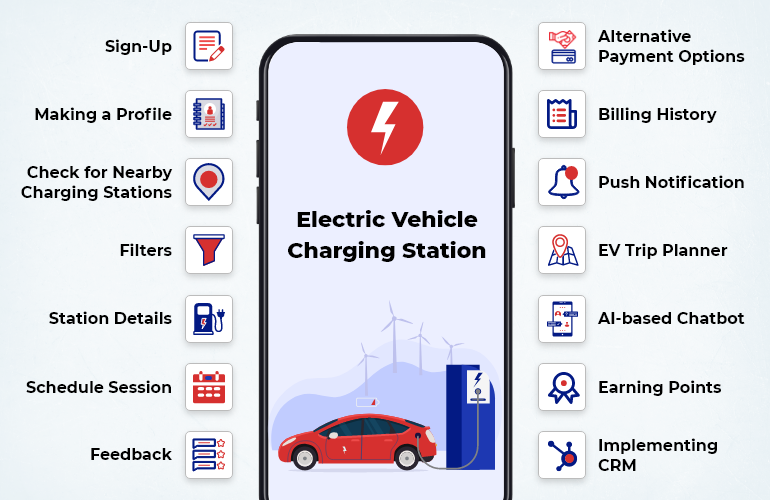 Sign-Up
To accelerate the registration process, the new customer must provide their phone number, email address, and a secure password. They can sign up using any number of different social media profiles, including their Gmail accounts.
Making a Profile
The user should be able to instantly update his profile with new information such as his name, preferred vehicle, and profile picture.
Check for nearby charging stations
It is expected that the application would provide relevant data about nearby EV charging stations while the user is online. A few examples of information that could be included are the station's name, the car models that can use the station, the price, the address, pictures, customer reviews, and star ratings.
Filters
Any search can be made more specific by using several options for advanced searching. A user's search for a charging station can be refined by a number of parameters. Customers like the time savings provided by this feature, making it a popular option.
Station Details
The application should be able to offer useful information about the local EV charging stations when surfing. The station's name, automobile types compatible with the station, price, address, images, testimonials, and ratings are just a few examples of the kinds of data that might be included. User convenience will be enhanced since they will be able to charge at the location of their choice.
Schedule Session
In the app, users can choose a charging station and schedule a charging session at that location. With the stations remaining busy, this is a huge time saver for the user. He needs to use the application to make a reservation in advance if he wants to avoid waiting in line.
Feedback
After recharging an electric vehicle, the driver can rate and review the charging station according to their experience. This feature is important for consumers to evaluate a station's service and amenities, and it should be standard across all brands.
Alternative Payment Options
It's a good idea to talk to your developer about incorporating a localized payment gateway. If you want people to use your EV charging station locator app, you need to give them a few different options for how to pay. Debit/credit card payments, PayPal/Stripe, UPI payments, e-wallet mobile apps, and so on can all be linked together.
Billing History
Vehicle owners can take a look at their complete billing history whenever they like so they can keep tabs on their electrical use and spending. This extremely comprehensive functionality is required so that bookings may be tracked, along with the amount of energy utilized and the associated costs.
Implementing Customer Relationship Management
Having a customer relationship management system built right into your mobile app will save you time and money in the long run. Whether strategic, operational, or analytic, a CRM can help you meet your business's needs and better manage your relationships with customers.
Push Notification
The app should have a notification feature that delivers alerts or messages to users when a new charging point is introduced to the application for the user's desired location, as well as when there are new offers or upcoming bookings.
EV Trip Planner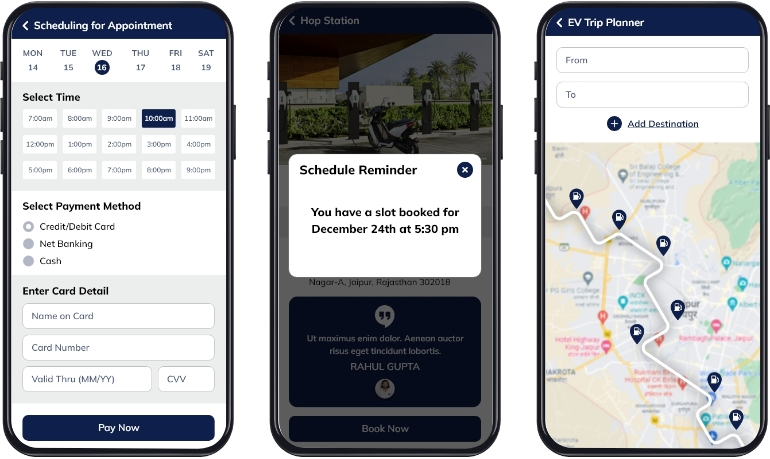 Long-distance travel will necessitate the user's car pass inspection at several stations. A user-friendly trip planner that displays pertinent information about the user's origin and destination points is a must-have.
AI-based Chatbot
Chatbots powered by artificial intelligence (AI) save time and effort by responding to user inquiries and solving problems. Based on the most popular questions, the chatbot's responses could be enhanced. If a chatbot can't figure out the solution, it may transfer the query to a human staff with more expertise in the matter.
Earning Points
Customers can be enticed to use your application more frequently through the distribution of discount vouchers, promotional coupons redeemable against future charges, free month-long memberships, or whatever else you see fit to offer. Rewards systems have the potential to increase customer retention and engagement with an application.
Factors Affecting the Expense of Developing the EV Charging Finder Application
The App Platform
The sort of operating system for which you intend to develop your application, such as Android, iOS, or both.
Technology Employed
The cost is much dependent on the application development technology. The developer's expertise in that technology and the app's market share are other factors.
Integrations With Third-Party
Extra help will be needed if you want to integrate a novel framework or set of features into your application. Applications' efficiency and usefulness can be enhanced by taking advantage of these supplementary supports.
UI/UX Design
The user interface design you're polishing off may also affect how much the program ends up costing you. The cost of making your application will increase proportionally with the complexity of its design.
App Security
This aspect of growth is frequently overlooked. However, when determining a financial plan, it is important to factor in the costs associated with application security and protection. Given that modern applications often store or transmit private information.
Maintenance Cost
The expense of maintenance is a major factor. Consider the cost of keeping the program running or upgrading to a newer version once it has been deployed.
App Hosting
The price of the EV charging station finding app includes not only the development time but also the hosting fees for the app itself. Your application's performance can vary widely depending on the web host you use.
An EV station locator application with principal functionality and standard design might cost anywhere between USD 10,000 and USD 25,000 to develop. However, if you are looking for an MVP version, it can cost you around USD 5,000 to USD 10,000 depending on the features you select.
Read More: Everything You Need To Know About Vehicle Auction App Development
In Conclusion
We foresee a plethora of electric cars flooding the market in the not-too-distant future. The rising popularity of electric vehicles has increased the demand for charging infrastructure and related mobile applications. To meet the demands of your target audience and stay ahead of the competition, you should get in touch with a professional app development company as soon as possible if you plan on creating an application of this kind.
FAQs
Q 1. How does EV charging app work?
Ans. An EV charging app allows EV drivers to perform a wide variety of charging-related operations, such as searching for and filtering the locations of available chargers, planning and navigating to charging stations, and initiating charging sessions, all from the convenience of their mobile device.
Q 2. How can an app be promoted after its release?
Ans. Once you've finished making your app, you may distribute it on social media. If you want, you may hire a digital marketing agency to assist you with spreading the word about your app promotions.
Q 3. How long does it take to make an app to locate charging stations for electric vehicles?
Ans. It takes between 100 to 170 hours to make a basic EV charging station finder application, and the average hourly rate is $25 to $55. You can hire mobile app developer with prior experience and expertise in building EV applications to get optimum turnarounds.
Q 4. What is a smart charging station?
Ans. Electric vehicles, charging stations, and charging operators can all benefit from one another's data links in a smart charging system. Smart charging allows charging stations to track, control, and limit the devices that can be charged at a given location.
Q 5. What is the future of the EV charging station finder app?
Ans. It is believed that there are currently about 4100K electric vehicles on the roads worldwide. There will be about 35,000K of these cars on the road by the year 2030. In this regard, developing a mobile application to assist drivers in locating EV charging stations represents the most promising opportunity for future financial gain.