Technological improvements have changed the consumers' needs and buying patterns. It has altered the way people shop for anything from small everyday products to huge transactions like buying and selling cars online. The inconvenience of physically obtaining a car, like several other activities, has encouraged individuals to turn to the internet for alternatives. The new and used automobile industry is enormous, and it is likely to continue to grow in the future years.
Many business people have been drawn to the online car-buying area by the enormous market potential. As a result, dealers in the industry of auctioning old vehicles seek a leading software development firm to help them create a practical auto auction application. As a result of the increased need for buying and selling cars online, numerous startups and enthusiasts have established themselves in the car auction app development sector.
Vehicles Auction
Only individuals with a state-issued dealer license can attend sales manager auctions. You may acquire your permit or license if you choose, but the procedure can be lengthy and complicated. Each state would have its regulatory regime for auto dealer licenses, requiring you to acquire and trade several vehicles each year.
Buying, altering, and reselling automobiles purchased at auto dealer auctions may make you money. However, if you want to buy an automobile, it's generally preferable to go to public auctions.
Public Auctions Of Automobiles
Public Auctions Of Automobiles
Federal Car Online Auctions
Public Car Online Auctions
County and local vehicles such as buses, patrol cars, utility trucks, and more are available at municipal or police sales. Impound automobiles that have been impounded due to traffic offenses and criminality are also sold at these auctions. According to Popular Mechanics, you will encounter expert competitors made up of old car sellers, taxi firms, exporters, and many others who study maintenance and appreciate the value of the automobiles on the block.
Previously owned automobiles by institutions, wholesale numbers of cars, underside trade-ins, and even elevated supercars and SUVs may all be found at public car auction sites. The stock's grade and consistency fluctuate from auction to auction, so do your homework ahead of time. Since these sales have grown in popularity since the recession, there is tremendous rivalry for exceptional bargains. In addition, if you don't watch out for overbidding, you can find yourself paying almost as much as the market price.
Vehicle Different Parts Auction
Once a car is auctioned, you may learn more about the car to see whether it's what you're interested in bidding on. Scrutinize it and search for features that are essential to you, in addition to the whistles and lights, and take someone who knows what constitutes an intelligent deal with you, unless you're not sure. For example, you could check to see if:
Is the paint authentic, and if not, would that be the same color?
It is equipped with the appropriate engine.
It leaks, fumes, or produces obnoxious noises.
You may also enquire about the vehicle. The auctioneers would be able to offer you all of their details. If you want to acquire a car, you need to enroll in the auctions as soon as possible. Ensure you've set a budget for yourself; determine how much you're prepared to spend on a car and stick to it.
Online Auto Parts Store
Auto parts companies should begin evaluating their options and planning the expansion of their digital assets now that virtually all types of trade and business can and must be conducted online, if not more than possible. But, of course, you don't have to entirely abandon your brick-and-mortar shop just because you opened an online auto parts company. It's only that the current situation necessitates the development of safer, more reliable, and much more accessible alternatives to carry on with your enterprise.
It's also worth emphasizing the numerous benefits of having online automobile stores accessible, which allow us to reach thousands upon thousands of clients swiftly. With a company page, you can start responding to leads who perform internet searches for particular car parts they require if you use strong e-commerce SEO for automotive parts shops and continue performing well for specific search phrases in your region. This usually translates to high-quality traffic, which performs for most of the season.
The Fundamental Features Of The Vehicle Auction App
The technical features and functionality determine the vehicle auction app development cost that the browser's owners intend to include. Simple improvements that don't require much development time won't be too expensive.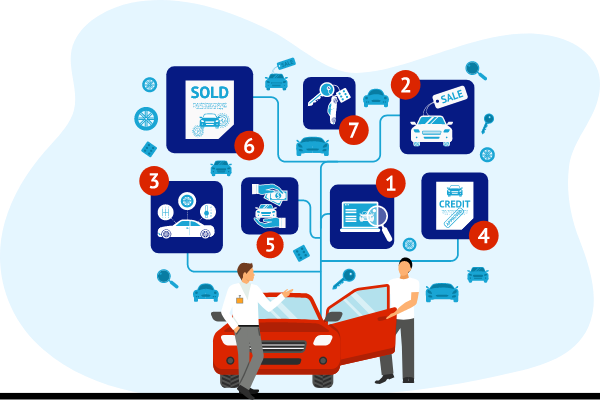 Mounting hardware, such as incorporating augmented reality and 3D views of something like a vehicle, might be more expensive. Factors like backend infrastructures and third-party service compatibility must be considered when deciding whether or not to incorporate a condition precedent since they influence the total expense of the application.
The variety of vehicle parts auction platform development and end-user interfaces that the used vehicle buying app must have increased the enterprise software cost. The following are the different types of end-users for a vehicle auction app depending on the company:
Individual purchasers of automobiles
Admin Panel of individual car dealers
Automobile dealerships
Let's go through some of the major features of car auction apps below.
Read Also: Loan Lending Mobile Application Development – Advantages, Key Features, Tech Considerations, And Cost
Segment For Individual Purchasers And Dealers Of Automobiles
Register And Login.
This section enables the users to register themselves on the app using credentials like phone number, email id, etc.
Payment Options
The app must have multiple payment options for clients
GPS Tracking
The location-based filtering tool will assist automobile buyers in locating available vehicles in their nearby area.
Prompt Customer Service
The in-app client service contact will allow people to contact the app's customer service staff anytime they have a problem.
Ratings And Reviews
Customers should be able to post their car reviews on the app. It is one of the features of the car auction app that will increase consumer engagement with the software. Also, it will assist other automobile purchasers in making accurate decisions.
Camera
This feature will let the users click photos of the cars they wish to sell. they will also be able to upload 360 degree photographs of the vehicle in the app. It will help potential car purchasers to get a better idea of the car's appearance.
Installment Calculator
This feature will allow consumers to calculate the car's EMI depending on the repayment period and down payment price.
Admin Segment
Dashboard
The admin will be able to see how the app looks from the dashboard.
System For Managing Content
The CMS (Content Management System) application enables the administrator to check and edit the software's content if and when required.
Payment Management
This feature helps the admin to keep track of all payments from the car buyers and sellers.
Analytics
The statistical methods will assist the administrator in monitoring the application's development and user activity.
Automobile Dealerships Segment
Register And Log In.
The auto auction software should permit vehicle businesses to set up an account and log in to the app, like individual purchasers. Individual profiles and vehicle business profiles might be kept separate by the app's proprietors.
Read Also: On-Demand Car Wash App Development Cost & Features
In-App Communication
It is challenging for auto companies to stay on top of their conversations with clients. An in-app dialogue with potential purchasers would allow vehicle sellers to keep track of and review previous conversations.
Offers And Payment Management
Using car auction software, auto dealers must be prepared to handle and personalize their offerings based on the needs of their consumers.
A Form For Requesting Quotes
Auto dealers ought to successfully obtain client information via a quote form. This estimate form might assist auto dealerships in screening people, providing personalized offers, and assisting users in picking the appropriate car for particular requirements.
Automobile Listing Management
Because they will be uploading several automobiles, car dealers must be prepared to handle the car listings.
Additional Feature
Discount And Promo Code
Offers and discounts are an excellent way to keep people interested and motivate them to use your solutions when they need them. Therefore, the car parts auction mobile app development company must include discounts and promotions to help enhance the exposure of the business.
Integrated Chatbots
The in-app chats or voice call options enable the users to connect with the car dealers in case of any service-related query. The communication is held in a very transparent manner. Therefore, it helps the dealer gain the clients' credibility.
How Much Does It Cost To Develop A Car Auction App?
To develop a vehicle auction app, it is essential to carry out a market survey regarding the cost involved. The charges for the vehicle auction portal development might vary depending on the functionality chosen. Variables Influencing the Cost of a Vehicle Auction App are as follows.
To develop a vehicle auction app, it is essential to carry out a market survey regarding the cost involved. The charges for the vehicle auction portal development might vary from $5000 to $30000, perhaps more, depending on the functionality chosen. Variables Influencing the Cost of a Vehicle Auction App are as follows.
The app's complexity and number of features
Methodology for development ( hybrid approach, native approach, etc.)
Connected APIs and backend technology
The richness of user experience (UX) and user interface (UI) design
The incorporation of more branded graphic elements
The number of platforms to be built ( Android, web, etc.).
Let's examine some of the major determining factors for the cost to develop a car auction app in detail.
Apps (Hybrid Or Native)
The first issue that springs to mind about constructing a car auction app, or any software for that purpose, would be building a software application or a native app.
The native app can perform exceptionally well, taking advantage of the hardware resources of a mobile phone. However, this flawless performance comes at a cost. Developing individual native apps for different platforms like Android, iOS, etc., can be really expensive. So, building a hybrid app that can run on various systems would be great to lower the entire app development cost. It is because the number of developers required to build a hybrid app is much less. Additionally, the working hours would be considerably reduced, thus making hybrid app development affordable.
Developers can now create hybrid apps featuring near-native speed thanks to the growth of cross-platform enterprise software paradigms and SDKs, including React Native and Flutter.
Platforms And Gadgets
The framework and platforms within which the software is meant to operate influence the cost of developing a used vehicle auction app. A single system app would be substantially less expensive than a multiplatform app.
Also, if a company wants to develop an app that will work on older devices, it will need additional time and effort from the mobile app developers. It will, therefore, result in higher app development expenses. When planning a budget for mobile app development, it's also essential to include the costs involved in maintaining the app.
The Advantages Of Using A Car Auction App
There are several benefits to using a vehicle auction app, and we've listed them below as per the types of users.
Car Purchasers And Car Sellers
A vehicle auction app helps customers compare prices at multiple dealerships for the same automobile. Aside from pricing, a used car app may inform users about other aspects of a vehicle, such as its features, size, financing choices, mileage, anticipated operational costs, and expected delivery time.
Several car auction apps come with the facility to register ownership of the vehicle online.
A car bidding app also enables the vehicle purchasers to check the car's value right away on the application.
People who wish to trade their old automobiles might benefit from car auction software. Vehicle owners can upload photos and other details of their cars on the app to earn the highest price.
Dealers
When there is a shortage of test-drive automobiles, it becomes impossible for car salesmen to accommodate all of their clients. So instead, car purchasers may plan a test drive at their leisure using a vehicle auction app, avoiding the inconvenience of standing in a car dealership.
A car auction software helps dealers manage bookings. It also assists them in keeping their users up-to-date on documentation.
A car auction site's app allows dealers to reply to their client's questions quickly and effectively. Prompt replies to inquiries can help dealers earn credibility and engagement of the clients.
Why Is It A Good Idea To Use An Online Car Auction System?
The used automobile sector evolves in tandem with e-commerce technologies. It is feasible to construct a profitable app due to the merging of these two domains. The buyer is safe from harm and also has a wide choice of options from which to pick. In addition, the seller is given a ready-to-use platform to sell on. To earn money again from a project, you may, for instance, impose a processing fee, display advertisements, or offer additional subscription services.
The number of methods for building your site is equally as varied. One of the best possibilities, in our opinion, is to employ one of the leading technology firms' PaaS e-commerce systems, which allows you to develop a completely functional website quickly.
Conclusion
It can be challenging to create a user-friendly and informative vehicle auction app. Before making any changes to the app, it is important to consider the requirements of the consumers. Cars are likely to be one of the primary draws in today's time when most people are looking to purchase household things on such platforms. It is because, through the app, customers may strike the best deals on automobiles from the comfort of their homes. Choosing an application development service for your app can be difficult. But once you strike the right chord, nothing can stop your app from being a success.