Social media apps are compulsory on every smartphone. And in most cases, you'll likely find multiple apps on a single phone. From keeping in touch with your friends and relatives to becoming a trendsetter for the younger generation, it has come a long way in the last decade. Social media app development is a lucrative idea for businesses across the world. If you have a great idea, you can take on the industry leaders, and social media app development cost is not an issue if you know where to find your ideal mobile app development company.
The increasing internet penetration and the expanding mobile phone market fuelled its exponential growth. This trend will likely continue as internet penetration reaches newer markets and mobile phones become increasingly cheaper. If you have an idea for a great social media app which can turn into a profitable business and have always wondered what the cost of building an app like that is? You are at the right place. Here we'll discuss everything you need to know to create the next social media giant.
Types of Social Media Platforms
There are various kinds of social media apps nowadays. These can be broadly divided into the following categories;
1. Social Network
These types of social media apps connect individuals to other individuals or a business to their customers. In these apps, you can share your views and updates about your life. Your friends or fowlers will be able to see, react, and engage with those posts. You'll need social media app development solutions for this kind of app. Some of the most popular social network apps are Facebook and Twitter.
2. Chat Forums
These are the forums where you can chat with people who share the same interests as you do. This can be any topic, from politics to entertainment. Discussion forums are a simple and unsophisticated kind of social media. Examples- Reddit & Quora.
3. Media Sharing Networks
As is clear from the name, this kind of social media app allows you to share media with your followers. These media can be in various forms, like photos and short and long videos. Some of the most popular social media apps are media-sharing apps like Snapchat, Instagram, and YouTube.
Social Media App Development Cost in 2023
The cost of developing a social media app depends on a combination of factors. However, if you look into an average ballpark figure, it can range anywhere from $10,000 to $75,000. Obviously, the $10,000 to $30,000 range is for the basic social media app with a simple UI and minimal features.
You'll get an app with a few advanced features in the mid-range. This could cost anywhere between $30,000 to $40,000. For high-end social media, which is available on both iOS and Android and has an impressive UI, your mobile application development company may charge from $50,000 to $70,000.
Top 8 Social Media Apps in 2023
1. Facebook
Facebook is the leading social media site, with over 2.96 billion monthly users. To put that number into perspective, that's nearly half of the total human population on Earth. Facebook pioneered the social media revolution and was the first social media app to become popular. While the younger generation is shoving Facebook for newer platforms like Snapchat, it remains the numero uno due to its worldwide reach. The highest number of Facebook users is from India, with 315 million monthly active users, followed by 175 million in the United States.
2. YouTube
Youtube was the first video-sharing platform. It started in 2005 and was acquired by Google (now Alphabet) a year later. It still is the most popular video-sharing platform in the world. Over 1 billion hours of video content is consumed by YouTube viewers monthly. While shorter video format platforms like TikTok have been swiftly gaining in popularity, the sheer amount of video content consumed on YouTube is unparalleled.
3. WhatsApp
WhatsApp is a messaging platform owned by Meta. With over 2 billion monthly users, WhatsApp is the most popular messaging platform in the world. This number is more than the combined users of the second and third most popular messaging platforms, i.e., WeChat and Facebook Messenger. It is a convenient way to talk to family and friends around the world without burning a hole in your pocket. Now, WhatsApp also comes with WhatsApp Business and WhatsApp API, but it still remains an extremely popular messaging app. You can also access WhatsApp through the computer now, and it has also come up with a payment option.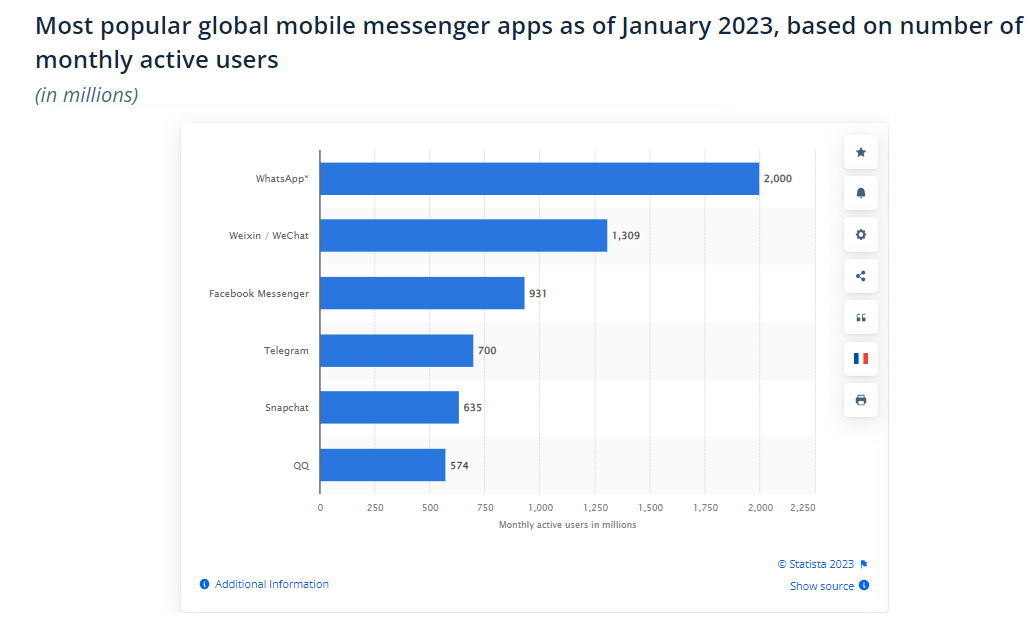 4. Instagram
Instagram is a visual content-sharing app where users can share photos, short videos and live videos as well. With over 1.21 billion monthly active users, it remains one of the most popular social media apps. Initially, the app was only a photo-sharing platform back when it was launched in 2010. Several features, including a huge plethora of filters and short-form video content, were added over time after Facebook bought it in 2012. Reels were also added to compete with TikTok- the leading platform for short-form content. As TikTok will likely be banned in several major countries, including the US, Instagram might become the number one platform again.
5. WeChat
WeChat is the most used app in China. Facebook and Twitter are banned in China, and WeChat fills this gap in social media. It has 1.26 Billion monthly active users on the platform. Similar to WhatsApp, it started as a messaging platform and now does many things, so much so that it is considered a super app in China. The founders of the company slowly carved their way to making WeChat the one app to rule them all, providing various features. Currently, you can use WeChat to shop online, send text messages, do phone calls, and even transfer money.
6. Facebook Messenger
Facebook Messenger or Messenger is one of the most popular global mobile messenger apps. It has 938 million active monthly users. Messenger app is another part of the parent company Meta. It allows people with Facebook accounts to chat, video call, form communities, and add stories. It also works as a platform for businesses on Facebook to chat with their customers.
7. TikTok
TikTok (called Douyin in China) is one of China's most popular social media platforms. The app is the leader in the short video format category. Initially, it only allowed users to upload 10-sec videos; now, that length is up to 10 minutes. It is the place where most of the viral trends have come up in recent years, which shows a lot about its popularity with the younger generation. Due to its content and privacy policies, the social media platform is currently under scanner in many countries. It is already banned in India, and the United States and many other large countries may follow suit.
8. Telegram
Telegram is a messaging app. It has 550 million active monthly users. It is also a useful app for businesses, allowing them to use bots and API. You need to hire dedicated developers to develop an app like Telegram. The cost to build an app like Telegram is quite a lot.
Explore More: How To Create A Loyalty and Reward App?
Features of Social Media Apps
User Registration
Users' login and signup should be as easy as possible. You can let users log in through emails or phone numbers with as little information as required initially. They can fill in these details later as they get the hang of the platform.
Notifications
Live notifications are a must, as you need to inform users what is happening and what they are missing out on. This will help users not miss any shares, comments, or likes that they get. It will assist in providing a better user experience to them.
Personalized settings
The personalized setting can be a great addition depending on your social media app type. No two individuals are the same. And that is why they should be treated in the same way. Let people customize their experience on the platform. Who do they want to show their profile picture to? Who can send a direct message to them? This feature will ensure that users feel secure and enhance their experience.
Texts and Calls
Texting and calling are two major functions of social media apps. This is why all major apps have it. Even a photo-sharing app like Instagram now provides texting options to users. That's because they don't want you to get off the app to talk to your friends. Ask your on demand app development company to include a peer to peer encryption to provide further assurance to users.
Security
People share a lot of their personal data on social media apps. They will simply refuse to do so if they don't feel secure on your app. You have to ensure that all the data they share cannot leak out. It can permanently damage the reputation of your app. This is why when you get on demand app development services, convey to them that security is of utmost importance to you.
Explore More: Guide to Build an On-Demand Service Marketplace Mobile App
User experience
A social media app should have a visually appealing design and an easy-to-use interface. This would ensure a minimum learning curve and users enjoy their time on the app. These are must-have features, and you must ask your influencer marketing app development company to add these features.
Explore More: A Guide to Building Influencer Marketing Software to Amplify Your Digital Media Influence
Factors that can Impact the Development Cost
There are several factors on which the cost of developing a social media app can depend. Here are some of them;
Platform
The cost of developing your app will depend on the platform. Although the cost for both iOS and Android apps are somewhat similar, which one you go with will depend entirely on your business model and target audience. You can hire an iPhone application development company or a custom Android application development company if you are looking for a single-platform app. Also, if you choose to make apps for both platforms, you'll have to shell out double because two teams will be working on your app.
Location of developers
The hourly charge of an Eastern Europe or USA-based developer is three times that of an Indian developer. This is why the location of your app development team would also be a deciding factor in finalizing your app development cost. The hourly charge of a US-based app developer is $120-$150, whereas that of an Indian developer is $30-$50. These numbers will also vary depending on the expertise and experience of the team involved.
Design & Features
The more interactive and appealing the design of a social media app is, the higher the cost of development of the app will be. This is also true for the features of the app. An app with simple features will cost you less as compared to an app with complex features. To include customized features, you'll need to get custom social media and entertainment app development services.
Size of the team
This is kind of a no-brainer. The larger your team's size, the higher your app's cost will be. This is also true for expertise. A team of experienced developers will charge higher rates for developing your app but they will have the requisite experience, which will help them overcome the challenges associated, even without your interference.   
Development Cost of Social Media Platforms in the USA v/s India.
In general, the cost of developing a social media app in India will be much less than that of the USA. There are several reasons for this. Some of the major reasons are;
The average annual salary of a software developer in the USA is $95,326, while that of an Indian developer is $10,000.
India has a much lower cost of living, because of which Indian developers can afford to work at a fraction of their US counterparts.
Due to its population and number of developers, India has a much larger pool of Android application developers for hire.
Due to these reasons, the cost to build an app like Pinterest or the cost to build an app like YouTube is much less if you hire Indian developers.
Explore More: How To Create A Video-Streaming Mobile App Like Netflix?
In Conclusion
In the last decade, social media was on the revolution front. The sheer size of the market makes it a lucrative industry. If you have a great idea for a social media app, you can have a profitable business if you work with the right business plan. In general, hiring Indian developers will cost you less than their Eastern European and American counterparts.
Inventcolabs listed in Top 50+ Best Digital Marketing Agencies in India (2023)
FAQs
Q. How long will it take to develop a social media app?
Ans. The development time of a social media app may depend on several factors including the size of the application and the complexity of its features. Developing a social media app can take anywhere from six months to a year.
Q. What is the cost to build an app like LinkedIn?
Ans. The cost to build an app like LinkedIn or the cost to build an app like Twitter will depend on the factors like functionality and features used. The size of the team and the location of the custom on-demand app development company also have a considerable impact on application costs. A social media app similar to LinkedIn may cost you anywhere from $20,000 to $100,000.
Q. Why is it cheaper to hire mobile application developers from India?
Ans. Mobile application developers in India are much cheaper because of the lower cost of living in the country and the bigger talent pool.
Q. Is it possible to launch a social media app with basic features and add additional features later?
Ans. Yes, it is not only possible but also advisable if you are a little constrained on budget. It can be a great way to launch your app with low investment and add additional features as the app grows.
Q. What factors will influence a social media app development cost in 2023?
Ans. The cost of social media app development depends on factors like the location of talent, the social media app development company's expertise, the app's complexities and features, etc.