Humans have a natural tendency to seek out methods that require the least amount of work possible. Above that, the internet has grown into a vast enveloping system that encompasses practically everything. As a result, we can now quickly and easily access on-demand services using our smartphones. Most products and services, from groceries to restaurants, are expected to be delivered to customers' front doors these days. Due to the prevalence of the internet, consumers now have higher standards for the products and services they purchase. Therefore, every company has a responsibility, or, to be more accurate, an obligation, to fully and satisfactorily fulfill these requirements.
The beauty industry is flourishing at a rapid pace, which is fantastic news for people. A report estimates that the spa and salon industry will be worth $190 billion by 2024. According to Forbes, 28% of people in the beauty industry (including hairstylists, cosmetologists, and makeup artists) would prefer to work independently. Hence, on-demand beauty salons and spa services have become the newest and most popular trend in the beauty salon industry.
Using an on-demand beauty service app, consumers can have a professional stylist come to their house or another location of their choosing to give them a haircut, do makeup, or perform any number of other grooming services. On-demand beauty service app development is just one example of how salons are using digital marketing to set themselves apart from the competition and highlight what makes them special.
Beauty Service Application: Overview
In today's fast-paced world, frequent visits to the beauty parlor can be a major time commitment for many people. In addition, the lengthy wait times at these salons exacerbate the situation. Customers who are picky about their beauty services require a more streamlined and reliable option that can cater to their specific needs. This is exactly what one can expect from a convenient on-demand beauty service app. In this way, people can acquire the salon services they need when it's most practical for them to do so, whether that's at home or elsewhere. Isn't that great?
Many salon operators have begun investing in an on-demand beauty salon booking app development in response to the growing number of customers who want to receive salon services in the comfort of their own homes but can't find one that meets their needs. When customers use these apps, they enjoy the benefits of convenience, while the company benefits from a substantial increase in revenue.
Market Size and Development Trends for Beauty and Hair Salon Industry
The beauty industry around the world is booming because consumers are always looking for new and improved products. The worldwide beauty market is currently worth more than $528 billion and is projected to grow to $716.6 billion by 2025. A typical woman will spend more than $225,000 on skincare products over her lifetime. With a CAGR of 7.4% between 2022 and 2029, the value of the global salon services market is expected to rise from $215.65 billion in 2022 to $355.45 billion in 2029.
The increasing demand for beauty services combined with the shift to an online platform has made the life of beauty freelancers much simpler going ahead. In the United States, over 70% of the 1.2 million beauticians, hair stylists, and makeup artists have started marketing themselves using an on-demand beauty service application.
How Does On-Demand Beauty Service App Work?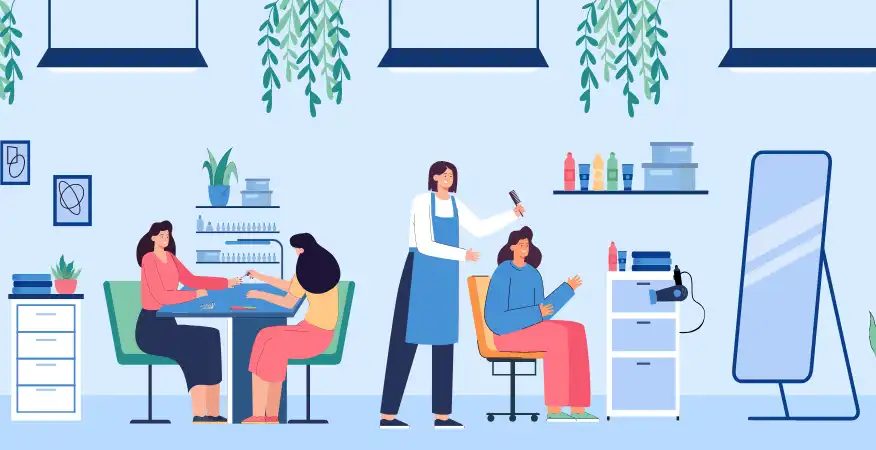 The rise of the on-demand beauty service app development has created fantastic new business possibilities for independent hair stylists, makeup artists, and stylists. As a result of the high demand, this on-demand sector is becoming a major employer. If you're curious about how the beauty services app functions, it's very similar to Uber except that it's tailored only to the beauty industry.
The on-demand beauty application lists available local stylists, so once a user has downloaded it, they can quickly and simply book one. Once a booking has been confirmed, a stylist will come to the specified location and time to provide the requested services. Customers may now relax in the privacy of their own homes while receiving salon-quality beauty treatments thanks to the salon's dedicated beauty service mobile app.
Read Also: An Ultimate Guide to Develop an On-Demand Delivery App
Business Models For An On-demand Beauty App Service
In-house Or Dedicated Model
A well-known cosmetics company or a well-established beauty parlor may create its own application to expand its local clientele. Apps like these help businesses advertise their services to a wider audience and boost their company's digital presence. All appointments scheduled through the app go directly to the proprietor's beauty parlor. In the end, they'll send a specialist to the client's house to really perform the service.
Aggregator Beauty Service App
These apps unite all beauty-related professionals, including makeup artists, hairstylists, salons, and independent beauty consultants. If you want to create an aggregator application, you'll have to work with local spas and salons. Payment processing fees and commissions are the main sources of revenue for these apps.
Essential Features In On-Demand Beauty Service App Development
User Panel
Chat & Alert
With this function, app users can initiate communication with their booked salons or beauty professionals. Additionally, it alerts the user if the salon sends a message or notification.
Schedule Modifications and Cancellations
The app should allow users to schedule visits to the salon or beautician at their own convenience.
In-App Payments
Customers have benefited greatly from the app's use of a conventional payment method. Internet banking, digital payments, cash on delivery, credit cards, and other payment options should be available to users.
Real-time Monitoring
With this functionality, customers may check the status of their upcoming salon appointments from the comfort of homes.
User Profile
Simple account creation and management is a must for users. Their profile shouldn't require an inordinate quantity of information from them. People's contact information, physical location, and other personal facts can all be stored in the app.
Feedback & Rating
Services received by users should be reviewed and rated by those using the service. Consumers may also provide feedback on their experience with particular salons or beauty experts.
Booking History
If a user is interested in comparing rates with a different service or reserving the same services, the app should display the user's previous bookings.
Advanced Search
It is expected that users would be able to use the customized search options to find a beauty professional that best meets their individual requirements.
Estimated Prices
The services for developing a salon app should include a way to estimate the total price when users pick and choose which services they need. This total price should include not only the chosen treatments, but also the beauty expert's fee and gas money for the commute.
Beautician/Salon Panel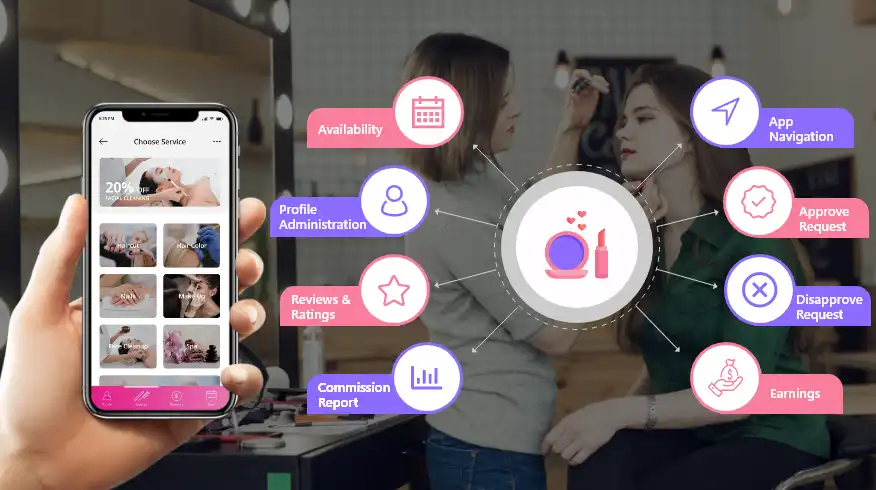 Availability
This function allows professionals to indicate their availability to clients. Toggles can be displayed to indicate whether or not they are currently busy with other clients or available to provide services.
Profile Administration
Within the app, cosmetologists may create and manage their profiles. They can display a variety of information, such as their rates, areas of specialty, and more.
See Customer Reviews & Ratings
Salons and beauty service providers should be able to view customer reviews and ratings left on the application.
Commission Report
The salon app is built on a commission structure that takes into account the money that stylists earn on a daily basis. Information about financial management commissions should be displayed in this report.
App Navigation
The app needs to have GPS built in so that it may be used for tracking. That way, the specialists can take the fastest route possible to the client's location.
Approve/Disapprove Request
It is important that beauty experts have the freedom to accept or reject bookings as their schedules permit. If the beautician is already working with another client, they can politely decline the new client's service request and have it forwarded to another salon.
Earnings
The ability to budget and keep financial records is essential for any successful beautician.
Admin Panel
Verified Profiles
It is the responsibility of the app administrator to verify the authenticity of each beautician and salon listed in the application. In this way, app users can feel safe while making use of the app's features.
Dashboard
As with any service, the administrator of a salon app development company needs complete visibility into all internal workings. Better management is assured as a result.
Customer Service
The app must offer a customer service component that allows users to get answers to their questions and fulfill their requests at any time.
Modify Service Provider's Scope
The administrator has the option of setting a range within which a beauty professional must be located in order to accept service requests. This translates to the user's request being fulfilled by the closest available beautician.
Advanced Reports
The complex reports will help the admin keep tabs on various parts of the business and determine if more advertising is needed to expand the company. The information is very helpful, it even helps to formulate a company strategy.
Advanced Analytics
To keep an eye on both customers and stylists, management can use data analytics to keep tabs on activity.
Read Also: On-Demand Car Wash App Development Cost & Features
Advanced features of On-Demand Beauty Service App Development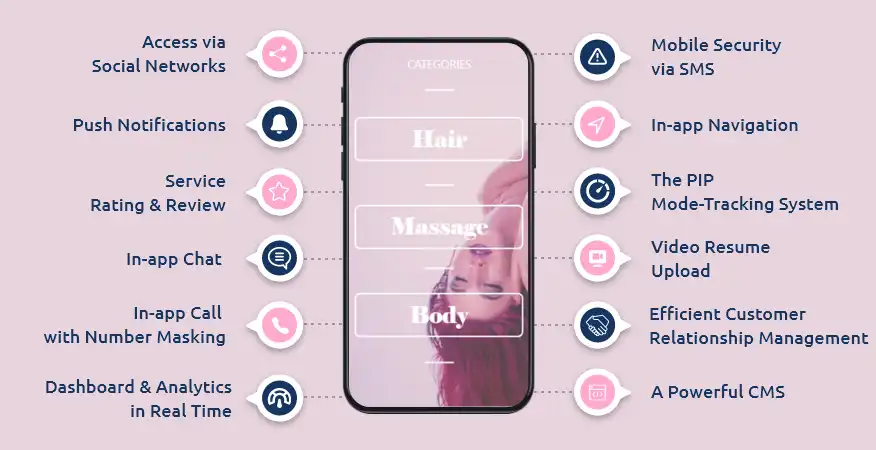 Access via Social Networks
Allowing people to sign up for your salon application with one click through their existing social media accounts is a great time saver. An easy-to-navigate, fast, and visually appealing Signup page is a crucial tool for retaining customers.
Push Notifications
The app's users will remain informed and up-to-date thanks to this feature. Service companies can engage with customers by providing them with information about new items, advanced techniques, seasonal sales, and more. Alerts can be issued to service providers regarding a wide variety of useful events, like the addition of new users, the completion of a booking, the receipt of payment, and more.
Service Rating & Review
This is a fantastic functionality because it enables consumers to read reviews and ratings for any company, product, or service before scheduling an appointment. This paves the way for prudent choice-making. After using a service, customers have the option of providing feedback in the form of reviews.
In-app Chat 
Users can message hairstylists, makeup artists, and other beauty experts directly from within the application. They have a simple means of communication at their disposal for addressing service-related concerns.
In-app Call with Number Masking
Users should be able to contact service providers via toll-free phone calls for any reason. However, calls made through the app display the complete number masking. In other words, no actual cell phone numbers are given.
Mobile Security via SMS
This is a robust feature that significantly improves the safety of the app. A one-time password (OTP) is given to the user's verified email or phone number. This OTP number must be communicated either when the beautician arrives at the client's specified location or when the client arrives at the salon.
In-app Navigation
Using this feature, customers can monitor their service providers' whereabouts in real-time. In addition, the tracking screen remembers and displays the provider's estimated ETA. This contributes to the highest level of safety.
The PIP Mode-Tracking System
Users can keep tabs on their hairdresser or beautician appointments in real-time with the use of picture-in-picture (PIP) mode.
Video Resume Upload
Live videos of hair and cosmetic applications can be uploaded by stylists and makeup artists. By watching these clips, customers may get a sense of the professional service quality before deciding which one to hire.
Efficient Customer Relationship Management
Having a customer relationship management system in place is crucial. App owners may quickly address any concerns users may have and improve the app's performance with the help of a customer relationship management system.
A Powerful CMS
Content management systems facilitate the administration of all app data. For instance, businesses can quickly and simply revise their service offerings, salon hours, contact information, physical location, etc. Likewise, the administrator can update a lifestyle blog with information about the most up-to-date cosmetic techniques, best-selling items, and so on.
Dashboard & Analytics in Real Time
One of the best salon service apps out there also has a solid analytics dashboard built right in. Here, the administrator has access to granular data on key business KPIs like new user acquisition rate, existing user retention rate, online store count, and so on. This is a must-have function that allows the admin to monitor the system's status with ease.
Multiple Support for Mobile Payment Systems
You can make it easy and convenient for app users to pay with their preferred method within the app by integrating multiple payment methods. Customers can make appointments and make payments using a variety of mobile wallets, including Apple Pay and Google Pay.
Promoting and Marketing Resources
Every company must invest in marketing in order to succeed. The goal of a salon service application's marketing strategy is to get customers to download and use the app by offering them discounts and incentives in the form of emails, texts, phone calls, coupons, and other digital media.
Cost to Develop an On-Demand Beauty Service App
The answer to this is not simple. However, the price of on-demand app development for a beauty service can range from $20,000 to $200,000, depending on factors such as the number of features, the technology stack, the location of the on-demand app development company, UI/UX design, etc. Let's take a closer look at a few elements that have an outsized impact on the time and money required to build an app:
Wireframe
A wireframe is a blueprint for the app's coding process. Tools like Figma, Photoshop, and others are often necessary to make a good wireframe, which can increase the final price. The wireframing price for on-demand hair salon booking app development is often between $2,000 and $6,000.
UI/UX Design
The UI/UX design of the application is also a major factor in the total price of developing a beauty app. Many rounds of testing are required to ensure that the mobile app's design is appealing to its target audience, user-friendly, and responsive, all of which drive up the price. When it comes to designing a user interface, interactivity is often favored because it increases user retention and guarantees more active participation.
App Platform
When estimating how much it will cost to create a beauty on-demand app, one of the most important considerations is the underlying platform. Depending on whether you go for an Android or iOS device, you may see a little price difference for the mobile app. An app should ideally be built for a single platform before expanding to support multiple platforms once it has gained traction in the market.
App Development Methodology and Company Location
App prices are heavily influenced by the time spent developing the app's code, which in turn varies depending on the on-demand beauty service app development company you choose. One consideration that goes into establishing an app developer's hourly rate is their location. As an example, the hourly rate of developer's in Asia is significantly lower than the hourly rate of developer's in the United Kingdom or the United States.
Team Size
The size of the development team is another major consideration that adds to the entire price of a mobile app for a beauty business. While comparing to engaging a full-fledged team of project leaders, programmers, and designers, the expense of a freelancer's work is considerably more manageable when producing an app. A mobile app development company may increase your total app cost, but it is well worth it if you value high-caliber work and reliable expertise.
Maintenance
One further thing that adds to the price of on-demand beauty applications is upkeep. Expenses for maintenance can sneak up if and when you need to upgrade the program or modify it to conform to changing regulations or norms in your business. The cost of maintenance may differ depending on whether a specialized group is responsible for it or whether general upkeep is necessary.
Required Team Structure To Develop an On-Demand Beauty Service App
The team of experts needed to create an on-demand beauty service mobile application includes:
Project Developer
The app developer is responsible for ensuring that the app development process runs efficiently and communicating with both the owner of the app and the other members of the development team. The project developer acts as a liaison between app owners and developers.
Android/iOS Developers
Hire a small team of app developers for iOS or Android, depending on the target platform.
Back-end Developers
The importance of back-end technology in app development cannot be overstated. The task of creating this technology falls on the shoulders of the back-end programmers.
Quality Assurance Experts
A group of Quality Analysts must be employed to guarantee the software is error- and bug-free. Once the software has been thoroughly tested and any faults or defects have been reported to the developers, the application can be released to the public.
Technology Stack
Choosing a robust technology stack is crucial for creating a successful application. To make an app distinctive, you need to make sure it meets all quality criteria and provides optimal performance. Therefore, be sure you hire an on-demand app development company that is proficient in the following platforms, technologies, and frameworks:
| | |
| --- | --- |
| Function | Technology |
| Payment Gateway | Stripe |
| App Analytics In Real-Time | Apache. Hadoop, BigData |
| Data Management | Datastax |
| Push Notifications | Firebase cloud messaging, Apple push notifications |
| Databases | Cassandra, MongoDB |
| Cloud Environment | AWS, Google |
| Phone, SMS Verification | Sinch, Twillo |
| App-based chat  | QuickBlox Chat |
Conclusion
You should definitely put money into an on-demand salon services application if you want to expand your brand's reach or even just generate a reliable cash stream. Such an app provides incredible convenience to users who no longer wish to leave their homes to locate salon services and take advantage of fantastic discounts and promotions. You should get in touch with a reputable mobile app development company immediately and get an on-demand salon services app up and running.
FAQs 
Q. What makes on-demand apps, so popular?
Ans. Customers love these kinds of apps because they give them more freedom and convenience when selecting a service. Many organizations are increasingly considering investing in this segment due to its associated benefits. Large-scale adoption of these kinds of apps in the on-demand economy will occur rapidly in the next years.
Q. Can I have a salon app that's tailored to my specific needs?
Ans. The answer is yes, and our team of salon app designers can help you create a powerful on-demand beauty app. We can tailor a business solution to your specific needs, giving you an edge over the competition in the salon industry.
Q. How long does it take to develop an app for a beauty salon?
Ans. It mostly depends on the capabilities and intricacy of your on-demand beauty service application. It may take anywhere from 2-6 months to develop a fully-featured app. The duration of each phase varies depending on its complexity.
Q. How much does it cost to make a beauty app?
Ans. Depending on the functionality and usefulness, as well as the intricacy of the layout, a beauty salon application could cost anywhere from roughly $20,000 to $50,000 or more to develop.
Q. How many distinct kinds of beauty salon applications are there?
Ans. There are several types of salon applications that you may choose to design by hiring an Android app development company or an iOS app development company. For instance, there are the "Hairdresser" app, "Spa and Wellness" app, "Ultimate Beauty Service Solution," "Salon Appointment Booking" app, etc.