Any industry irrespective of its niche has a few pillars of success and strength, and one of them is employees. Having an excellent talent pool in your company, but with outdated skills is only going to waste their talent and reduce your productivity. Many companies integrate top-level technologies within their organization at different levels but fail to provide staff training. Ultimately, it leads to underutilization of technology and talent pool.
This clearly states the critical importance of employee training that every industry and business should focus on. To reduce your efforts and streamline training, employee training mobile app development is an excellent approach you can opt for.
Just like any other digital technology, the apps can collocate the training process for employees. Thus, making it easy for businesses. This guide will provide you with complete details about the employee training app including cost, features, market stats, etc., that you can use for your company.
What is an Employee Training App?
Employee training mobile app is a digital solution for companies that can be used by managers or HRs for corporate training. The app allows managers to delegate different training courses, track employee training, their upgraded knowledge, and more to ensure they are equipped with the required knowledge to create more productivity. In simple words, the app is designed to train or educate employees in the field to enhance their skills that will benefit the business.
Employee training mobile app development provides a range of features and functions for users as well as an admin portal to keep track of things. These apps eliminate conventional learning methods and provide better UX/UI to enjoy their learning process. Managers and employees can use the features to bring more ease to the learning and development of employees.
Market & Stats of Employee Training and Learning App
The skillset in the industry to amplify the employee skills and knowledge for better productivity has increased over the years. Global workplace training for employees has skyrocketed from 2007 to 2023. According to Statista, the market size for global workplace training in 2023 is estimated at $380 billion. Many companies understand the importance of skill development, but many are yet to understand and implement it.
Moreover, employees like to work and stay in a company for the long term that invests in their staff training and development. According to a linked In report in 2020, 98% of employees stay at companies that invest in their employees training.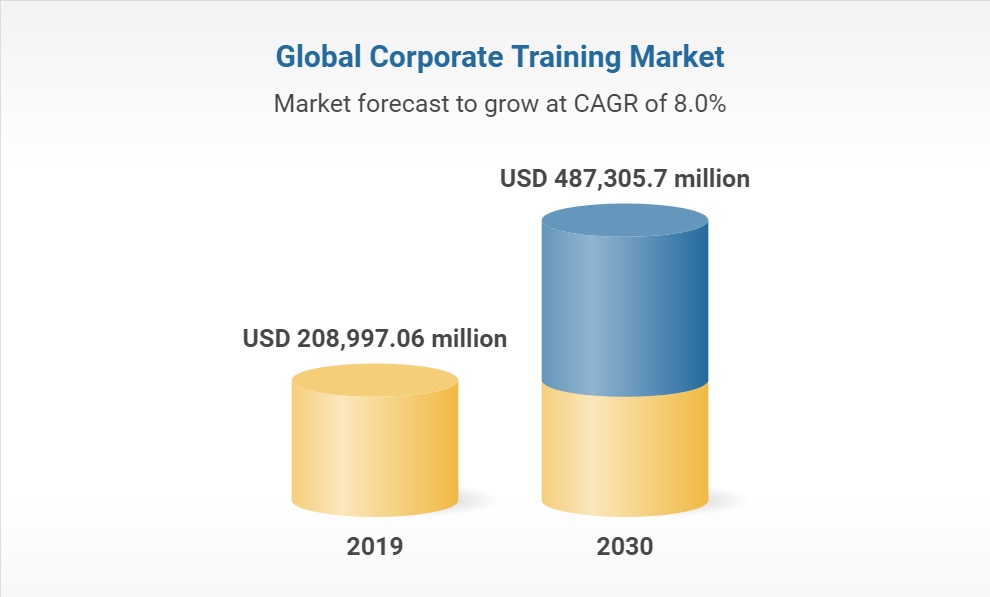 In addition, more than 50% of US companies use online methods or employee training mobile apps as per Statista. The global e-learning industry was $22.5 billion in 2021 which is expected to reach $45 billion by 2028. This clearly indicates that having an employee-centric approach to your business will contribute to success. However, using online methods can bring more efficiency and a streamlined system for training and development for employees.
Why Business Must Have an Employee Training App?
Every business must integrate employee training mobile app development in their business for several benefits. To help you understand, we are listing a few benefits to check:
> Enhanced team functionality at the workplace:
At any business organization, employees work as a team, but only a few actually have upgraded skills to contribute. To make sure your employees working in a team are able to collaborate effectively with upgraded skills, apps are critical. Apps allow managers to track the skills, training of different departments or teams in a department. So, they can use apps to improve the functionality of a team.
> Address skills gap:
Managers can only access the skill gap in the company when they know about employee skills and market requirements. Any small organization can remember its employees' skills, but for large organizations, keeping a check on everyone is not easy. Therefore, using an employee training app will help managers to prevent and address skills gaps in the company.
> Assessment of employees:
The best part about apps is that managers can assess employee development training to understand the skills gaps, their progress, and more. Features provide more control to managers and give them a clear picture of employees in the company.
> Round-the-Clock Availability:
The app will provide round-the-clock access to an employee training program to employees as well as managers. So, employees can learn, and upgrade skills at their convenience and managers can keep a check on progress whenever required.
> Course additions and other features:
The addition of a new course or training program for employees will be easy to launch for employees. So, as a business, you can use apps for launching and integrating new training programs.
Key Features of Employee Training App
Employee training app development company developing apps for the training of employees incorporate some features. These features contribute to efficiency in the training process and make the process more organized. If you are planning to develop an employee learning app, make sure you incorporate these features. You can ask your developers to include these must-have features:
> Personalized profile for personalized learning path:
First of all, all employees are not the same in terms of experience, knowledge, and skills even if they are working at the same level. Every employee needs personalized corporate training & learning. The employee training mobile app development can offer a personalized section for employees to learn and upgrade skills as per their job profile.
> Progress Tracking:
Managers of different departments must be able to track their employee development and training. So, the integration of tracking features to assess and track the progress of employees can be helpful.
> Discussion groups or forums:
Sharing viewpoints and knowledge will not only help others learn but might also give employees another perspective. The discussion forums on the employee development app help employees to interact and learn from each other.
> Gamification:
Gamification features in employee training apps can help employees learn their courses in a fun way. Employees will take it as a challenge to resolve games and quizzes making learning more enjoyable and effective. In addition, you can eliminate conventional methods for employee training applications and integrate more fun features.
> Certifications and appreciation badges:
Elearning app development solutions can also include appreciation badges and course completion certificates. The certificate will provide proof that you are skilled in a certain section and badges will give an employee a sense of appreciation and value.
> Assessment test:
To test or assess your employees via a corporate training app to train your employees, businesses will get quizzes and challenges. Employees have to complete these quizzes and challenges to complete the training program.
> Online and offline app access:
The corporate training mobile app must have online as well as offline access for employees and managers. To give more flexibility and convenience to employees, this feature is important to use.
Explore More: How To Create A Video-Streaming Mobile App Like Netflix?
Future of Employee or Corporate Training App
Employee training mobile app development is becoming extremely popular and has been rapidly entering the industry. With the rise in the use of technology, the use of training apps to empower employees will become a necessity. Every business has its strengths and weaknesses, but employees are a critical foundation of any company that should be upskilled regularly. However, training employees at a large scale regularly as per their job profile is complex. Training apps will give a more organized approach to handling the training process.
Learning management systems via corporate training apps give centralized control and location to managing employee training. In addition, mobile learning gives more flexibility and convenience for employees to learn.
Ultimately, the integration of technology for employees will curate more ways of growth and empowerment.
Explore More: Why Next.JS is the Technology to Lookout in the Future?
Top 5 Employee Training Apps
To help you understand and know better about employee training app, these are the top 5 employee training apps in the market: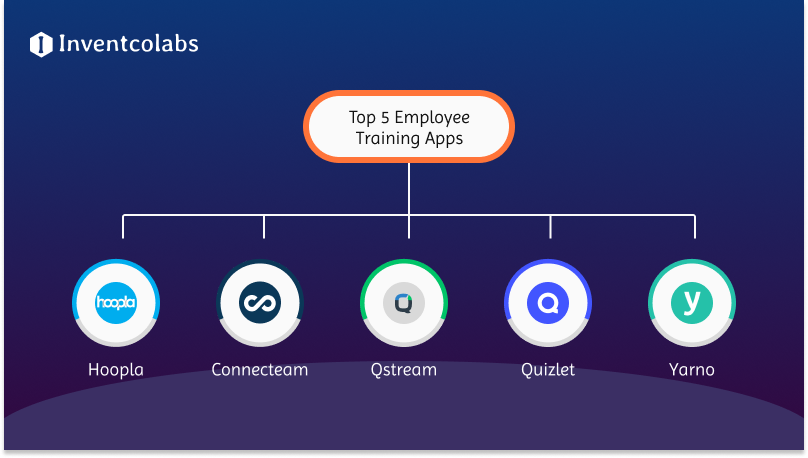 Hoopla
Now acquired by Raydiant, the app provides an intensive employee learning and training solution for businesses. Hoopla allows users to organize employee training through contests, real-time recognition, maintenance of the leaderboard, and more. The app is trusted by renowned brands including Toyota, Baskin Robbins, Red Bull, and more. They offer features like gamification, messages, rewards, etc.
Connecteam
The app is specifically designed for remote users to facilitate dynamic learning processes. Apps allow businesses to hire onboarding, regulatory courses for remote workers, regular professional skills training, and easy course creation tools. The app keeps remote workers engaged with the company in many ways. In addition, it offers more flexibility and a controlled training process for employees.
Qstream
One of the most popular employee or staff training app with a 90+ engagement rate. They offer features like real-time reports, dashboards, job performance, and more. Qstream app is employment centric and offers features that allow a flexible and easy interface for the training process. In addition, they can offer engaging content and features to track training progress.
Quizlet
One of the most recognized apps for employee training that offers flashcards for quizzes. In addition, it helps employees learn with images for better understanding. Quizlet offers features like data import/export, microlearning, gamification, interactive content, tracking feature for progress reports, etc. Starting in 2005, they have a free and paid version for businesses to use for employee training.
Yarno
With features like group discussions, online classes, and collaborating features with other colleagues, it's one of the most popular apps. In addition to the training program, the app allows users to create custom training videos for employees. So, businesses or managers using the app can integrate training videos with more personalization. They offer features like onboarding, leadership board, reward management, contest management, and performance management.
How to Develop an Employee Training Mobile App?
For employee training mobile app development, the companies follow a set procedure and steps. Here is the list of steps they might follow: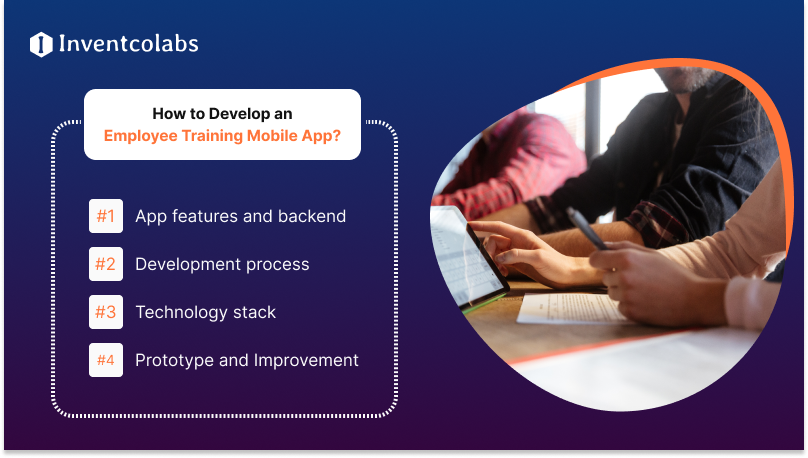 Step #1 App features and backend:
To understand the requirements of businesses and develop an app, features are crucial. Corporate training app development company will comprehend and list down the features you need to incorporate into the app. Right from choosing features to operating systems, everything will work end-to-end for app development. Developers can use the above-mentioned features as well as any specific features based on business requirements.
Step #2 Development process:
The corporate training apps features businesses will decide are capabilities of the app. The efficiency and clean interface of the app will depend on these features and other elements. Employment training & learning app development company will start the development of the app based on these selections and development path. The development path of these apps includes:
> Native app:
The native apps are designed for use on a single platform. They are developed using technologies that support or complement a platform type. For instance, Java support Android While C# support iOS. So, if businesses want a specific platform, developers will use language or technology supporting the given platform.
> Cross-platform:
Cross-platform development by employee training mobile app development company allows users to operate apps on different platforms. For instance, these apps can work both on Android and ios. Cross-platform app development is costlier than native apps.
Step #3 Technology stack:
Next step in employee training app development is the technology stack. Dedicated developers will set up the technologies to use in the development of the app. It also includes the database, APIs, analytical points, tools, performance, and more. After the technology stack, the Elearning App Development Company will start the development process.
Step #4 Prototype and Improvement:
Final stage is the development of a prototype, and the business can run a trial on employment training and development prototype. Ultimately, provide feedback and suggestions that developers can incorporate into the app to improve the experience.

Explore More: Flutter Vs. React Native – Detailed Framework Comparison
How Much Does It Cost to Develop an Employee Training App?
The first question that comes to mind is the development cost of employee training mobile app. How much does it cost to develop an app for employee training from scratch? The training apps for employees can help enhance your training methods and approach, but the development of these apps will require some investment. Investment or cost in the development of the app will completely depend on the business. Businesses may have varied requirements, factors to consider, and other elements. These elements directly impact app development cost.
Important factors that can impact employee training mobile app development cost include:
Type of operating system you will use for an app such as iOS or Android.
Types of features you need to integrate into the corporate training app. With the increase in complexity of features, the cost will increase.
Tech stack you want to use.
The type of hosting you need.
Whether you need a third-party integration in your apps.
Any specialized features you want to incorporate?
These factors will determine the corporate training app cost in addition to the employee training app development company cost. Developers will have their own research and development costs that businesses have to pay.
Explore More: Top 11 Companies to Hire Mobile App Developers in 2023
In Conclusion
Employee training apps are now a crucial part of businesses to ensure their workforce is updated with new skills regularly. Currently, large companies are using training apps, in no time, these apps will become the new normal in the business world. Many companies have started the development of their app to streamline and organize their training process.
The above-mentioned guide is the complete process and details about corporate training mobile app development that you need to know. If you are planning to start your employee training app, consult our elearning app development company for the best solutions.
FAQs
Q. Which language is best for app development?
Ans. It depends on the platform you want to use for your app. For instance, Java is perfect for Android. Similarly, C# is good for iOS. In general, Java, C++, Python, Rust, and Kotlin are popular languages for a staff training app.
Q. Can I incorporate a multi-language feature in the employee training and development app?
Ans. Yes! Totally, including a multi-language feature in the employee training app will make it more feasible for employees to enhance their skills in a language they are more comfortable with.
Q. How do we test employee training development software?
Ans. We use various technological methods to test, but most importantly real-time tests with employees. By testing a prototype with a limited number of people we get the feedback and rectify errors wherever needed.
Q. Can I add employee performance features to the app?
Ans. Yes! You can get features customized by an education app development company as per your requirements. So, if you need a performance feature, you can consult with a developer to provide you with a solution.
Q. Does the app get upgrades regularly?
Ans. Yes! You can get upgrades for the employee training app regularly. It's part of the corporate training app development process. However, if you need some significant upgrades in your existing app, you will have to consult for a development solution.
Q. Can you add more employee training programs to the app?
Ans. You can add as much training for employee development programs as you want in the app. You can launch new training programs regularly on your training app for employees at different levels.