At the heart of efficient business operations lies a Point of Sale (POS) system, a central hub that enables businesses to streamline operations and manage sales transactions seamlessly. Comprising both hardware and software components, a POS system facilitates the entire sales process. Crucially, the POS software serves as the operational brain, managing crucial tasks such as inventory management, sales tracking, and generating real-time reports. In this comprehensive guide, we will delve into the step-by-step process of building a robust POS system.
What is POS Software?
POS software serves as the backbone, powering the entire operation of modern business operations by enabling efficient management of sales transactions and streamlining various processes inherent to Point of Sale (POS) systems. Whether it's an online POS system or a traditional one, businesses across industries recognize the value of leveraging POS software. From small retailers to large enterprises, the need to optimize sales, inventory, and customer interactions has led to a growing demand for dedicated developers capable of building robust and customized POS solutions.
In the hospitality industry, POS software seamlessly integrates with crucial components such as inventory management and restaurant management software, enabling efficient transaction processing and streamlined operations. With the ability to empower businesses with real-time data, insights, and improved operational efficiency, POS software plays a pivotal role in driving growth and success in today's competitive market.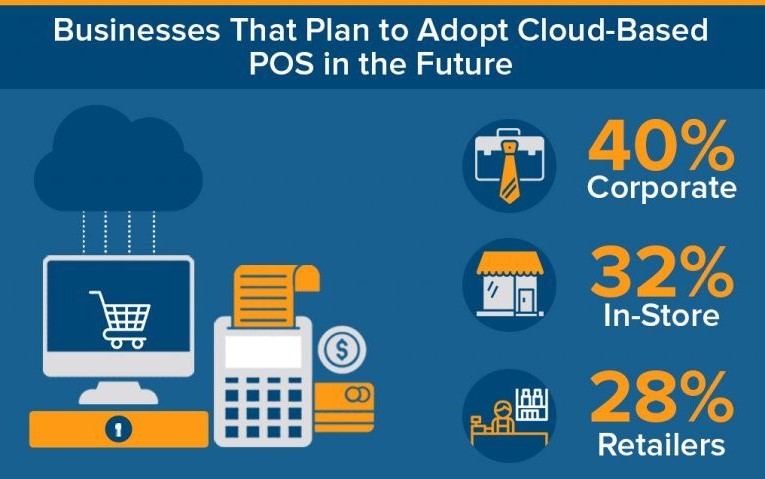 A comprehensive point of sale (POS) system, powered by sophisticated software, offers diverse functionalities for efficient business operations. From transactions to inventory management, reporting, and CRM, POS software integrates seamlessly with various components, ensuring smooth and accurate operations. Reputable POS system development companies provide customizable solutions, allowing businesses to tailor their systems to specific requirements, like integrating restaurant management software. While development costs vary, investing in robust POS solutions delivers undeniable long-term benefits, optimizing sales management, inventory control, and customer engagement for a competitive edge.
How Does POS System Software Works?
Let's delve into the inner workings of a point of sale (POS) system by exploring a typical scenario: a customer's purchase of an item and their selection of a payment method.
When a customer approaches the checkout counter with their selected item, the sales associate scans the product or manually enters its details into the pos system for small businesses. The system retrieves the relevant information, including the item's price, description, and any associated discounts or promotions. Once the item is added to the transaction, the customer proceeds to choose their preferred payment method, such as cash, credit card, or mobile payment.
Behind the scenes, the POS system springs into action. It deducts the purchased item from the inventory, ensuring accurate stock management and reflecting the updated quantity available. Simultaneously, the system generates comprehensive reports that capture various aspects of the transaction. This includes sales by item, department, and tender, providing valuable insights into the business's performance. Additionally, the point of sale system records customer-related information, such as loyalty program details or any applicable discounts, enriching the customer relationship management aspect of the business.
To maintain accurate financial records, the sales data is further processed and incorporated into essential reports, shift summaries, transaction reports, and an analytics dashboard. These reports offer detailed information on sales trends, inventory levels, and customer behavior, enabling businesses to make informed decisions based on data-driven insights.
In this way, the point-of-sale system streamlines business operations by seamlessly managing the purchase process, optimizing inventory management, and generating detailed reports. In addition to simplifying transactional aspects, it empowers businesses with valuable business intelligence, enabling informed decision-making.
Types of POS Systems
To ensure informed decision-making in the selection of a suitable POS solution, it is vital for businesses to possess a comprehensive understanding of the distinctive features and benefits associated with each type. In this section, we will undertake a detailed examination of three essential types of POS systems for small businesses: Terminal POS, Mobile POS, and Cloud-based POS.  Let's delve into the details and examine the capabilities of these POS systems.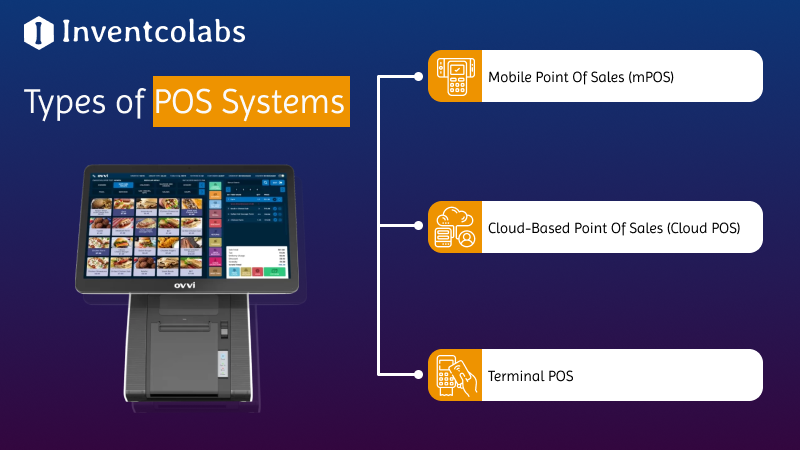 Mobile Point Of Sales (mPOS)
Mobile Point of Sales (mPOS) is a cutting-edge POS software solution integrated into mobile devices, including smartphones and tablets. It offers a seamless setup that enables the integration of essential peripherals like card readers and barcode scanners, augmenting the capabilities of the system. With mPOS, businesses, ranging from small businesses to restaurants and retail establishments, can efficiently manage their operations. This includes streamlined inventory management and real-time sales monitoring, empowering businesses with accurate insights for informed decision-making.
While the development cost of a comprehensive mPOS system may vary based on specific requirements, partnering with a reliable mobile app development company ensures the creation of a tailored POS software solution that aligns with the business's unique needs, incorporating features like restaurant management software for the hospitality industry or retail point of sale system for retail establishments. The implementation of an advanced mPOS system not only enhances operational efficiency but also provides businesses with a competitive advantage in today's dynamic market landscape.
Cloud-Based Point Of Sales (Cloud POS)
Cloud-based Point of Sale (Cloud POS) systems have gained significant popularity due to their inherent advantages in the modern business landscape. Operating on a cloud system and maintained through the utilization of data centers provided by POS vendors, these online POS systems offer seamless integration into existing frameworks and ensure smooth functionality. Cloud POS solutions have proven to be highly adaptable and efficient, catering to the needs of businesses across various scales, including small businesses.
Leveraging the expertise of a POS System Development Company and the option to hire dedicated developers, businesses can harness the power of Cloud POS to streamline their operations, enhance customer experiences, and achieve greater operational efficiency. In the dynamic and ever-evolving market, businesses gain a competitive advantage through increased accessibility, enhanced scalability, and real-time data synchronization by leveraging a robust cloud infrastructure.
Terminal POS
Terminal POS systems are widely used in various stores and outlets, including grocery stores, restaurants, and similar establishments. These advanced point-of-sale (POS) systems offer pioneering services that effectively address industry-specific challenges. Their seamless integration capabilities allow Terminal POS systems to easily be incorporated into different frameworks, ensuring compatibility with existing infrastructure. Moreover, they not only adhere to certain standards but also provide a cost-effective POS software solution for businesses.
The development cost of a Terminal POS system is significantly lower compared to other alternatives, making it an economical choice, particularly for establishments in the restaurant industry. Through seamless integration with restaurant management software, Terminal POS systems enable businesses to enhance overall business performance by streamlining operations, optimizing sales management, and delivering exceptional customer service, leading to improved efficiency across all aspects of the business.
Explore More: How Not To Fail Your Food Delivery Startup? Crucial Factors To Consider
What are the Benefits of a POS System
Implementing a well-designed POS system, tailored to the specific needs of the business, can deliver significant benefits. While the development cost of a POS system may vary based on factors such as complexity and integration requirements, the long-term advantages outweigh the initial investment. For the restaurant industry, specialized restaurant POS systems, often integrated with restaurant management software, provide tailored features to meet the unique demands of this sector. A point of sale (POS) system, powered by efficient POS software, offers numerous advantages for businesses across various industries. Here are the key benefits of implementing a point of sale system:
> Expedited Report Generation
pos system for small businesses enables quick and accurate report generation, providing valuable insights into sales performance, inventory levels, and customer trends. This data-driven approach facilitates informed decision-making and strategic planning.
> Streamlined Inventory Management
With a POS system in place, businesses experience reduced inventory overhead. Real-time tracking of stock levels helps optimize inventory control, minimize stockouts, and avoid excess inventory. This streamlined approach leads to improved efficiency and cost savings.
> Accelerated Checkout Process
A well-designed POS system helps expedite busy checkout lines by enabling fast and accurate transaction processing. Integrated payment solutions and barcode scanning capabilities enhance the speed and accuracy of the checkout process, ensuring a seamless customer experience.
> Enhanced Customer Service
POS systems empower businesses to provide first-class services to customers. Through features like customer relationship management (CRM), businesses can capture and analyze customer data, enabling personalized interactions, targeted promotions, and loyalty programs.
> Accurate Inventory Data for Vendors
POS system for small businesses offer appropriate inventory data to vendors, ensuring accurate and timely replenishment of stock. This collaborative approach enhances supply chain management, reduces stockouts, and strengthens vendor relationships.
> Increased Online/Offline Store Traffic
Implementing a POS system can drive more traffic to both online and offline stores. Integration with online platforms and e-commerce capabilities allows businesses to expand their reach, attract more customers, and facilitate a seamless omnichannel shopping experience.
> Time Savings on Back-Office Inventory Functions
POS systems automate and streamline back-office inventory functions, saving time and effort. Tasks such as inventory tracking, stock reconciliation, and purchase order generation are simplified, enabling staff to focus on more value-added activities.
Explore More: How Much Does It Cost To Develop An App Like Tabby Card?
Top 5 POS Systems in 2023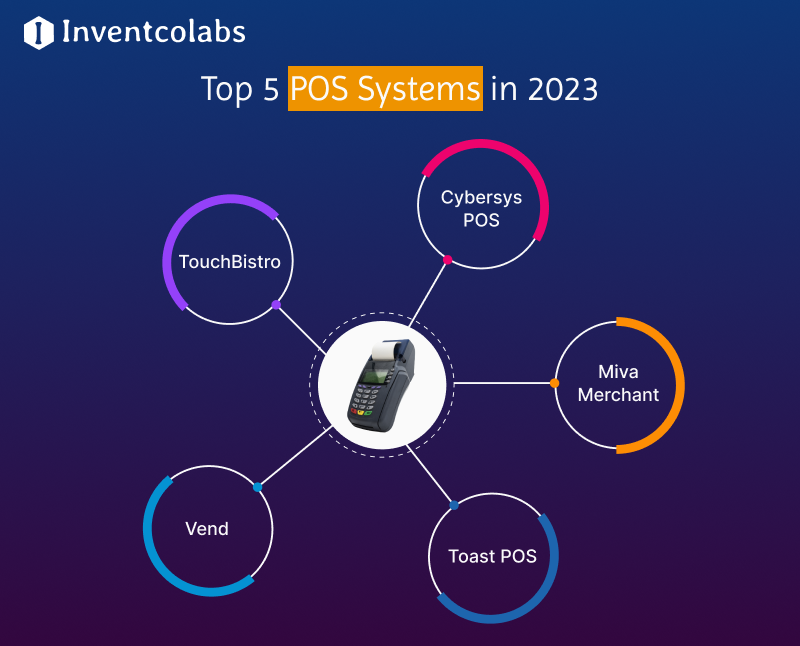 1. Toast POS
Toast POS, a leading point of sale (POS) system, stands out as an exceptional choice for American restaurateurs seeking a robust POS program tailored to their specific needs. With its recognition as G2's top-ranked restaurant POS system in 2021, Toast POS has established itself as a trusted and reliable POS software solution in the industry. Key features and benefits of Toast POS include:
Specifically designed POS software catering to the needs of American restaurateurs.
Offers 24/7 support, top-tier reliability, and full offline mode to ensure uninterrupted restaurant operations.
Significantly reduces third-party delivery commissions by up to 80%.
Seamlessly integrates with restaurant management software for enhanced efficiency and control.
2. Vend POS
Vend POS stands out as a powerful point of sale (POS) system, offering a versatile POS software solution for businesses operating on various platforms such as iPad, Mac, or PC. With its cloud synchronization capabilities, Vend ensures seamless data integration and accessibility across devices, providing a flexible and efficient POS system. Key features and benefits of Vend POS include:
Works on iPad, Mac, or PC and syncs data in the cloud.
Offers an incredibly intuitive and user-friendly interface.
Allows for adding discounts and notes to specific line items or the entire sale.
Tracks all cash movements from cash float to register closure
3. TouchBistro
TouchBistro empowers restaurants with features to enhance orders, improve efficiency, drive profitability, and optimize operations through accurate order management, streamlined service, and comprehensive reporting. Key features include:
Increase sales and table turnover, driving repeat business.
Ensure accurate orders, reduce wait times, and cater to various ordering methods.
Cut costs, minimize waste, monitor staff, and improve communication.
Access user-friendly tools for actionable insights and effective decision-making.
4. Cybersys POS
Cybersys POS offers a comprehensive and affordable point of sale solution with customizable packages, unparalleled flexibility, barcode label printing, cash management, commission tracking, coupons and promotions, cross-platform mobile compatibility, currency exchange, and custom fields. Key features and benefits include:
Comprehensive and affordable POS solution
Customizable packages to suit specific business needs
Unparalleled flexibility for seamless customization
Barcode label printing for efficient inventory management
Cash management capabilities to streamline financial transactions
Commission tracking for accurate sales performance analysis
Coupons and promotions functionality to drive customer engagement
5. Miva Merchant
Miva Merchant is a professional e-commerce POS system software that provides a comprehensive platform for managing product catalogs, listings, and bulk product uploads, delivering a unified customer experience across multiple channels. Key Features of POS Software include: Effortlessly display products with descriptions, photos, 360-degree views, and videos.
Simplify uploading products in bulk using spreadsheets.
Seamlessly integrate the storefront with social media, physical stores, and websites for a consistent brand experience.
Explore More: An Ultimate Guide to Develop an On-Demand Delivery App
What is the Pricing Model for POS System?
One of the critical considerations for businesses when implementing a retail POS system is the pricing model. Understanding the available options can help businesses make informed decisions regarding their budget and long-term profitability. Two commonly encountered pricing models are discussed below:
1. One-Time Full Payment:
While this payment approach may not be as prevalent nowadays, it offers certain advantages. With a one-time full payment, businesses make a substantial upfront investment. Although the initial POS system development cost may be higher, this purchasing method proves to be profitable and beneficial in the long run. Through strategic partnerships with reputable mobile app development companies and the recruitment of dedicated developers, businesses can secure a comprehensive retail POS system that precisely aligns with their specific needs, ensuring both immediate functionality and long-term cost-effectiveness.
2. Pay Per Month:
The pay-per-month model is widely recognized and preferred by businesses due to its flexibility. However, it is essential to consider the long-term implications of this pricing structure. Typically, the pay-per-month model offers two options: pay-per-use and pay-per-registration. The actual POS system development cost associated with these options is determined based on a combination of features and the number of stores. When opting for the pay-per-month model, businesses need to evaluate the scalability and growth potential of their operations to ensure that the associated Development cost of the POS system remains justifiable.
Through meticulous evaluation of pricing models provided by reputable retail POS system providers, businesses can make informed decisions that align with their budget and operational requirements. Key considerations encompass scalability, feature sets, and long-term cost implications, enabling businesses to choose a pricing structure that optimally suits their needs.
How to Build a POS System Software?
To successfully develop a point of sale system, it is crucial to meticulously select the appropriate POS hardware components and engineer them to seamlessly integrate with specific communication protocols. This entails making informed decisions regarding the choice of stationary or portable devices and accurately determining the required quantities.
Essential hardware components for a retail point of sale system may include iPad or Android tablets with compatible enclosures, a responsive touchscreen or monitor serving as the POS terminal and display, barcode scanners for efficient product scanning, reliable receipt printers for generating transaction records, electronic cash drawers for secure cash management, and scales to accurately weigh items. Partnering with a reputable mobile app development company or android app development company is recommended to ensure the expertise of dedicated developers who can assist in creating a robust and tailored POS system aligned with the unique requirements of the business.
How Much Does it Cost to Develop POS Software?
The development cost of a POS system can range from $40,000 to $50,000 for basic functionalities. However, for advanced features and mobile compatibility, the investment can increase to approximately $65,000 to $90,000. To ensure a successful development process, it is advisable to collaborate with a reputable mobile app development company or android app development company and hire dedicated developers with expertise in point of sale systems. This approach guarantees a customized solution that improves operational efficiency and enhances customer experiences.
Conclusion
This complete guide has provided valuable insights into building a Point of Sale (POS) system. Through the utilization of POS software, strategic implementation of essential functionalities, and collaboration with seasoned developers, businesses can develop a tailored system that maximizes sales management and inventory control. Embracing technology enables companies to drive growth and provide exceptional customer experiences, facilitated by a meticulously crafted POS system.
Explore More: Guide to Build an On-Demand Service Marketplace Mobile App
FAQs
Q. What is POS software?
Ans. POS software refers to the technology used in point-of-sale systems to manage sales transactions, inventory, and other business operations.
Q. How much does it cost to develop a point-of-sale system?
Ans. The Development cost of a POS system varies depending on the desired functionalities. Generally, it can range from $40,000 to $50,000 for basic features, while a system with advanced capabilities and mobile compatibility may cost around $65,000 to $90,000.
Q. Can a POS System Development Company help in building a POS system compatible with different mobile ecosystems?
Ans. Yes, a POS System Development Company can assist in developing a POS system that is compatible with Android and iOS devices, ensuring seamless integration and functionality.
Q. Why should businesses consider hiring dedicated developers for POS system development?
Ans. Hiring dedicated developers offers expertise and specialized knowledge in POS system development, resulting in a tailored solution that meets specific business requirements and ensures a successful implementation.
Q. How can POS software improve business operations?
Ans. POS software optimizes sales management, inventory control, and customer experiences. It streamlines transactions, provides real-time data insights, and enhances operational efficiency, ultimately driving business growth and success.