The world has gotten smaller and simpler to navigate due to technological improvements. Traveling is no longer nearly as big a problem as it formerly was due to this. On your smartphone, it simply takes a few clicks to find out information about any destination you might want to visit, any hotel you want to stay in, or any food you want to taste. Additionally, specialist software is now available to meet your tours and tourism needs. Exploring Travel app development will help you in knowing more about the hospitality sector and how much it will cost you to develop a travel app. Let's know more about it:
Travel App Development
The "Travel Applications" software includes but is not limited to air travel, bus travel, rail travel, cruises, travel agencies, travel attractions, online reservations, hotels, rental cars, tours, and other travel-related services and goods.
A great tourist helper app will be quick, simple, and effective. You have a few options for creating a travel app for your business, or you can Hire experienced developers to do it for you. However, choosing which of the two is the better option for the commercial concepts you have for your travel app could be challenging.
How Do Travel Apps Work?
A company specializing in trip planner helper app development takes on a broader role beyond simply creating a catalog of accommodations and dining choices. By providing marketing materials that are both valuable and necessary, they produce a lead. They mostly rely on the recommendations, ratings, and reviews of other travelers and exclusive excursions, which are included in creating mobile apps by Travel & Tourism agencies.
The company specializes in creating the best travel apps for travelers gives a more user-friendly tool for finding tickets, figuring out their prices, and renting cars. Additionally, you can use them to search for hotels and book reservations. This software hosts many functions like user reviews, filtering options, ratings, and other functions. These features benefit consumers by saving their time in the search stage of their journey.
Market & Stats of Travel App
Over the past few years, there has been an increase in demand for travel-related apps and software. This is partly caused by the widespread use of mobile devices like smartphones and tablet computers and the growing use of social media platforms as a tool for arranging vacations. Additionally, travelers are more likely to use their mobile devices to interact with other travelers and make reservations for hotels, rental cars, and flights while away.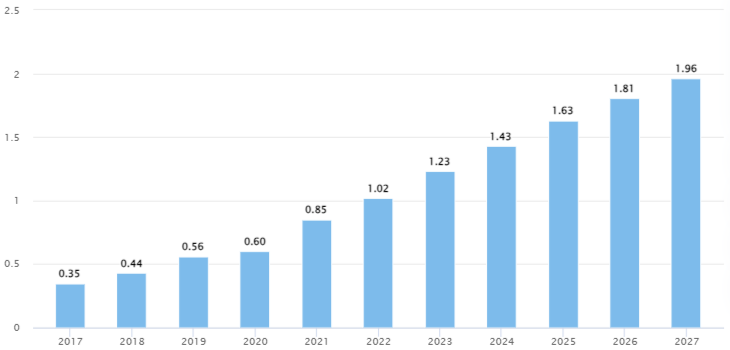 Since the travel and tourism sector encompasses many industries, each providing various special services, it is challenging to define precisely. The main activities in this industry are supply chain management and transportation. However, it also considers the visitors' needs regarding attractions, lodging, and cuisine. As a result, since 2006, tourism has ranked as one of the top contributors to the global GDP. It is anticipated to make 2.9 trillion US dollars in contributions in 2019, a 79% increase from its contribution 13 years ago.
During the following three years, 84% of airlines worldwide plan to test AI technology.
Worldwide, 26% of businesses in the tourism and hospitality sectors use chatbots.
Since COVID-19, 21% of travelers throughout the globe have used mobile travel agency applications.
Applications for jobs in hospitality and tourism are typically retained for 30% of the time after 90 days.
In the past year, 61% of passengers in the United States used their mobile phones to plan and pay for travel, and 64% of passengers used their phones while driving.
Explore More: Social Media App Development Cost in 2023
How to Make Money With Travel Apps?
Many online travel agencies charge fees to airlines to enable ticket sales on their websites. On the other hand, when airlines started selling tickets through their websites, the commission idea was rendered obsolete.
> Advertisements
Travel app developers can monetize their work and make money via advertising. The owner can display relevant ads for hotels, airlines, tour companies, and other companies. Additionally, organizations in the hospitality and tourism sectors have the chance to buy out advertising space. Some of the various ad payment methods are pay-per-click, pay-per-reach (PPR), pay-per-thousand-impressions (PPM), pay-per-conversion, etc. Please note the ads posted should appeal to the customer base rather than irritating them.
> Premium Options
Giving customers unrestricted access to your travel app's most essential features is the first step in this approach of app monetization. The app's Pro edition must be purchased for users to access the app's additional features.
> Direct Purchases Made Within the App
Your app will likely feature a section where customers can buy travel-related goods like passport covers, seat cushions for airlines, and other comparable items. They have the potential to offer your app a sizable potential revenue source and improve the travel experiences and daily lives of your app's users. Users have the option to make additional in-app purchases for various travel-related services, and for each sale, the app owner receives a transaction fee.
> Compensation for Commissions
One of the best marketing strategies for travel-related applications is commissions from affiliates. Because customers will use your app to make reservations for hotels, flights, and other services, you may decide to charge an affiliate commission for each purchase they make. Such a plan would be advantageous to the partners as well as the owner of the app.
Explore More: How To Create A Loyalty and Reward App?
Benefits of Travel App Development
Tourists are using mobile travel applications more frequently to make their trips more convenient while on the go. Apps have quickly evolved into essential tools to have when traveling. Similarly, almost 75% of customers use travel apps to streamline how they arrange and plan their vacations and activities. There are numerous advantages for travel app development, some of which are given below: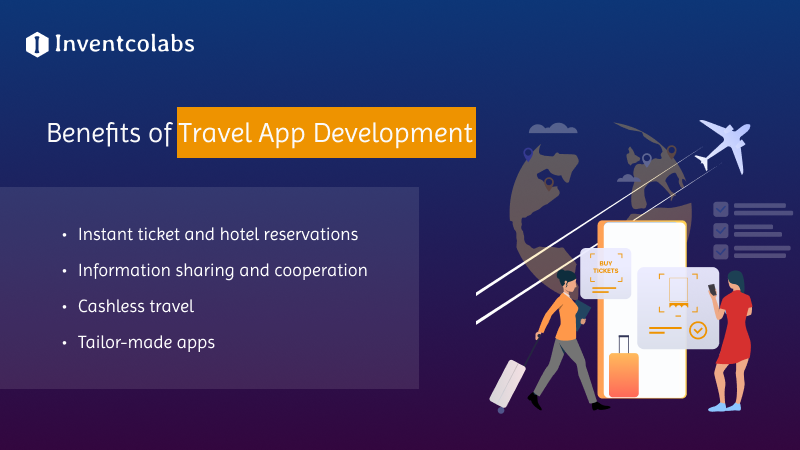 > Instant ticket and hotel reservations
With the aid of several currently offered programs, hostels can be located. They contain many details, such as prices and travel times to the destination. The hotel's mobile application can also make hotel or room reservations. This gives you a better chance of being qualified for a special deal that is frequently only extended to a select group of fortunate travelers.
> Information sharing and cooperation
It all boils down to working together and developing relationships with other people regarding traveling. In the modern world, you can no longer travel alone due to several applications.
> Cashless travel
People were tired of bringing cash on vacation and coping with the difficulty of using an ATM to get cash. Applications and technology developments in the travel sector have made it exceedingly simple to book a trip, book lodging, purchase travel arrangements, and even order food while on the go without carrying cash.
> Tailor-made apps
When a travel Mobile Application Development company creates a tailored, user-friendly app, it quickly develops popularity and gives the business an edge over its competitors. On the other hand, the most beneficial apps might be altered to satisfy both the front-end and the back-end criteria.
Explore More: Bike Rental App Development: Cost & Features
Best Travel Apps For Tourists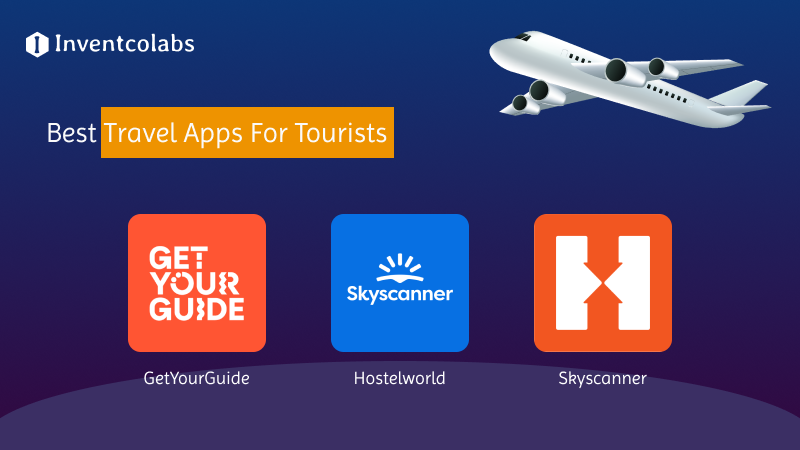 > GetYourGuide
An online marketplace called GetYourGuide provides a vast selection of tours and sightseeing options. They provide a wide range of activities in various places throughout the globe, which may range from hiking excursions and trips to vineyards to viewing whales and partaking in local cuisine. You may use their app (or website) to research each activity, compare prices, and read reviews before making a reservation.
> Hostelworld
If you are on a tight budget, there is a significant chance that you will spend most of your time traveling in hostels. The most comprehensive and user-friendly tool for finding hostels throughout the globe is the Hostelworld app. To be fully informed before making a reservation, you can examine photographs, read reviews, and compare the different amenities and services. A map is included, allowing you to see the hostels' locations about one and the main sights in the area.
> Skyscanner
Skyscanner is my go-to website for finding inexpensive flights, and it also offers choices for making hotel and rental car reservations. To give you the finest possibilities, its smartphone app analyzes millions of flights that are accessible from countless sources. Additionally, you may sort flights using the various available filters according to cost, duration, number of stops, airline, and other factors, which will assist you in selecting the route that best meets your needs. If you need to monitor your spending closely (and don't want to be taken advantage of), use this app. It is free to use.
Explore More: How To Develop An EV Charging Station Finder App
Key Features of Travel App Development
Let's take a look at the essential elements that must be present when creating a mobile app for the travel and tourism sector. We also show how some of the most well-liked travel apps now use these capabilities. Almost all apps have a sign-up feature that users can use. Users must register for an account and provide certain personal information to use the app. Let's have a look at various features for travel and tourism app development:
> Map and navigation system integration
Maps are a crucial component in all apps related to travel and hospitality. Users must have access to comprehensive maps that are simple to use, understand, and navigate.
> Making bookings and reservations
The rise of travel applications has given the modern traveler access to a market. Include a reservation system in the app so that users may book a range of services, such as lodging, tickets, excursions, transportation, and entertainment.
> Weather and Climate Developments
The app should include climate and weather updates because passengers want to know what the environment and weather will be like at their destination before they arrive. The travel and hospitality app development company should include this feature to inform the traveler about any severe circumstances ahead.
> Rankings and assessments
In the hospitality industry, a travel app development company's reputation is crucial.  Because of this, the role of customer reviews and ratings is essential for both business owners and customers who visit those businesses' websites. Another helpful feature that can be found in travel apps is chat. Through the app, users may communicate with a hotel representative or the property owner and quickly ask questions about specifications.
> Translator
Including an in-app translator in your app is one of the finest methods to help travelers communicate more effectively with locals while visiting a foreign place. Another alternative to taking into account while developing visual translation is text-scanning technologies.
> Transportation
Travelers need access to some sort of transportation when on vacation to go from the airport to their hotel and around the city. To give customers the most recent information on tickets for public transportation, taxis, and trains, it is possible to include this feature in your app. If you want to make things even more convenient, you may also include the timetable and the fees.
Explore More: Airbnb Clone App: A Complete Application Development Guide
Types of Travel App Development    
Numerous different applications that are currently accessible can help customers plan their flights, transfers, hotels, entertainment, and anything else they would desire while on vacation. Every travel app can be categorized into one of the numerous separate logical groups. Let's examine the several mobile travel applications currently available on the market and the top businesses in each category.
> Travel Guide Apps
Vacationers can access a variety of local attractions, insider knowledge, events, and vistas using a mobile travel app guide. Additionally, visitors can offer feedback after using the app at a specific location through ratings and suggestions, which they may subsequently share with other app users. Include additional features like currency converters, offline maps, and text-to-speech producers to give customers more value.
> Ticket booking App
A ticket booking app is a management tool that helps you quickly handle client assistance requests. They let customers buy tickets and make reservations using their mobile devices. Similarly, companies can manage their reservations remotely anytime and with any application. The convenience of using an online ticketing system is its main advantage.
> Hotel Booking App
The Hotel Booking System is an online reservation tool that helps hotels accept reservations and process payments while allowing website users to book participating hotels' rooms securely online. An online reservation system can run by integrating with your hotel's website and processing any secure online reservations visitors make. Following that, the data is sent to your property management system, which enables you to handle reservations, and to your channel manager, which permits fast updates to your inventory.
> Flight Booking App
The airline sector benefits from the automation of the booking process thanks to applications for booking flights. Users worldwide can book flights while they are on the go by using straightforward apps. Among many other benefits, users can benefit from features like quick flight searches, the option to download tickets, the opportunity to check and alter booking information, and one-tap check-in.
> Currency Conversion App
Any app that allows users to change currencies on their mobile devices qualifies as a currency conversion app in the travel sector. Several currency conversion tools, like the Euro, are exclusively available for certain currencies. The US Dollar, Euro, Japanese Yen, British Pound, and Australian Dollar are examples of currencies connected to other currency conversion software.
How to Develop A Travel Mobile App?
Here is the list of stages for travel mobile application development, let's have a look"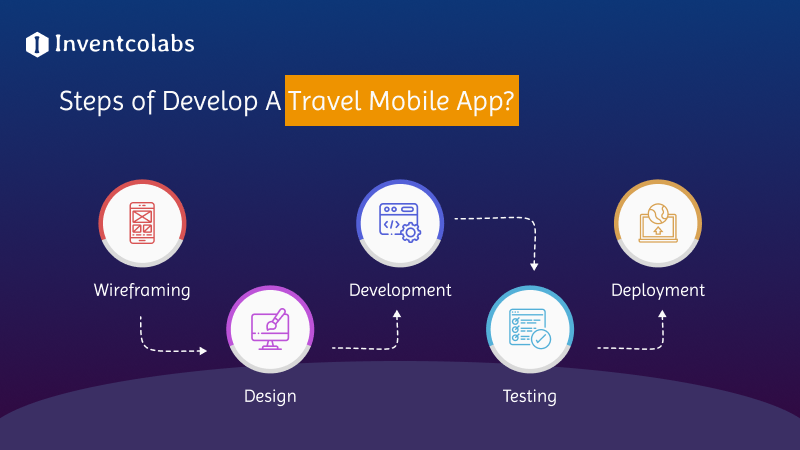 1. Wireframing
A group of business analysts is creating a model for the overall app screen structure. Additionally, this group produces wireframes, which describe how the displays, features, and specs should work together.
2. Design
To make the travel app appealing to the app's users, the design team will complete the design with color schemes, using perfect visuals and iconography.
3. Development
Using programming tools like compilers, interpreters, and debuggers, among others, programmers generate the code for the application. Numerous programming languages are used, depending on the type of application being created, including C, C++, Java, Pascal, and PHP.
4. Testing
Your newly created application is examined by a group of quality analysts who check each element to ensure no bugs.
5. Deployment
The created software is now uploaded to your server and available on either the Software Store or the Play Store. The program is now available to your end users, thanks to this.
How Much Does It Cost to Build A Travel App?
Several variables will affect how much it costs to design and build a mobile application for travel services, some of which are detailed in the list below.
Whether you develop the app yourself or contract a business specializing in a travel booking app development or hire dedicated developers to do it for you, the owner needs to give proper attention at every stage.
The platform can be any mobile operating system, including iOS, Android, and others.
Your software must have a diversity of features as per the recent travel industry trends.
How many different people are contributing their time and energy to the project?
Whether you're using a paid or a free theme?
When all expenses are included, hiring a reputable travel and hospitality app developer to produce a simple mobile travel app might range from $30,000 to $70,000 on average. The final travel app development cost depends on the country of origin and domain experience of your service providers. Below you can take a glimpse at the cost estimation of a travel app along with the timelines:
| | | |
| --- | --- | --- |
| Type of Travel App | Cost | Timeline |
| Basic app | $30,000- $70,000 | 3-5 months |
| Full product (complicated features, supports only single platform) | $70,000- $120,000 | 4-9 months |
| Large app (complicated design, support many platforms) | $120,000+ | 9+ months |
Conclusion
The increasing need for software created specifically for the travel sector can be attributed to the ease with which tourists can plan and manage their journeys using mobile applications. You can pick the kind of app you want to create and one of the various income models if you want to create a travel helper app.
Before beginning the travel app design process, get to know your consumers and the issues they encounter. For instance, the issue that most busy individuals have is that they do not have enough time to spend on tasks like researching, buying tickets, and booking hotels. Your mobile travel application needs to consider this and provide a user experience that enables users to organize an entire trip swiftly.
FAQs
Q. What qualities define a pitch-perfect travel app?
Ans. The main objective behind every travel mobile app development is to give customers quick fixes for their issues. You can find all the information on a travel app's home screen. They are simple, quick, and effective. A great travel app's user experience (UX) must have a user-friendly environment that gives users ample scope to benefit from online application features.
Q. How long does it take to develop a mobile travel application?
Ans. A mobile travel app usually takes 200 hours to develop. Despite this, a trip app can be created in as few as 50 hours or as much as 400 hours. The precise timeline will be significantly influenced by how complicated your application is.
Q. Why are travel-related smartphone apps so crucial?
Ans. Passengers can avoid the necessity for considerable long-term planning by using mobile travel applications, which allow them to be more spontaneous. Approximately 6% of all reservations are made using a mobile device for stays of three to four months in the future. The number of guests still checking in continues to grow as the check-in time gets near.