In the present era, where the tourism and recreation industries are rising as rapidly as any other industry, the battle to achieve perfection is intensifying drastically. The rise of platforms like Airbnb has shown us just how lucrative the vacation rental market can be, with many entrepreneurs looking to take advantage of this booming industry. But where do you start? Developing an app like Airbnb can seem like a daunting task, especially if you're not familiar with the technical side of things. That's why we've created this comprehensive guide on how to develop an Airbnb clone app. 
So, whether you're an experienced entrepreneur looking to expand your portfolio or a first-time business owner just starting out, this guide is for you. With the right knowledge and a little bit of hard work, you'll be well on your way to creating a profitable vacation rental platform like Airbnb. Let's get started and turn your entrepreneurial aspirations into a reality!
What is Airbnb?
Airbnb is an online marketplace that connects people who are looking for a place to stay with property owners who have a spare room or a vacation property to rent out. The platform was founded in 2008 by Brian Chesky, Joe Gebbia, and Nathan Blecharczyk with the aim of providing an alternative to traditional hotel accommodation. The platform allows property owners to list their properties, including everything from a spare room in their home to a whole apartment or house. Guests can then browse through the housing and lodging listings, filter by location, price, and amenities, and book a stay directly through the platform. 

Airbnb's platform is designed to make it easy for property owners to list their properties and for guests to find and book a suitable place to stay. One of the key features of Airbnb is its focus on community and local experiences. The platform has a feature that allows guests to book unique and local experiences hosted by local experts. This feature gives guests the opportunity to immerse themselves in the local culture and experience the destination in a more authentic way.
The peer-to-peer short-term rental model of Airbnb has disrupted the traditional hotel industry, allowing property owners to earn extra income by renting out their properties and giving travelers more affordable and unique accommodation options. It has also had an impact on the real estate market, as people are buying properties with the purpose of renting them out on platforms like Airbnb.
Airbnb has rapidly grown to become one of the most popular and widely used vacation rental platforms in the world. It is now available in more than 81,000 cities in over 191 countries, and the company is valued at billions of dollars. Its success has also sparked the creation of many similar platforms in the vacation rental space, known as Airbnb clones.
In terms of safety and security, Airbnb has implemented a number of features to protect both hosts and guests. These include a secure payment system, a review system, and a messaging system that allows hosts and guests to communicate before and during the booking. Additionally, Airbnb offers a host guarantee, which provides protection for hosts in case of property damage, and a host insurance program for hosts in certain countries. It has a secure payment process and communication system that enables users to rely on the platform for authentic and safe dealings. 
Overall, Airbnb has revolutionized the vacation rental app development company and has made it easier than ever for people to find and book unique and affordable accommodations. The platform has given property owners the opportunity to earn extra income by renting out their properties and has given travelers more options for where to stay when on vacation.
An Outlook Of The Airbnb Market
The Airbnb market has seen significant growth in recent years, with the company becoming one of the largest players in the sharing economy. According to a report, Airbnb smashed its own booking record in the second quarter of 2022, when a total of 103.7 million guest stays were booked. Some of the significant statistics defining the Airbnb market are as follows:
There are now more than 4+ million hosts using Airbnb, and more than 6+ million listings available on the site.
Over 100,000 cities around the world have Airbnb listings.
More than 150 million people around the world have used Airbnb, and the company has already facilitated more than a billion bookings.
A typical host may expect to make $13,800 per year.
As of right now, the value of Airbnb is over $113 billion.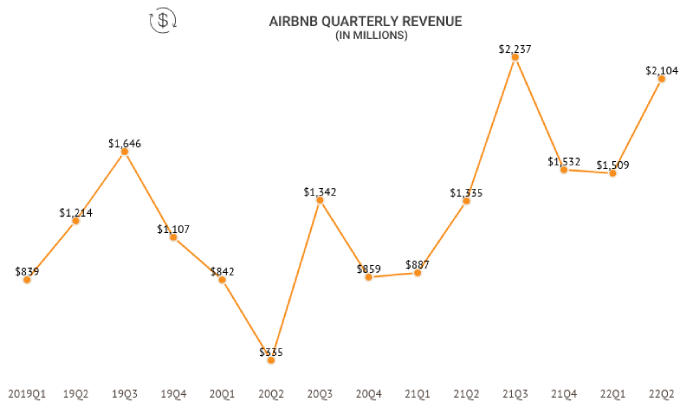 Additionally, the COVID-19 pandemic has accelerated the shift toward the online vacation rental marketplace, as more people look for more private and self-contained options for their travels. However, the market also faces challenges such as regulatory hurdles and competition from other players in the space. Overall, the Airbnb market is expected to continue its growth trajectory in the coming years.
Top 5 Options like Airbnb Vacation Rental Apps
Airbnb is a disruptive vacation rental application known for its strong service entity and customer-first value. However, it's not the only app doing good in the space. There are few apps like Airbnb or rival apps of Airbnb offering similar solutions.

Booking.com: 
The booking app is one of the top rival apps for Airbnb offering features and designs similar to the app. In addition, the app offers more than 27 million accommodations in the world. The app offers accommodation listings with a large inventory which means users get vast accommodation options across the globe similar to Trip Advisor. Apart from booking apps, they own Priceline, Rentalcars.com, Kayak, and Agoda. It has features like comparison, deals & discounts, reviews, search options, in-app payment, and more. With the ever-rising popularity metrics, they receive over 466 million visitors per day.
TripAdvisor:
Apart from Airbnb, if an app has registered a breakthrough reach and gained global popularity, it's TripAdvisor. This travel accommodation rental app like Airbnb offers a range of accommodation options at affordable rates. Easily available on Google Play Store and Apple App Store, the app offers a range of features for its users. They provide a comparison, hotel reviews, flight books, as well as holiday packages from their partner businesses. The app can provide a complete vacation solution to its users. TripAdvisor has 230M+ downloads on app stores.
Flipkey:
Another unique business model started in 2016 with more than 8,30,000 listings from 190 countries by RV owners across the world. TripAdvisor owns FlipKey which operates on an innovative and unique business model of pay-per-booking. This simply means you only pay after reservation; the users are only required to pay once they have a reservation. The app offers many features to its users such as search and filter properties, check-in and check-out, in-app payment gateway, user profile, property profile, instant booking, and more.
HomeToGo:
HomeToGo is another one of the largest marketplaces for vacation rentals operating in 25 countries. Their app operations serve Europe, North and South America, and Asia-Pacific regions. The app receives the highest traffic from the USA. They offer their services in Dutch, English, Spanish, French, German, etc. HomeToGo offers features like prices, accommodations, destinations, nearby amenities, and more to plan a vacation. Users can find endless vacation accommodation options including apartments, beach houses, houseboats, cabins, farm stays, and more. They have 1M+ downloads on the play store.
Vrbo:
Vrbo (Vacation Rentals By Owners) is another competitor of Airbnb offering similar features. With 10M+ downloads on Google Play Store, the app reaches many users with 2 million+ properties for vacation rental. The app features include in-app payments, book & pay, photos & reviews, 24-hour service, messaging features, and more. Making it easy for users to get in touch with property owners to book vacation rentals.
How Does an App like Airbnb Work?
A rental booking software like Airbnb works by connecting property owners and hosts with people who are looking for a place to stay. The process can be broken down into several steps:
Property owners list their properties
Property owners or hosts will first create an account on the platform and then they can start listing their properties. They will need to provide detailed information about their property, such as location, number of rooms, amenities, and availability. They will also need to upload photos and videos of the property to give guests a better idea of what to expect. They can also set a price for the rental, and this can be done on a daily, weekly, or monthly basis. Some platforms also allow hosts to set different prices for different seasons or events.
Guests search for properties
Guests can use the platform's search feature to find properties that match their desired location, price range, and amenities. They can also filter their search results by different criteria such as the number of guests, type of property, and more. The platform's search algorithm will take into account all the filtering options selected by the guest and show the most relevant results. Some platforms also allow guests to save their favorite properties or to create alerts to be notified when a property that matches their criteria becomes available.
Guests book a property
Once they've found a property through the property finder app they like, guests can book it directly through the platform. They will enter their personal information and pay for the rental through a secure payment system. The platform will typically hold the payment until the guest checks in, at which point it will be released to the host. Some platforms also allow guests to make a reservation, which means they can secure a property for a certain period of time, but the host can still accept other bookings for the same period.
Hosts confirm the booking
Once the guest has made a rental booking, the host will receive a notification and can then confirm the rental booking. After the rental booking is confirmed, the guest will receive a confirmation email with all the details about the property and the host. The host can also use the platform's messaging system to communicate with the guest, for example, to provide instructions for accessing the property.
Guests check in and check-out
On the day of check-in, guests can use the app to access the property and check in. They can also use the app to communicate with the host during their stay, and to check-out when they leave. Some platforms also allow guests to leave a key or a code to access the property.
Guests and hosts leave reviews
After the guest has checked out, they can leave a review of the property and the host. Hosts can also leave a review of the guest. Reviews help build trust and ensure that everyone on the platform is held accountable for their behavior. Reviews also help other guests to know what to expect from a property and a host, and they can also help the host to improve the property or the service.
Read Must: A Guide to Building Influencer Marketing Software to Amplify Your Digital Media Influence
Features of the Airbnb Clone App
For Hosts
Listing creation: Hosts can create a listing for their property on Airbnb by providing information such as photos, detailed descriptions, pricing, and availability. They can also set house rules, and choose the type of guests they want to host.
Booking management: Once a listing is created, guests can request to book the property. Hosts can approve or reject rental booking requests, and also communicate with guests through the Airbnb messaging system. They can also manage their calendar to keep track of upcoming bookings and block off dates when the property is unavailable.
Pricing tools: Airbnb offers hosts several tools to help them set and adjust pricing for their property. One of these tools is dynamic pricing, which allows hosts to set different prices for different times of the year, or for different types of guests. Additionally, hosts can set minimum stay requirements, cleaning fees, and additional guest fees.
Host Guarantee: Airbnb mobile app offers a Host Guarantee program, which provides hosts with protection for their property in case of damage caused by guests. The program covers up to $1,000,000 in damages and applies to the entire property, including furniture and fixtures, and personal property.
Host tools: Airbnb offers various tools to help hosts manage their listings, such as the ability to set house rules, create a detailed listing description and manage their reviews. Hosts can respond to reviews, and also manage their bookings and calendar.
Service fee: Airbnb charges a service fee to hosts, which is a percentage of the total booking cost. The service fee helps cover the costs of running the platform, including customer support, marketing, and fraud prevention. The service fee can vary depending on the region, the length of the booking, and other factors.
Smart pricing: This feature allows hosts to set prices automatically based on demand and other factors such as seasonality, local events, and the host's own bookings. This helps hosts to optimize their pricing and increase their bookings.
Instant book: This feature allows guests to book a listing immediately without waiting for the host's approval. Hosts can choose to enable this feature for their listing, allowing them to attract more bookings from guests who are looking for a quick and easy booking process.
Experiences: Hosts can also offer experiences to guests. Hosts can create experiences that showcase their unique skills and interests, such as cooking classes, city tours, and more.
Business travel ready: This feature allows hosts to list their properties as suitable for business travelers. This can be an attractive option for business travelers looking for a more comfortable and homely experience than a traditional hotel.
Professional photography: Hosts can use professional photography to showcase their property in the best possible light. Airbnb partners with professional photographers who can take high-quality photos of the property and provide them to the host.
24/7 support: Airbnb provides 24/7 support for hosts, allowing them to get help with any issues or questions they may have about their listings or bookings. Hosts can also access resources such as guides and tutorials to help them get the most out of their listings.
For Guests
Smart Search: Airbnb's smart search feature utilizes machine learning algorithms to improve the search experience for guests by providing personalized recommendations based on their search history, preferences, and behavior. This feature takes into account factors such as location, price, type of property, and amenities to provide guests with a list of properties that best match their needs.
Neighborhoods: Airbnb has a feature that allows guests to explore different neighborhoods within a city, and get a sense of the local culture and atmosphere. This feature includes information about the local businesses, landmarks, and events. It also provides guests with a curated list of properties in the area, along with a map view that shows the location of the properties in relation to the neighborhood's main attraction.
Payment options: This feature allows guests to pay for their booking using a variety of payment methods, including credit and debit cards, PayPal, and other methods depending on the country. This makes it easy for guests to pay for their booking, regardless of their preferred payment method.
Instant Book: This feature allows travelers or guests to book a property immediately without waiting for the host's approval. It can be useful for guests looking for a quick and easy booking process, or for properties that have a high demand.
Event Tickets: Airbnb has recently launched a feature that allows guests to purchase event tickets directly through the platform. This feature allows guests to browse events happening in their destination city, and purchase tickets directly on the Airbnb platform. This feature is currently available in selected cities and for selected events.
Social Connect: This feature allows guests to connect with other guests who are also staying in the same property or in the same city. This feature is designed to help guests meet new people and make friends or travel companions. The Social Connect feature is optional for hosts to activate, and guests can choose to opt-in or opt-out.
Airbnb Plus: This feature is a collection of high-end properties or online vacation rental business projects that have been inspected and verified by Airbnb, to ensure they meet certain standards of quality and comfort. This feature includes properties such as houses, vacation homes, and apartment management, that have been curated for their design, comfort, and amenities.
Luxe: This feature is a collection of luxury properties, curated by Airbnb, that offer high-end amenities, such as private chefs, butlers, and personal concierge service. Luxe properties are also inspected and verified by Airbnb to ensure they meet certain standards of quality and luxury.
Read Must: What is Metaverse? A Guide To The Next-Gen Virtual Dimension
Tech Stack For An App Like Airbnb
Front-end development: The front-end of the app is the part of the app that the user interacts with. It is responsible for the visual design, layout, and user interface of the app. Technologies such as HTML, CSS, and JavaScript are used in the front-end development of the app. HTML is used to create the structure of the pages, CSS is used to create the visual design and layout of the app, and JavaScript is used to make the Airbnb Clone App development interactive and dynamic.
Back-end development: The back-end of the Airbnb clone app is responsible for the server-side logic of the app. It handles tasks such as database management, user authentication, payment processing, and admin panel. Technologies such as Node.js, Ruby on Rails, or Python are commonly used to build the back end of the app. These technologies provide a framework for building scalable, reliable, and efficient server-side logic.
Database management: The apps like Airbnb needs to store and manage data such as user information, property listings, and booking information. A relational database management system (RDBMS) such as MySQL or PostgreSQL is used to store and manage this data. These databases provide a way to structure and organize data, and to efficiently retrieve and update data.
Search and mapping: Airbnb Clone App needs to allow users to search for properties by location and other criteria and to display properties on a map. Technologies such as Elasticsearch and OpenStreetMap are used to provide this functionality. Elasticsearch is a powerful search engine that allows users to search for properties by location, price, and other criteria. OpenStreetMap is an open-source map service that provides detailed information about locations and properties.
Payment gateway: Payment gateways such as Stripe or PayPal are used to handle the transactions for Airbnb Clone App Scripts. These gateways provide a secure and reliable way for users to make payments in different payment modes and currencies and ensure that sensitive information such as credit card details is protected.
Cloud hosting: Cloud hosting platforms such as Amazon Web Services (AWS), Google Cloud Platform (GCP), or Microsoft Azure provides scalable and reliable hosting solutions. These cloud consulting companies allow Airbnb like app development to handle large numbers of users and transactions and ensure that the app is always available to users.
Read Must: Salesforce Vs AWS (Amazon Web Services): What To Choose For Your Business?
Push notifications: The Airbnb clone script needs to send push notifications to users to inform them of new messages, booking updates, and other important information. Technologies such as Firebase Cloud Messaging or OneSignal are used to handle push notifications. These technologies allow the app to send notifications to users in real-time, regardless of whether the app is open or closed.
Machine learning: The app would likely use machine learning algorithms to improve the search experience for guests, by providing personalized recommendations based on their search history, preferences, and behavior. These algorithms can also be used by Airbnb app developers to analyze user data and provide insights into how to improve the app.
Security: The app needs to protect user data and transactions. Security measures such as HTTPS encryption, secure socket layer (SSL) certificates, and regular security audits are used to ensure that user data is protected.
Analytics: Analytics tools such as Google Analytics, Mixpanel, or Amplitude can be used to track user behavior and usage patterns, and gain insights into how the app can be improved. These tools provide data to Airbnb clone developers on how users interact with the app and can be used to identify areas for improvement and optimize the user experience.
Mobile development: Airbnb Clone App Scripts would likely be developed for both iOS and Android platforms, using technologies such as React Native, Xamarin, or Flutter depending on how your mobile application development company projects and validates your requirements and chooses to serve you. These technologies allow the app to be developed for both platforms using a single codebase, which can save time and resources.
Read Must: Top Reasons To Have A Mobile App For Your Business
Business & Revenue Model of Airbnb
Airbnb's business model is based on connecting people who need a place to stay (guests) with people who have a place to share (hosts). The company makes money by charging a fee for each booking made through the platform. This fee is typically split between the host and Airbnb, with the host receiving the majority of the revenue.
Commission: Airbnb charges hosts a commission on each booking made through the platform. This commission varies depending on the type of property and location but typically ranges from 3% to 20% of the booking value. This fee is collected from the host and is deducted from the total amount the guest pays for the booking. It acts as the primary source of revenue for the company and allows them to connect hosts and guests without charging them upfront.
Service Fees: Guests are also charged a service fee, which typically ranges from 6% to 12% of the booking value. This fee is used to cover the cost of customer support, payment processing, and other services provided by Airbnb. The service fee acts as an additional source of revenue for the company and helps them to provide better customer support and improve the overall user experience.
Enhanced Listing: Hosts can choose to pay for an enhanced listing, which provides additional visibility and promotion for their property. Enhanced listings are featured prominently on search results and are highlighted to potential guests. This feature allows hosts to increase their booking revenue by reaching a larger audience, and for the company to generate more revenue from hosts who want to have more visibility for their properties.
Experiences: Airbnb offers a platform for hosts to offer and book experiences, such as city tours, cooking classes, and other activities. Hosts can create and list their experiences on the platform and set the prices, and guests can book and pay for them through the platform. This feature allows hosts to diversify their income and offer unique experiences to guests, and for the company to generate more revenue from hosts who want to offer unique experiences to guests.
Business Travel: Airbnb also offers a solution for companies to manage their employees' business travel and a way for hosts to list properties that are suitable for business travelers, and with extra facilities such as office spaces and meeting rooms. This feature allows companies to save money on business travel and for the company to generate more revenue from corporate clients.
Property Management: Airbnb provides a property management service in which they take care of everything associated with renting out a place to stay, from making the listing to communicating with guests to arranging for cleaning and upkeep to overseeing the check-in and check-out procedures. Hosts can choose to pay for this service. It's a win-win for both Airbnb and the host, as the latter can earn more money by having their property managed by the former, and the former can increase its revenue by having more people stay on their listings.
Read Must: Property Finder App Development – Cost & Features
Advertising: Advertising is another source of income for Airbnb, as the company earns money by charging other businesses to display their ads on the website. This can be in form of sponsored listings, featured properties, display ads, or sponsored search results. This feature allows the company to generate additional revenue from companies looking to promote their products or services to a relevant audience.
Read Must: What is Web 3.0 and How it will Transform our Lives?
How Much Does It Cost to Develop an Airbnb Application?
The cost to build apps like Airbnb can vary widely depending on a number of factors, including the complexity of the app, the number of features and functionalities, the platform, and the location and experience of the development team.
A basic version of an Airbnb-like app can cost around $50,000 to $70,000 for a small team of developers working on it for several months.
A more complex version of the app with additional features and functionalities can cost anywhere from $100,000 to $500,000 or more.
If you want to develop the app for both iOS and Android platforms, the cost would be higher than developing for just one platform. Also, the type of technology used for building the Airbnb clone largely decides how much it will cost to build the solution.
If you choose to outsource the development to an Android app development company or hire dedicated developers in a country like the US or Western Europe, the costs can be significantly higher than if you choose to outsource to a company in a country like India or Eastern Europe.
Additionally, if you want to add extra features while building apps like Airbnb like machine learning, virtual reality, or advanced integration or customization, the cost will increase accordingly.
It's important to keep in mind that the Airbnb clone app development cost is just one part of the overall cost of creating and launching an app like Airbnb. Other costs to consider include marketing and promotion, server and hosting costs, and ongoing maintenance and updates.
Conclusion
Building an Airbnb app clone can be a challenging but rewarding endeavor. With its unique business model, advanced features, and wide range of functionalities, the app has revolutionized the way we travel and has become one of the most successful platforms in the real-estate economy. With the right team, a well-thought-out plan, and a clear vision, developing a clone of the Airbnb app can open up a world of opportunities and bring your business to new heights. Whether you're a start-up looking to enter the sharing economy, or an established company looking to expand your offerings, an Airbnb clone app can be a valuable addition to your business.
Read Must: How To Develop An Apartment Management Software – Features & Cost
FAQs
Q. How can I monetize an Airbnb clone app?
Ans. The app can be monetized through commissions on bookings, service fees, enhanced listing fees, and other additional services such as property management and event ticket sales. The app can also be monetized through advertising, sponsorships, and affiliate marketing.
Q. How can I ensure the security of my Airbnb clone app?
Ans. An Airbnb clone app can be secured through HTTPS encryption, secure socket layer (SSL) certificates, regular security audits, firewalls, two-factor authentication, and encryption of sensitive data such as passwords and credit card information. It is also recommended to have a dedicated security team to monitor and address any potential security threats.
Q. How can I update and maintain my Airbnb clone app?
Ans. The app can be updated and maintained through regular updates and maintenance, monitoring user data and feedback to improve the app, testing new features and functionalities, fixing bugs and issues, and ensuring that the app is compatible with the latest operating systems.
Q. How can I handle disputes and complaints in my Airbnb clone app?
Ans. An Airbnb clone app can have a built-in dispute resolution system, where users can report and resolve issues such as property damage or unsatisfactory accommodations. The system can include options for hosts and guests to submit evidence and communicate with each other.
Q. How long does it take to develop an app like Airbnb clone app?
Ans. The development time for an Airbnb clone app can vary depending on the complexity of the app and the size of the development team. A basic version of the app can be developed in 2-3 months, while a more complex version with additional features and functionalities can take longer.