How often do you experience the convenience of on-demand taxi booking apps to meet your travel needs? Over 320 million people worldwide in 2022 were using taxi booking mobile app according to Business of Apps.
Taxi booking mobile app development completely changed the way of commutations. Various apps like Uber, DiDi, Lyft, etc., put cabs at the fingertips of people and have revolutionized the way we travel by putting cabs at our fingertips, transforming them into the most profitable business ventures of our time.
Does the success of the cab booking mobile app inspire you? What if you could a reliable taxi booking app development that provides you with unlimited opportunities to make revenue?
Here in this blog, we'll provide you with a comprehensive guide on taxi booking mobile app development, so you can learn where to start and what to achieve.
So, let's get started.
Market of Taxi Booking Mobile Apps
Taxi booking apps have become an indispensable necessity in people's lives, seamlessly integrating into their day-to-day routines.
The revenue of taxi booking applications is projected to skyrocket to an astounding US$154.00 billion in 2023, and this figure is expected to grow at an impressive compound annual growth rate (CAGR) of 7.04%. By 2027, the revenue is anticipated to reach a staggering US$202.20 billion, painting a vivid picture of the industry's remarkable growth and potential. (Source: Statista)
By 2027, the number of customers using taxi-booking apps is projected to reach 1.45 billion. The rising number of users signifies the popularity of these applications among people.
The United States (US) is one of the leading markets for cab booking mobile apps. Over 95.63 million people in the US are using these applications.
Benefits of On-Demand Taxi Booking Mobile App
Let's discuss the benefits of taxi booking mobile app development in detail;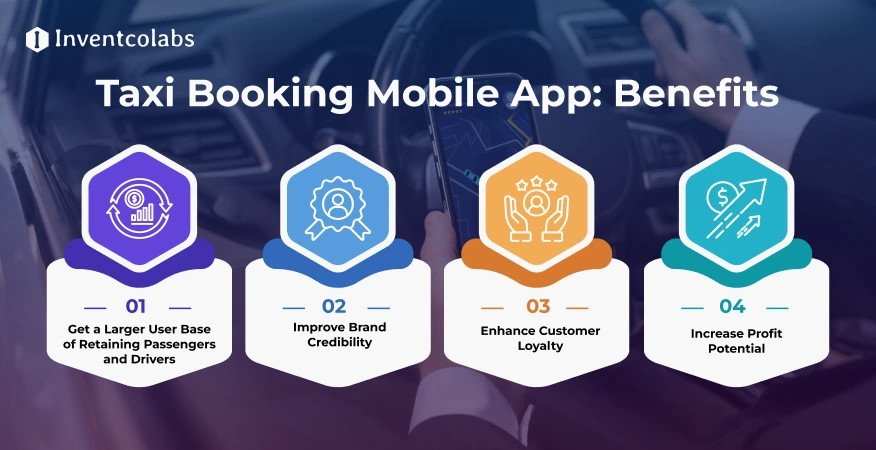 1. Get a Larger User Base of Retaining Passengers and Drivers
Imagine this – you're a taxi company with a well-featured new mobile app. People can book rides with a few taps, and drivers are no longer required to wait for passengers.
Taxi booking mobile applications create a win-win situation for both customers and drivers alike. You'll attract a broader audience, especially those who appreciate the comfort of mobile apps to find a ride to commute from one place to another.
2. Improve Brand Credibility
Taxi booking mobile app development can help you enhance your brand credibility. By catering to people's needs and consistently delivering exceptional travel experiences, you can establish a reputable brand. Take Uber, for instance. Originally known for ride-hailing services, Uber has now become one of the most popular food delivery applications as well. People trust Uber as a brand that offers reliable and convenient services across multiple domains.
3. Enhance Customer Loyalty
Picture this scenario: your app delivers real-time ride tracking, safe payment choices, and even recognizes a passenger's favorite routes. It's like retaining a private driver at your fingertips. Customers value that. With a pleasingly designed and user-social app, you can build enduring loyalty, making passengers choose your service again and again.
4. Increase Profit Potential
This is one of the most important advantages of on-demand food delivery app development. Your taxi app isn't just an instrument for passengers; it's a business opportunity. You can partner with other taxi services and drivers, extending your reach. Think of it as a network effect – the more drivers and passengers you connect, the more probable earnings you can make. Plus, there are opportunities like advertising partnerships or premium services that can increase your income.
Explore More: How to Develop A Ride-Sharing App? Key Features & Cost
Why Invest in a Taxi Booking App?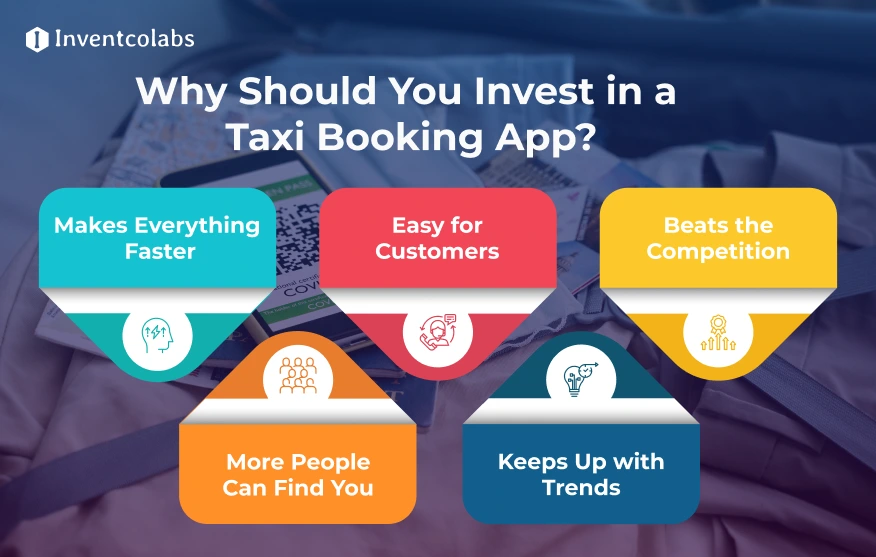 1. Makes Everything Faster
Visualize this: Rather than calling for a taxi and waiting on hold, you open an app, tap a few buttons, and bam, a taxi is on its course. It's like ordering pizza with just a few clicks. This speediness allows passengers to reach where they want to go quickly, and drivers find passengers faster.
2. Easy for Customers
Imagine having an app on your phone that's always ready to take you away on a ride whenever you need it. With just a few taps, you can open the app and instantly see a map teeming with little cars, each representing a nearby driver. The best part? You don't even need cash! Just like making online payments, you can settle the fare seamlessly within the app.
3. Beats the Competition
In today's world, having an app for your taxi service is like having a personal spear. You can do something that conventional taxis can't. You can present cool things like seeing how distant your taxi is, choosing your driver, or getting discounts. People like these things, and it makes them choose your service over others.
4. More People Can Find You
Having an app means your taxi service exists only on the roads. It's also on people's phones. This implies more people can discover you, and that's like owning a big sign saying, "We're here!" It can bring in more passengers, which is perfect for business.
5. Keeps Up with Trends
In today's fast-changing world, it's significant to stay in the loop. Having an app reveals that you're not stuck in the past but moving with the times. It's like embracing the latest trends instead of clinging to last year's fashion. People notice, and it can make your taxi business more popular.
Explore More: Travel App Development Guide: Cost, Benefits & Features
Top 5 Taxi Booking Mobile Apps
Here we have mentioned the 5 best taxi booking mobile apps in the USA;
1. Uber
Uber is one of the world's first and most recognized cab booking apps. This American-founded application is currently operating in over 785 cities worldwide.
2. Lyft
Lyft was started in 2012 as a long-distance carpooling app. With a continuous focus on reinventing the travel experience, the Lyft app has grown in more than 65 countries making it one of the leading apps.
The user-friendly Lyft application makes it easy for people to find a ride with just as few taps.
3. Curb
Curb taxi booking application was launched in 2007 and since then has helped millions of people to find convenient ride options. The application is currently operating across the major metro cities in the United States.
4. Gett
The Gett cab booking mobile application was started in 2010 as a mobility company. The company expanded its services and is currently working across 100+ cities worldwide.
5. Via
Via cab booking application was started in 2012 to facilitate online cab booking services in the US. The application expanded in other countries as well like India.
Explore More: Guide to Build an On-Demand Service Marketplace Mobile App
Business Model For Cab Booking Mobile App
Here are some of the most commonly used business models for cab booking mobile apps;
1. Aggregator Model
This is one of the most beneficial business models. It's like a matchmaker for passengers and drivers. The cab booking apps don't own any cars themselves. They just connect people who need a ride with people who have a car and want to earn some money.
Uber, Lyft, and Ola are some of the prominent companies following this business model.
2. Fleet Management Model
This model works well for businesses that own a fleet of vehicles. They employ drivers to operate these vehicles and offer rides to customers. It's like having their taxi service.
Meru Cabs, Easy Cabs, and TaxiForSure are some examples of companies working with a fleet management business model.
3. Rental Model
In this model, companies rent their vehicles to drivers. These drivers then provide rides to passengers. Companies like Zoomcar and Drivezy are examples of businesses that use this approach.
Taxi Booking Mobile App Monetization Opportunities
Cab booking mobile applications make revenue through several different models including;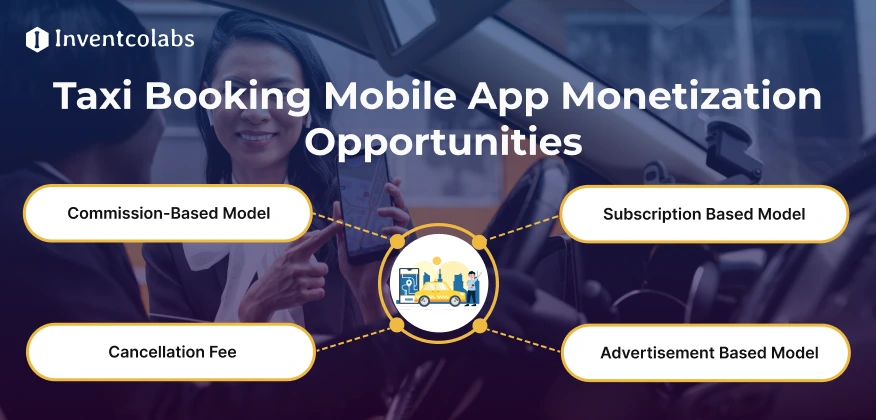 1. Commission-Based Model
This monetization opportunity is the first choice for taxi booking applications that act as the intermediary between passengers and drivers. Such applications make revenue by charging a commission fee on each booking completed on the platform. For example, Uber takes 25% of the fare for each ride booked through its app.
2. Subscription Based Model
Taxi booking applications also make revenue from subscription-based services. It allows passengers who require a ride for daily commutes. The passengers can opt for a monthly or yearly subscription and get discounted rides according to their convenience.
Lyft Pink is the best example of a subscription-based model.
3. Advertisement Based Model
Taxi booking mobile applications can also make revenue by displaying the ads on the application. By teaming up with various brands, these apps can display ads that users can click on.
4. Cancellation Fee
This monetization strategy works in two ways. It not only helps reduce the cancellation rate but also enables the company to earn revenue when passengers cancel their rides.
Explore More: An Ultimate Guide to Develop an On-Demand Delivery App
Features of Taxi Booking Apps
Cab booking apps have come a long way, transforming from simple tools to sophisticated platforms that we all know and love. They're known for their user-friendly interfaces, ability to manage passengers and drivers, and enticing discount promos, among other things. But that's just the tip of the iceberg! Let's dive deeper and explore the advanced features that make these taxi-booking apps truly stand out;
1. Drive Lineup Algorithm
This feature helps the taxi booking application to match the nearest driver with the passenger. This ensures that quick rides for the passengers and drivers are utilized perfectly.
2. Zone Pricing
Taxi booking applications often charge different fares for different locations. For example, the application may charge a higher price for airport drop-off and pick-up. This helps you amplify the revenue.
3. Loyalty Programs
Rewarding the customers who often make through your app is the best marketing practice. You can create a point-based system where each passenger earns some points for each ride. These points can be traded in for discounts or other perks.
4. Automated Driver Payments
Drivers are the backbone of any online cab booking app, and keeping them pleased is essential to a thriving ride-hailing service. Give drivers the liberty to access their payments anytime they desire, without any manual help. This not only increases their confidence but also fuels their inspiration to deliver the best service to passengers.
5. Multiple Booking
Passengers should be capable of creating multiple bookings in advance. For example, a customer can schedule a ride to drop off at one airport and pick up at another airport.
6. Live Tracking
This feature allows the passengers to track their ride in real-time. They can assess the drop-off time, estimated driver arrival, and more.
7. Pop Mode
This feature enables the customers to choose the type of car they want for their ride. For example, they can choose a hatchback, sedan, or SUV
Technology Stack for Taxi Booking Apps
The technology stack is the heart and soul of taxi booking app development. So, you should have an understanding of the technology stack of taxi booking apps. Here is a breakdown of some of the most common technologies used in online cab booking app development;
Programming language: Kotlin, Swift, Java, or any other language.
Database: MongoDB, MySQL, and PostgreSQL.
Cloud services: Microsoft Azure, Amazon Web Services (AWS), and Google Cloud Platform (GCP).
Payment gateway: Braintree, Stripe, and PayPal.
Maps and location tracking: Google Maps
Push notification services: Firebase cloud messaging (FCM), or Apple Push Notification Services (APNS)
Taxi Booking App Development: What Team Structure Is Needed?
Taxi booking app development requires commutative efforts from skilled professionals. Here are some of the professionals whose expertise is required to develop an app;
Project Manager
UI/UX designer
Front-end developer
Back-end developer
Mobile app developer
Quality assurance (QA) expert
The team structure varies from project to project. You can consult with a taxi booking app development company to know the team structure required to complete the project.
How Much Does It Cost To Develop A Taxi Booking Mobile App?
Taxi booking app development depends on a variety of factors. Starting from app features, and complexity, to app development's location. Each factor has an essential role in cost determination. In general, taxi booking app development costs could be somewhere between $25,000 to $50,000.
This is just an estimate, the precise cost may differ according to the specifications of your app. The best approach is to get a consultation with an app development company with your requirements to get an idea of the cost.
Final Take
Taxi booking app development is a profitable venture. The market is overindulged with the competition, but still, the market has plenty of opportunities making it the right time for new entrants.
Inventocolabs is one of the leading mobile app development companies that has rich expertise in taxi booking mobile app development. Let's schedule an obligation-free consultation with us to learn how we can turn your app vision into a reality.
FAQs
1. How much time does it take to build a taxi booking app?
Ans. The time frame required for taxi booking app development is not definitive. It varies from project to project on the basis of factors like complexity, features, and timeline for competition. Since these factors are different for each project, so is the time to build a taxi booking app.
2. How to develop a taxi booking app like Uber?
Ans. Uber is one of the most successful taxi booking applications globally. You can develop a similar taxi booking app like Uber. Choose an app development company, find out your targeted market, and audience, and you're set to kick off your app idea.