Bike rental apps have changed the way people ride across destinations. Whether you are looking to beat the traffic or explore a new city, they provide an efficient way to rent motorcycles. This has provided businesses with excellent bike rental app development opportunities. Even if you are looking for eco-friendly options, you can do a quick search using terms like e-bike rental near me, electric bike rental near me, or e bike rental near me, and you'll have plenty of options in front of you.
The market is growing, and the trends show it will continue its upward trajectory. If you are a business looking to make the most out of this opportunity, you are at the right place. In this post, we'll discuss the various aspects of motorcycle rental app development for your business.
What is a Bike Rental App?
A motorcycle rental app is software that allows you to rent motorcycles. It provides a convenient method of short transportation. Users can enter their credentials and get information about the available bike-ride options. They will get the specifics of the motorcycle, time duration, and an estimated charge for the same. The company then makes document verification of the user and takes payment before handing over the bike to the customer. Most companies allow users to rent bikes on a per-hour or per-day basis.
Bike rentals have gained much popularity in recent times. This is why you can do a quick search on bike rental app near me in all major cities and will be able to find such services. The trends in the industry show that this rise in popularity will continue to grow. Businesses that want to get into e scooter app development will have to hire an e-scooter app development company, as most won't have dedicated developers.
How Do the Bike Rental Mobile Apps Work?
E-Bike rental app are simple to use. Usually, most companies have apps for both Android and iOS. You download the app and fill in your details, name, location, etc.
After this, you'll get various bike information, including price, availability, models, etc. Selecting a bike of your choice, you'll be asked to submit your driving license. The company will do a thorough document verification before handing you the bike. After this, you'll be handed over the bike. You can use it for your selected time. When that ends, you'll be asked to deposit the bike at the original rental store or any other partner store. Some companies take a deposit amount against the bikes. This amount is returned after verification of the motorcycle, ensuring there's no damage after the ride.
Market & Stats of Bike Rental App Development
The global bike rental is projected to reach $11.3 billion by 2031. This means an annual CAGR of 18.5% from 2021 to 2031. The two-wheeler rental market has been steadily growing with the advent of the internet and the ever-increasing internet penetration. After the pandemic, the world is returning to normal and many industries severely hit by it, like the tourism industry, are looking for revival. As the tourism industry slowly crawls back to normal, renting a two-wheeler has become a popular mode of transport for people.
A significant share of these bike rentals is through online mode. This provides an excellent opportunity for businesses looking to leverage this. As the internet reaches new markets with increasing internet penetration, this market growth trend is likely to continue.
Key Features of Bike Rental Mobile Application
Features are what will help you compete with the large established players like Uber bike rental in the market and play a key role in determining the success of your app. In this section, we will list the must-have features without which your app will not be able to be known as the best bike rental app. When you hire dedicated developers for your app, let them know that these features are what you are looking for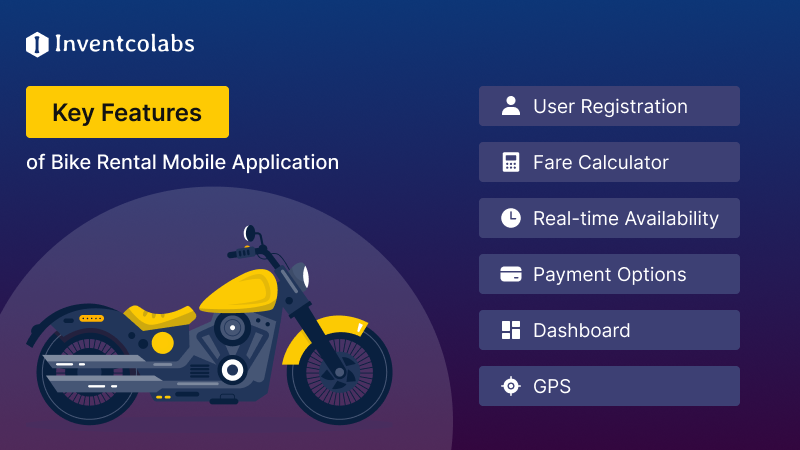 User Registration
The app must allow users to register by filling in various information like name, age, sex, etc. This registration can be done through email or any social media handle like Facebook. This will make the onboarding process for users even more effortless.
Fare calculator
The app development company must give a feature to calculate fares for the rental services. This will help users plan their journey and safeguard them from unpleasant surprises.
Real-time availability
Real-time availability is an excellent feature to have. This will help ensure that users are well aware of which motorcycles are available at any point in time. This goes a long way toward customer satisfaction.
Payment options
Users must be able to pay through the app. This can be achieved by integrating various payment methods with it. Fewer and fewer people are using cash these days, while online methods like card payments and wallets are becoming increasingly popular. This feature will ensure your app is future-proof and popular with the younger generation.
Dashboard
A dashboard is a beneficial feature for admins. It allows them to manage all the users easily without any hassle. This, in turn, helps them serve the customers and manage the business better.
GPS
GPS is a no-brainer feature to have on your bike rental app. This will help users feel safe and find their routes to the nearest store and destination. Additionally, admins can access this feature to ensure the safety of the bike and the rider.
Explore More: On-Demand Car Wash App Development Cost & Features
Benefits of Motorcycle Rental App
A motorcycle rental app provides several benefits to users and service providers. For users, it provides a convenient way to search, book and rent motorcycles. It eliminates the need to wait for hours and, in some cases. Users also get a massive fleet of vehicles to choose from and a community. With these apps, users get an easy way to make the payment for the rental. Most of these apps provide several payment options like PayPal, credit cards, debit cards, and online wallets.
On the other hand, service providers get an effective way to manage and streamline various processes involved in the business by investing in motorbike rental app development. This not only means a better way to manage and run the business but also equips them to scale it. When you hire bike rental app developers, they will ensure your app has a dashboard allowing admins to easily manage, locate and check on the bikes. So, developing a bicycle rental app is a win-win situation for both the users and the business.
Top Motorbike Rental Apps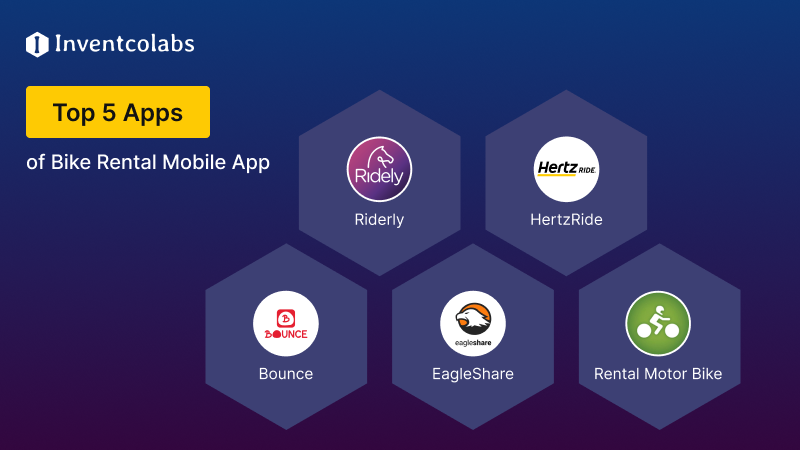 Riderly
Riderly is a popular bike-renting app. It offers the most extensive database of locations across the USA. You can choose a scooter, motorcycle, or quad using the app. You also have the option to select various add-ons with your bike, which will make your journey much more comfortable. The usual rate ranges from $100-200 per day; you only need to pay 15% of that amount initially. Rest, you have to pay after reaching your destination.
HertzRide
HertzRide offers bike rental services across various places in the USA and worldwide. It is excellent for people who want to enjoy the scenic roadside of the country. It provides BMW and Harley Davidson motorcycles. It also offers guided and self-guided tours around the country, usually a week long. You only need to pay 20% of the total amount initially, and you can drop your bike at another location.
Bounce
Bounce electric scooter rental is a popular electric bike rental app in India. It is an innovative mobility service provider with an all-electric fleet of two-wheelers. The ride rental is swift and only has three steps to it. First, upload your driving license; second, choose your bike and enter your destination; lastly, go to your nearest store to pick up the bike. Although currently, Bounce is operating in Bangalore and Vijayawada only, it is growing its operations to other major cities.
EagleShare
EagleShare is one of the best apps for bike rental in the US. It differs from its competitors as it provides a wide range of vehicles for renting. It has ATVs, dirt bikes, 3-wheels, scooters, and electric motorcycles for hire. EagleShare also offers fantastic customization services to make your ride enjoyable.
Rental Motor Bike
If you are looking to develop a simple, minimalistic app for rental bikes, the Rental Motor Bike app can be an excellent case study for you. The app has a simple UI, and the renting experience is similarly simple. You select a bike you want to rent, fill in your personal details, and go to the nearest store to pick it up. It offers travel insurance and damage waiver reduction for an extra sum.
Explore More: How To Develop An EV Charging Station Finder App
What is the cost of developing a MotorBike rental mobile app?
Bike rental app development costs can vary significantly as there are several factors involved. Some of these factors are the size of the team, platform, complexity, features, and the rate of the development team. Here's how they affect the final cost of the product.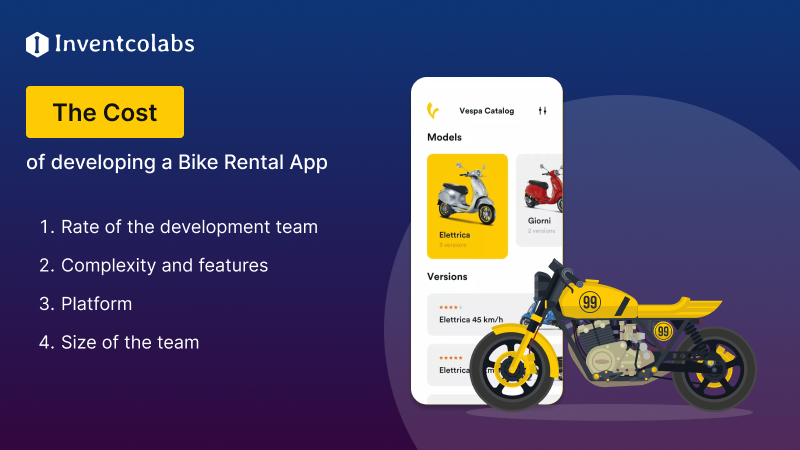 Rate of the development team
The rate of the development team depends on their expertise and their location. In general, motorcycle rental app developers from North America and Europe will charge a higher hourly rate than their South Asian counterparts due to purchasing power parity.
Complexity and features
The more complex the features and UI of the app are, the higher it is likely to cost. A bike app like Uber or a bike app like Ola will cost you much more due to the various complex features involved.
Platform
If you want to develop your app for both iOS and Android, you'll have to spend much more since a larger team will be working on your project. In most cases, two different groups will work on their respective platforms.
Size of the team
The size of the team working on your app will also affect the cost of e-scooter app development. Larger the team, the higher the cost of mobile app development. Due to all these factors, it is difficult to give a definite number for the cost of developing a motorbike rental app. For an app with basic features, your motorbike rental app development company can charge you anywhere from $20,000 to $40,000. For an app with more complex features, this can cost you anything from $45,000 to $90,000.
Explore More: How to Develop Bike Locker App
How can Inventcolabs help in motorbike app development?
Developing an app from scratch is a challenging task. If you are doing it from the ground up, it is going to be exhausting but it doesn't have to be that difficult with the right bike rental app development company by your side. At Inventcolabs, we have the right expertise to guide you even if it is your first app development project. With the finest iOS and Android developers in our team, we have the ability to develop any size or complexity of the app.
With our expertise and your business plan, we can have an app that can compete against the best in the business. In our 8 years of business, we have worked with over 200 businesses globally, and are recognized as one of the top mobile application development companies. This is a testimonial to the fact that we can deliver your project within the timeline and budget.
Conclusion
Bike rental app solution is a million-dollar opportunity segment. If you want to enter the market, this is the right time, as the trends are all positive. Hiring a good Android application development company like Inventcolabs will make your task simple, and with the right business plan, you can have a profitable business rolling on.
Explore More: How to Develop a Transportation & Logistics App?
FAQs
Q. What is a bike sharing app?
Ans. A bike sharing or rental app is software that allows users to rent their favorite two-wheelers across various cities. It is a far cheaper and more convenient option than renting cars.
Q. What is the timeline to develop a bike rental application?
Ans. The time required to develop a bike rental app will depend on the complexity of the app, features, and platform, among several other factors. Depending on these factors, it can take anywhere from 3-4 weeks to a couple of months.
Q. Why invest in a bike rental app development?
Ans. In addition to making the life of tourists and travelers easier, the bike rental app development market is a thriving one. It gives plenty of space to a newbie company with a full-proof blueprint.
Q. What are the various ways to monetize a bike rental app?
Ans. There are several ways to monetize your e-scooter sharing app. This includes a subscription-based model for frequent users, partnering with complementary and local businesses, and display ads.
Q. How can I make the onboarding process smoother for my e-bike sharing app?
Ans. To simplify the onboarding process, you must allow users to sign up using their emails and social media handles. You can also enable users to sign up using phone numbers.