App usage is on a dramatic rise with no signs of slowing down. The mobile app development market is going through an evolutionary transformation with micro-processing technology. Now, what is mobile application development? It is a process of creating, coding and managing software applications for mobile devices. The innovation of cloud-based back-end infrastructure not only boosted the development of multi-platform supportive mobile applications but also made it easier for app developers to effortlessly scale, secure, and add dynamic features and functionality.
By 2026, the demand for hire mobile app developers will increase by 24% globally, indicating a huge growth in all industries besides the field of information technology. The top mobile operating systems, such as Android, iOS, and Windows, enjoy the lion's share of this.
Market & Statistics of Mobile App Development
The mobile application development sector is upsurging, with over 6.3 billion smartphone users worldwide. The figure of 1.14 billion global tablet users has increased by 36% in the last six years. From 2023 to 2030, the mobile app sector is anticipated to reach a compound annual growth rate (CAGR) of 13.8%. Its current market size was calculated at USD 206.85 billion in 2022. The contribution of iOS and Android application development services has led to this success in the global economy.
The widespread use of mobile devices, rising internet usage, and the integration of AI and ML into mobile apps all signify the huge demand for mobile applications (apps). This further compelled startups and giant companies to hire Mobile App Developers to build custom mobile apps for their business.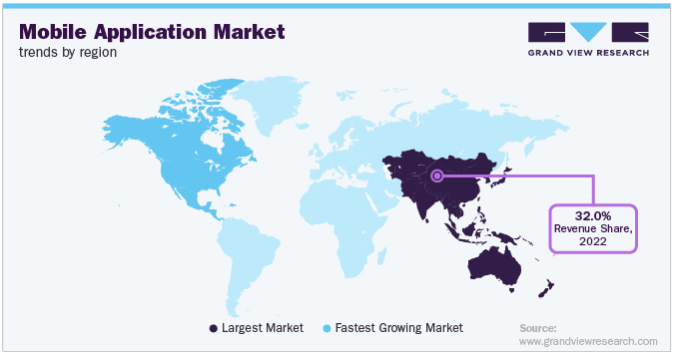 A Quick View of Mobile App Statistics for 2023
    In 2023, revenue from mobile apps is projected to reach over $935 billion.
    1.96 million apps can be downloaded from the Apple App Store.
    The Google Play Store offers 2.87 million apps for download.
    21% of Millennials use apps 50 or more times every day.
    49% of people use an app at least 11 times every day.
    Mobile apps account for 70% of all US digital media consumption.
    The typical smartphone user uses 30 apps per month and ten apps per day.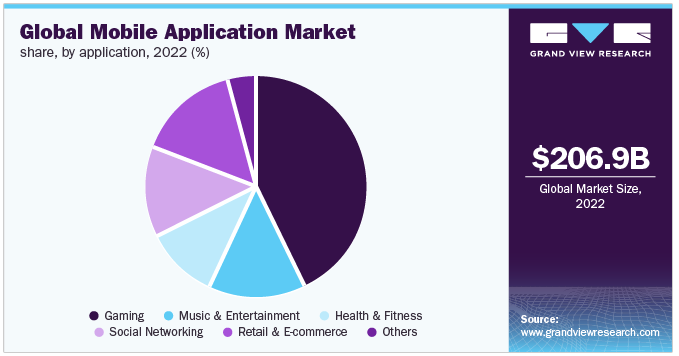 The growing reliance on smartphones has led to the popularity of mobile app development systems in the banking, financial services, and insurance sectors. According to surveys, the average American looks at their phone 262 times every day. This happens every 5.5 minutes. In fact, applications account for 88% of mobile time. These applications' scope includes uses for social networking, mobile fitness and health, music and entertainment, gaming, retail and e-commerce, and many other things.
It clearly shows that if a company is starting out its business in any of these sectors, it must invest in custom mobile app development to grab a huge share of this market opportunity. For a project to be successful, it is important to hire Dedicated Developers who are proficient in this field!
Top 11 Companies to Hire Mobile App Developers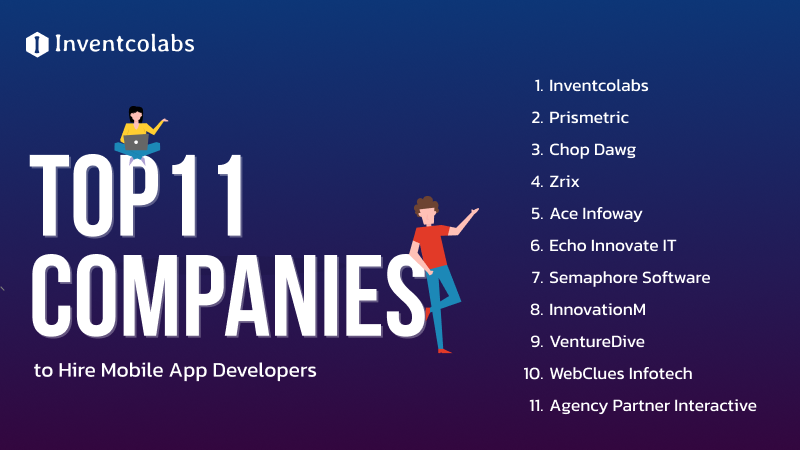 Our market study for mobile app development has identified some of the key players in this sector. These top app developers have used a variety of techniques to broaden their market share and reinforce their leadership in the sector. Let's have a look-
Inventcolabs
In the area of IT services, Inventcolabs has a reputation for nurturing innovation. With more than nine years of expertise in providing business-critical services to more than 200 firms across the world, this mobile application development company has made an enormous footprint in the sector. As the industry leader, they have developed many feature-rich applications with excellent usability. They aim to serve mobile affairs with robust IT solutions while delivering value.
Prismetric
An ISO 9001:2015 Certified Mobile App Development Company, Prismetric, with a development center in India and offices in the United States and Brazil, offers outstanding app development for iOS and Android devices, along with other web services, to deliver end-to-end solutions.
Chop Dawg
Since 2009, Chop Dawg has collaborated with businesses and entrepreneurs all across the world to bring to market more than 350 cutting-edge apps. Its goal is to direct every business and entrepreneur toward the best course of action for the long-term success of their operation. They provide set-rate pricing with specialized project management solutions and are experts in the design, development, and strategy of digital products. You can hire dedicated developers at Chop Dawg to build mobile apps for your business!
Zrix
Zrix is a cutting-edge web design and Mobile App Development company with offices in Raleigh. It specializes in software development, IT infrastructure development and management, UI and front-end design and development, online advertising, technology awareness programs, automation software development, blockchain technology, and mobile app development. Since the inception of the business in 2005, they have been successful in helping businesses with innovation and growth by reinforcing their concepts with robust IT solutions.
Ace Infoway
Ace Infoway has 21 years of experience in a wide range of IT services and has access to teams and resources in the United States, the United Kingdom, and India. They serve as remote development teams and act as an extended partner for more than 50 web agencies and companies that operate across a variety of industries. Ace's value proposition is based on its wide range of domain expertise, short learning curve, and quick turnaround. They have a dynamic and innovative crew of mobile app developers for hire.
Echo Innovate IT
A fast-expanding software development company, EchoinnovateIT offers clever solutions to a broad range of clientele. They are experts in offering mobile solutions, business solutions, corporate solutions, migration and re-engineering, and application development and maintenance. Their solutions have made a difference for the clients, giving them an upper hand in the competitive market. Since the beginning, they have offered their consumers cost-effective iOS and Android apps development solutions, which has led to absolute client satisfaction.
Semaphore Software
One of the top app developers, Semaphore, A Outsourcing division of Silver Touch Technologies, India, offers cutting-edge solutions in the areas of developing software, mobile app development, agile software development, e-commerce platforms, staff augmentation, ODC, etc. The business has earned certifications for CMMI 5, ISO 9001, ISO 20000, and ISO 27001. They provide services to a variety of companies, including SMBs, corporations, and public and government sector organizations.
InnovationM
The firm InnovationM is best known for end-to-end Android and iPhone app development, website creation, and designing eCommerce solutions. Over the last ten years, their software solutions have transformed a number of forward-thinking companies. The highly-skilled and informed team of software engineers and developers at InnovationM has produced excellent software projects for SMBs, IoT Solutions for Smart Cities, Custom App Development Solutions, Blockchain, UI/UD Designers, Big Data Analytics, and other fields.
VentureDive
VentureDive is a full-service partner for product design and software development. Being the best app development company, they are experts in the creation of mobile apps, websites, the cloud, product design, and data & analytics. Whether your objective is to create a brand-new digital product from scratch, enhance an already existing product, or scale your IT workforce, the company provides services to develop Android apps while supporting you in achieving growth goals.
WebClues Infotech
WebClues InfoTech is a one-stop shop for IT solutions and specializes in building stunning websites and applications for various kinds of businesses. Its talented staff combines years of knowledge and a knack for beautiful design to create a mobile app that is strong and intuitive. Their web solutions have helped businesses in attracting customers. With years of expertise building hundreds of websites for different clients throughout the world, their web development team is one of the best in the world.
Agency Partner Interactive
Not your typical IT company, Agency Partner Interactive (API) makes use of its own patented technology. The company owns everything they do, just like the leading IT companies in Silicon Valley, and its fully distributed business model offers the top developers and designers on the earth. Furthermore, it claims to help its clients enjoy an average of 40–60% savings in their investment spending, all without compromising quality. You can definitely hire developers from this agency to enjoy their unique digital solutions.
Explore More: Top Mobile App Development Company in Dubai
How to Choose the Best Mobile App Development Company?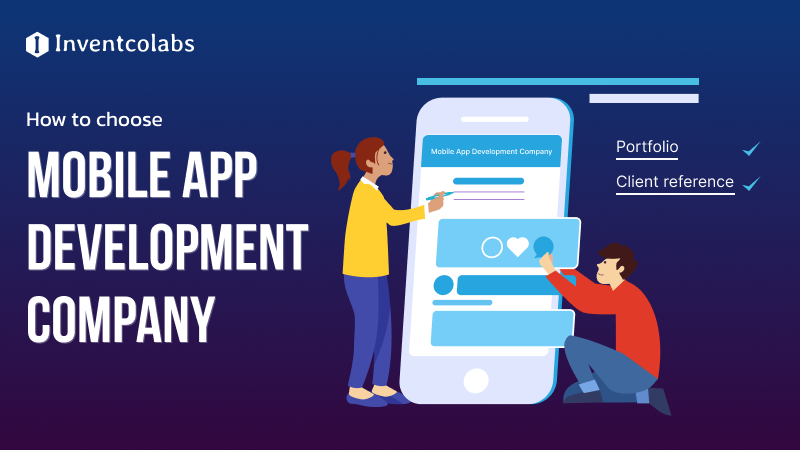 It can be challenging to find and hire Mobile App Developers for your project. Your chosen mobile app development company won't just be a team of people creating your new application. They should serve as your strategic advisor and guide throughout the steps, from concept to final product. Evaluating how well these app developers align with your brand, strategy, and technical requirements is important. This is why you must keep these considerations in mind while choosing a custom mobile app development agency.
Portfolio
When you hire Mobile App Developers, always check out the most recent apps that the agencies have created for their clients. Request samples of their best work, paying particular attention to apps that are comparable to what you have in mind. Keep an eye out for apps with an excellent user experience while examining a company's client and project portfolio.
Client reference
‍Another smart move is to get client references. To receive honest reviews of app developers' services, look for those who share the customer contact info. Learning more about the companies they have worked with, the difficulties they have faced, the technology they used, and how well they have performed previously can be a big wealth of information that will help in the right decision-making. App developers can say whatever it wants on its website, but customer satisfaction is real.
Mobile app development types
‍It is also important to know what types of Mobile App Development the agency specializes in. For example, you may have an app in mind that should be created on a native platform to achieve its full potential. It's important to find out if the agency has sufficient expertise in Android and iPhone app development. Likewise, if a cross-platform app is required, you should find out if the team includes mobile app developers with experience in hybrid app development languages.
Industry experience
An important factor is to check whether an agency has experience in your sector of business. In highly regulated industries like banking and healthcare, it is extremely important. Since they have experience in your field, it is most likely that they have come across some of the issues you plan to fix with your app or have dealt with related services. This can shorten the mobile application development process and help boost the app's quality.
Client focus
‍Several custom mobile app development companies are more experienced with particular types of clients. Some of them deal with startups and have a knack for helping fresh businesses fine-tune their app ideas. They also give startup companies cost-effective prices while leading them throughout the development process and outlining each step. Others are more interested in large organizations. These top mobile app developers can be more knowledgeable about delivery procedures at the enterprise level. To find out how compatible it is with your particular business model, it is important to bring up the question.
Post-launch support
A brilliant app designed today will become outdated in just a few years. Mobile operating systems are also updated multiple times a year. Therefore, no app is perfect, and even the best ones can experience bugs. So, when it comes to updating or changing the product, make sure that you hire developers who will offer the necessary support. It is important to know whether the Android apps development company will be providing after-launch support for bug fixing, maintenance, or updating new features.
Explore More: Top Reasons To Have A Mobile App For Your Business
Cost of Mobile App Development Services
The US market serves as a focal point for the creation of software and is also where technological titans like Apple, Google, and Microsoft have headquarters. Because of this, the need for qualified workers has increased, and development rates have accelerated. According to experts, Mobile App Development often costs between $50,000 and $100,000. Here's a general overview of iOS and Android application development services based on the complexity levels of the application-
Simple App Development Cost
These are one-page software with simple features that need less effort and technical know-how to develop. Simple application development costs $10,000 to $60,000 and takes two to three months.
Medium App Development Cost
An average medium application will cost between $60,000 and $150,00 to design. They meet the needs of both small and enterprise-level businesses and are created using advanced features and an innovative user interface in 3–9 months.
Complex App Development Cost
The cost of a complicated application development project can generally reach up to $300,000 since these applications come featured packed and are powered by data logic, multi-language support, and other technologies. These High-end or complex software solutions make use of sophisticated technologies and facilitate the integration of cutting-edge tools like AI, AR, and VR.
Summing Up
It is clear that the world of mobile applications is a dynamic sector and it will dominate the economy as one of the key market sectors. Making investments in app development will skyrocket the growth of your business. Inventcolabs is a global pioneer in mobile app development, providing mobile application development services to a global clientele. If you wish to turn an idea into a reality, hire Mobile App Developers from our agency.
Explore More: How to Create Mobile Banking App?
FAQs
Q. What does the future hold for app developers?
Ans. Mobile App Development has a bright future and a lot of options. The emergence of AI and ML, the creation of cross-platform modern web applications, the Internet of Things, and 5G have given developers the tools to make genuinely innovative and revolutionary mobile apps that can revolutionize how we live and work.
Q. What market dynamics are at play for mobile applications?
Ans. The widespread use of smartphones, rising internet usage, and the expanding use of technologies like machine learning and artificial intelligence in mobile apps are the key factors that have driven the growth of the mobile application industry.
Q. Which app categories are popular right now?
Ans. Social media, food delivery, transportation, healthcare, gaming, and rentals are the six categories of apps that are in demand.
Q. How much is the popularity of mobile apps?
Ans. 21% of Millennials open an app more than 50 times every day. On average, 49% of users open an app 11 or more times daily. Mobile apps account for 70% of all US digital media consumption.