Mobile banking has revolutionized the way we manage our finances. Gone are the days when you had to visit a bank branch to deposit a check or transfer money. Today, you can do all these and more, right from your smartphone. But have you ever wondered what goes into the development of these convenient and user-friendly apps? This comprehensive guide will take you on a journey through the world of mobile banking application development, exploring the key features and steps involved in creating a top-notch app.
Market and Stats of Mobile Banking Applications
The market for a banking mobile application is rapidly growing, as consumers increasingly adopt digital technologies for managing their financial transactions. The convenience and usability of these applications have made them a popular option for users seeking mobile financial management. 6 out of 10 mobile users prefer utilizing a finance app to check their investments over a mobile website. Moreover, the rising focus on digital transformation by financial institutions has further pushed the growth of this industry.
In recent years, a significant number of new players, including both major financial institutions and fintech firms, have entered the mobile banking services industry. By 2028, the global market is anticipated to grow at a Compound Annual Growth Rate (CAGR) of 11.9% and reach $1,359.5 million in value. According to the study, almost 97% of millennials use mobile banking applications now, while 89% of all customers report using mobile banking apps for various financial management functions.
Types of Mobile Banking Applications
Bank-Specific Apps
Individual banks have built these apps for their consumers to access their accounts and conduct various financial operations. With bank-specific apps, consumers may use their mobile devices to check account balances, view transaction histories, transfer funds, pay bills, and deposit checks. These apps are often safe and user-friendly, allowing users to conduct financial transactions from anywhere. 
Third-Party Apps
Financial technology (fintech) businesses create third-party mobile banking applications to provide a unified platform for managing funds. These applications enable users to join several bank accounts and examine all their financial data in a single location. Third-party apps often offer additional features such as budgeting tools, investment advice, and bill reminders.
Payment Apps
Payment apps are designed for mobile payments, allowing users to send and receive payments from friends, family, or merchants. These applications utilize mobile payment technologies such as QR codes and NFC (Near Field Communication) to execute purchases. Popular payment applications include Venmo, PayPal, and Square Cash. 
"Must Read: How Much Does It Cost To Develop An App Like Tabby Card?"
Investing Apps
Investing applications enable users to invest in stocks, mutual funds, and other securities via mobile devices. These applications facilitate the management of investments, the monitoring of performance, and the execution of trades on the go. Some popular investing apps include Robinhood, Stash, and Acorns. 
Budgeting and Personal Finance Apps
Apps for budgeting and personal finance assist users in monitoring their spending, budget, and other financial information. These applications enable users to classify their transactions, establish spending limitations, and track their progress toward their financial objectives. Examples of popular budgeting and personal finance apps include Mint, Personal Capital, and YNAB (You Need a Budget). 
Crypto Wallet Apps
The purpose of crypto wallet applications is to manage and store cryptocurrency assets, such as Bitcoin or Ethereum. These applications provide users with a safe method for storing and managing their digital assets, as well as conducting transactions and monitoring the value of their holdings. Examples of prominent crypto wallet apps are Coinbase, Blockchain, and MyEtherWallet. 
"Must Read: A Comprehensive Guide For EWallet Application Development"
Loan Apps
Personal loans, auto loans, and other sorts of loans can be applied for and managed via loan applications. These applications simplify and expedite the loan application process, with many enabling fast approval and funding. Moreover, loan apps permit customers to manage their loans, make payments, and examine their loan history via their mobile devices. 
Insurance Apps
Users are able to purchase, administer, and track insurance policies, such as health, life, and auto insurance, through the usage of insurance applications. These applications offer clients access to insurance goods and services, as well as the ability to see policy details, make payments, and file claims. 
Foreign Exchange Apps
Apps that offer foreign exchange services allow users to convert currencies for travel and other uses. These applications give real-time exchange rates and enable mobile transactions. TransferWise, XE, and Revolum are well-liked foreign exchange applications. 
Financial Planning and Advisory Apps
Financial planning and advisory applications provide users with financial planning and investment guidance, including asset management and retirement planning. These applications utilize sophisticated algorithms to analyze a user's financial position and provide customized advice for achieving their financial objectives. Betterment, Wealthfront, and SoFi Invest are well-known financial planning and advisory applications. 
Remittance Apps
Typically, remittance apps are less expensive than traditional wire transfer services when it comes to sending money abroad. These apps make it simple for users to send money to friends, family, and loved ones living overseas, and they also provide real-time exchange rates, which make it easier to follow the value of the transfer. Popular apps for international money transfers include WorldRemit, Xoom, and TransferGo. 
Benefits of Mobile Banking Application
Convenience
Individuals can access their bank accounts, conduct transactions, and manage their finances from anywhere, using mobile banking applications. This eliminates the need for bank visits in person, saving time and effort. Users can check their account balances, transfer payments, and pay bills with only a few touches on their smartphones or tablet. 
Enhanced Security
Advanced security procedures are employed by mobile banking applications to safeguard users' financial information and transactions. This includes secure login procedures, data encryption, and multi-factor authentication. Typically, mobile banking applications also include fraud detection algorithms to warn users of suspected fraud and prohibit unauthorized transactions. 
Real-Time Access to Account Information
A banking mobile application enables real-time access to account balances, transaction histories, and other financial data. This facilitates individuals' financial monitoring and decision-making. With real-time access, consumers can monitor their expenditures and make necessary budget modifications. 
Streamlined Bill Paying
Mobile banking applications simplify bill payment, fund transfer, and other financial processes. This decreases the chance of late or missed payments and saves time. Users may set up regular payments, examine payment history, and receive notifications when payments are made or received with only a few taps. 
Budgeting and Financial Planning Tools
Numerous mobile banking applications provide budgeting and financial planning solutions to assist consumers in managing their finances and achieving their financial objectives. These tools may include expenditure monitoring, savings objectives, and investment planning. Individuals can have a deeper understanding of their financial condition and make more educated decisions regarding their spending and saving habits by utilizing these tools. 
Integration with Other Financial Services
A wide variety of payment, investing, and loan apps, in addition to mobile banking, now feature seamless integration. This facilitates a more streamlined and convenient financial management experience. With this connectivity, users can simply transfer funds between accounts, monitor investments, and administer loans from a single application. 
Cost Savings
By eliminating the need for in-person bank visits and delivering lower transaction costs than traditional banking services, mobile banking apps can save individuals both time and money. It is more cost-effective for customers to use mobile banking to complete frequent transactions including balance transfers, money transfers, and bill payments. 
Instant Alerts and Notifications
Notifications about account balances, transactions, and security alerts can all be received instantly with a mobile banking app. This allows users to stay informed and take swift action. For example, users may receive a notification if a large purchase is made on their account, or if their account balance drops below a certain amount. 
Card Management
Cards can typically be locked or unlocked, spending limits can be set, and transaction histories may be viewed through mobile banking applications. Users can have greater control over their cards and finances with these options.  
Improved Customer Service
Mobile banking applications facilitate access to customer care and support, making it simple for individuals to obtain assistance when they require it. With features like live chat and in-app assistance, users can rapidly receive answers to their queries and fix any issues without visiting a bank branch or calling a customer service hotline.
Must-Have Features In Mobile Baking App
Secure Login
Secure login is one of the most crucial elements of a mobile banking app included by a mobile banking app development company. This comprises biometric authentication (fingerprint or facial recognition), password security, and multi-factor authentication. This ensures that only authorized users have access to the application and the sensitive financial data it contains. 
Real-Time Account Information
An app for mobile banking should enable real-time access to account balances, transaction histories, and other crucial financial data. This enables users to maintain financial control and make informed decisions. With real-time access, users can swiftly respond to account changes and take preventative measures against potential fraud. 
AI-Powered Budgeting
Mobile banking apps with AI-powered budgeting are able to assess a user's spending habits and deliver individualized suggestions for saving and budgeting. This functionality offered by fintech app development services can assist users in gaining a deeper understanding of their spending patterns and making adjustments to enhance their financial status. 
Investment Planning and Portfolio Management
Users can benefit from having access to investment planning and portfolio management tools within their mobile banking app. This may include tools for researching stocks and bonds, developing a customized investment strategy, and monitoring the success of their portfolio over time. 
Credit Score Monitoring
Some mobile banking applications provide users with access to their credit score and credit report, as well as credit score monitoring services to help customers monitor their credit and stay abreast of changes. This function can assist users in making informed financial decisions and improving their credit scores.
NFC-Enabled Payments
Payments made with mobile banking apps that allow NFC (Near Field Communication) payments are as easy as tapping the user's phone on a contactless payment terminal. This expedites the payment process and eliminates the need to carry physical credit cards or cash. 
Blockchain-Based Transactions
To ensure a safe and decentralized platform for financial transactions, certain mobile banking apps are built on blockchain technology by a financial app development company. This can assist in enhancing security, decreasing fraud, and accelerating and enhancing financial processes. 
"Must Read: How To Develop A High-Performing Blockchain App?"
Integration with Other Financial Services
A mobile banking app should integrate with other financial services, such as payment apps, investment apps, and loan apps. This facilitates a more streamlined and convenient financial management experience. With this connectivity, users can simply transfer funds between accounts, monitor investments, and administer loans from a single application. 
Virtual Debit Cards
Users of certain mobile banking apps are given the option of generating virtual debit cards for use in making purchases and other transactions online. Users can create temporary virtual cards with limited spending limitations or revoke the card if it is lost or stolen. 
Rewards and Cashback Programs
Customers who use their mobile banking app and enroll in rewards and cashback programs can earn incentives for making purchases or attaining financial goals. This can encourage users to use their cards more frequently and provide additional rewards for using the app.
"Must Read: How To Create A Loyalty and Reward App?"
Social Financial Attributes
Social finance features allow users to interact with their friends and family, as well as make payments and transfers to one another. This may include peer-to-peer payments, group payments, and bill sharing, which can give a more social and convenient method of managing funds. Users can also split expenses and give money to loved ones using social finance services. 
How To Build A Banking App: Step-by-Step Explanation

Research & Analysis: This is the first step in the mobile banking application development process, and it's crucial to gather as much information as possible about the target audience and the competition. The research should cover the following aspects:

Target audience: Who are the users of the app? What are their needs and preferences? What motivates them to use mobile banking apps?

Competitor analysis: What are the existing mobile banking apps in the market? What are their strengths and weaknesses? What makes them unique? How can your app stand out from the competition?

Industry trends: What are the latest trends and advancements in the mobile banking industry? How can you incorporate them into your app to make it innovative and cutting-edge?

Based on the research, you can identify opportunities for innovation, and create a comprehensive list of features and functionalities to include in the app.

Planning: In this step, you need to create a detailed project plan that outlines the scope, timeline, budget, and resources required to build the app. The following elements should be included in the plan:

Objectives and goals: What do you want to achieve with the app? What are the key features and functionalities you want to include?

User flow: How do you want users to interact with the app? What is the process for completing transactions, such as transfers and bill payments?

Technology stack: What technology and tools will you use to build the app? What are the system requirements and infrastructure needs?

Budget: How much money do you need to invest in the app's development? What are the costs associated with building, testing, and deploying the app?

Timeline: What is the project's timeline? When do you expect to launch the app?

Design: This is where the app's visual and interactive elements are defined. The design should be user-friendly, accessible, and visually appealing. The following elements are considered by a banking app development company when designing the app:

Wireframes: Simple sketches of the app's screens and user interface elements that outline the basic structure and layout of the app.

Mockups: Detailed visual representations of the app's screens and user interface elements, including color schemes, typography, and images.

Prototypes: Interactive models of the app that allow users to navigate through the app and experience its functionality.

Development: In this step, you will start developing the app by building the front-end and back-end components. The following elements should be considered:

Technology stack: Choose a suitable technology stack that meets the app's requirements and performance needs. The technology stack should include programming languages, frameworks, and tools for building the front-end and back-end components.

Security and privacy: Ensure the app is secure and complies with privacy regulations and standards. Implement measures such as encryption, secure authentication, and data protection to protect users' sensitive information.

Integration with payment gateways and banking systems: Integrate the app with payment gateways and banking systems to enable users to process transactions, such as transfers and bill payments, through the app.

Testing: Before launching the app, it's important to test it thoroughly to identify and fix bugs and ensure optimal performance. The following elements should be tested in the banking application development process:

User experience: Test the app's functionality, user experience, and accessibility on multiple devices, operating systems, and platforms to ensure it works seamlessly for users.

Security and privacy: Test the app's security and privacy features to ensure it is safe and secure for users to use.

Performance: Test the app's performance and scalability to ensure it can handle a large number of users and transactions without crashing or slowing down.

Compliance: Ensure the app complies with relevant regulations and standards, such as those set by financial institutions and governments.

Deployment: After the app has been tested and validated, it's time to deploy it to the app stores and make it available for download. This step includes the following elements:

App store submission: Submit the app to the app stores, such as Google Play Store and Apple App Store, and follow their guidelines and review processes.

Marketing and promotion: Create a marketing and promotion strategy to increase the visibility and downloads of the app. This can include online advertising, social media marketing, and influencer marketing.

User feedback and support: Monitor user feedback and provide support to resolve any issues or problems they may encounter while using the app. Continuously gather user feedback and use it to improve the app and add new features and functionalities.

Maintenance and updates: After the app has been deployed, it's important to continuously maintain and update it to ensure its optimal performance and security. This includes fixing bugs, adding new features and functionalities, and staying up-to-date with the latest technology trends and advancements.
Cost Of Developing A Banking Mobile Application
The cost of designing a mobile banking application can vary significantly based on a variety of factors, including:
Scope of the Project
:
The more features and functionalities you include in the app, the higher the cost will be. The cost will also increase if you want to support multiple platforms, such as iOS and Android, or if you want to build a web-based version of the app.
Location of the Development Team
:
Development costs will vary depending on the location of the mobile app development company. In general, development costs are higher in developed countries, such as the US, UK, and Australia, compared to countries with lower labor costs, such as India and Eastern Europe.
Experience and Expertise of the Development Team
:
Compared to a less experienced team, the cost of development will be higher if you deal with a highly skilled and experienced development team.
Technical Complexity
:
The technological complexity of the application will also affect the development cost. It will cost more to create an app with advanced features such as complex payment systems, security measures, and interfaces with banking systems.

Project Timeline
:
If you wish to construct the app rapidly, the cost of development will increase because more resources will be required to achieve the tight deadline. On average, the cost of banking app development can range from $50,000 to $200,000 or more, depending on the factors mentioned above. However, it's important to note that this is just a rough estimate and the actual cost can vary greatly. It is best to collaborate with a fintech software development company to obtain a more precise quote for your particular project.
How Inventcolabs Can Help You In Mobile App Development?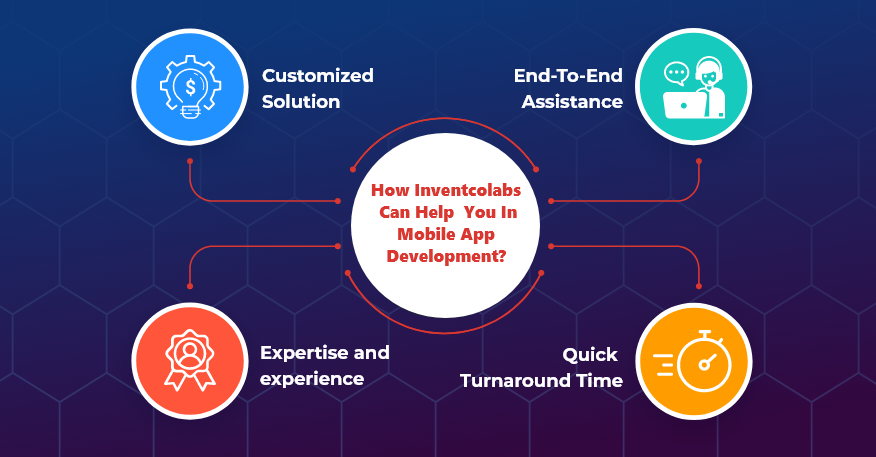 Inventcolabs is an industry-leading fintech software development company that focuses on providing clients with creative mobile app solutions. With an experienced team of developers, designers, and project managers, Inventcolabs can assist you in bringing your mobile app concept to life. Here's how we can help you in your mobile app development journey:
Customized solution:
Inventcolabs can work with you to determine your unique needs and objectives, and then develop a solution to fulfill them. We can assist you with designing, developing, and launching a mobile application tailored to your organization's needs.
Expertise and experience
:
Inventcolabs has a team of mobile banking app developers with the knowledge and experience to create high-quality, user-friendly, and secure mobile applications. They employ the most up-to-date technologies and design trends to ensure that your application is at the forefront of innovation.
End-to-end assistance
:
Our banking app developers offer comprehensive support, from conception to deployment and beyond. They can assist you with defining the requirements, developing the application, testing and verifying it, deploying it to app stores, and providing continuous maintenance and support.
Quick turnaround time
:
Inventcolabs's developers can develop your application rapidly without sacrificing quality. They can give you a quick turnaround time, allowing you to quickly launch your app and begin making cash. Overall, Inventcolabs can help you in every aspect of your mobile app development journey. Whether you're looking to create a new app from scratch or revamp an existing one, we have the expertise and experience to help you achieve your goals.
Conclusion
Mobile banking app development requires a lot of thought, effort, and planning. But with the right development team, a comprehensive understanding of your users' needs, and the latest technologies, you can create a mobile banking application that sets your financial institution apart from the rest. We hope this guide serves as an essential resource for anyone looking to develop a mobile banking app that stands out in a crowded market. So why wait? Get started on your mobile banking app development journey today!
FAQs
Q. What is the typical timeline for developing a mobile banking app?
Ans. The timeline for developing a mobile banking app can vary depending on the complexity of the app, the size of the development team, and the resources available. On average, it can take anywhere from 3 to 6 months to develop a basic mobile banking app, but more complex apps can take longer.
Q. How do I ensure that my mobile banking app is secure?
Ans. To ensure the security of your mobile banking app, it's important to implement robust security measures like biometric login, encryption, and secure socket layer (SSL) certificates. Additionally, your app should be regularly updated to address any security vulnerabilities, and it should have a clear privacy policy that outlines how customer data is protected.
Q. What is the best platform for developing a mobile banking app?
Ans. The best platform for developing a mobile banking app depends on your target audience and their device preferences. For example, if your target audience primarily uses iPhones, then developing an app for iOS might be the best choice. However, if your target audience uses a variety of devices, then developing a cross-platform app that works on both iOS and Android might be the best approach.
Q. Are mobile banking apps as secure as traditional banking apps?
Ans. Yes, mobile banking apps are designed by a fintech app development company with security in mind and typically use the latest security technologies and best practices to protect user data and transactions. In many cases, mobile banking apps can actually be more secure than traditional banking apps, as they often use biometric login and encryption to protect user data and transactions.
Q. How do I guarantee that my mobile banking app is scalable for future growth?
Ans. To ensure that your mobile banking app is scalable for future growth, it's important to choose a development platform that is able to handle increased traffic and users. Additionally, the app should be built using a modular architecture that makes it easy to add new features and capabilities as needed.