Dubai has all the makings of the finest 21st-century city. It has a great infrastructure backed by a booming economy. But what about the mobile app development company in Dubai? How is the tech community shaping up there?
In this article, we'll talk about the state of the Dubai mobile app development market, the importance of having a high-quality mobile app, and why businesses should pick Inventcolabs when looking for passionate, extraordinarily skilled, and results-driven mobile app developers.
Dubai Mobile App Development Market in Numbers
Other than finance & tourism, Dubai has also been attracting tech talent from across the globe. The recently concluded Dubai Expo is a clear indicator of the city's ambition to foster sustainable tech innovation.  The UAE government has also launched other great initiatives to position Dubai as a leader in innovation and technology.
Fair to say, there are lots of opportunities for mobile app developers. Here's a brief overview of the mobile app development market in Dubai:
Over 18.7 million active mobile users.
The most popular app categories are games, social media, travel, and eCommerce
$2 billion investment in technological infrastructure
Huge demand for custom mobile apps as companies try to stand out in a congested market.
Overall, Dubai's market and statistics for developing mobile apps are highly positive, making it a desirable place for a mobile app development company.
Why is Mobile App Development Company Required?
In any business niche, there are at any time several companies competing for the same customer segment. As such what separates the best from the rest is the fact how well a particular company markets its products and services, as well as how well connected they are with its customer base.
Turns out, developing a business mobile app is a great way to do both. But building a mobile app is not easy, especially if you don't have the right team of developers and product managers. That's where the role of a  mobile app development company becomes so important.
From improving customer engagement to increasing revenue, a mobile app development partner can deliver solutions that meet a business's unique needs and objectives.
Why is Inventcolabs the Top Mobile App Development Company in Dubai?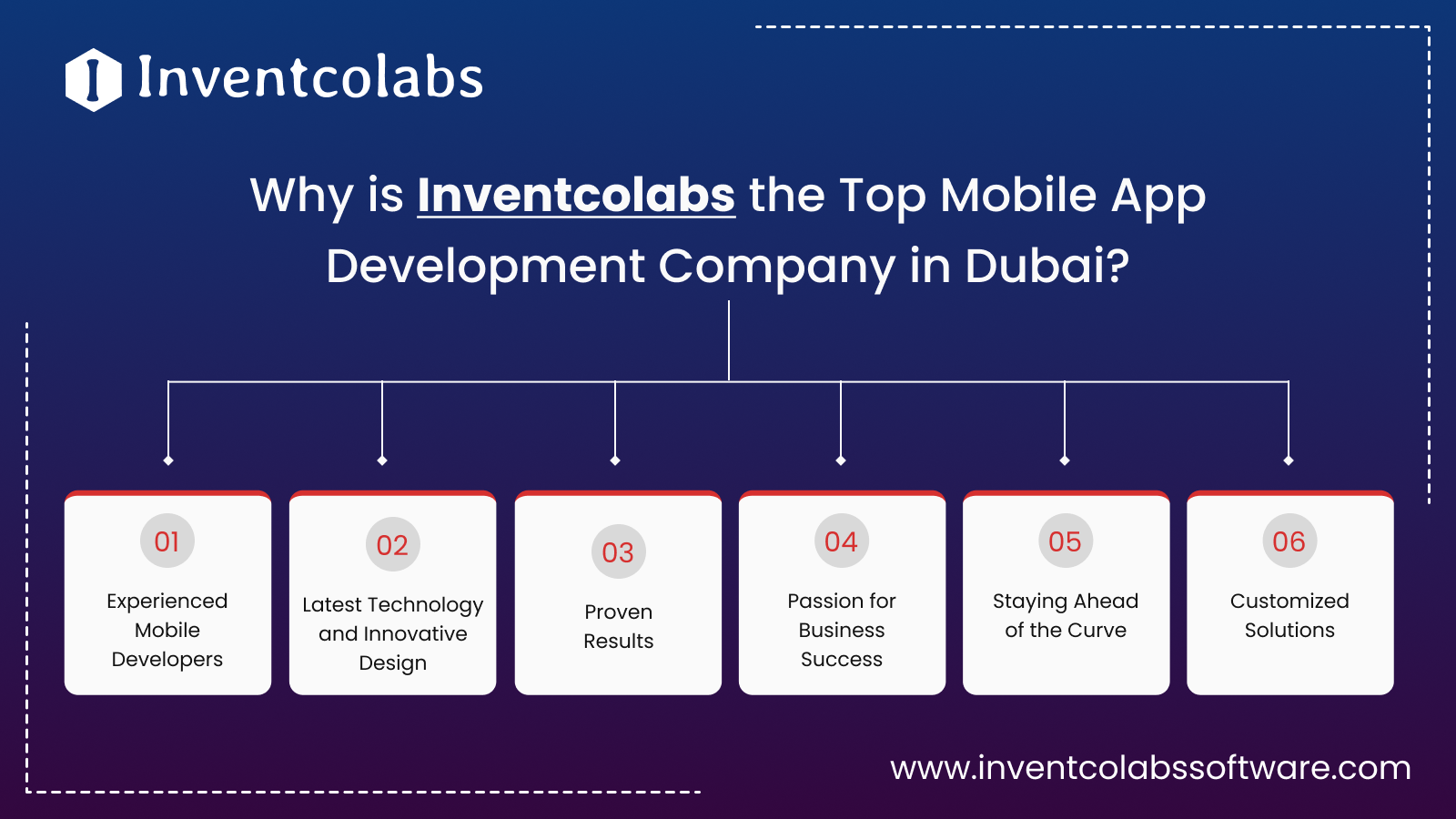 Our project portfolio and evergrowing list of happy clients speak for themselves. We have been in the mobile app development industry for more than 20 years and have completed over a thousand projects.
As a top mobile app development company in Dubai, InvenColabs is 100% dedicated to helping businesses ace digital transformation in everything they do. We use the latest technology and hire only the top developers to create apps that look great and deliver results.
Whether it's a custom app, an app redesign, or an app optimization, Inventcolabs 's team is dedicated to ensuring every project is a success. So, why settle for any mobile app development company when you can partner with the top one in Dubai? Let Inventcolabs help turn your mobile vision into a reality and build something great together.
What sets Inventcolabs apart from the rest?
Experienced Mobile Developers: A team of seasoned mobile developers bringing a wealth of knowledge and experience to each project.
Latest Technology and Innovative Design: 100% dedicated to utilizing cutting-edge technology and incorporating creative design into every project.
Proven Results: Inventcolabs has established itself as a leader. Trusted technology partner for companies of all sizes.
Passion for Business Success: Agile development methodology is a reflection of the company's passion to help businesses prosper using the best of mobile technology.
Staying Ahead of the Curve: Offers a complete suite of mobile app development services (AI, Cloud, salesforce, IoT, and more)
Customized Solutions: Customized solutions that meet unique business needs and goals. Custom solutions that drive business growth and success.
Must Read: How to Create Mobile Banking App?
Inventcolabs' Mobile App Development Services
Need an update for your app or want to build a completely new one from scratch, InvenColabs is a name you can always trust. Here's a list of the mobile app development services offered by Inventcolabs :
Custom Mobile App Development: Unique solutions for unique challenges. Get custom app solutions to take your business to the next level.
App Redesign: Redesign, relaunch, and explore new better opportunities with InvenTcolabs app redesign services.
App Optimization: Optimize app performance and visibility with Inventcolabs app optimization services.
Cross-Platform Development: Why build for many when you can build only one? Build apps seamlessly across all mobile platforms using Inventcolabs cross-platform development services.
Maintenance and Support: Keep your business app healthy and optimized for growth with latent app maintenance and support services.
Don't just build an app, build a digital business with InventColabs-  the top mobile app development company in Dubai for businesses of all sizes. Contact Now!
Tips to Hire Mobile App Developers
Not only InventColabs but Dubai is also home to a whole community of highly skilled and experienced mobe developers. But how do you go about hiring them for your next mobile app development project?
Here are a few tips you can follow: 
Set project requirements clearly – Be clear about the kind of app you want, the features you need, and the development deadline/budget.
Evaluate experience and expertise – It's important to hire a team with previous experience in developing the kind of mobile apps your business needs.
Ask for portfolio and references – Don't hesitate to see the developer's portfolio of previous work, and speak to their references.
Communication is key – Ensure that they can communicate effectively. This will leave no room for conflicts or guesswork during the development cycle.
Consider the cost – Are there any hidden costs or value-added services in the contract? Understanding everything in detail before signing the contract.
Of course, there are other factors as well. But these happen to be the most important ones.
Must Read: Top Reasons To Have A Mobile App For Your Business
Hire Dedicated Mobile App Developers from Inventcolabs
Need a cutting-edge mobile business app? Look no further than Inventcolabs! Hire top-rated mobile developers in Dubai and get a mobile app that does complete justice to your business and customers.
What sets InventColabs miles ahead of others is their passion and dedication to turning their client's needs into innovative business solutions. We work exclusively on your project. Stick to strict deadlines and ensure a collaborative development environment.

Whether you're looking for a custom app from scratch, redesigning your existing app, or ongoing support and maintenance, Inventcolabs mobile app development services in Dubai will bring your vision to life.
Don't settle for a cookie-cutter app; hire dedicated developers in Dubai from Inventcolabs and build something unique that sets your business apart. Get in touch with Inventcolabs today to learn more!
FAQs
Q: How many app development companies are there in Dubai?
Ans: It would be hard to share a figure. But yes there are tons of development companies-small and big. InventColabs happens to be among the top mobile app development company in Dubai.
Q: How much does it cost to develop an app in UAE?
Ans: Project development costs can vary depending on a range of factors-complexity, features, native/cross-platform, custom/generic, etc. At our company, we offer competitive pricing and always ensure apps are developed within budget.
Q: Do you sign an NDA?
Ans: Indeed, we take the privacy of our clients seriously and need them to sign an NDA before beginning any project.