As a healthcare professional, you are constantly searching for tools that can streamline medical processes and boost revenue effectively. Your employees will be able to spend more time providing excellent customer service and less effort on paperwork and tedious activities if you choose the right medical billing software.
What is a Medical Billing Solution?
Medical billing software is designed to streamline financial operations by automating repetitive human procedures, including payment process and medical coding. Medical offices can significantly minimize or even do away with payment processing problems thanks to medical billing software. In order to decrease the amount of refused claims, billing software assists office workers in properly formatting claims and validating insurance service codes.
Why do you need Medical Billing Software?
A crucial component of medical billing is industry compliance, which healthcare software development programs need to meet. Medical billing software is useful in this situation. Furthermore, a review of medical billing software would only be complete with addressing the expense involved in developing it.
Hospital billing system makes it easier for doctors and their staff to get paid for their services and helps to keep healthcare organizations in compliance with privacy laws. Overall, it manages the billing process in a secure portal.
Benefits of Medical Billing Software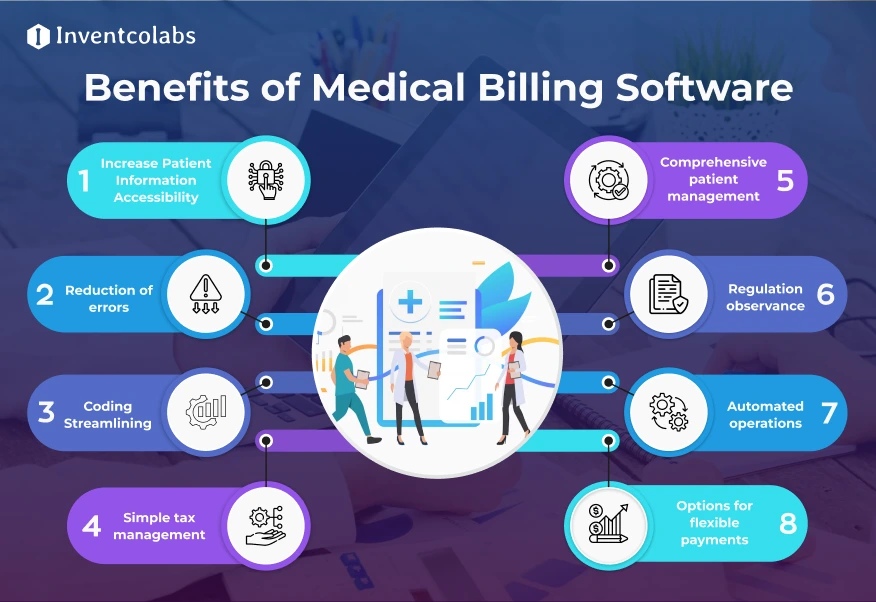 Increase Patient Information Accessibility:
Using medical billing software gives greater authority over patient invoicing data and makes it much easier for clinics to access the information. If you have quick, safe, and precise data available to you, your task will be done much more quickly and efficiently.
Reduction of errors:
Human mistakes may occur during manually entering information and invoicing operations in numerous ways. This may severely hamper the accuracy and effectiveness of the entire process and cause payment holdups and compliance problems. Such problems can be fixed by specialized hospital billing software by aiding with the coding process, validating the data, and easing the submission of accurate claims.
Coding Streamlining:
ICD-10 marking system is being slowly embraced as the common, standard system of coding for doctors and other healthcare providers. A standardized set of medical codes increases efficiency in private practices and streamlines the coding procedure in medical invoicing software for clinics.
Simple tax management:
It makes it simple for companies to compute taxes, produce e-way bills, and submit GST reports on schedule. The inventory, manufacturer, and order of purchase management tools included in GST billing software can help firms optimize their activities and lower error rates.
Comprehensive patient management:
Electronic Health Records (EHR) and practice administration programs are strongly integrated with medical billing solutions. This makes it simpler to organize and expand data sharing, allowing for better patient care collaboration and reducing the chance of health data accidentally being lost.
Regulation observance:
Since healthcare involves working with delicate medical client data and making decisions that have an immediate impact on people's health and well-being, all healthcare practices and businesses must conform to stringent industrial rules. These are provided by the medical billing software for small business.
Automated operations:
Utilizing software to automate bill claims and compensation processes, medical billing optimizes operational efficiencies. Along with handling follow-up claims, automation optimizes processes with punctual alerts and messages. For easy payments and reimbursements, medical billing computer software has built-in eligibility confirmations across patient records.
Options for flexible payments:
To provide flexible settlement choices, healthcare professionals may combine medical billing software with a variety of payment gateways. Wide payment alternatives improve patient experiences while making healthcare easier and cheaper. Patient-facing websites that are mobile-friendly and have slick user interfaces that lead users via a simple settlement procedure could be included in a medical billing software system.
Explore: How To Create A Medicine Delivery Mobile App?
How Does the Medical Billing System Work?
The intricate practice of medical billing is streamlined by contemporary bespoke billing software, which also makes it accurate, precise, and suited to the unique requirements of medical professionals. Here is an explanation of how a medical billing claims software usually operates:
Patient Data Input:
The system receives patient's personal and insurance data, as well as information about the services they got and the CPT and ICD-10 codes that go with them.
Confirm The Accuracy:
The system looks up the patient's insurance information and, thanks to its integration with the EHR, confirms the accuracy of the supplied data. This information supports an assertion.
Patient Checkout and Visit Medical Coding:
After seeing the doctor, the patient will check out at the office's front desk. According to the insurance plan, the patient will now pay their copayment for the visit. In order to determine what treatments were performed, reception will read the patient's medical report, referred to as the "superbill," after collecting the patient's outstanding balance.
Claim Preparation:
Using the superbill as a basis, the software generates unique requests for each service while taking the patient's insurance plan's specific criteria into account. The services are in accordance with the proper codes.
Rejection Management:
If a claim is refused, the program explains why and makes it easy to make the necessary modifications and resubmit the claim, increasing the likelihood that it will be accepted.
Receiving claim:
The insurance company finally receives the claim in the required format. The procedure is repeated if there are any queries or remarks. The insurance provider replies to the agency that received the claim with an inquiry in the same style.
Take Action:
When a patient pays their portion of the bill, the billing company is contacted, and the information is recorded in the patient's file. It is the medical biller's responsibility to follow up with patients who have unpaid invoices in order to determine why this happened.
Types of Medical Billing System
Open System:
An open framework allows for transfers among medical professionals, clinics, establishments, etc. The use of EHRs, or digital health records, is an illustration of adopting an open medical billing system. Sometimes, in the medical community, EMR and EHR are used interchangeably. An open system necessitates effective communication and collaboration between the medical billing software.
Secure/Closed System:
An exclusive practice is the focus of a closed medical payment structure, which utilizes digital instruments to track health information. The best digital tools, in this case, are EMRs. Electronic medical records (EMRs) offer comprehensive patient data, including finalized prescriptions and schedules for corresponding treatments.
Isolated system:
A system that is totally cut off from medical centers, practitioners, and doctors is said to be isolated. Personal health records, or PHRs, are utilized in standalone medical billing systems. All medical records are kept by the patients, who also create and maintain them. These records are distinct and are not intended to replace EMRs or EHRs; rather, they are intended to assist patients in managing their health data.
Key Features of Medical Billing Solution
Custom medical billing system software and coding procedures can reduce revenue cycle oversight errors, speed up the evaluation of insurance claims, and significantly increase overall healthcare billing.
Medical billing software features should be as follows:
Including external system integration:
An adaptable and rapid integration feature and interfaces are the core features of medical billing software that enable speedy optimization of financial operations in an EHR or comparable system. Billing software can further complicate the practice process if it cannot easily link with third-party apps, which is contrary to what it is intended to do.
Claims Administration:
To avoid financial losses, this functionality is essential in the claims processing procedure. It can pinpoint problems like rejected claims and inaccurate billing codes, deal with them, notify the appropriate parties, and make communication easier.
Patient Management and Registration:
The Patient Registration and Monitoring functionality is a vital component of any best medical billing software. In order to guarantee that billing procedures are error-free, effective administration of patient data is necessary in addition to being a necessary operational requirement.
Keeping Data Securely:
Individual data, health history, laboratory findings, photographs, and other types of confidential data must all be kept private. To avoid leaks and breaches, custom medical billing software must use trustworthy and secure information sources and technology.
Appointment-making program:
Comprehensive scheduling tools should be a part of any good medical billing software in order to improve interactions between patients and doctors. You can maintain track of your appointment history and medical records by having all of the appointments in the system.
Analytics and Reporting:
Analytics and reporting are essential for evaluating the financial stability of healthcare app development companies. These capabilities give the company the ability to monitor revenue, identify billing mistakes, and examine other performance data. It is one of the advantages of medical billing software, including decision-making based on data and revenue optimization, to make the investment worthwhile.
Tracking Bills And Payments:
The patient's complete account for payment processes like billing is taken over by the medical accounting software, which also keeps track of all of the patient's appointments and treatments.
Explore: Complete Guide to Develop a Doctor Appointment Booking Application
How to Develop a Medical Billing Software?
It would be best if you determined whether your practice would profit from outsourcing its software development or from hiring in-house or freelance developers. Whatever option you decide on, the team must be totally dedicated to helping the project succeed.
Comprehensive market research:
Understand the organizations that handle the billing process by conducting extensive studies and evaluations on the healthcare sector. Interviews with prospective clients, such as hospital authorities, independent practice owners, and even clients, can offer insightful information about their habits and difficulties with payments.
Designing and Building:
The development team gets to work on the layout and structure as soon as they get all the data they require. At this stage, the subsequent steps may be included in the designing of medical billing software:
Designing an accessible interface that healthcare professionals use.
Illustrating the sequential steps in the billing process for medical services, from registering patients to claim filing and payment handling.
Selecting how to organize and keep data in the database section of the software.
Establishing the billing system's compatibility with other medical facilities.
Implementing security methods to safeguard financial and medical information.
The Development Companies Selection:
You must choose a Medical Billing Software Development Company, either internal or external, and make sure they can assist the undertaking from idea to conclusion if you want to create bespoke medical billing software. It is worthwhile to hire dedicated developers, a team of business experts, software developers, UI/UX designers, and application testers to speed up and streamline the development cycle.
Scripting and Application:
This stage sees the creation of the code that transforms the design and structure into real functional software. The following can be found in the tech stack used to construct medical billing software:
Back-end:
 Java (with the Spring Framework)
Ruby on Rails
Node.js
Python (with Django or Flask frameworks)
Front-end:
HTML5
CSS
JavaScript
React
Angular
Vue.js
PostgreSQL
MySQL
Microsoft SQL
Security:
Cloud Service:
Integration process:
To make it simple for you to confirm your patients' insurance qualification, your medical billing software needs to integrate with insurance firms. Integrations with other programs ought to appear on the list because it is always simpler to expand an existing system by adding a new module or using a third-party tool than to start from blank.
Put security next:
Go for testing to ensure the security of the software. Data safety is crucial to the development stage since medical and healthcare billing software handles private data. The application should adhere to data protection and regulation laws like HIPAA and GDPR while providing secure backups and data encryption.
Assistance and Monitoring:
Similar to any healthcare solution, medical accounting solutions may need multi-tier technical assistance. Keeping in communication with your team to advance is, therefore, essential to maintaining software. Upgrades occur in accordance with consumer input, and the strategy is kept current by including fresh functionality, eliminating bugs, improving the code, etc.
Explore: Top 11 Medicine Delivery App Development Companies in 2023
How Much Does it Cost to Build a Hospital Billing Software?
Whether you engage freelancers or outsource to the medical billing software or mobile app development company, developers typically charge hourly rates. However, the price of customized medical billing software also relies on the feature set, functional integrations, communication interface, technology used, and other factors. The price of the full medical billing and coding software depends on the size of the organization. The requirement for on-site servers raises the price as well.
Estimation:
Developing medical billing software cost typically varies depending on a number of variables, as mentioned, and is undoubtedly specific to each project. The total price for designing a medical billing system ranges from $50,000 to $120,000, taking all the development into account.
In Conclusion:
Medical practice efficiency may be greatly increased by having a custom medical billing system that can manage claim proposals, monitor medical billing programs, and provide detailed information in the same. From this blog, you got to know that billing software is a crucial part of providing healthcare services.
FAQs
Q1. What type of software is typically employed for invoicing for medications?
Ans. Streamlining the billing and management of revenue cycle operations for medical practices of all sizes is made possible by cloud-based medical billing software.
Q2. How does the medical billing system work?
Ans. The work of the medical billing system starts with the enrolment of patients, verification of insurance, claiming for health billing and coding, payment posting, management of receivables and ends with reporting the data.
Q3. How does the medical billing development services benefit the healthcare system?
Ans. The medical billing software development service reduces expenses and boosts productivity. The cutting-edge, in-house software keeps track of each claim throughout the entire payment cycle, saving money on unpaid claims. They use modern technology to access billing records before leaving the doctor's office.
Q4. What is the function of a billing system in a healthcare office?
Ans. Medical practitioners can use the medical billing system to handle patient information, file healthcare claims, transmit online medical bills and medical documents, monitor transactions and many more.