The market size for on-demand home services in UAE is projected to grow at a steady rate of 9.7% CAGR in the next three years. People have started to incline towards on-demand cleaning services because it saves lots of time that can be used for other activities. The increasing demands for such services have made startups look for a home cleaning app development company.
Do you want to know how brands like Justlife and ServiceMarket entered in the Dubai home cleaning market? Performing proper research is helpful in creating a brand with huge profits in the long run. If you are up to gathering important information on how to build house cleaning service apps and get started with your journey in this industry, go through this detailed article now!
What are Justlife, Washmen, and ServiceMarket in Dubai?
Have you considered the top names in Dubai's on-demand home cleaning services industry? The top names that will come to mind are JustLife, Washmen, and ServiceMarket. Let us talk about all three of them in detail below:
This brand is the premier example of how a home management app development company should work. It is a top cleaning platform offering a solid range of services, from furniture care to home cleaning and disinfection. This super app allows users to book the service within a minute making things extra convenient.
They have a user base of more than 1 million which allows them to generate a yearly revenue of over US$ 36 million. Presently, they have a network of more than 25,000 professionals that is growing steadily. 
Washmen is one of the best house cleaning service apps in Dubai, allowing users to easily book cloth washing and dry cleaning services. They give convenience to schedule pickup and drop off using their app. Established in 2015, they have gone through an exclusive journey by grabbing a strong user base.
The users can schedule pickups on the same day and deliveries are usually completed the next day according to their requirements. There are care-label instructions followed for the examination and cleaning of every item. 
The home cleaning app Development Company behind ServiceMarket came with a unique approach connecting users with professional service companies. It is an online marketplace for enjoying household and office cleaning services. They offer online quotes and bookings for a variety of tasks, like home cleaning, international moving, maid services, and many more.
This platform makes connecting with licensed home service organizations easier for the normal audience. Finding the right professional using the ServiceMarket app is convenient for anyone in a big city like Dubai.
Must Read: How to Create Home Management Application Like Taskrabbit?
How Do Home Cleaning Apps Work in Dubai?
The concept of how home cleaning apps work in Dubai is critical when someone wants to succeed in this industry. Cleaning apps use a simple approach to connecting users with service professionals. Have a look at the steps of how these apps complete their operations.
Telling Your Requirements
The first thing needed to be done by users is to tell what kind of requirements. As we have already explained, home cleaning apps offer a huge variety of services. In simple language, they have to explain what services are needed. It can be anything from home cleaning to laundry or related work.
Finding the Right Professional
Once the platform knows your requirements, it will present quotes from various service providers. If we talk about reputed platforms like JustLife and ServiceMarket, they only have licensed providers from which users must choose as per their requirements and ratings with ease.
A home cleaning app development company always focuses on online management, allowing users to reschedule appointments and pay the professional at their convenience. It simply allows them to manage everything online at their fingertips without much trouble. 
Once users accept the quotes, they must pick the time slot and finish their job. There is a professional housekeeping professional who arrived at the slotted time to keep the job done.
Must Read: Top Mobile App Development Company in Dubai
Benefits of House Cleaning Apps in UAE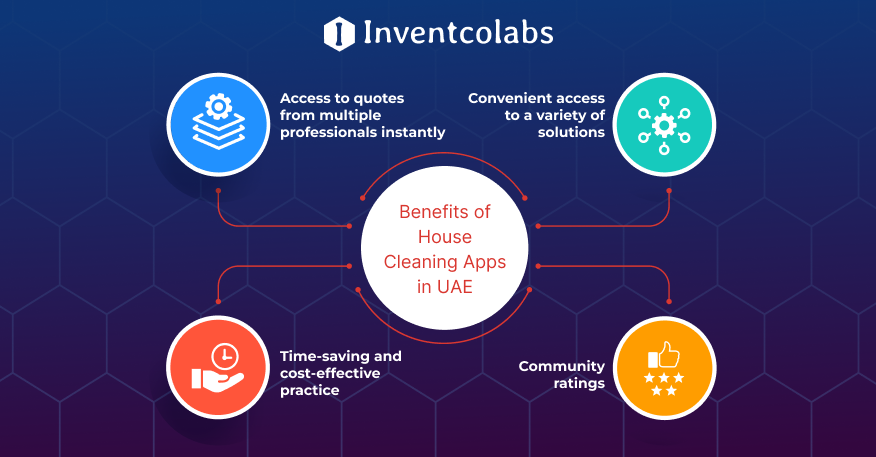 There are tons of advantages people in UAE can enjoy using house cleaning apps that we have mentioned below:
Access to quotes from multiple professionals instantly
The biggest benefit these cleaning apps present to customers is access to several professional providers in minutes. They can check their profiles and choose the one that suits their requirements. The choices can also be made on various factors, like budget, ratings, etc. 
Convenient access to a variety of solutions
The next thing customers can enjoy is convenient access to a great number of services. It is the main reason why professional home management app Development Company tries to add various options for making things convenient for users. 
Time-saving and cost-effective practice
Hiring a professional cleaning service agent through a house cleaning app can save you a good amount of time. Instead of spending hours on odd cleaning jobs at home or chasing, you can rather invest your time in more productive and important things. Other than this, you also get options to hire services that fit your budget as you get competitive and transparent pricing on these platforms. 
The users can rate the level of services on these apps, which helps estimate the quality of service providers for others. It is a very wonderful tool that assists users in selecting a quality service provider.
How To Develop a House Cleaning Service App Like Justlife, Washmen, and ServiceMarket
To build your app for on-demand house cleaning you have to take a step-by-step procedure and work on a definite execution roadmap. This whole process of building the app is primarily divided into 3 major steps. The first step of which is the market audit, followed by plan creation, and finally the design & development of the application. 
Market Audit
In the attempt to build a house cleaning service app like Washmen or Justlife, you need to first conduct feasibility research by performing market audits. This research pivotally revolves around identifying market potential, existing competition, market gaps, audience personas, and buyer journeys. This initial exercise gets you the right direction and going-ahead plan for building the right product that is supported by project-relevant use cases, market data, and value analysis. 
Creating A Plan
Once you have done your research, you need to bring everything together and curate it into logical datasets and derive it into a workable action plan. Without a guided and structured way of doing it in the form of a procedural plan, it is not going to get you a fool-proof on-demand service app like ServiceMarket or Washmen. Here, you have to identify and outline the app's functionality, workflows, and user experience design among other significant aspects of building an on-demand service application to get the best turnarounds. 
Design and Development
Lastly, it is about getting it to perform and deliver to best serve the target audiences. In this process, the on-demand app development company or the developer you hire would work on wireframing and designing the application. This is followed by the development of the app which gets the house cleaning services to functionally respond and serve the users.
The entire process involves a streak of trials and considerations to get the best fit of quality, security, cost, and performance. It continues to take up testing and iterative deployment before the all-compliant and inclusive release takes place.
Must Read: How To Develop An Apartment Management Software – Features & Cost
Conclusion
Although home cleaning apps have a huge demand in every part of the world, they have made a terrific market in UAE. If someone is planning to build one, they are on the right path and should take the help of a professional home cleaning app development company.
There is a huge scope for these apps in this industry, and it is essential for any existing player or budding venture to grab this opportunity hands-on. The presence of such platforms lets customers complete a variety of tasks in a cost-efficient and timely manner.
Have any queries regarding house cleaning service apps in Dubai? Feel free to write about it in the comment section! 
FAQs
Q. Is house cleaning apps profitable in the UAE?
Ans. Beginning an online on-demand cleaning business is a rewarding and lucrative choice for young entrepreneurs who want to impact this growing industry.
Q. What are the best house cleaning apps in Dubai?
Ans. If someone asks about the very best in the business, those are JustLife and Service Market which are widely known for providing quality customer service.
Q. How much does it cost to build a house cleaning app in UAE?
Ans. Although it depends on a number of factors like the choice of features and functionality, communication interface, technology stack and platforms, and the operational size of the application, it may cost anywhere between US$ 15,000 and US$ 40,000 on average. The exact cost depends on the combination of factors you select to go with and the resulting project's scope and timeline.