If you have an interior designing opportunity coming up, you should have a say in it and not leave everything to the experts. Maybe you want the space to match your unique taste and not just go with what's popular. But you're not an expert. So how do you make any constructive criticism? This is where an interior design app comes in. With its help, you can see how the different parts of the space will complement each other and how the area will look in the end. It has equipped users with zero knowledge of interior design to have a say in the design of their rooms and help them make better decisions. 
There are many free interior design software available in the market, but the industry also has the potential for growth for new players. This is why businesses are investing heavily in interior design app development.
If you are a business looking to invest in interior design app development, you're at the right place. Read on as we discuss everything related to it, from cost to benefits. Let's dive right into it. 
What is an Interior Design App?
A home design app is a mobile application that can help you if you want home remodeling ideas. It can help you visualize the interiors of an empty space, be it a room or office space. You can think of the app as your personal home interior designer. It uses the latest technology, like Augmented Reality (AR) which helps you imagine how furniture or decor items will look in the space. It is a valuable tool for both homeowners who want to design their interiors according to their individual tastes and for professional interior designers. 
How does an App work for Interior design?
In interior designing apps, first, you select the type of space it is, kitchen, living room, office, etc. After that, you put the floor plan for the space to visualize the space and how it will look in the end. Some apps provide Augmented Reality (AR) which quickly scans the place. Then you can select from the app's extensive range of furniture and decor. This helps visualize the room's appearance after all the furnishings are placed. Finally, you can select from a range of color schemes and lighting. This will help you finalize the end look of the space.    
Many apps allow users to share these apps in 3D models with their contractors or friends for input and collaboration. 
Role of Augmented Reality in Interior Design App Development
Augmented Reality (AR) is the technology that revolutionized interior design apps. It helps you visualize the room, furniture, and decor in it to near perfection. Users get a realistic feel of the space before spending any money on it. AR powers users to make better decisions as it helps them visualize how different elements will look in their space. It allows them to customize the area according to their individual taste and likeness. 
AR also allows users to make real-time changes to their spaces. This, in turn, means fewer disappointments for users as they are happy with the final output. 
If you are thinking about interior design app development, AR is a must-have tool in your app. Without it, you will have a hard time competing with established home interior design apps in the market.  
Popular Virtual Interior Design Apps
There are several popular interior design mobile apps, both free and paid. Some of these are listed below;
IKEA Place
IKEA Place is an app by the Scandinavian furniture seller- IKEA. The app uses AR to visualize how its furniture will fit or look in your room. The app provides very precise dimensions and scales of your space. Users can browse the extensive products catalog of IKEA and place them virtually in their area. Since the app uses 3D models of the products, you get an exact feel for the after-view of the room. It is a must-have app if you are a fan of IKEA products.    
Houzz
Houzz is another home remodeling and free interior design app. Unlike IKEA Place, which allows its own products to be visualized, Houzz will enable you to shop for products from a wide range of brands and retailers. The app has integrated AR and VR that help you imagine the place you are remodeling with precision. The app also offers many photos for inspiration before you start your interior design journey.  
Homestyler 
Homestyler is one of the best free interior design apps by Autodesk. It provides tools for both 2D and 3D design capabilities. The AR integration in the app allows users to visualize how a design element will look in the room. The various design elements are customizable so that users can choose them according to preferences in color, size and match the room's aesthetics. The app also has fantastic sharing and collaborating capabilities, which lets you take inputs from friends, family, and loved ones.  
Roomle
Roomle is another popular home interior design app. It is known for its user-friendly interface and easy-to-use tools that help you easily design any area. Due to the AR integration that the app comes with, users can use their smartphone or tablet camera to virtually place objects in their rooms. But two features that help Roomle stand out from other interior design apps are offline mode and price estimation. Both of these features are very helpful for users.  
Planner 5D
Planner 5D comes with AR, allowing you to visualize your room by placing the items virtually. You can create both 2D and 3D plans with the app. In addition to cost estimation and offline mode, which are convenient features for an interior design app, the app also offers project management tools. Using the project management tools, you can keep track of the budget, maintain a shopping list and stay organized the whole time. The app is available on the web, iOS and Android. So you can access it on any device.
Explore More: How to Create Home Management Application Like Taskrabbit?
Advanced Features of Interior Design App Development
Some advanced features can help you get an edge over your competitors. They can be a game changer for interior design app development when used correctly.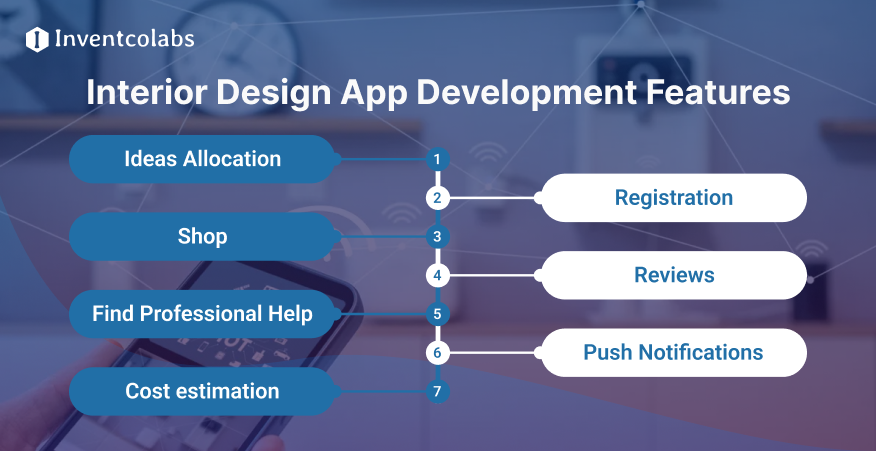 Ideas Allocation-
Users must be allowed to save their ideas on the app. In this way, they can share their ideas with friends and relatives by bringing them on the platform. The increased collaboration will be great for your app and the users, who can get input from their loved ones.  
Registration-
Users should be allowed to log in and register easily on your app. To achieve this, you have to ensure users can log in through their email or phone number. To take this one step further, allow them to sign up through their social media accounts. 
Shop-
This feature will allow users to shop for furniture and decor through the app. This will increase their time on the app as they won't have to go to a different app for purchase. 
Reviews-
Feedback can help you make your best interior design app. One way to get free feedback from users is to allow them to rate your app. Use the feedback to make your app better in subsequent updates. 
Find Professional Help-
This feature will help users to find professional help. You can tie up with architects and home decor experts who can help your customers when they need expert advice regarding anything. Users will benefit much more with easy access to interior designers and home decorators through your app.  
Push Notifications-
Push notifications are an easy and straightforward way to encourage users for increased engagement. Any good app should leverage it. 
Cost Estimation-
Most people have a fixed budget for their interior design endeavors. By allowing them to calculate an estimate for the budget, you help them plan well. Your users will always appreciate this. 
Explore More: How To Develop An Apartment Management Software – Features & Cost
Benefits of Interior Design App Development
Interior design app development offers several benefits for both businesses and users. Some of these are listed below;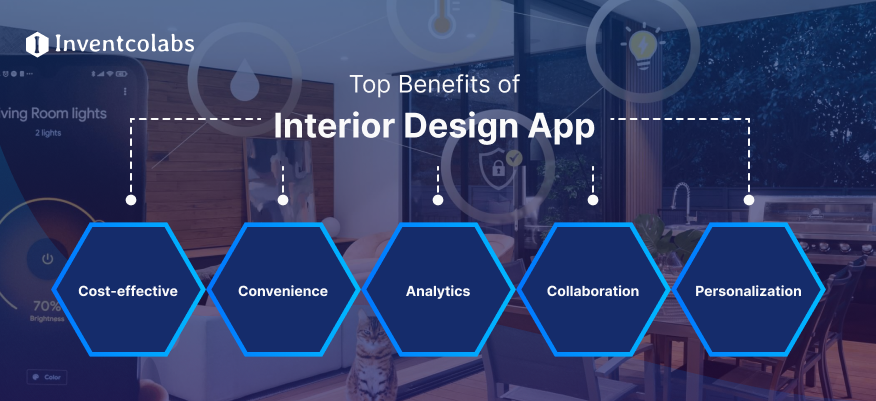 Cost-effective
The interior design app offers a cost-effective alternative way to design your space. You don't need to hire an expert if you don't want to, and neither do you have to spend an excessive amount of money to decorate the interior of your room only to find that you don't like the final output of the room. With AR and 3-D visualizations, you can get a near-real-like view of the end result. 
Convenience 
With interior design apps, you don't have to go out looking for a professional home designer every time you want to decorate an interior space. Many apps provide the convenience of talking to an expert through the app only. 
Analytics 
Analytics is a massive part of any online business. Interior design apps provide easy access to data that is impossible for a home or a professional interior designer to obtain on their own. This empowers businesses to take data-informed decisions.   
Collaboration  
With interior design apps, you can share your views with experts and family. You can get input from them and even ask them for help. This increase in collaboration ensures that all parties are happy with the design idea before it gets on the floor. 
Personalization
Interior design apps offer immense personalization options to anyone looking to decorate their interiors. You have the option to choose various colors, and sizes of furniture so that it fits your own unique taste. 
Explore More: How To Develop House Cleaning Service Apps in Dubai? 
Technology Stack of Interior Design App Development
The technology stack for building the best free interior design software will depend on the specific requirements of the projects. However, there can be a general list as follows;  
Front-end Development- React, Angular, JavaScript, HTML/CSS Back-end Development
Programming languages- Python, Ruby, PHP, Java, Node.JS
Database- MySQL, Microsoft SQL Server
Cloud services (optional)- Amazon Web Services(AWS), Google Cloud Platform (GCP), Microsoft Azure.
UX/UI- Figma, Sketch, AdobeXD
3-D Visualization- WebGL, Blender
Estimated Development Cost of an Interior Design App
The cost of home design app development will depend on several factors. Some of these are listed below;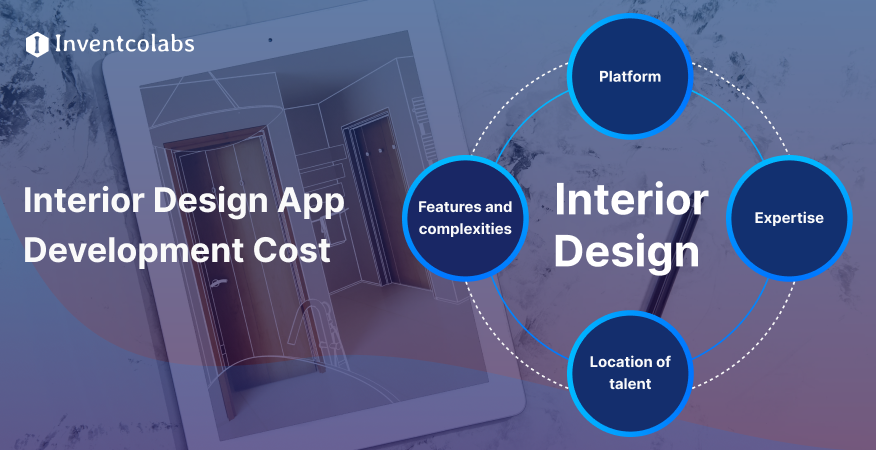 Platform  
If you want your app to be compatible with both iOS and Android, you'll have to spend extra. This is because you will have to hire dedicated developers for each platform. Usually, one team works on Android and the other on iOS. Even if you find a team who can work on both versions, they will be spending twice the amount of time, so they will be charging accordingly.  
Expertise 
Having experts in your mobile app development team will help you decrease the time to market the app and will also help you avoid common pitfalls. But this expertise comes at a price. The more expertise your team has, the higher they will charge you. 
Location of talent 
Developers from North America and Europe will charge you more than their Indian counterparts. This difference can sometimes be two to three times. If budget is a limiting factor for you, hire interior design app developers from India. You will get the same amount of expertise at a reduced price with them. 
Features and complexities 
Interior design app development cost will also depend on the complexities of the features in the app. This is due to the increased time and effort of developing a complex app.  
Depending on all these factors, interior app development services can cost you anything from around $15,000 to $70,000.
In Conclusion
Interior design apps help users to visualize a space before spending anything on it. It helps them make interiors that are reflective of their personality and taste. It also helps businesses to increase customer engagement and provides in-depth data analytics. As a business, if you want to invest in this sector, this is the perfect time to do so. You must ensure your app has all your competitors' most advanced features.      
Explore More: Automotive Software Development Guide – Cost & Features
FAQs
Q. How long does it take to develop an interior design app?
Ans. The duration to develop an interior design app will vary depending on factors like the size of the team, complexity, platforms selected,  and even the budget of the project.  
Q. Is Augmented Reality a must-have for your interior design app?
Ans. Yes, AR is the tech that will make or break your interior designer app. It helps users to imagine the interiors of the place with precise measures. 
Q. Should I integrate e-commerce features in my interior design app?
Ans. Integrating e-commerce features in your interior design app allows users to superimpose those objects in their space and buy them easily through integration. 
Q. What are the must-have features in an interior design app?
Ans. Some of the must-have features in an interior design app are 3D visualization, AR, cost estimation, e-commerce integration, and an intuitive user interface.