Have you ever tried to delegate your menial duties to someone else? What if you offered something with your branding, but another business handled the work? A planned, meticulous procedure that involves creating a mobile application is known as white-label app development. It is created by one business, which a different company then rebrands and sells under its brand.
In other words, it is a method of developing a customized mobile application for businesses so they can concentrate on other duties without having to devote time, knowledge, and resources to it.
What is White Label App Development?
White-label app development is a pre-built mobile application that can be rebranded. It is created so that it can be transferred to a different business under its brand name. Usually, this is the result of a software development business. This enables the brands to provide consumers with the precise application they seek.
The process' generic design, fine-tuned functionality, and customization to reflect the company's identity, which is purchasing the application, are all included. The currently implemented customization can provide the company name, color scheme, logo, and user interface.
Types of White Label App Development
The white-label app development company comes with different types of offerings. This depends on the type of industry, business model, and functionality anticipated by the white-label app development company. Some of the most common sorts of white-label app development include:
E-commerce applications
Such applications are designed for a business that deals with the selling of products or services. This is the app that would involve features like product catalogs, payment gateways, shopping carts, and an order tracking system. Businesses can quickly go about having customizations for their app that can resonate with the brand. Also, the app can be integrated with the existing e-commerce platform.
On-demand service applications
Such applications are designed for businesses that offer on-demand services such as food delivery, ridesharing or any quick or instant home service. This app would be coming with features such as service orders, payment processing, reviews, and tracking, among other things. Businesses always have a chance to customize the app to match the brand and add their shelf of services.
Explore More: Guide to Build an On-Demand Service Marketplace Mobile App
Social media applications
These apps are for businesses that offer their customers a social media platform for engagement and communication. These apps would come with features such as messaging, profiling, sharing, and commenting. Customizations come hand in hand.
Explore More: Social Media App Development Cost in 2023
Fitness Software
In the realms of white-label mobile app development, a mobile app enables businesses to give fitness regimens to their clients with features like tracking, goal setting, and nutrition, among other things. This white-label fitness app generates more revenue with advanced features.
Explore More: Complete Guide to Develop a Fitness Application: Features and Cost
Traveling software
There are many companies that are said to provide services for tourism like booking tours, hotels, or flights. The apps do offer a lot of edgy features for searching flights and managing your itinerary.
Explore More: Travel App Development Guide: Cost, Benefits & Features
Health-related software
The white-label application development also includes healthcare app developments, which provide services like appointment scheduling, telemedicine, and medication monitoring, among others, in the healthcare industry. They include video consultations, prescription management, patient profiles, and medical data.
Explore More: How To Create A Medicine Delivery Mobile App?
What are the Benefits of White Label Apps?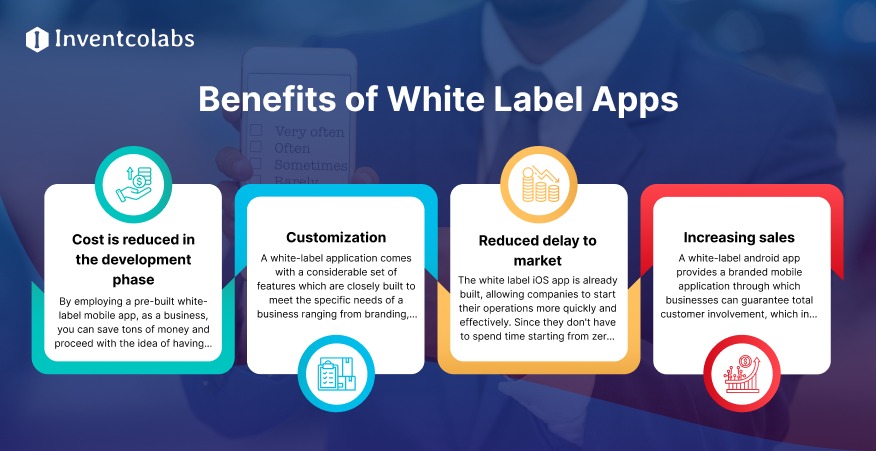 Cost is reduced in the development phase
By employing a pre-built white-label mobile app, as a business, you can save tons of money and proceed with the idea of having an excellent app that can be built with low development costs. Also, businesses get the perk of launching their applications more easily.
Customization
A white-label application comes with a considerable set of features that are closely built to meet the specific needs of a business ranging from branding, features, and functionality, among other things. It offers multiplicity in the output plus refined output.
Reduced delay to market
The white label iOS app is already built, allowing companies to start their operations more quickly and effectively. Since they don't have to spend time starting from zero, they can attract clients by providing quicker services.
Increasing sales
A white-label Android app provides a branded mobile application through which businesses can guarantee total customer involvement, which increases revenue and also wins customers' loyalty. They return to you because of this.
How can White Label App Development help you to Expand your Business?
White-label app development can help businesses in multiple ways to expand their businesses, help to reach customers, target a sizeable customer base, and offer a more cost-effective approach. They can build their own branded applications for their customers. There are many ways in which a white-label application can help the business to expand:
Increased customer reach
Apps such as white-label delivery apps offer utter convenience to the customer, which is one-way businesses interact more and more with customers. This is how they can connect with customers on a personal level and increase repeated business plus loyalty.
Developing an identity
Businesses can continuously improve their knowledge and brand recognition by providing branded mobile applications. They would be able to differentiate themselves from their rivals and flourish in the competitive market in this way.
New avenues for generating income
A white-label food delivery app is noted to be one of the most revenue-generating applications. Additional apps of this type are also being developed, which are used frequently and are increasing revenue production. Revenues are quickly and easily produced through in-app purchases, advertising, and monetizing.
Greater convenience for the customer
Apps such as white-label taxi apps can offer customers the highest degree of convenience and comfort when they can't find exemplary service. You can expand your customer base by keeping their requirements and convenience at the forefront.
Exposure to the new market
A business can flourish and relish more in a market with new clients and customers. A white-label application can help businesses in this way to expand their reach and spread their horizons by offering a convenient way of offering products and services to customers who are more on mobile accessing and usage.
What are the Challenges with White Label App Development?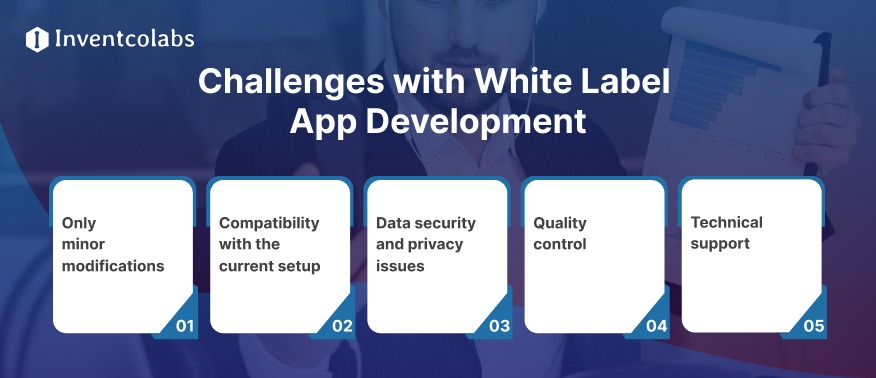 Like everything has two sides, white-label applications have their share of drawbacks and difficulties. The following are some of the main issues with white-label applications:
Only minor modifications
The maximum level of customization that can be tried has many restrictions or levels. Businesses occasionally struggle to set themselves apart in this manner, making it difficult to outperform the competition.
Compatibility with the current setup
The inability of a white-label application to occasionally adjust to the constantly changing technological environments poses another obstacle to its growth. Becoming proficient with trends and acting accordingly requires time.
Data security and privacy issues
The creation of white-label applications occasionally faces issues with data security and privacy. The knowledge must be kept secret and safeguarded against errors at all costs.
Quality control
Maintaining the application's top-notch level quality needs effective planning and additional fine-tuning. If numerous companies are utilizing the application, maintaining the most cutting-edge quality and technology can occasionally be too challenging. The company must guarantee that the application is operating effectively and easily.
Technical support
A company must continuously adapt to the ever-changing climate of the competitive landscape. Sometimes technology has become too advanced.
What is the Difference Between White Label and Custom Apps?
The degree of personalization and the features present determine one of the critical distinctions between a white-label application and a custom app. The following are some additional areas of distinction:
| | | |
| --- | --- | --- |
| Point of difference | White Label Apps | Custom Apps |
| Customization | A white-label app is created by a third party and intended to be customized and rebranded by various companies. | Custom apps can be completely customized to meet the specific needs of a single company and are made specifically for that business. |
| Ownership | In white label, a third-party developer owns the program; the company only licenses it. | With a customized app, the whole company can access and control the business and the finished product. They have authority over the application's features, functionality, and design. |
| Cost | A white label is a more economical choice. | A custom app is relatively costly to build or purchase. |
| Timeframe | In the instance of white label, the application has already been developed. Therefore, the company can rebrand and customize in that purview, which can be done more rapidly. | A custom app must be created entirely from scratch, significantly increasing the development time. |
Explore More: Interior Design App Development – Benefits, Cost & Features
Conclusion
A white-label application is created to meet the unique requirements of different types of companies and industries. However, the functionality and particular business requirements determine the type of application.

FAQs
Q. Can companies release white-label software on different app stores?
Ans. Yes, companies can debut the white label application across several app stores.
Q. Can an entity white-label an already existing app?
Ans. No, companies cannot white-label an already-established application. This is because they do not possess the app or the authority to alter or rename it.
Q. How much does developing white-label software cost?
Ans. The cost of an actual white-label application can run from $5000 to $20000.
Q. How can companies ensure customer info in a white-label app is secure?
Ans. Working with a reliable white-label application development firm is the first and most important step in securing a company's endeavors.